While streaming can be a very rewarding career, you need to have a solid strategy to get more viewers on Twitch. Over 90% of streamers typically stream to less than 3 people, but there are steps that can be taken to help you reach a wider audience and grow on the platform.
The following is a list of 67 effective ways that streamers can get more viewers on Twitch:
1. Create Valuable YouTube Videos
Twitch doesn't have strong systems in place to help small streamers be discovered. In most cases, if you want to grow on Twitch, you will need to build your fan base on another platform and funnel them to your channel. Once you have some momentum going, you will be able to hit your early milestones (such as when you become a Twitch Affiliate) and generate enough hype to build toward future ones.
Here are a few ideas for the different platforms you can use:
Make YouTube Videos of Your Game Content

While YouTube is also very competitive, it is also a search engine, meaning that with keyword research, editing, a strong YouTube gaming thumbnail, and a good title, you can potentially start to grow an audience. While you can create compilation videos of your stream, most won't do well until you have an audience. Instead, focus on creating either educational or entertaining content that can stand on its own.

Look for topics that interest people. For instance, if you stream Stardew Valley, enter the game's title into YouTube's search feature to see what others have searched. Two of the top searches happen to be about marriage within the game.

At this point, research what others have done for inspiration. Two of the top 4 results I received when typing "Stardew Valley how to marry" were titled the exact same way and were published 4 years ago. One has been viewed 10 times more than the other. While this can be due to a variety of factors, researching both to see why one outperformed the other would be a good first step.

Don't copy another's idea and try to do something original with a catchy title. The top-viewed video in this search has a well-designed thumbnail and a catchy title. Find ways to create content that relates to your keywords but will have a unique spin.

Use TubeBuddy to Grow Your YouTube Channel

One of the best tools on the market for new and growing YouTube channels is TubeBuddy. TubeBuddy helps budding creators generate video ideas through keyword research that is a little more advanced than the method I described above.

The platform will also help you create eye-capturing thumbnails and has a tool that will help you improve your titles so that they are more searchable and more likely to earn you the click. The platform has a free browser extension and app that will help you manage your channel, but their premium features will help you reach the next tier at a greater speed.
2. Smart Game Selection
As you are starting out on Twitch, it is very difficult to get your channel seen if you are streaming oversaturated games. While there are many oversaturated games, we often come across people struggling in the following titles:
Fortnite
Call of Duty
Apex Legends
VALORANT
League of Legends
When growing, it is a good idea to avoid the above games (unless you have a solid marketing strategy to get around how Twitch ranks channels) and focus on finding enjoyable games with a strong viewer to streamer ratio.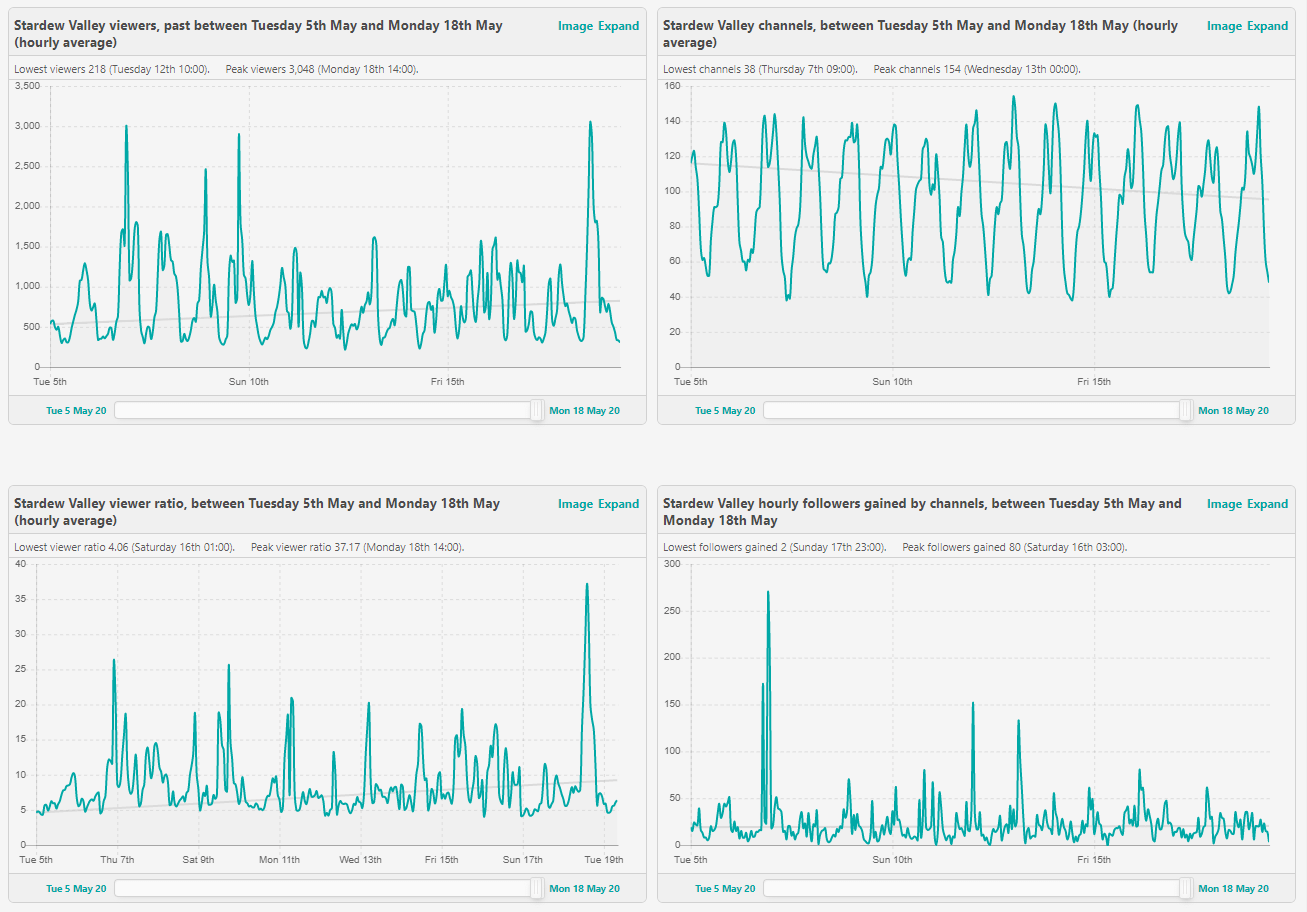 Use sites like SullyGnome or Twitch Tracker to research the best games to stream on Twitch. Look for games where you can typically rank in the top three rows with your average viewer count. Ideally, there will also be a large following for the game.
3. Use a Webcam
Using a webcam helps your viewers connect with you better and will improve retention rates overall. In past polls, we have discovered that between ⅓ and ½ of Twitch users won't click on a stream that doesn't have a visible webcam on the thumbnail. While you can still grow a channel with those who will, growing with a webcam will be substantially easier.
If you don't have a webcam, you can also stream from your mobile device. It only takes a few extra steps and you will often get better-than-webcam quality.
4. Improve Your Production Value
Frequently add or update your equipment to improve your production value. Think about the content creator you want to be and strive to produce that level of content. Professional streamers don't broadcast in dimly lit rooms. While you may not be able to afford equipment at first, create savings goals to get what you need to improve your stream over time.
Try out different lighting methods until you get the right look. While professional lighting for your stream is always a bonus, you can achieve improved results with well-positioned desk lamps. Experiment with colored lighting in your background to give you a better effect.
Do not rely on your headset's in-built microphone for your audio quality. While your webcam and your lighting are important, your audio value is imperative. If you are experiencing issues with your mic, you will not be able to keep viewers on your channel. While you don't need to spend several hundred dollars on a new microphone, you want to make sure to get one with decent quality and set it up correctly.
5. Use Visually Appealing Overlays
Twitch Overlays will make your channel more aesthetically pleasing and professional. Good graphics and transitions shouldn't detract from your content or be overly distracting. Professionally designed overlays will help you stand apart from your competition and build quality content on your steam.
Twitch Overlays will also appear on your thumbnail, creating visual appeal and hopefully enticing potential viewers to click on it.
There are several places online where you can purchase or commission overlays for your steam. Here are three of our favorites:
OWN3D – OWN3D has a vast library of overlays, Twitch panels, alerts, and emotes. They are all professionally created to a high quality and easily integrate with your favorite broadcasting software. 
Fiverr – If you want something unique and custom-made, you can hire a freelance designer on Fiverr. You will be able to search their database to find an artist who matches your taste. 
Nerd or Die – Nerd or Die's graphics appeal to many different audiences. They have stunning transitions and scenes that will help you keep your audience's attention. 
6. Use Catchy Music
Play royalty-free music for Twitch on your stream. Twitch, as well as other streaming platforms, are very strict about not playing copyrighted music on their platforms as it is against DMCA regulations. Purchasing a song on iTunes or leasing one on Spotify for personal use does not give you the required permission to play it on stream, and you are likely to get a strike on your account and potentially be banned.
The good news is that there is a lot of royalty-free music that is affordable and easily accessible that will allow you to stay within Twitch's music rules. There are several artists on YouTube who have created music that they are happy to share if you give them credit. There are also several platforms that source music in many genres to help you make playlists that will appeal to your audience.

My favorite platform for royalty free music is Epidemic Sound. They have over 30,000 sourced songs in a wide variety of popular genres and add new tracks on a weekly basis. The best part is, you can try out their music on your stream with their free 30-day trial.
Their affordable personal plan allows you to use their music on Twitch, YouTube, Facebook, and Instagram. You can easily select a portion of a song to use in an intro or another portion of your stream. The platform also has several categories of Twitch sound alerts that you can use under the same plan.
7. Use a Green Screen and Interesting Backgrounds
You can broadcast with or without showing your background. Use a green screen on your stream to remove your background or replace it with something interesting. Creating a visually unique background can be a great talking point for new viewers or interest people enough to earn that click.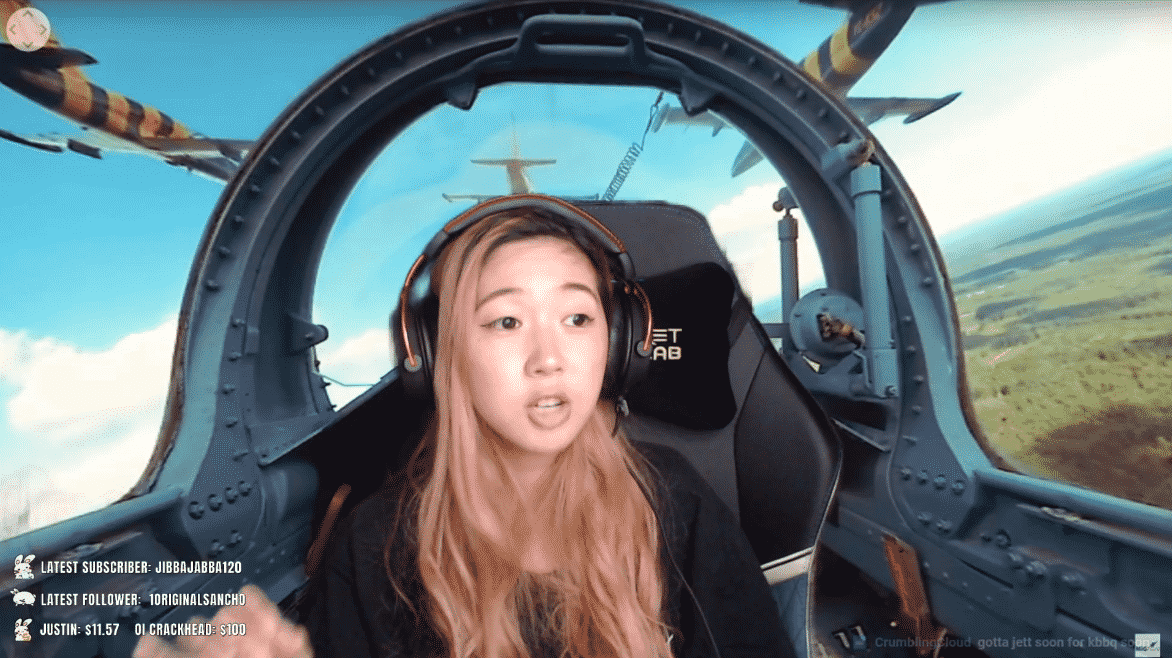 T10Nat has several background scenes that she uses throughout her stream. She started off her streaming career creating interesting content and made Twitch Affiliate in about a week and has continued to grow at a rapid pace since. One of her most interesting backgrounds is a video that plays that is her walking around her room. It is very entertaining to watch her stream while another version of her moves around in the background.
Similarly, when Eljayem_ was growing, he used a background of a grocery store milk aisle. Viewers browsing games would often drop into his channel just to ask about the background. Many of them stayed and became a part of his community.
8. Ask Friends and Family to Watch Your Stream
Getting a few people in your stream to support you will help the immediate growth of your channel in two different ways:
Viewer-count

Having your friends and family in your channel from the start will give you an automatic boost to your viewer count. Not only will this help you rank higher in each category, but it will also entice others to click on your thumbnail because "others find it good to watch."

Chat Engagement

Viewers who join smaller channels typically want to be involved in a community. They want to be seen and potentially make friends. Not only should you engage with them when they join, but your support group should as well. Talking with new members of your community will make it more likely for them to stay on your channel longer and potentially join your community.
9. Use Instagram to Grow Your IRL and Just Chatting Channels
Whether you run a travel stream, create art on camera, or want to grow a channel based on your personality, Instagram is a good social network to help you find an audience. Post sharable content that will be meaningful to your target audience to organically build followers that you can eventually funnel into Twitch.
You can also easily share your Instagram posts with Facebook, Twitter, or Tumblr making it easier to reach a larger audience and grow all your platforms overall.
10. Talk to Every Viewer Who Chats to You During Your Stream
Most viewers on Twitch are there to interact with the streamer and with other viewers in chat. Otherwise, they would watch YouTube compilations. Bringing them into the conversation and welcoming them will likely keep them as a part of your community. Here are a few ideas on how to celebrate interaction on your channel:
Question

Have a question that you can ask each new viewer or follower. Make it something simple and not too personal, such as their favorite game, favorite color, or their country. You can take this step a bit further by tracking the answers in some sort of way. For instance, you can keep track of a long-term poll of every person's favorite color or have your mods keep track by using a bot command. You could also keep a map in your background and add pins to it as new people tell you about their country.

Song, limerick, or haiku

If you play a game that is slow enough, find a way to celebrate new subscribers to your channel. Write a song to sing to them (such as ArryBo's catch "ArryBros" song which gets stuck in his viewer's heads), or write a limerick or haiku on the spot using their Twitch name. Not only does this create entertaining content for the whole stream, but it is an added incentive to new viewers.

Remember Them

Try to remember your viewers after they have visited your stream. Go over your Twitch chat logs, write down the names of those who were active, or use memory association tactics to remember who they are if they return. This will likely surprise them a bit, make them feel special, and be a part of your community.
Note: There are lurkers who don't want to engage either because they have the stream going on in the background or they simply want to observe. Lurkers tend to be split on whether or not they will leave if they are called out in chat. Some are truly introverted and don't want attention put on them, but still want to be part of a group. It is typically a good idea to let them be unless they speak up in chat on their own.
11. Network With Other Streamers on Twitch
Network with other streamers whose channels are about your same size. Look for content creators who you find entertaining, are within your same niche, and whom you believe your audience will love. Support their channels frequently when you get the chance and grow a relationship with them over socials and Discord.
As you build these relationships, you will be able to raid people at the end of your broadcasts, set up squad streams, and possibly form a Twitch team eventually.
While you can find streamers by watching and interacting on other channels, you can also network with people through Facebook groups, the Twitch subreddit, Discord servers created for streamers, and on Twitter.
12. Play Games With Your Viewers
Many Twitch viewers love to play games with streamers, especially on stream. Create a community night one a week or twice a month where you can play party games, all join a Minecraft server, or play FPS rounds together.
This engagement will not only help your follower count, but it will help you create a relationship with your community. Many will return stream after stream even on non-community days.
13. Improve Your Content
Continually work to improve your content overall. Listen to feedback from your viewers and try to take your channel to the next level. Here are a few general ideas on how many streamers can create better content:
New Content

If you seem burned out, try a new game. Talk to your audience before you transition and explain that you will play both, but you need to try something new. Doing something new periodically can breathe new life into your stream.

Run Special Events

Consider doing a charity stream, hosting a giveaway, or a marathon stream for 24 hours.

Create Unique Backgrounds

If you use a green screen for your webcam, create a unique webcam background for your channel. Eljayem_ has created an office and a pub scene which he visits on his stream regularly. His audience loves it.

Special Content

Spend a few hours per week thinking of talking points, new things you can do for your stream, and ways to keep your viewers entertained. Always think ahead and plan.
Each effort you make into improving your channel will make it more likely that people who stumble onto your channel will stay and join your community.
14. Use Reddit to Bring in Your Potential Audience
When researching how to stream on Twitch, one of our site's features streamers, Eljayem_ created a post on the XCom subreddit with a catchy title and a well-worded call to arms. In it, he told people that he was starting a new mission and he asked for people to submit character ideas to him. His response was overwhelming.
As he started to stream, he would craft detailed stories about the game and post them to keep everyone updated. He would let people know what happened to the characters they created, all without overly-emphasizing that he was streaming it on Twitch. People were drawn to him organically and when a few did pop on to his channel to check it out, he had a few "real life" friends in his chat to greet them and invite them to the channel.
Through this method, he was able to quickly grow his channel, reach Affiliate status in less than a month, and had an average of more than 20 concurrent viewers at the end of his second month on Twitch. With creativity and a little strategy, you may be able to attract an audience in a similar way.
When possible, add your Twitch URL as flare next to your name on subreddits that you frequent regularly. This is a simple way to potentially bring in new people over time while remaining organic and friendly to others on the forum.
15. Get Your Channel Seen in Listings
While building your socials and fan base on other platforms is important, you do need to eventually start attracting people through Twitch listings. Here are a few ways you can find yourself in the top two rows of your category or be shown on Twitch's homepage.
Play Unsaturated Games

If you are streaming a game like Fortnite as a new streamer, the odds of you being seen by viewers browsing channels is next to nothing. Instead, look for the best games to stream on Twitch depending on your channel's size. Playing less saturated games will make it easier for you to appear at the top of a category.

Share Clips

Encourage your viewers to create and share clips of your streams. Even if someone views a clip on social media or another platform, they will have a greater chance of seeing you on their homepage the next time they visit Twitch.

Hype Trains

Have your hype train set to reasonable settings per your size. When your audience generates a train, you will be featured on the home page. Many people search specifically for hype trains to unlock emotes. If they find themselves entertained by your content, however, they may stick around for longer.

Active Chat

Keep your chat entertained and interacting with you. Use a Twitch chatbot to create special commands or games for your viewers to play. Active chats can often help your channel show on the homepages of users who actively look for engaging smaller communities.
Check your analytics frequently to see where your views are coming from to give you a better idea of what techniques are working best for your channel.
16. Improve Your Audio Quality
The most important aspect of any stream is your audio quality. While some viewers may watch you even without a webcam, it is nearly impossible to get viewers if you don't use a mic or your audio quality is bad.
You don't necessarily have to rush out and get the top of the line equipment. There are several ways you can increase the audio quality of your existing mic (even some headset mics!) before you have to worry about upgrading your equipment.
While you may eventually want to read our Shure SM7B review and get top of the line equipment, when you are just starting out it is unnecessary as long as the quality is good enough.
17. Bring Your Special Sauce
If you have unique talents or traits, celebrate them on your channel. Take whatever makes you weird and figure out how to market it. Innovate new ways to keep things interesting on your channel so that people will keep tuning in to see what you do next.
Everyone has special combinations that set them apart from the crowd. It is these quirks that attract people and will influence them to join your community long term.
18. Try Multi-Streaming
If you are struggling to grow on Twitch, try multi-streaming to see if there is better platform for you. While you can't multi-stream if you are a Twitch Affiliate, many have backed out of their affiliate status to grow on several platforms at once, then ultimately funnel their community into 1-2 platforms once they are making steady gains.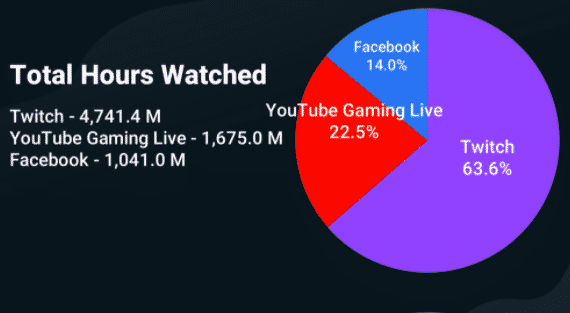 While Twitch is still the preferred platform for people watching streams, both Facebook and YouTube are quickly growing. Facebook is especially easy to grow on as your followers can share your stream with their friends and family easily and you can promote your stream on the platform.
To multi-stream, you will need to use a third-party platform. Here are two that you can try:
Restream

Restream makes it easy to broadcast to several different platforms at once. In fact, many people use it to stream to more than just Twitch, YouTube, and Facebook.

Streamlabs Prime

Streamlabs Prime is Streamlabs' premium service. Not only does it give you access to many other features, it allows you to easily stream to multiple platforms.
19. Use Twitter to Network with Gamers, Streamers, and Brands
Create a branded Twitter account to interact with other gamers, streamers, and brands. Don't self promote on other's feed. Instead, write thought-through comments on their posts, retweet posts that you like, and post memes or other content to your own feed.
Frequently post updates on what you are working on or funny things that happened throughout your day. As you become more interesting and engaging, more people will be attracted to your personality and they will be more likely to check you out on Twitch.
20. Use a Chatbot
Setting up one of the best Twitch chatbots on your channel will give you several different benefits. Not only will it help mod your chat, but you can set up custom commands that will frequently post in chat, reminding people to follow, join your Discord community, etc.
There are several great Twitch bots available, but here are a few of the most popular:
Streamlabs Cloudbot

The Streamlabs cloudbot offers easy moderation, channel points, and custom commands

StreamElements

The StreamElements chatbot offers easy donations, games, commands, and ranking boards

Nightbot

Nightbot allows you to view chatlogs, SoundCloud capabilities, and moderation
Note: Chatbots are allowed on Twitch as they are a moderation tool. Follow-bots and viewer-bots, on the other hands, are against ToS and should be avoided as they don't help long-term growth anyways.
21. Set Up Discord Streamer Mode
Enable the Discord streamer mode for Twitch. It only takes a few minutes and will change your status whenever you start streaming.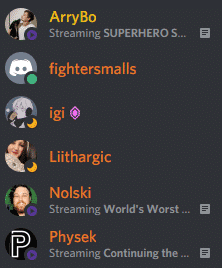 Streamers are easy to spot on Discord activity lists. Anyone in your friends list or in a server with you will be able to see that you are streaming and can click on your name and go directly to your stream. You are likely to get the most out of this tip if you join servers related to the game you typically play.
22. Find the Best Times to Stream on Twitch
Not all Twitch times are created equal. If you are trying to stream during peak times for your game, you will face more competition from other channels.
You can find the slower-times on Twitch for a specific game by looking at SullyGnome, but they are typically the times where most people in the United States are asleep (late night, early morning). This would be from about 6:00 am to 2:00 pm GMT.
If you can stream during this time, you will typically face less competition and you can pick up a few viewers and followers. You should note that there are typically fewer viewers online overall as well.
23. Create a Stream Schedule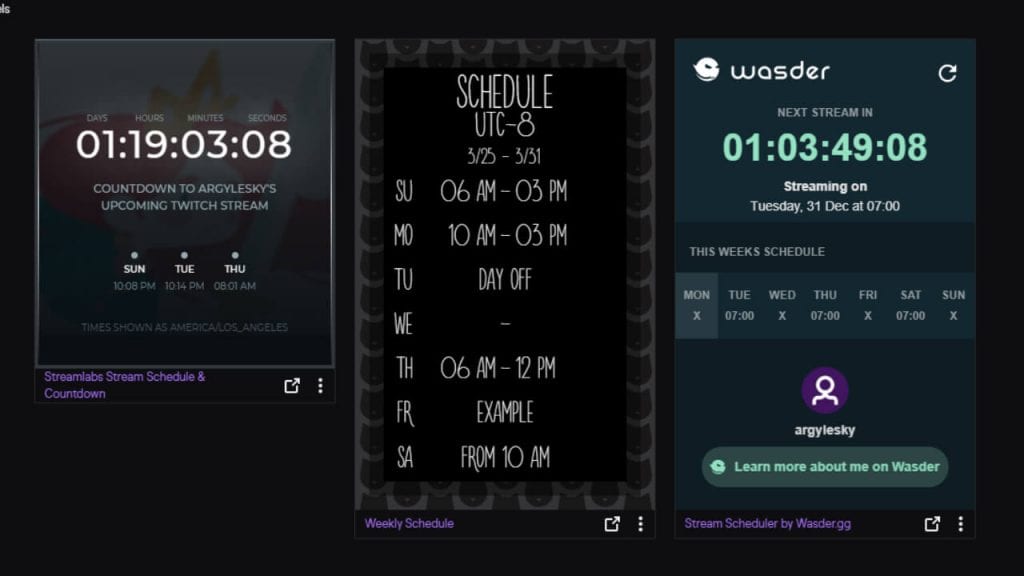 Create a stream schedule and stick to it. Try to be as consistent as possible so that your community get into the habit of logging on and watching your stream.
You should also add a Twitch extension that shows in hours and minutes how long it will be until your next stream. This makes it very easy for your viewers to know when to return.
Streaming at random times will make it harder for you to grow as people won't know when are streaming. They are less likely to show up and they will join other communities instead.
You should also try to stream 3-5 times per week to stay relevant to your loyal viewers.
24. Occasionally Rank Things On Your Stream
People love to rank things. Once you have a small following going, periodically announce that you will rank something in an upcoming stream. This can be anything from peanut butter brands to your favorite Disney movies.
Let your viewers participate by creating polls or let them argue with your decisions. As long as you are creating entertaining content, you can't go wrong.
25. Network on Discord Servers
Join Discord servers to network with other streamers or with people who enjoy your content.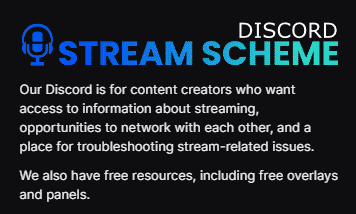 While some servers may have a place for you to post a go-live, you typically won't get many clicks through it. Instead, you should focus on making friends within the community or helping others. As people get to know you, they will be more curious about what you stream.
In the same way, join Discord communities that love the games that you play on stream. Talk to them about the game, play with some of the members, and enjoy yourself. Stay chill and don't overly promote yourself. People are more likely to want to watch your stream if you stay humble and are friendly to them.
26. Write Creative Titles
Take your time to come up with creative titles for your Twitch stream. As people scroll through listings, they will be attracted to funny and descriptive titles.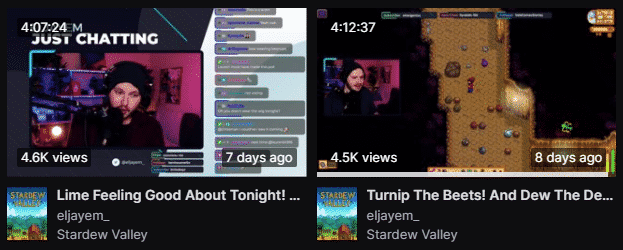 Try to come up with puns about the game you are playing or let potential viewers know if you are trying to reach a gaming milestone. You can also spend some time in your chosen category to see what other streamers are doing for their titles. While you shouldn't copy anyone, you can find inspiration from those who do well.
Once you find a strategy that works for you, find other ways to use it over time. You should also make sure that you use the right categories and tags.
27. Join a Twitch Team
Look for a good Twitch Team that aligns with your growth values and that works together to grow as a team. While the majority of Twitch Teams on the platform are just a pretty name, there are a few that actively put on events, raid each other's channel and continually push to become big.
Before applying to good Twitch teams, it is a good idea to spruce up your Twitch channel and ensure that you have good branding and enough followers that the team will see you as an asset.
28. Co-Stream With Other Streamers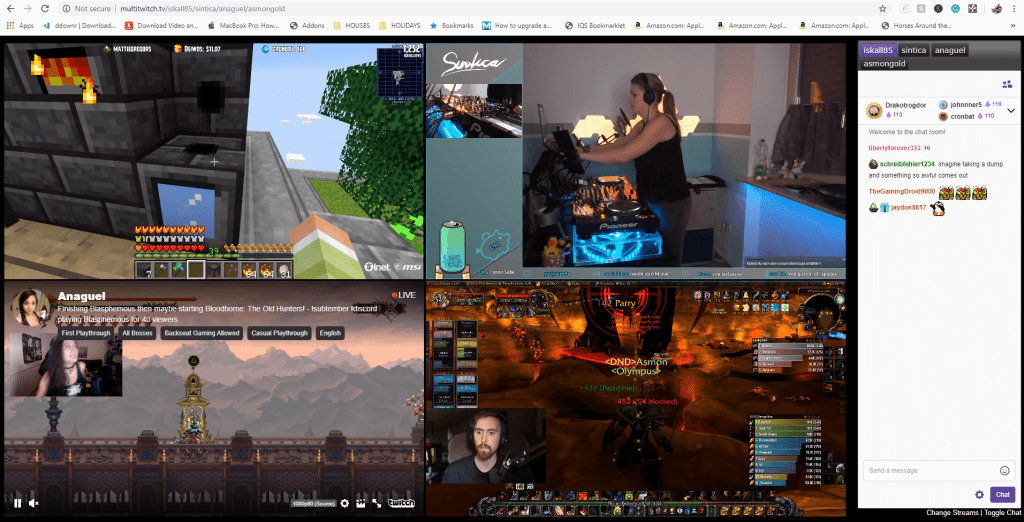 Find other streamers who are about the same size as you and who create similar content. Ask them if they would be willing to collaborate on a few co-streams together. You can either play together on a game or do challenges (such as speed-runs) against each other.
Set up your chatbot to let new viewers know that they can watch both streams at once from a third-party app (such as multistre.am). Even if they watch from the app, the views will still count for both channels.
You can often gain many followers and potential viewers during co-streams. The best idea is to choose people who stream at slightly different times than you so that you can raid each other occasionally.
29. Host a Giveaway
While hosting giveaways aren't always the best idea when it comes to long-term growth, you may be able to gain a lot of followers if you market it right.
For instance, you can use a program like Gleam to grow your Twitch. Several streamers have used the program to quickly grow their socials and incentivize people to share your content. Here's how it works:
Decide on a giveaway (something that people will be excited about) that will be given in the future. Set up a Gleam campaign that will allow people to earn points through different actions (such as following you on Twitter or retweeting a Tweet). Each point will give them a better chance at winning the giveaway.
This will help spread awareness of the giveaway and your stream. While some will unfollow you after the giveaway ends, some will stay and hopefully a few will become a part of your community.
30. Know Your Audience
Before you ever start streaming, it is a good idea to determine what audience you ultimately want to attract. That way, you can make decisions that will ultimately form your community that will appeal to them.
While anyone may be able to join and participate in yours stream, knowing details such as whether you want a "quieter" stream or one with many excited people will help you set the mood.
Additionally, every streamer and viewer has a different tolerance for "off-color" jokes, general trolling, and what topics they want discussed in their chat. Making sure you set clear rules and ban people who break them will keep your channel at your comfort level.
31. Work on Your Branding
Once you know your target audience, you can work on your branding. Try to have themes that will help identify you across your channel and all your social accounts.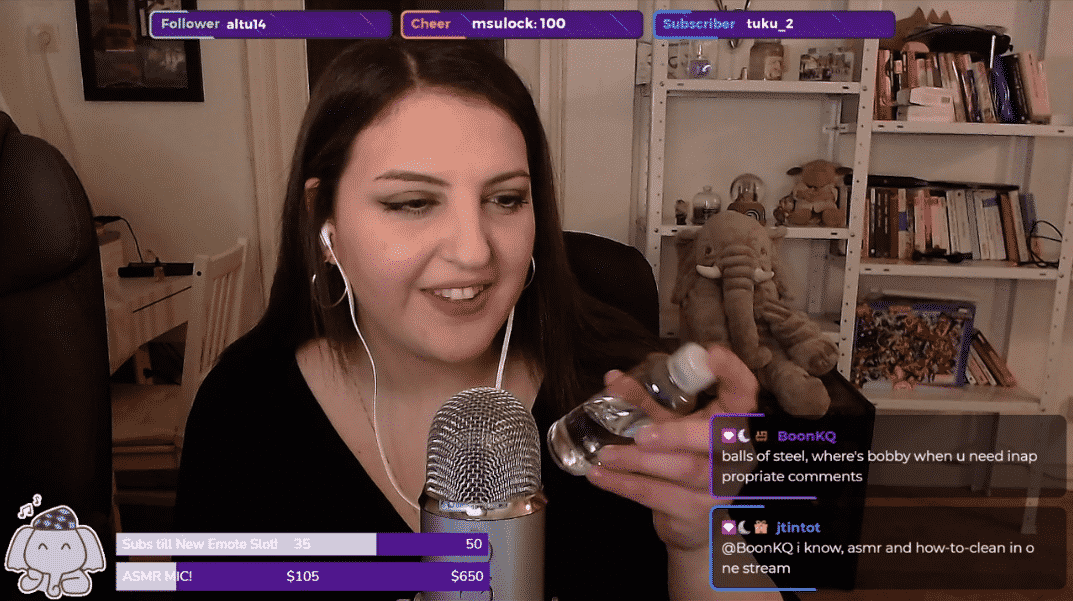 Your branding can include specific colors, logos, imagery that your viewers will eventually associate with you. Liithargic uses elephants in a lot of her branding. Not only is it on all of her scenes, but she has a stuffed elephant in the background as well as elephant emotes.
Find a gimmick that you love and run with it. The more unique, but relatable, it is, the more you will see success with it long-term.
32. Build a Discord Community
Building a Discord community is a good way to keep viewers engaged with your stream. Make sure that you have plenty of channels where people can geek out about your latest content, post memes, or chat with each other.
As members of your community become friends with each other, your Discord will become more active, making newcomers feel excited to be involved in something growing.
Have special channels dedicated to your Twitch subs and make sure you sync your Discord server and Twitch channel so that they can use your sub emotes.
33. Host/Raid Other Channels
When you are done with your stream, raid another channel that is similar to your size and content-style. Spend 15-20 minutes hanging out with your chat in the channel before you log off completely. If you like the channel, then make sure to raid it again in the future.
While this tactic doesn't always work to gain new followers and viewers, as you become more known to the other streamer, you may be able to set collaborations with them. They even may raid you from time to time if they end their stream early.
Once you have a few friends you collaborate with often, you can set up your channel to host them if you aren't online. They may do the same for you in return.
34. Frequently Run Polls for Your Chat
Viewers love to be engaged in your content and setting up polls for them allows them to react in real-time. The more someone feels like they are part of your stream, the more likely they are to chat and engage in other ways. Eventually, they will feel like a part of your community and will likely return stream after stream to enjoy more of your content.
35. Do a 24-Hour Stream
Streaming for 24 hours may seem daunting (and it is), but it also generates a lot of hype. Let your viewers know ahead of time when you plan to do it and ask them to let their friends know.
ArryBo streamed for 24 hours and played several games, talked to other streamers, and played music. Doing an assortment of activities made the stream more interesting and fun.
When it comes to how to stream for 24 hours, it is a good idea to plan ahead. Get plenty of rest before the stream, schedule meals and snacks, and figure out how you will manage your content so that both you and your audience will remain excited throughout the stream. You should also plan to not stream for a day or two afterward so that you can recover.
36. Create a Website
This tip won't be for everyone. However, if you play a game where there is very little content online, you may be able to create a website with tutorials or other information to gain traffic from google.
Once you have created a niche website around the content you stream, you can add the Player Pro plugin from Streamweasels to embed your stream onto the site. Not only will this potentially raise your viewer count in a way that is Twitch-ToS-friendly, but many may come through to your stream to ask you more questions about the game.
Don't create a "Streamer Website" with the hopes to grow. While your viewers may visit it, they already know who you are. It is very difficult to find an audience through a personality website unless you are already very large.
You Can Also Write for Existing Websites
If creating your own website seems too difficult (we understand), you may be able to find other websites you can write for in exchange for a link to your Twitch channel. Many smaller sites will accept well-written guest posts. Even we will occasionally hire writers through an announcement in our Discord server.
Make sure when you reach out to another website that you can create something that is high-quality and easy for them to edit and put on the site.
37. Host Fun Events For Your Viewers
Occasionally, divert from your usual content and host fun events for your viewers. These can include some of the following ideas:
Art streams where you all draw or paint together (your viewers can show their masterpieces in a channel on your Discord)
Birthday celebrations
Anniversary celebrations (or monthly celebrations as you continually grow your stream)
Milestone celebrations after reaching specific channel-related goals
Community Night streams where you play together or host competitions
These will look different depending on the channel. Try to do things that your viewers will find entertaining and that will generate hype. Remember to title it accordingly when the time comes.
38. Play Games You Enjoy
While game selection is very important to your growth, it is also important to create content that you enjoy.
In the above video, Eljayem_ explained that playing a game he didn't enjoy nearly caused him to quit streaming. Even though he was experiencing incredible growth, he realized that he was experiencing streamer burnout.
Not only can you end up hating your hobby, but your viewers will often be able to tell that you aren't having a good time. If you aren't enjoying yourself, they will likely not enjoy themselves either and they are likely to go elsewhere for their entertainment.
39. Set Up Notifications
Make sure that notifications are set up on your channel. You should also send go-lives in your Discord server (let people mute that channel if they wish). This will help your current following remember that you are around and call them to your stream.
The more viewers you have in your chat, the higher you will rank in your category which will help new viewers find you easier.
40. Use Creative Stream Alerts
Take time to create entertaining stream alerts to celebrate new followers, subscribers, and raids. Making them interesting and unique will encourage lurkers in your chat to also follow or subscribe.
Eljayem_ created an alert of himself popping out of the bottom of the screen, waving at his new follower and blowing them a kiss. As he will frequently get many new follows at a time, he isn't always able to thank each one, and this is a fun and unique way to do so.
T10Nat had her friend, Captain_Chet, shout "Is that Nat?" which she plays as her alert. It is loud and exciting and makes everyone laugh. It is also a good addition to her high-energy stream.
41. Frequently Check the Quality of Your Streams
Don't become complacent. Make sure that you are continually creating high-quality content by going over your past stream a day or two later. Scan several sections and make sure that you are talking, engaging your chat, having a good time, and that your visuals and audio is on point.
If you find something off, take note of it and fix it so that your future broadcasts will be stronger and will attract more viewers and followers.
42. Host a Charity Stream
Like other special events, charity streams can generate a lot of hype, get your viewers excited to share your content, and attract new people to your stream.
It is important to choose a charity that you are truly passionate about and that you want to support. Nothing is worse than for people to realize that you are only jumping on a bandwagon only for self-gain.
43. Create Custom Sub Emotes and Badges
After you reach affiliate, you will be able to create sub emotes for your stream. Do it. It will make your subscribers very happy. If you create fun emotes that they can use in any channel, they can slowly build awareness about you as well.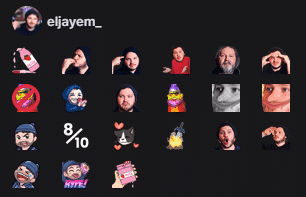 Remember that finding new followers is building value for the viewers you already have. The longer they stay around as a part of your community, the more people you will be able to attract to your channel in the long run.
Fiverr is a great place to find designers who are willing to create custom emotes for you at a reasonable price.
44. Play New Releases
Playing new releases or games that have recently been updated will always generate a lot of hype. Make sure that you focus on games that you will still be able to rank for in the top 3-4 rows. For new streamers, this will often mean streaming newly-released indie games.
Newly released games that are highly anticipated will be streamed by most mega-channels meaning smaller channels won't be able to get much traction unless they are bringing their audience from outside of Twitch.
45. Fill Out Your Twitch Bio
Going back to branding, it is a good idea to fill out your Twitch bio with tidbits about yourself, when and what you stream, and information about your socials.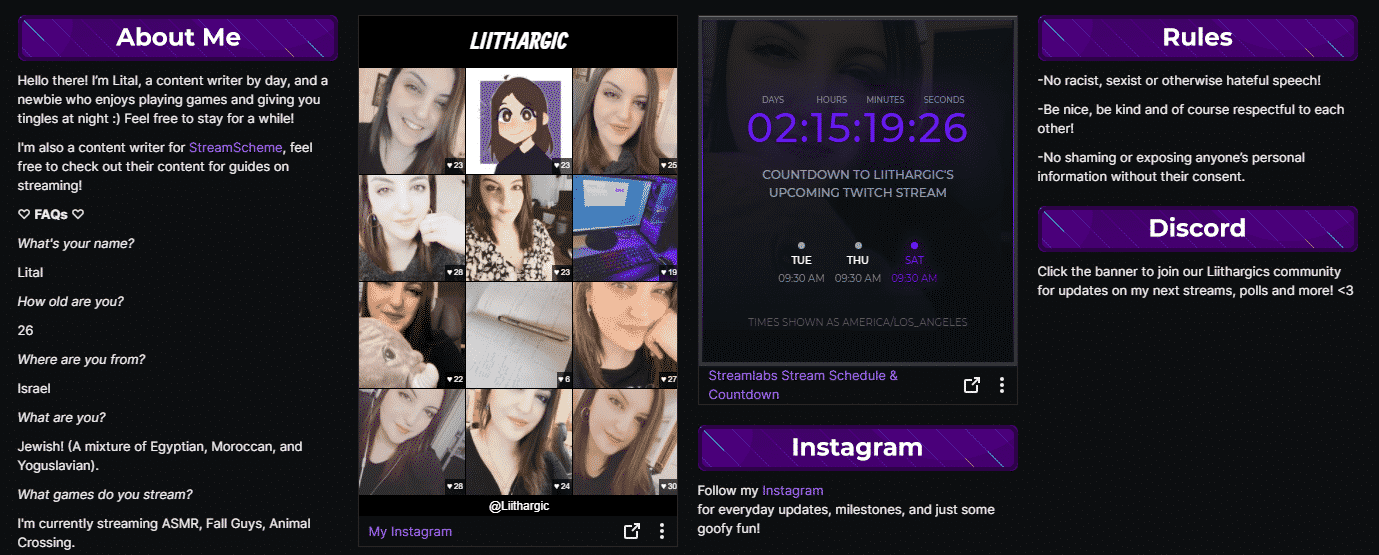 Not only will this give new viewers a little more understanding of who you are, but it will help solidify your branding overall and remind your current viewers when you stream next.
Make sure to decorate your about me section with panels as well. You can get them in the following places:
OWN3D

OWN3D has a vast library of overlays, Twitch panels, alerts, and emotes. They are all professionally created to a high quality and easily integrate with your favorite broadcasting software.

Fiverr

If you want something completely unique and custom-made, you can hire a freelance designer on Fiverr. You will be able to search their database to find an artist who matches your taste.

Nerd or Die

Nerd or Die's graphics appeal to many different audiences. They have stunning transitions and scenes that will help you keep your audience's attention.
You can also get free Twitch graphics packs by joining our Discord server, where we are frequently uploading free resources for streamers.
46. Use Good Lighting
Your video quality is important to your stream and if you are in a darker place, your picture may not be as clear as you would like it to be.
When you can, invest in good lighting and set it up so that you and your background are lit up properly. Lighting is also very important if you are using a green screen.
47. Make Friends in Other Channels
Please read the heading carefully. This doesn't mean that you go spam other channels asking people to watch your stream. That is a good way to get you disliked and banned.
Instead, go hang out in chats, spend time with the community, help out the streamer in any way that you can, and get to know the people. Over time, they will appreciate your company and when they find out that you stream, they will naturally want to check out your channel.
Try to stay within the same category or genre to get the best results. Stay natural while building your friendships.
48. Be Energetic and Happy
It is your job to entertain your viewers. Do whatever you can to show up to your stream in a good mood and hyped to spend time with your community.
Being energetic doesn't mean that you have to be hyper, just that you bring the energy to the stream. Your viewers will understand if you have an off-day every once in a while, but you need to try to stay positive the majority of the time.
49. Join Tournaments
Whenever you can, join a tournament. Whether it is hosted by the game or hosted by another streamer on Twitch, joining a tournament will get your viewers excited and potentially gain you a little notoriety (even if you come in last).
If you can't find a tournament to join, consider hosting your own and reaching out to other smaller streamers to see if they want to join. Create an event that will get people hyped.
50. Make Funny TikTok Content
Learn to master the art of TikTok and frequently make funny videos that is related to the content that you stream. You can also poke fun at yourself as a streamer. Make sure that you let people know where to find you.
It isn't enough to just post TikToks telling people that you stream. Go the extra mile to make them laugh to help convert them over to another app.
51. Create a Podcast
Once you have good streaming equipment, a lot of it will transfer over to the podcast world. Create podcasts that talk about gaming, the games that you love, or streaming culture.
As you begin to grow your stream, reach out to other smaller streamers and ask if you can interview them. Not only will this help you generate content, but the streamers will likely share your podcast on their socials, helping you grow larger over time.
52. Participate in Gaming Forums
Join gaming forums and frequently post relevant content to them. Don't use them as a place to spam go-lives. Instead, help people learn the game, participate in any events, and make friends. If there is a place for you you to add a signature, add your Twitch link there.
53. Keep Your Chat Friendly
Make sure that you create rules for your chat that will prevent people from targeting each other. Remember, in order to build a community, people need to be comfortable staying on your channel.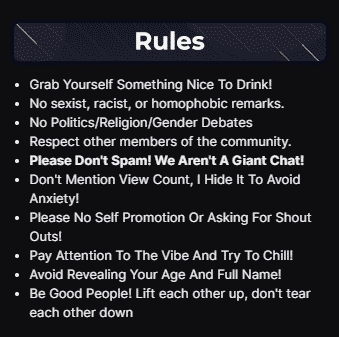 Don't be afraid to ban people if they are causing tension or bullying people in your chat. Even if you have a smaller community, taking care of issues head-on will help you grow in the long run. Otherwise good members will leave because they are so stressed out.
54. Plan Content in Advance
Many of the best streamer on Twitch spend a good amount of time planning out future streams in advance. While they are not writing full scripts, they do jot down ideas of stories they can tell, polls they can make, and exciting things they can do with their viewers.
Try to make a general plan for each of your streams to keep things entertaining for your viewers. If you are planning something special, spend a little more time in advance to get everything just right.
55. Frequently Check the Quality of Your Stream
Before you go live, make sure that your audio and visuals are set up properly and that everything seems to be running smoothly. Give your moderators a way to alert you if something is going wrong.
Periodically throughout the stream, take a look at what you are sending out to your viewers to make sure it still looks good (at least on your end).
56. Appoint Mods in Your Chat
Once you start growing, add mods to your chat to help keep things running smoothly. Not only can they ensure that everyone is following the rules, but they can also create polls, keep track of things, and keep the conversation going.
Have a chat to your mods and ask them to greet each newcomer and help them feel welcomed. Engaging with viewers will make them feel valued and they will likely stay in your channel for longer.
57. Create BTTV Emotes
Channel emotes are an important part of building your community, but when you first start out, you don't get access to any emote slots on Twitch. You can, however, upload emotes to the BTTV extension and post the codes in your chat.
Giving your community access to being able to engage in inside jokes through channel BTTV emotes will help your overall growth. You can even sync them with your Discord channel so that they can use them in there as well.
58. Listen to Feedback From Your Chat
Listen to your community to find out what they enjoy about your stream. Ask them what they would like to see in the future and how you can make your channel more entertaining.
You can even add the Suggestion Box extension to your channel so that your viewers can leave ideas for you even if you are offline. Remember to take comments with a grain of salt and to accept constructive criticism when it is given.
59. Attend Gaming Conventions
If there are gaming conventions in your area, attend them and make friends. If there isn't a meetup for streamers, consider creating one for before or after the event so that you can network.
Make sure to make a few business cards before you go so that you can hand them out to people that you connect with. The more you get to know them, the more likely they will want to check out your stream.
60. Add a Leaderboard Extension to Your Bio
Celebrate your community by adding a leaderboard extension to your about me section.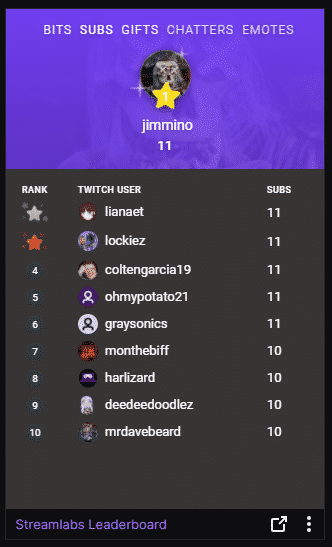 There are several Twitch leaderboard extensions available and they track a variety of things. People become quite competitive with the boards as they will want their stats to show up on them, so not only is it good for overall growth, it may also increase your revenue.
61. Improve Your Gaming Skill
While being entertaining is more important than winning at games all the time, you can still pull in a larger audience if you get good at gaming. Whether you practice more, get better equipment, or hire a gaming coach, there are several ways you can increase your skill and impress your viewers.
62. Have Fun Channel Point Redemptions
One of the best things about Twitch channel points is that viewers have to sit in chat in order to earn them. To entice them to do so, create redemptions that they will want to earn.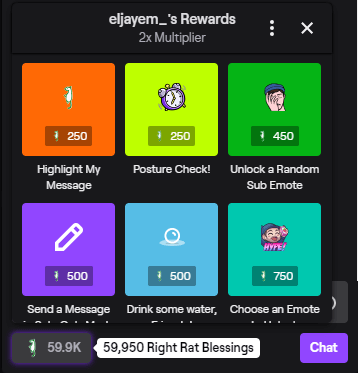 While you should have some simple redemptions for those who can't ever wait to spend their channel points, you should also choose high-ticket items that will affect your stream. Here are a few ideas:
Change your background (if you use a green screen – have a few backgrounds available)
Physical activity – such as pushups or dancing
Dropping your weapon in a game
You can also make massive redemption items that your viewers can collaborate on, such as a 24 hours stream, dying your hair, or hosting a special event.
63. Continually Set Higher Goals For Yourself
Many streamers eventually burn out because they don't have any set goals (or the ones they are trying to reach are difficult). Learn to master goal-making by creating reasonable goals that will keep you motivated to work.
Start out at 3 concurrent viewers, then go to 7, 10, 15, 25, etc. Don't just jump to 75 (for partner) after you reach affiliate status. Let your viewers know about your goals and many of them will do their best to help you reach them.
64. Study Other Streamers
Spend time watching other streamers in your category that are pulling in more viewers than you. What are they doing that seems to be working? While you shouldn't copy someone precisely, there are some things you can tweak to make you own.
The more you learn about what is working for others, the better you will be in designing what is good for your channel.
65. Stream Frequently
Similar to scheduling, it is a good idea to stream at least 3-5 times per week. This will help your viewers stay engaged with you and they won't forget about you before you go live again.
You should also try to stream for at least 2.5 hours per session so that you have the chance of attracting several new viewers. If your stream is too short, you will limit those who may want to invest in you in the future.
66. Ask Friends for Feedback
If you are just starting out, ask a few friends to watch your stream and give you constructive feedback on what you can do better. They may have good ideas or point out something that you missed.
67. Ignore Your Viewer Count
While your concurrent viewer count is one of the more important metrics on your Twitch team, try to ignore it while you stream. Many people begin to experience anxiety if the number is too low (or too high).
Instead, focus on your content, remain positive, and keep smiling.
Conclusion
While growing your Twitch channel isn't an exact science, there are many things you can do to try to take your channel to the next level to attract new viewers. Don't be afraid to ask people you trust for feedback. Many people can give you insight that you have overlooked and encourage you to make things better.