While streaming can be a very rewarding career, you need to have a solid strategy on how to build your audience. Over 90 percent of streamers typically stream to less than 3 people, but there are steps that can be taken to help you reach the Affiliate status milestone and continue your journey to partner.
This article will cover many ways that streamers can take steps to improve their viewer counts. You will need to dedicate yourself to the work of building an entertaining channel that will bring in new viewers to your community in order to gain your reward.
How to Get More Viewers on Twitch
1. Start Producing Content on Other Platforms
Twitch doesn't have strong systems in place to help small streamers be discovered. In most cases, if you want to grow on Twitch, you will need to build your fan base on another platform and funnel them to your channel. Once you have some momentum going, you will be able to hit your early milestones (such as when you become a Twitch Affiliate) and generate enough hype to build toward future ones.
Here are a few ideas for the different platforms you can use:
Make YouTube Videos of Your Game Content
While YouTube is also very competitive, it is also a search engine, meaning that with keyword research, editing, a strong YouTube gaming thumbnail, and a good title, you can potentially start to grow an audience. While you can create compilation videos of your stream, most won't do well until you have an audience. Instead, focus on creating either educational or entertaining content that can stand on its own.
Look for topics that interest people. For instance, if you stream Stardew Valley, enter the game's title into YouTube's search feature to see what others have searched. Two of the top searches happen to be about marriage within the game.

At this point, research what others have done for inspiration. Two of the top 4 results I received when typing "Stardew Valley how to marry" were titled the exact same way and were published 4 years ago. One has been viewed 10 times more than the other. While this can be due to a variety of factors, researching both to see why one outperformed the other would be a good first step.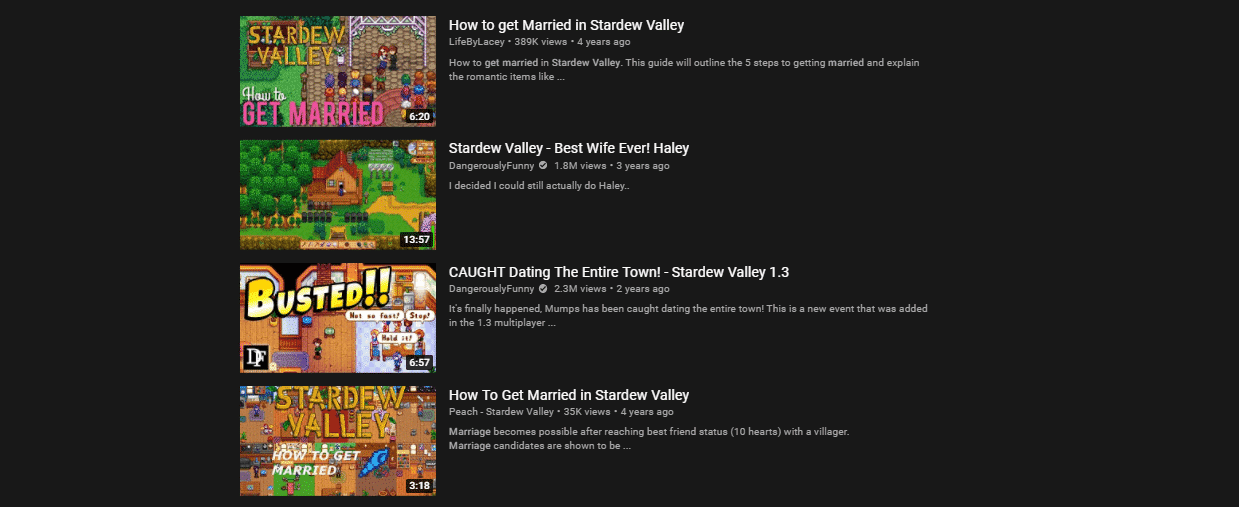 Don't copy another's idea and try to do something original with a catchy title. The top-viewed video in this search has a well-designed thumbnail and a catchy title. Find ways to create content that relates to your keywords but will have a unique spin.
Use TubeBuddy to Grow Your YouTube Channel
One of the best tools on the market for new and growing YouTube channels is TubeBuddy. TubeBuddy helps budding creators generate video ideas through keyword research that is a little more advanced than the method I described above.
The platform will also help you create eye-capturing thumbnails and has a tool that will help you improve your titles so that they are more searchable and more likely to earn you the click. The platform has a free browser extension and app that will help you manage your channel, but their premium features will help you reach the next tier at a greater speed.
Use Instagram to Grow Your IRL and Just Chatting Channels
Whether you run a travel stream, create art on camera, or want to grow a channel based on your personality, Instagram is a good social network to help you find an audience. Post sharable content that will be meaningful to your target audience to organically build followers that you can eventually funnel into Twitch.
You can also easily share your Instagram posts with Facebook, Twitter, or Tumblr making it easier to reach a larger audience and grow all your platforms overall.
Use Twitter to Network with Gamers, Streamers, and Brands
Create a branded Twitter account to interact with other gamers, streamers, and brands. Don't self promote on other's feed. Instead, write thought-through comments on their posts, retweet posts that you like, and post memes or other content to your own feed.
Frequently post updates on what you are working on or funny things that happened throughout your day. As you become more interesting and engaging, more people will be attracted to your personality and they will be more likely to check you out on Twitch.
Use Reddit to Bring in Your Potential Audience
When researching how to stream on Twitch, one of our site's features streamers, Eljayem_ created a post on the XCom subreddit with a catchy title and a well-worded call to arms. In it, he told people that he was starting a new mission and he asked for people to submit character ideas to him. His response was overwhelming.
As he started to stream, he would craft detailed stories about the game and post them to keep everyone updated. He would let people know what happened to the characters they created, all without overly-emphasizing that he was streaming it on Twitch. People were drawn to him organically and when a few did pop on to his channel to check it out, he had a few "real life" friends in his chat to greet them and invite them to the channel.
Through this method, he was able to quickly grow his channel, reach Affiliate status in less than a month, and had an average of more than 20 concurrent viewers at the end of his second month on Twitch. With creativity and a little strategy, you may be able to attract an audience in a similar way.
When possible, add your Twitch URL as flare next to your name on subreddits that you frequent regularly. This is a simple way to potentially bring in new people over time while remaining organic and friendly to others on the forum.
2. Use a Webcam
Using a webcam helps your viewers connect with you better and will improve retention rates overall. In past polls, we have discovered that between ⅓ and ½ of Twitch users won't click on a stream that doesn't have a visible webcam on the thumbnail. While you can still grow a channel with those who will, growing with a webcam will be substantially easier.
You can broadcast with or without showing your background. Use a green screen on your stream to remove your background or replace it with something interesting. Creating a visually unique background can be a great talking point for new viewers or interest people enough to earn that click.
3. Improve Your Production Value
Frequently add or update your equipment to improve your production value. Think about the content creator you want to be and strive to produce that level of content. Professional streamers don't broadcast in dimly lit rooms. While you may not be able to afford equipment at first, create savings goals to get what you need to improve your stream over time.
Try out different lighting methods until you get the right look. While professional lighting for your stream is always a bonus, you can achieve improved results with well-positioned desk lamps. Experiment with colored lighting in your background to give you a better effect.
Do not rely on your headset's in-built microphone for your audio quality. While your webcam and your lighting are important, your audio value is imperative. If you are experiencing issues with your mic, you will not be able to keep viewers on your channel. While you don't need to spend several hundred dollars on a new microphone, you want to make sure to get one with decent quality and set it up correctly.
4. Improve Stream Graphics
Graphics for your stream will make your channel more aesthetically pleasing and professional. Good graphics and transitions shouldn't detract from your content or be overly distracting. Professionally designed graphics will help you stand apart from your competition and build quality content on your steam.
There are several places online where you can purchase or commission graphics for your steam. Here are three of our favorite:
5. Use Catchy Music
Play royalty-free music for Twitch on your stream. Twitch, as well as other streaming platforms, are very strict about not playing copyrighted music on their platforms as it is against DMCA regulations. Purchasing a song on iTunes or leasing one on Spotify for personal use does not give you the required permission to play it on stream, and you are likely to get a strike on your account and potentially be banned.
The good news is that there is a lot of royalty-free music that is affordable and easily accessible that will allow you to stay within Twitch's music rules. There are several artists on YouTube who have created music that they are happy to share if you give them credit. There are also several platforms that source music in many genres to help you make playlists that will appeal to your audience.

My favorite platform for royalty free music is Epidemic Sound. They have over 30,000 sourced songs in a wide variety of popular genres and add new tracks on a weekly basis. The best part is, you can try out their music on your stream with their free 30-day trial.
Their affordable personal plan allows you to use their music on Twitch, YouTube, Facebook, and Instagram. You can easily select a portion of a song to use in an intro or another portion of your stream. The platform also has several categories of Twitch sound alerts that you can use under the same plan.
6. Talk to Every Viewer Who Chats to You During Your Stream
Most viewers on Twitch are there to interact with the streamer and with other viewers in chat. Otherwise, they would watch YouTube compilations. Bringing them into the conversation and welcoming them will likely keep them as a part of your community. Here are a few ideas on how to celebrate interaction on your channel:
Note: There are lurkers who don't want to engage either because they have the stream going on in the background or they simply want to observe. Lurkers tend to be split on whether or not they will leave if they are called out in chat. Some are truly introverted and don't want attention put on them, but still want to be part of a group. It is typically a good idea to let them be unless they speak up in chat on their own.
7. Network With Other Streamers
Network with other streamers whose channels are about your same size. Look for content creators who you find entertaining, are within your same niche, and whom you believe your audience will love. Support their channels frequently when you get the chance and grow a relationship with them over socials and Discord.
As you build these relationships, you will be able to raid people at the end of your broadcasts, set up squad streams, and possibly form a Twitch team eventually.
While you can find streamers by watching and interacting on other channels, you can also network with people through Facebook groups, the Twitch subreddit, Discord servers created for streamers, and on Twitter.
8. Improve Your Content
Continually work to improve your content overall. Listen to feedback from your viewers and try to take your channel to the next level. Here are a few general ideas on how many streamers can create better content:
Each effort you make into improving your channel will make it more likely that people who stumble onto your channel will stay and join your community.
9. Get Your Channel Seen in Listings
While building your socials and fan base on other platforms is important, you do need to eventually start attracting people through Twitch listings. Here are a few ways you can find yourself in the top two rows of your category or be shown on Twitch's homepage.
Check your analytics frequently to see where your views are coming from to give you a better idea of what techniques are working best for your channel.
10. Bring Your Special Sauce
If you have unique talents or traits, celebrate them on your channel. Take whatever makes you weird and figure out how to market it. Innovate new ways to keep things interesting on your channel so that people will keep tuning in to see what you do next.
Everyone has special combinations that set them apart from the crowd. It is these quirks that attract people and will influence them to join your community long term.
Conclusion
While growing your Twitch channel isn't an exact science, there are many things you can do to try to take your channel to the next level to attract new viewers. Don't be afraid to ask people you trust for feedback. Many people can give you insight that you have overlooked and encourage you to make things better.