Green screens give you the ability to create new scenes or add special effects to your steams and YouTube videos. They are relatively inexpensive and easy to set up within your streaming software. Green screens will also open up your options for background removal or replacement, allowing you to easily create new scenes for your viewers.
Portable Green Screens for Streaming
If you don't have a lot of space or you need to quickly pack up your streaming equipment after each session, you may want to look into getting a portable green screen for your stream room. These can be stowed away when not in use, saving you space and allowing you to use your room in the way you normally would.
Webaround Big Shot Chair Green Screen
Webaround produces green screens that attach to the back of chairs, allowing those in small spaces to have access to chroma key technology while still being in a small space. The company was founded by Linda Bovay, who saw a need for a portable green screen that was compact and easy to set up.
The nice thing about Webaround green screens is that they attach to the back of your gaming chair, meaning you don't necessarily need to have much space behind you or a blank wall. They are easy to unpack and put away, which means you can stow them away after each stream to return your room to normal.
You will need to ensure that your chair stays upright while you stream and you need to make sure your lighting is on track since your green screen will be closer to your person than it is normally. There are many streamers who use this product with great results.
The green screens come with a tote bag for easy storage and transport. While Webaround offers many products (and smaller versions down to 42" in diameter are available), we recommend the Big Shot to give you the most coverage, giving you a little extra room to show off your background. The green screen is 56" in diameter and comes in both green and gray.
Fotodiox Collapsible 2-Sided Chroma-Key Panel
Fotodiox produces a collapsible chroma-key panel that is double-sided with two different colors, allowing you to decide whether you would like a blue screen or a green screen. Having two different colors on a chroma-key panel will give you more flexibility in what you can wear and showcase on stream.
While the 5' x 7' green screen isn't large enough for you to walk around or dance on stream, most users will be able to use it while streaming at their desk or taking images that can be used for graphics. The screen comes with a stand that also collapses for easy transport or storage.
Setting up the Fotodiox collapsible panel is easy can be done in less than two minutes. It doesn't take up much floor space, so it works for streamers who have a narrow gap behind them. Even a small amount of space will make it a bit easier to set up your green screen and lighting for the best effects. 
Elgato Collapsible Green Screen
The Elgato collapsible green screen is a high-quality product that gives you fantastic video production. The green screen fabric is resistant to both dust and wrinkles, making it a reliable choice throughout your streaming journey.
The screen can be set up in 3 seconds and lifted to a suitable height. It measures 61.02" x 72.44" inches when it is open, giving you ample space to place behind your desk when you are streaming on Twitch or YouTube. The sturdy aluminum frame ensures that the chroma key screen stays in perfect shape without causing any unwanted shadows in your visuals.
The green screen rolls up into a hard case that can easily fit in a small space, such as under a long desk, in a closet, under your bed, or in the trunk of your vehicle. When everything is stored away, the dimensions of the product are 3.94" x 4.72" x 61.02".
Elgato offers a 1-year warranty with their product to ensure that any manufacturing errors are replaceable.
Full-Size Green Screens
If you have more space and want to have a larger green screen that gives you additional options for content, you can find one that sets up in your room and runs onto the floor (for full coverage). Two of the kits we cover will also come with lighting options to help you reduce the shadows to create better imaging.
Francierstudio Chromakey Green Screen Kit
The Francierstudio Green Screen Kit comes with everything you need to create quality images that allow you to remove or replace your background. The kit includes a 10' x 12' green screen backdrop that is made from durable fabric, an 8' x 10' aluminum support, two 33" umbrella light stands, and a carrying case. The 105-watt CFL bulbs are not included.
The kit is relatively simple to set up and is adjustable and the case allows you to pack it away or transport it when needed. You will need to learn to make sure to remove all wrinkles from it and to set up the lights the best you can to ensure there are minimal shadows. Place the stand against the wall to increase the sturdiness as they are relatively lightweight on their own.
Whether you want to dance on stream or you want an extra-large backdrop to allow you to walk around your room while you are still on camera, the Francierstudio chromakey green screen kit should meet your needs and get you going on your new adventure.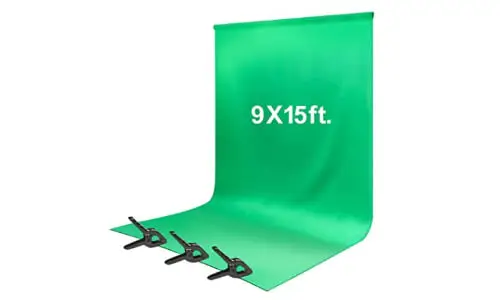 LimoStudio Chromakey Green Muslim Backdrop
If you already have a stand or are willing to buy or make your own, the LimoStudio Muslim backdrop is a good chroma-key screen to purchase if you need a lot of coverage. The 9' by 15' green screen is created from thick polyester that is both durable and wrinkle-free. The screen is machine washable, so you won't have to replace it if it gets dirty.
One of the long edges of the screen has been folded over and stitched in order to create a loop. You can slip the hanging rod of a green screen stand through the loop to keep it upright and sturdy. Three studio-grade clamps are included with the green screen to help keep it in place.
While the green screen will need other accessories to make it work, if you already have access to the right tools, it is a very affordable piece of equipment, especially in light of its quality and durability.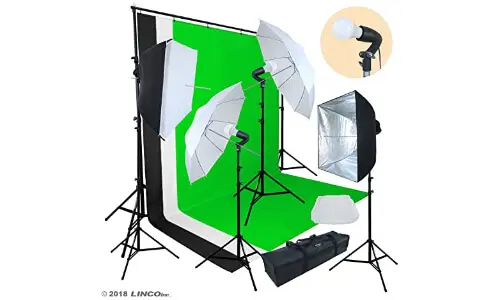 Linco Studio Kit
The Linco Photo Studio lighting kit will give you everything you need for streaming as well as give you additional options for studio photography for graphics, emotes, and more. The kit comes with 3 muslim backdrops (green, black, and white), a green screen stand, a full lighting system, studio c;o[s. And a carrying case.
This kit is good for content creators who have smaller spaces but still want a little room to dance or create content while standing. The backdrops are 5' x 10' and are very durable and washable. The muslim absorbs the light instead of reflecting it.
If you need a larger green screen than a collapsible one but don't have a lot of space, this kit will provide everything you need to create studio-quality images.
Our Ranking Process
Here are the elements of each green screen that we rank:
Quality

Your green screen needs to be high quality to help prevent shadows and continue to work overtime. You don't want one that will easily damage so that it needs replacement. 

Affordability

New streamers often don't have a lot of income and need to budget their expenses in a variety of ways. We cover green screens that are relatively inexpensive.

Portability/Size

Every streamer will have different needs when it comes to the size of green screen you will need. We cover both portable and full-size chroma key options. 
When choosing our favorite green screens to cover, we went with 3 portable designs for people with smaller spaces and three larger screens who have more room and want to use the screen in a more versatile way.
Frequently Asked Questions
How Does a Green Screen Work?

A green screen works by providing a solid color that can easily be manipulated with a chroma key editor. You can set up your software to either remove the background altogether or replace the green with another image or video.

What Can I Use For a Green Screen?

You can use anything that is one solid color and gives you enough coverage for a green screen. Some people paint their walls, others use blankets, tubs, or anything else that is relatively smooth. Proper green screens are designed to absorb lighting and not reflect it, but when you are just starting out, using anything you have on hand will work.

How Much Does a Green Screen Cost?

Green screens will typically cost anywhere between $40-$250 depending on size, quality, and branding.

Why Are Green Screens Used During Shooting?

Green screens are used when video is being shot to give the content creator the option to remove or replace the background with another image. It gives them more versatility on how the final video will look. Streamers typically use them to hide their rooms or to give their audience a clean-cut look.