Twitch panels are graphics that help your Twitch profile to stand out. They organize the information in your bio in a way that is easy to browse and quickly sort through. Adding links to your Twitch panels can help people easily access your Discord or your socials. Appealing panels are a good way to solidify your branding and you want to find those that will stand out to you and your community.
Our Ranking Process
Here are the things we considered when ranking Twitch panels
Design Quality – you need panels that look good and match the rest of your graphics. Future viewers and potential sponsors will check your profile. Show your professionalism in everything you do while maintaining the integrity of your brand.
Diversity – every channel is unique and you will want graphics that appeal to your viewers. We looked for platforms that offer several options that will work for different channel styles.
Best Free Twitch Panels
1. Own3D.tv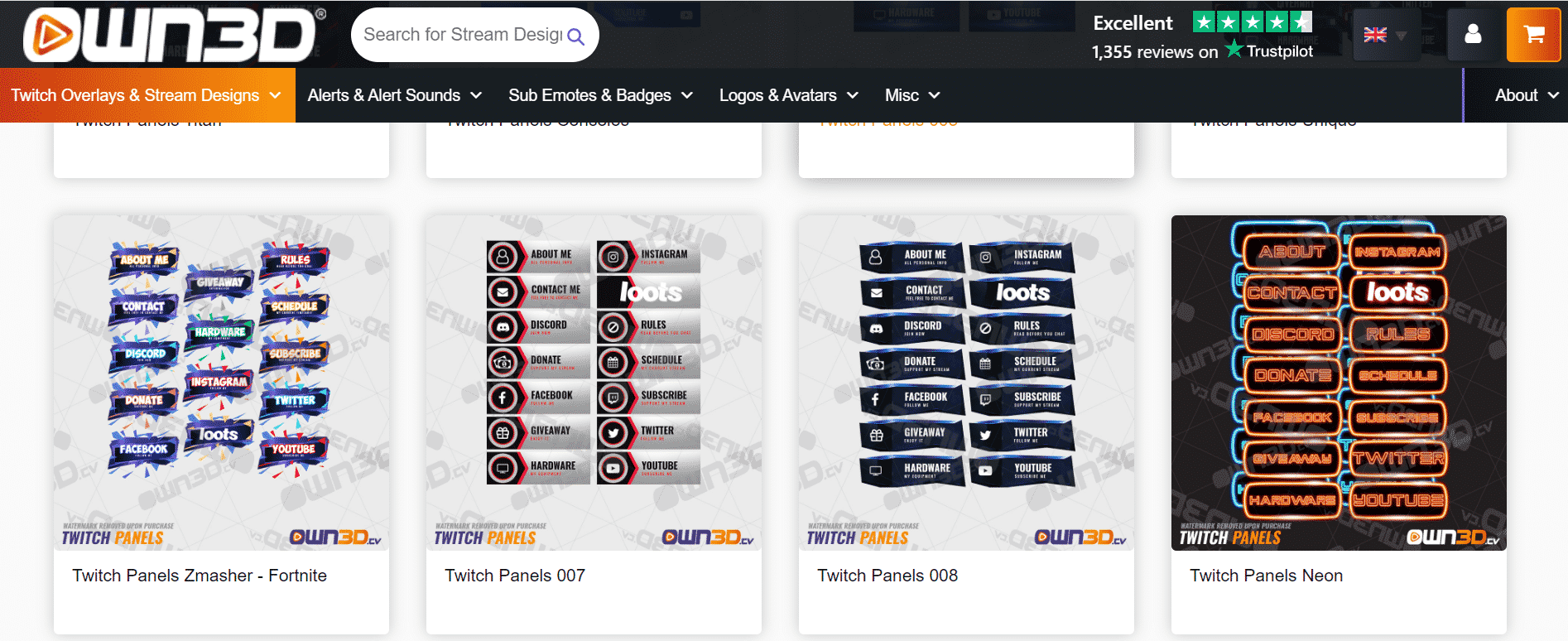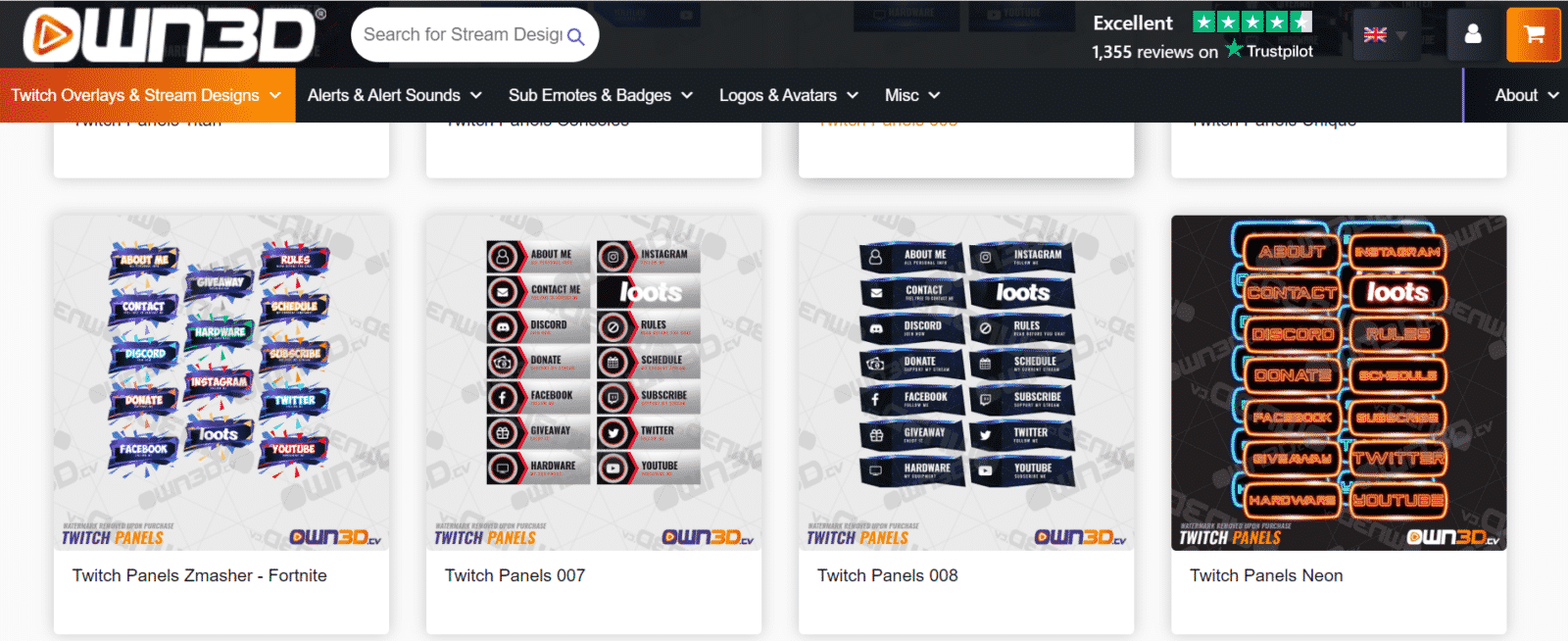 Own3D has a library full of Twitch panels in various designs so that you can find a set that matches your overall style and branding. Not only do they come ready to upload immediately into OBS or Streamlabs, but you can also edit your own or add details if you have Adobe Photoshop or another design software.
Own3D also has an extension that allows streamers to use both free and animated Twitch panels to help their channel pop and stand out from the crowd.
Own3D Twitch Panel Categories
Own3D panels come "pre-made" with the following categories that can easily be uploaded as JPEGs. The categories are as follows:
About
Contact
Discord
Donate
Facebook
Giveaway
Hardware
Instagram
Loots
Rules
Schedule
Subscribe
Twitter
YouTube
Are Own3D Panels Customizable?
Many of Own3D's Twitch panel packs come in 3-4 colors that you can choose from right off the back. They add an additional blank panel that can be edited even without a design program.
Each package also comes with 1 PSD panel so that you can edit the colors, text and fonts, and logos in a design program such as Adobe Photoshop or Gimp.
Why Buying a Package is a Good Choice
Many of the panels are also included in full packages produced by Own3D. These packages come with everything you need to quickly brand your channel when you start streaming (or rebrand your channel later on). Purchasing a package is a better deal than purchasing each element individually.
What Else Does Own3D Produce?
In addition to Twitch panels, Own3D produces the following:
Twitch Overlays
Twitch Emotes and sub badges
Stream alerts (static and animated)
Animated stream transitions
Giveaway banners
Starting, pause, and ending screens
2. Nerd or Die


Nerd or Die offers an assortment of free panels as well as panels included in full packages of items. These panels are customizable so that you can write out whichever categories you need to fully fill out your Twitch profile.
They have a megapack of 20 panels you can purchase for a suggested price of $2 and an Overwatch panel maker that is themed toward the game.
Nerd or Die Free Twitch Panel Maker
Nerd or Die also has a panel maker where you can create basic panels for free. You can change colors, add text, edit the font, and manipulate the size. You can even choose your icon. This is a great resource for new streamers who need specific panels but can't afford professionally designed panels yet.
You do not need to have any special software to use this panel maker and get free panels.
What Else Does Nerd or Die Produce?
In addition to Twitch panels, Nerd or Die produces the following:
Stream alerts
Twitch overlays
Sound effects
Looping backgrounds
Stream transitions
Stream Deck key icons
3. Placeit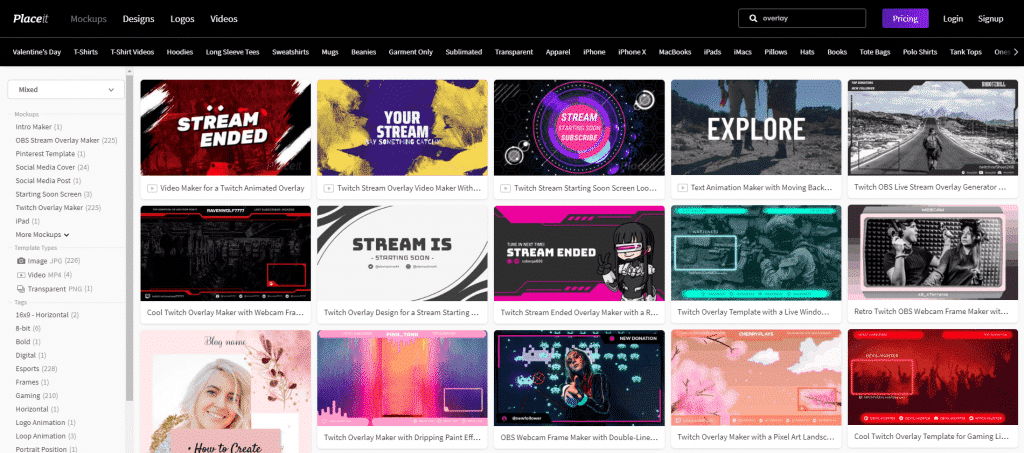 Placeit is a database of editable graphics. There are over 13,000 mockups on the site, and approximately 50 of them are Twitch Panels. While you can purchase these files one at a time, you can also subscribe to the platform for a monthly or yearly fee, unlocking a host of graphics that you can use to brand your channel.
Placeit Customizable Panels
With Placeit, you are able to customize the color, text, font, and graphics of a file, creating the categories your need to fill in your Twitch bio. Being able to pick your colors and text is a great feature as you can customize things immediately and not have to wait a few days to get your graphics back from a designer. It is a good set up for new streamers who want to quickly set up their channels.
4. Visuals By Impulse Twitch Panels

Visuals By Impulse have 10 different Twitch Panel designs that come in an assortment of styles and colors. There are a few packs that are free and some that are very reasonably priced. All of the panels are compatible with Twitch.
Visuals By Impulse Twitch Panel Categories
The following categories are included on their Twitch panels (not all are included in every package):
About Me
About Us
Apparel
Contact Us
Discord
Donate
Donations
F.A.Q
Facebook
PC-Specs
Instagram
Playlist
Rules
Schedule
Snapchat
Sponsors
Stream Graphics
Subscribe
Twitter
YouTube
Custom Orders Through Visuals By Impulse
Visuals By Impulse have done over 8,000 custom graphics for streamers. Their prices are very reasonable for professionally designed custom graphics and they will work with you on your concepts and your branding.
5. Small Streamers Free Twitch Panels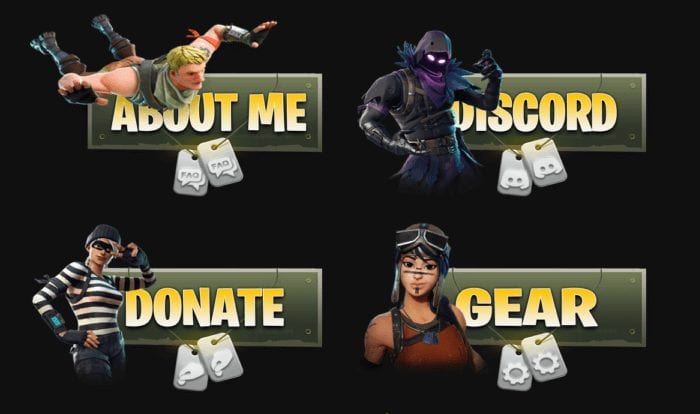 Support Small Streamers is a platform that was designed to help network small streamers together as well as form a Twitch Team of a few individuals. While the team doesn't accept many applications due to their high standards of those willing to network they do offer a few resources for everyone, including free Twitch Panels.
31 Free Twitch Panel Sets
The website has 31 sets of Twitch Panels in a variety of styles, many of which are based on popular games. While there really isn't a way to create additional panels from these styles on your own, if all you need is the following categories, you are free to go to the site and download each image.
Panel Categories
The categories that the free panels cover are the following:
Discord
Gear
Schedule
Subscribe
Some of their panel sets cover even more categories including social media, FAQ, and Rules.
6. Stream-Top Free Twitch Panels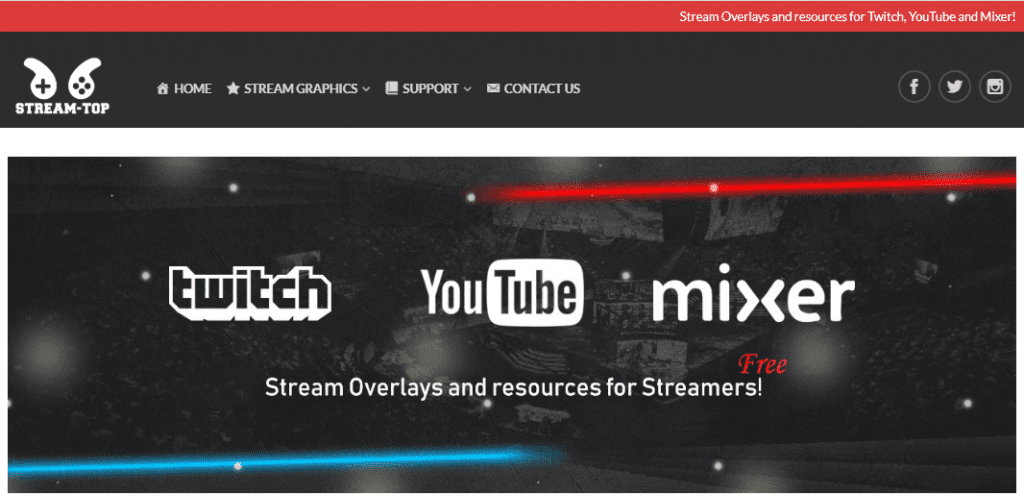 Stream-Top creates a variety of free graphics that you can use on Twitch. There are 45 different types of panels in a variety of colors and styles. Each comes with 20 different categories for your Twitch profile. All you need to do is download the zip file, then upload each image to your Twitch account.
Panel Categories
These are the categories that are included with Stream-Top:
About Me
Armory
Chat Emotes
Chat Rules
Discord
Donate
Facebook
FAQ
Follow
Goals
Hall of Fame
Hardware
Instagram
Schedule
Sponsors
Steam
Stuff I Stream
Subscribe
Twitter
YouTube
What Else Does Stream-Top Produce?
Stream-Top also produces the following:
Stream Overlays
Facecam
Logos
Banners
Offline Screens
8. Wdflat Free Twitch Panels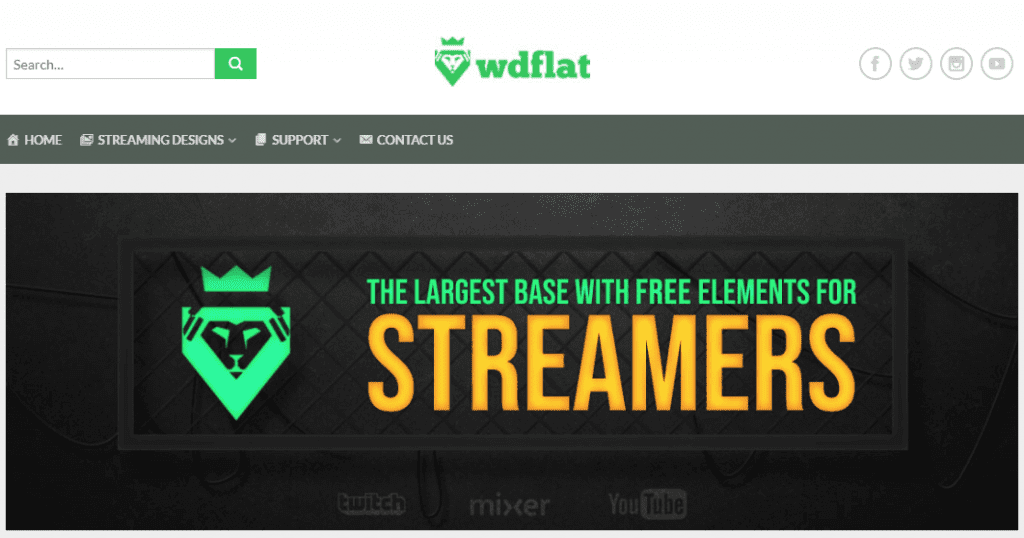 Wdflat has approximately 100 bundles of free Twitch panels on their website, many of which have a video illustrating how they were created. All you need to do is download the zip file, then upload the png files to your Twitch channel. All of the templates are absolutely free.
Wdflat has a variety of styles and colors so you are likely to find something that you will like, but note that nothing is editable.
Wdflat Panel Categories
While the categories included will vary from package to package, you can expect something similar to the following:
About Me
Armory
Chat Emotes
Chat Rules
Discord
Donate
Facebook
FAQ
Follow
G2A
Goals
Hall of Fame
Hardware
Instagram
Loots
Schedule
Sponsors
Steam
Stuff
Subscribe
Top Donator
Twitter
WDFLAT
Website
YouTube
Twitch Designs Twitch Overlays
Twitch Designs sells several packs of Twitch panels on their website, some of which are available in English, German, and Polish. These panels are sold "as is" and every pack is different and will vary as far as categories go. The full list of available categories is listed on the individual panel package pages.
Which Twitch Panels are Right for You?
When looking for the right Twitch panel for your channel, there are several things you should consider. There are endless options that you can choose or build off from, which can make it difficult to narrow down the options. However, with the right understanding of your brand and content, you should be able to find the best panels for you.
Here are the things you should consider:
Stream branding – base your Twitch panels on the graphics and designs of the rest of your channel. Use the same colors and styles to keep everything similar and on point.
Adaptability – using a panel maker or having panels custom designed allows you to have custom text that may not be available through pre-made panels. While this won't be important for everyone, if you have something unique that you want to post, you will need custom panels.
Content – if you exclusively play Dead by Daylight, having pink panels decorated with rainbow unicorns may not be reflective of your overall brand. Then again, maybe you're on to something…
Affordability – especially when you are starting out, it is difficult to shell out money for custom graphics. You will need to weigh the price of the panels to find something that best suits you.
To help you narrow down your options further, we created lists for common searches:
Best Cute Twitch Panels
Having cute graphics can definitely bring the "awwwwww" factor to your community. If you frequently showcase your pet, use chibi emotes, or enjoy other cute things, creating a brand around cute emotes will attract an audience of like-minded individuals.
As "cute" is such a relative term, we recommend using the following services:
Placeit – Placeit is a template builder that allows you to create your own graphics. Upload cute graphics to the template, change the colors and fonts, and you'll have your audience cooing in no time.
Fiverr – if you want graphics that are longer than usual so that you can showcase your graphics on a larger scale, you will need to have them custom designed. Fiverr is a freelance marketplace that hosts several designers who are willing to work for an affordable price.
Best Custom Twitch Panels
When it comes to good branding, you can't beat custom graphics that have been designed specifically for your channel. Good artists will be able to understand your concepts and reimagine them in visual form, giving you a product that is perfectly set up for what you want.
Here are our picks for custom Twitch panels:
Fiverr – easily accessible, you can look through dozens of designer portfolios to find a style that you enjoy. Fiverr is a great platform for people who are looking for custom work for an affordable price.
Visuals by Impulse – if you're looking for fantastic panels created by professional designers, you won't be disappointed with Visuals by Impulse. This company works with designers from around the world to create a superior product.
Best Overwatch Twitch Panels
Love Overwatch and want to use graphics that celebrate the game? You will want to look for a design that works with your channel but also gives off the same vibes as the game. Here are a few places you can look:
Own3D – this platform has 4 Twitch panel designs that have been created specifically with Overwatch players in mind. You may also be able to get them in a package, giving your channel a consistent look.
Best Red Twitch Panels
When looking for Twitch panels, it is important to stay close to your branding. If your channel graphics incorporate the color red, you should look for other branding elements that are red. Here are our picks for finding panels that work for a specific color:
Own3D – this platform gives you the option to search for panels and graphics based on color. They have 30 Twitch panel options that use the color red as the primary color of the design.
Fiverr – with Fiverr, you can hire a designer to create custom graphics for you using the exact shade of red that you want to use for your brand.
Frequently Asked Questions
Where Can You Get Free Twitch Panels?
While you can make free Twitch panels on your own with software such as GIMP or Adobe Photoshop, Nerd or Die also has a free panel maker on their website. You can change the icon, colors, and text to make them more on brand and create as many as you need for your channel.
What Size Does a Twitch Panel Need to Be?
The recommended size for Twitch panels is 320 x 160 pixels. While the panel can be as long as you want it to be, it has to be no more than 320 pixels wide without Twitch cropping it down to size to make it work.
How Do You Make a Twitch Panel?
You can make a Twitch panel using graphic design software such as GIMP. Each image needs to be 320 pixels wide. The recommended size for pixels is 320 x 160 pixels. You can also use a Twitch panel template from Placeit or Nerd or Die.
Can You Edit a Twitch Panel?
You can edit a Twitch panel if you have access to the source files or can duplicate it on a Twitch panel maker, such as the one on Placeit.
Can Twitch Panels be GIFs?
You can get animated Twitch panels through an extension made by Own3D. You can find the "Free & Animated Stream Alerts" extension in the extension section on Twitch. They have several options available and you can add text to be displayed under each panel.
Where Can You Get Twitch Panel Templates?
You can get Twitch panel templates through Placeit or Nerd or Die. Placeit has several options available that you can modify to make them more in line with your stream's appearance. You can even upload your own graphics to make them perfect.