Proper lighting is a very important aspect of every streamer's setup. It will give you a more professional look that appeals to both viewers and potential gaming sponsors.
You won't have to start with state-of-the-art equipment as a new streamer. It is more important that you understand how to use your equipment and you can start out one piece at a time. 
Basic Lighting Setup for Your Stream
When you are first starting out, you may need to purchase your lighting pieces one at a time. While this post will cover the basics of lighting, we have also released a more comprehensive article on how to light your stream. It is important to note that the way you use your face lighting equipment is the most important element of lighting, rather than the physical objects themselves.
Here is how lighting is typically used when creating a setup:
Key Light

Your key light will ultimately become your main light source. Traditionally, they are placed at a 45° angle to your camera, slightly above and tilted down toward you. If you build your setup one light at a time, you'll want to move and adjust the lighting to make it aesthetically pleasing. 

Fill Light

The fill light is placed on the opposite side of the key light and is used to fill in shadows made by the key light. These two lights together can make you look crisp and clear on camera.

Back Light

A backlight is generally used to separate the main subject of the video (in this case, the subject would be the streamer) from the background. This subtle difference can make the gamer appear to stand out, giving them more dimension on video.
With these three lights, you get a three-point lighting setup. That will be more than enough lighting for your live-streaming sessions.
Best Lights for Streaming
If you're a novice streamer looking for your first lighting equipment, get yourself a key light first. This will serve as your main light, giving your face good lighting when streaming. Here are the top 5 main lights for streaming today.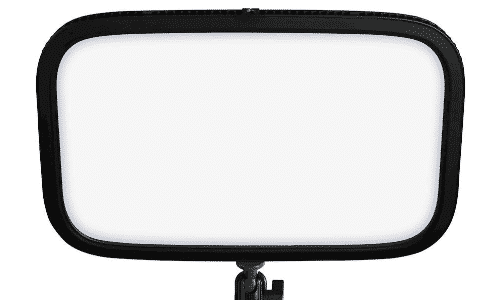 Elgato Key Light
Compact

Low Heat

Wireless control

Compatible with Stream deck
Best to get 2 of these, which can make it expensive
Elgato is known for creating quality products for streamers, and the Elgato Key Light is no exception. Setting up one of their products will allow your camera to capture you in better detail so that your viewers can watch your reactions and laugh at your antics. The color temperature ranges from 2900 to 7000 K.
The Elgato Key Light has a flexible stand that mounts directly to your desk. You can raise or lower the lamp or tilt or rotate it to get the position you need for success easily. Its flexibility allows you to easily incorporate it into your current setup rather than rearranging everything from the ground up.
Another benefit to using the Elgato Key Light is that it doesn't give off a lot of heat relative to the brightness it produces. Stream rooms can get overheated generally, but you can avoid the sweaty look with this light. You can also easily adjust the light from the provided application on your PC.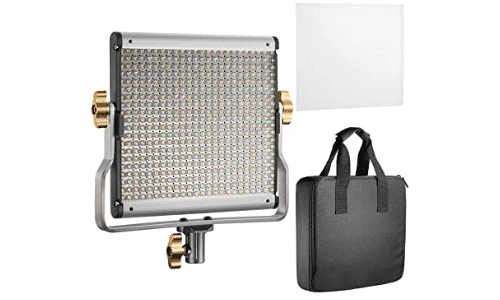 Neewer Bi-Color
Lightweight

360° Rotation

Has a color temperature knob

Has 4-leaf barn doors

Can be plugged in or run on batteries
The stand might be too flimsy for your liking
The Neewer Dimmable Bi-Color LED light comes with 240 white bulbs and 240 yellow LED bulbs to produce a white balance of 3200 – 5600 K. The long-lasting bulbs are built into an aluminum alloy frame that is both functional and elegant in appearance.
The light can be attached to a stand or placed directly on another surface, allowing you to get the lighting angle you need to create quality content. The piece is lightweight and durable enough that it can be easily transported in the included carry bag without worrying about damaging it.
The kit includes a white diffuser that can be used to enhance some tones. It can also be charged through a power adapter or a Sony NO-F5500 NP-970 Li-ion battery. You can rotate the light by 360°.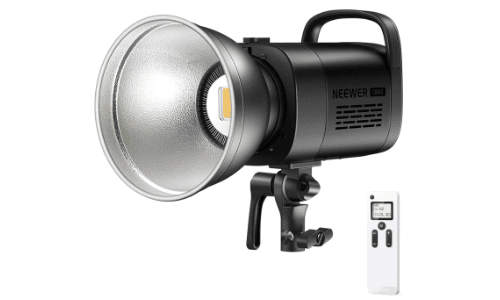 Neewer CB60
Bright LED light bulb

Wireless control

Has a silent fan to control the heat

Versatile mounting options
Not the best for beginners
The Neewer CB60 is a great addition to your current streaming equipment. To begin with, it provides proper lighting with a brightness of 9000lux per meter. Plus, you don't have to worry about overheating the device with this much lighting power. Its own fan operates silently to keep it calm during extended use times.
The CB60 ensures you get an accurate color rendition. With this light, you can produce high-quality videos with vibrant colors. Moreover, it comes with a remote control that lets you wirelessly manage it freely.
You won't regret having this as part of your stream lighting setup. It's well-built, powerful, and offers the best value for its price. You'll easily achieve quality lighting with Neewer's CB60.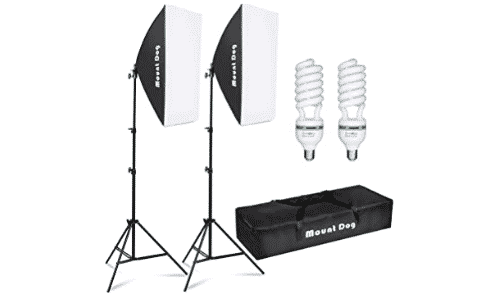 MountDog Softbox Lighting Kits
Easy to use and assemble

Two lights with stands

210° Rotation

Soft Lighting

Affordable
Can be bulky when set up

Limited lighting customizations
If you are looking for soft lighting, you can find an affordable option with the MountDog Softbox lighting kit. This kit comes with two softbox lights that measure 20"x28", two bulbs, two stands, and a carrying case for easy transport.
The lights emit 6500K color temperature through their energy-saving fluorescent spiral bulbs. The lights are typically used for glamour shots or product photography and can be used for channels that want an all-around bright look. On their stands, they can be rotated up to 210° on their stands which can be as low as 27" or as high as 80".
You will need a decent amount of space in your steam room to set up these lights. They have a fairly large footprint and must be placed in the right places for the best results.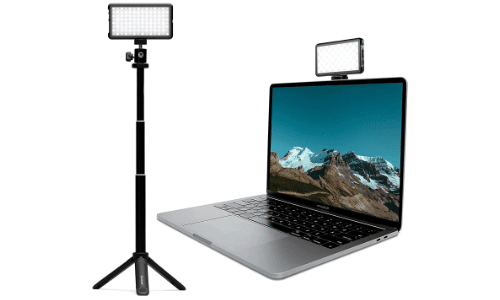 Lume Cube Broadcast Lighting Kit
Compact

Versatile mounting options

Can run on a battery

The display screen shows important info: brightness, color temperature, and battery life
You might need two

No wireless connectivity
The Lume Cube Broadcast is a flexible lighting setup ideal for PC and laptop usage. These LED light panels come with two mounting options, making them convenient to carry around.
This lighting kit provides professional lighting that's perfect for both streaming and virtual meeting purposes. You can even set the light depending on your desired color tone and brightness. It's a piece of amazing and easy-to-use lighting equipment for those who are new to streaming.
Best Ring Lights for Your Stream
Many streamers, as well as other content creators, use ring lights for their streaming setup. Below are the best ring lights in the market today.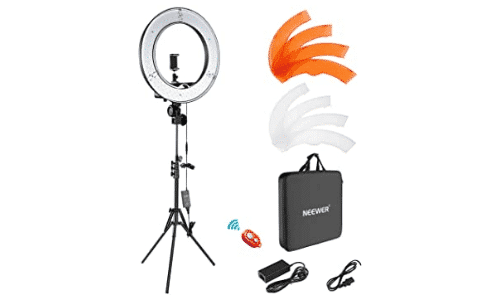 Neewer Ring Light Kit
2 light color filters

Phone and camera mount holder

Flexible soft tube

Easy to setup

Dimmable lights
The holder may not be able to support bigger and heavier phones

Might be too bright for some people
The Neewer ring light is a high-quality, versatile light. The 18-inch light is fully dimmable, allowing you to select the precise brightness that is right for you and your stream. The lights are built to have 240 LED bulbs that all work together to give you the quality you expect from this brand.
The aluminum alloy stand will adjust to up to 61" in height, allowing you to create scenes around your home at a decent height. It also includes a ball head adapter that allows you to attach your cell phone or DSLR cameras to the center of the ring light to maximize the effects perfectly.
The Neewer ring light kit comes with the light, the stand, a carrying case, and 2 color filters (white and orange) to get the hue you want in your stream.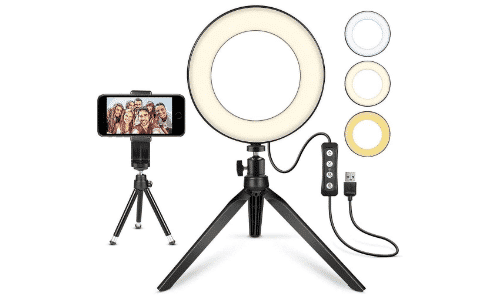 Mactrem LED Ring Light
Affordable lighting option

Versatile lighting equipment

Phone holder

Adjustable brightness and light modes
Must be plugged in via USB

A bit flimsy
If you're looking for a small ring light, the Mactrem LED is a budget-friendly option that comes with 3 light modes and 11 brightness levels. This 6" ring light can bring more charm into your stream as it lights up your face, giving you an overall glow.
The light is a good way to remove the lines from your face or allow your viewers to see your reactions more clearly over time. The light comes with its own stand and a universal stand that will fit a variety of smartphones.
The Mactrem LED small ring light is powered by USB. It can be easily set up in just a few minutes, allowing you to set up your stream area quickly and efficiently.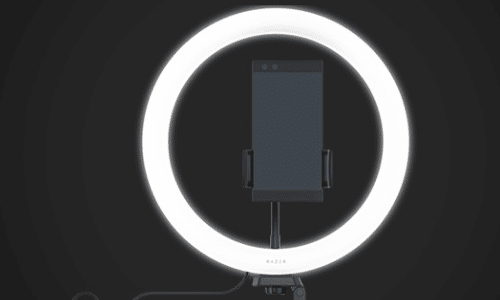 Razer Ring Light
Great value for the price

Several mounting options

Comes with a tripod stand
Must be plugged in via USB

Not as powerful as its competitors
Razer is a leading brand offering streaming equipment for content creators. One of its many products is the Razer Ring Light. This 12″ lighting equipment is great for both beginner and pro streamers. It comes with 192 LED lights to properly light your setup.
Depending on your personal preference, you can adjust the color tone of the Razer Ring Light. You have three options to choose from. First is the warm white, which gives your more of a yellow light effect. Second is the balance white at a color temperature of 4500K. Finally, the cool white tone gives you a blue-light undertone. You're also free to adjust the light's brightness.
This ring light offers a variety of mounting options, which is great for those who are still experimenting with their streaming setup. And after all those features, this ring light comes at a reasonable price.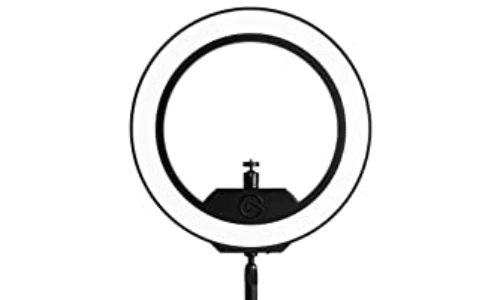 Elgato Ring Light
Premium build quality

Beautiful light output

Flicker-free

Can be controlled via the app

Works with the Stream Deck
This is one of the ideal Elgato key light alternatives. Like the many products of Elgato, this ring light is truly up to their standards. It comes with adjustable brightness and color temperature, ensuring you get the best lighting option available.
It offers a softer light than its competitors, gentler to the eyes. Elgato also boasts its flicker-free ring light that'll help you deliver the best-lit videos to your audience. What's more, you can freely control the ring light on their app, which works with the Elgato Stream Deck. With this ring light, you can be sure to get your money's worth.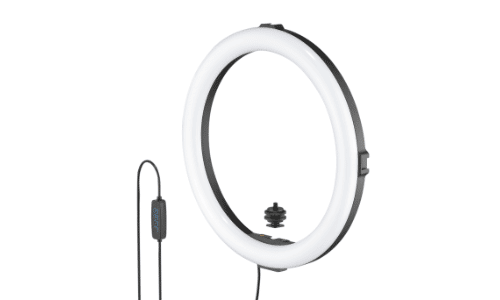 Joby Beamo Ring Light
Affordable

Lightweight

Microphone and camera mount available

10-step dimmable option
Not as powerful compared to its competitors
The Joby Beamo Ring Light is a cheaper alternative in its class. This is perfect for those who are looking for budget-friendly lighting options. It's a 12-inch ring light that has provisions for both microphone and camera mounts.
Apart from being affordable, the Beamo ring light is also lightweight and easy to assemble. You can easily adjust the brightness and color temperature of this device. It offers 10 levels of brightness and 3 color tone options.
Best Background Lighting 
If you really want to step up your streaming game, you can add background lights to brighten up your setup. These lights can provide a fun pop of color when your stream. Here are the best background lights I've found on the market.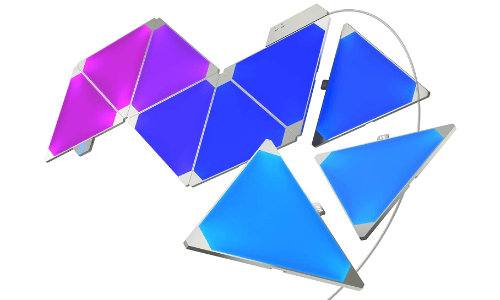 Nanoleaf Light Panels
Bright and fun

Syncs to music

Custom colors

Expandable options
A 2.4GHz connection is required

You may experience issues with connectivity
With Nanoleaf Light Panels, you'll be able to set up a background that can be set to the colors of your brand or changed depending on your content. The lights can be controlled by your voice, their app, or the included controller. They can also be integrated with their integration hub, Amazon Alexa, or Google Assistant. 
Every panel can be placed one at a time, so you can create a look or design that matches your aesthetics or blends with your environment. You can set the lights to sync with your music to create an aesthetically pleasing, subtle experience for your viewers.
Each light can be set to one of more than 16 million colors, allowing you to find the perfect hue that matches your surroundings and attracts viewers to your channel. They also have preset color options if you want something that looks good immediately. You can also set a schedule for the lights so that they naturally change throughout the day (or throughout your stream).
Govee Glide Hexa
Easy to use

Backlight design

Expandable options

Voice control option
The colors are not too accurate

A 2.4GHz connection is required

You may experience issues with connectivity
The Govee Glide Hex is similar to the Nanoleaf light panels. These Hex lights make for amazing background lighting when streaming. You have the freedom to set these panels to your preferred colors. Its RGB lights and RGBIC technology allow you to display a beautiful mix of colors on your wall.
In addition, it has a music mode and animated effects, making it functional and fun to use. With the music mode, the panels sync to what you're listening to. These panels even have a backlight that adds to their overall appeal. It's effortless to set up and a joy to use.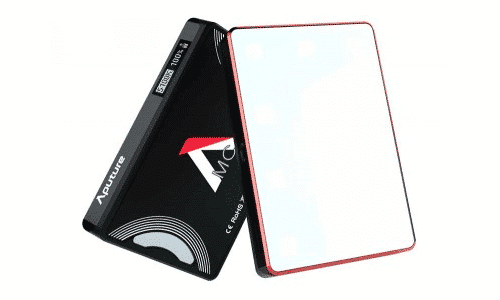 Aputure MC RGBWW LED Lights
Compact

Rechargeable battery

Color customization

Has lighting effects
Lighting effects are not consistent

Might be too small for your setup
Not only does the Apurture MC have red, green, and blue LEDs to create a myriad of colors, but they also added two white LEDs. One of these white LEDs is balanced at tungsten, and the second is balanced at daylight. The results are stunning, giving the user full HSI color control and 100 levels of saturation adjustment.
The Sidus link gives you full control over the lighting effects. These effects include a faulty bulb, fire, fireworks, paparazzi, parties, cop cars, lightning, and more. Use these effects to create excitement on your screen when something exciting happens on your channel. The more you implement special effects, the more your audience will be able to tell you are trying to create a high-quality product.
While the Aputure MC RGBWW LED lights seem larger than life in the quality they bring, they are actually quite compact in size. This allows you to place them in the perfect places to bring the most quality to your stream.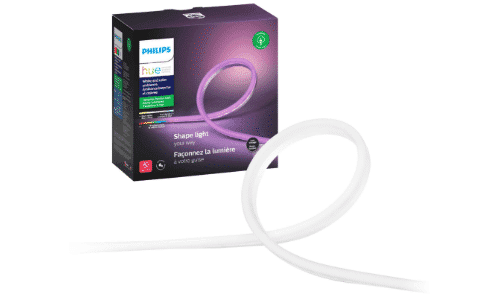 Philips Hue 2M Strip Light
Has LED lights

Color Customization

Bluetooth compatible
Needs strong adhesive

You may experience issues with connectivity

2M may not be enough (depending on your setup)
With the Philips Hue 2m Strip Light, you'll be able to either create your own lighting scenes or choose from their suggested lighting from the provided app. The strip is easy to install on your headboard, baseboard, or desk, depending on how you want the lighting in your area to look.
The lights have many features that keep the product both interesting and functional. These features include easy dimming, smart control, your choice of more than 16 million colors so that you can match your branding perfectly, and timers. You can control all of it with your voice or have it light up as you enter your home.
These lights will work in both indoor and outdoor spaces, giving you several options for use over time. You will be able to set up the perfect balance between warm-to-cool lighting to help you and your audience feels right at home within your channel.
Frequently Asked Questions
Should You Use a Ring Light for Streaming?
Whether you use a ring light for your stream setup is up to you. They are typically used by influencers working in the fashion or glamour industries because they set up a face for modeling. The ring is typically seen in the eyes, which can be very appealing if set up correctly.
Some ring lights allow you to attach your phone or another camera to the ring. This can make the product very useful if you want to have your camera set up or if you are doing IRL streams from around your home (such as a cooking stream). The extra lighting will help your space, and you will know it will be directed at you.
Can You Simply Use Natural Light?
Natural light can provide good lighting for you, but only during certain hours of the day. It's not ideal to rely on natural lighting because you can't control it. Consider that there will be cloudy and rainy days. Plus, depending on where your window is, you may not get the optimal light needed for streaming. At the end of the day, having a light setup is the best solution for brightening up your space for streaming.
Conclusion
Lighting is such an important aspect of creating video content. You may not realize it at first, but having lights on you and around you can enhance and improve the overall quality of your streams. This improvement can help you gain more viewers in the long run. So, upgrade your streaming setup today with the lighting equipment I've mentioned here. Happy streaming!