There are several reasons why you may want to watch more than one live-stream channel at a time. Sometimes more than one of your favorite broadcasters will be streaming simultaneously. Other times, you will be watching a streamer who is collaborating with others. You don't want to miss the best content, but you also don't know who to choose.
The good news is that you can watch multiple streams on Twitch at the same time. The most obvious way is to arrange multiple tabs on your screen, but that isn't ideal.
How to Watch Two Twitch Streams at the Same Time
Sometimes you want to watch one streamer play a game, another paint a portrait, and listen to a musician in the background. While you may want to support all of these channels, it is difficult to jump tab to tab. Fortunately, there are several sites that are easy to set up. Not only can you adjust the volume controls, but you even participate in each chat, allowing you to stay engaged with the communities.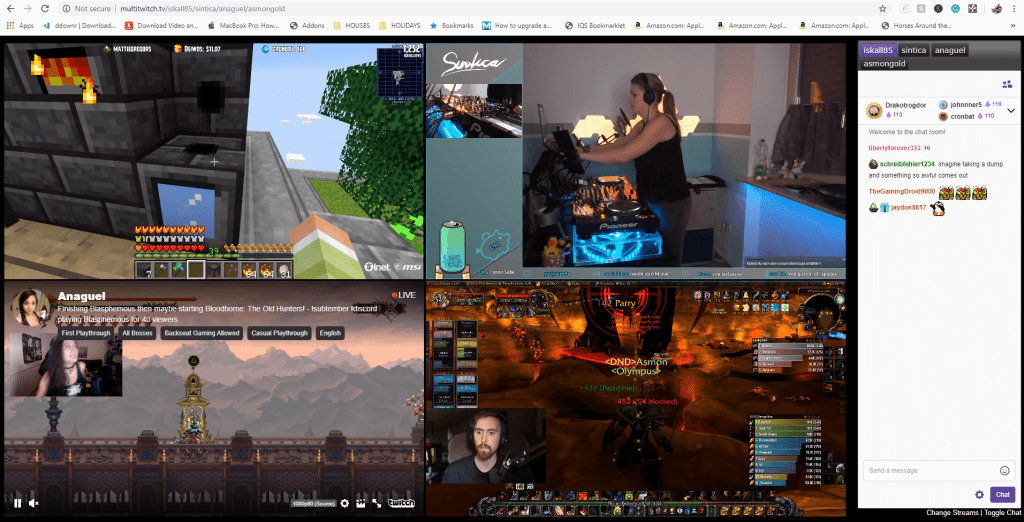 Platforms to Watch Multiple Twitch Streams
Before tackling the third-party sites, it should be noted that Twitch has a way where streamers can simultaneously stream together. If you want to watch a group, simply search for "Squad Stream" on Twitch's filters section. As long as the broadcasters have set things up correctly, you'll be able to view their channels simultaneously. Note: you are not able to choose which channels to watch with this method.
1. How to Use MultiTwitch
MultiTwitch is probably the most well-known of these options and it is fairly easy to use.
Step 1

Keep the platform's URL in the top bar.

Step 2

Add the names of the streamers you would like to watch. Each channel name will need to be separated by a forward slash (/).

For example, if Tfue and Shroud are both streaming at the same time and you would type in http://www.multitwitch.tv/shroud/tfue to view both simultaneously. This site only works for online Twitch streamers.
2. How to use MultiStream
MultiStre.am also only works solely for Twitch channels.
Step 1

Type in the names of the streamers you want to watch at the same time.

Step 2

Wait for the site to arrange them for you.

Step 3

Choose how you want your channels and chat to be arranged.
The platform give you several options on how you would like the broadcasts arranged with options for a chat. The site also features select streamers in their community that you can easily select to view.
If you want to chat on this site but only select an option with one chatbox, you can change which channel's feed you are reading at the bottom of the box. This site is very easy to use and has a good interface.
3. How to Use Twitch Theatre
Another Twitch-only system is Twitch Theatre. This program allows viewers to easily add and subtract channels that they wish to view. You can even follow the chats of channels that you aren't watching. This platform is intuitive and very easy to set up and use.
Watch Streams From Multiple Platforms
While being able to view several Twitch streams at once, what if you want to watch two streamers who are on different platforms? The good news is that there is an app for that!
4. How to Use Multi-Raredrop
Multi-Raredrop allows you to mix and match streamers from 14 different platforms including Twitch, YouTube, and Facebook. But wait, there's more! To make it even easier for you to watch your favorite channels simultaneously, you can authorize some of your accounts on the site. This allows you to easily see live broadcasters that you follow and quickly set up the ones you want to view by dragging their channels into the selection boxes at the top of the screen.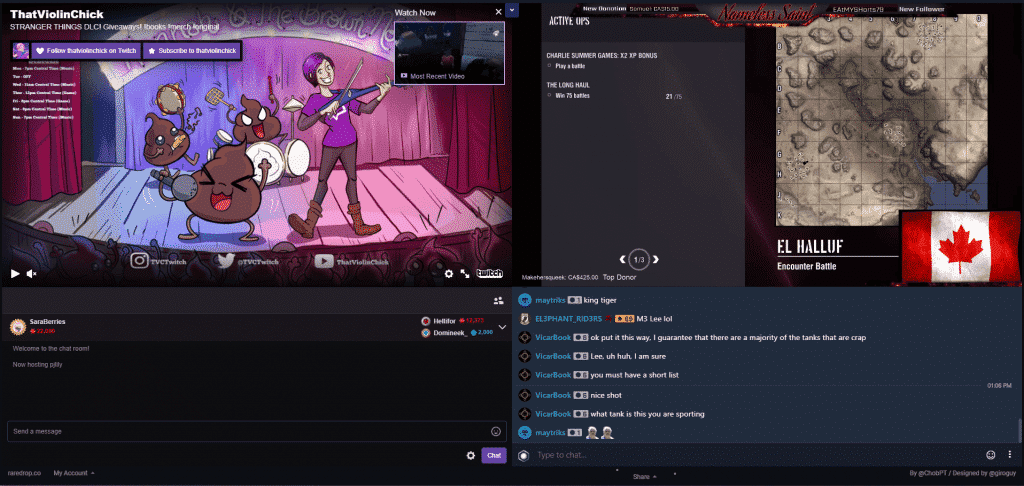 As if these free features weren't enough, the company also offers apps for streamers to use in their channels.
The streaming industry is still in its infancy. As it grows, we will likely see features like these integrated on more platforms and with more devices. Support sites like these to push for better viewing options in the future.