Streaming on Facebook Gaming may not be as straightforward as you would hope, but this guide hopes to help you through each step of the process so that you can have a successful stream.
To start streaming games on Facebook, you must first set up a Facebook Gaming creator Page.
How To Stream on Facebook Gaming
If you choose to not use a broadcasting software, you can also stream directly from your Facebook Gaming page.
How to Make a Facebook Gaming Creator Page
To create your own gaming page, complete the following:
Step 1: Go to the gaming page creator section on Facebook and create a page.
Step 2: Add a profile picture (either an image of you or a logo) to your creator page.
Step 3: Add a description to your page by clicking "Edit Page Info." If you have a dedicated streaming email, you can add it for business and collaboration inquiries. You can also add a link to your streaming website if you have one.
Step 4: Invite friends to join your page. You can search for them on the right side of your screen.
Can You Stream From OBS on Facebook?
If you want a more polished stream, you can stream from OBS, Streamlabs, or XSplit on Facebook Gaming. This allows you to seamlessly add chatbots, stream alerts, and your own stream branding to the video feed. Streaming from third-party software is definitely a step up from broadcasting straight from your Facebook Gaming page.
Set up Streamlabs
Streamlabs is one of the best streaming software. It was created as an alternative to OBS with an easier user interface. The program has a lot of versatility. You can even enter their "all-star program" to unlock exclusive rewards as your channel grows. Here is how you can set up Streamlabs:
Step 1: Visit the Streamlabs website and download the free software.
Step 2: Install Streamlabs on to your computer. Sync the program with your Facebook account.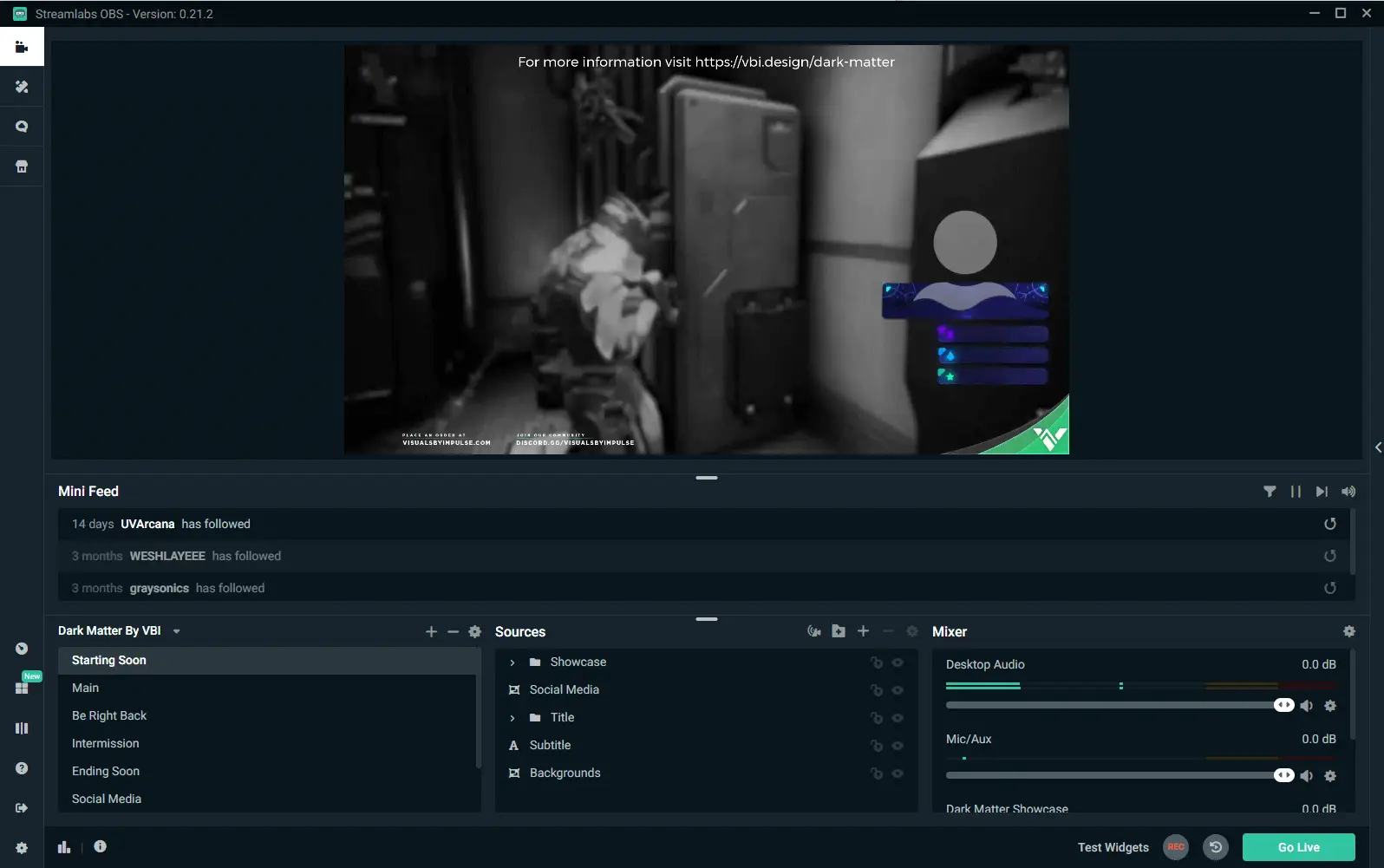 Step 3: If you already have Streamlabs installed, but not synced with your Facebook account, click on the Settings icon (a cog) at the lower left-hand side of the screen, then select "Stream."
Signing in through Facebook on Streamlabs should automatically sync your accounts so that you will be able to stream automatically. However, in the event that it doesn't work, you will need to input your stream key.
How to Find Your Facebook Stream Key
To stream from OBS, Streamlabs, or XSplit, you may need to access your stream key from Facebook. Here is what you should do:
Step 1: Visit the Facebook Live page
Step 2: Click the "Create Live Stream" button
Step 3: From the column on the right, choose "Share on a Page You Manage from the drop-down menu from the "Choose Where to Post Your Broadcast" box.
Step 4: Choose your Facebook Gaming page from your options
Step 5: Input the game category and create a stream title.
Step 6: Copy the stream key from the page
Step 7: Open your broadcasting software and past the stream key in the appropriate settings
Step 8: Go live from your stream software and the Facebook page.
Benefits of Streamlabs
Streamlabs is easy to use set up and is very versatile, but there are some other features why we believe it is the best choice, especially for new streamers:
Streamlabs cloudbot – one of the best cloudbots for streamers, it comes integrated into the software for easy setup.
Widget – Streamlabs offers many widgets that you can add to your channel to allow for viewer interaction.
Support – Not only does Streamlabs have good support through their platform, but many other streamers also use it and are often happy to help troubleshoot problems.
Updates – New features are being added all the time, and you can always upgrade to Streamlabs Prime to unlock premium features to take your stream to the next level.
Set up Your Stream Screens
Setting up screens in Streamlabs will allow you to transition to different scenes to keep your stream visually interesting. Not only will you want to stream your game, but you should also have scenes to show that you are starting your stream, ending your stream, or chatting with your viewers. You can either edit the basic one that Streamlabs has pre-installed, or you can upload your own.
There are several places where you can Facebook Gaming scenes, but here are our favorites:
OWN3D – OWN3D has several discounted packs available for streamers. These packs include all of the graphics you need to quickly set up your channel so that it looks branded and professional.
Placeit – If you want a professionally animated scene that matches your brand's colors, check out Placeit's inventory. You can choose from a variety of options, then make edits to it to better match your brand.
Streamlabs Prime – with Streamlabs prime, you can choose from several scene templates and edit them to go with the overall look of your channel.
You can edit your Streamlabs base scenes by selecting each individual source in the source boxes. Each source will have unique features that you can edit. You can also upload additional sources to these scenes to make them more unique.
You can have multiple different scenes that you can switch to depending on what you are currently doing on your stream. In the future, you will want an Elgato Stream Deck to help streamline this process, but for now, you can switch from scene to scene within Streamlabs. Most streamers will have at least one of each of the following:
Just Chatting Scene – typically used at the beginning and end of each stream as you greet your viewers and wish them well.
Content Scene – usually shows your content with a webcam box in a corner as well as widgets detailing the most recent followers and subscribers.
BRB Scene – we all need to take short breaks if we stream for several hours. Using a "Be Right Back" scene will let your viewers know that you are currently AFK but will return shortly.
You can also set up transitions that will happen between each scene change. These added details will create professional value for your viewers.
Add Overlays and Graphics to Your Scenes
Using relevant graphics on your stream is very important for your overall stream branding. Not only do they up the quality of your stream for your viewers, but potential streaming sponsors will take your brand more seriously as they will see a level of professionalism on your channel.
Graphics and branding are good ways to create continuity on your channel and across your social media platforms. While you can start out basic at first, remember to continually build on your graphics to give your viewers the quality they expect.
What Graphics Do You Need for Your Facebook Gaming Channel?
When it comes to graphics for your Facebook Gaming channel, you will need to have the following:
Overlays – the best Facebook Gaming overlays will allow you to show data on your screen while you stream. They will add detail around your camera, make each scene interesting, and potentially showcase future sponsors or products.
Logo/Avatar/Profile Picture – when you are first starting, use a photo of yourself as your profile picture. As you create your brand over time, you'll be able to find a logo that suits your personal style and community.
Banners – you will need a Facebook banner for the top of your Facebook page.
Facebook Stickers (Emotes) – while you won't be able to use stickers on your channel until you reach the Level Up program, it is a good idea to think about what you want and plan for the future.
Best Facebook Gaming Channel Graphics
Here are four great places where you can find graphics for your Facebook Gaming channel:
Set up the Streamlabs Chatbot and Cloudbot
If you don't have a second monitor, you can see your Facebook Gaming chat while you stream using Restream, Baffler, Chatty, or another plug-in. You can even set up a tablet or your phone next to your screen to view your chat messages.
The Streamlabs Cloudbot offers great tools to help you moderate your chat and allow your viewers to use commands for memes and information. You and your viewers will interact with it through your chat through the duration of your stream. It is one of the most essential tools you can set up when you begin your career on Facebook Gaming.
How to Set up the Streamlabs Cloudbot
To set up your Streamlabs cloudbot, you will need to complete the following steps:
Step 1: Visit the Cloudbot page on Streamlabs' website.
Step 2: Login with your Facebook Gaming account.
Step 3: Click the "Cloudbot" option under Features on the left-hand side of the screen.
Step 4: Set up your cloudbot with mod tools, word protection, mini-games (under modules and loyalty), custom commands, and more. As you grow, you will make adjustments to these features, but you will always be able
Set up Stream Alerts
Stream alerts are animated (generally) graphics that pop up on your screen when your viewers follow, subscribe, or donate to your channel. The best stream alerts will match the overall branding of your channel in a visually appealing way.
Setting up stream alerts using Streamlabs is easy as the most popular stream alerts widget is also made by Streamlabs. Here is how it is done:
Step 1: Click the "+" above the Source box to add a new source.
Step 2: Choose "Alertbox" from the available widgets.
Step 3: Name the source whatever you wish, then press the "Add Source" button.
Step 4: Edit the setting for each alert by clicking the name of it on the left side of the menu. You can change the title message, what image of gif is shown (you can even upload your own), the colors, and the fonts. You can even set up several variations depending on how much is donated, etc.
Step 5: Test each widget at the end to ensure that you have exactly what you want. When you are finished, press the "Done" button.
Step 6: Move the widget box to your desired location on the scene by clicking on the image and dragging it.
Find Stream Alerts
While Streamlabs has many options built into their program, there are a few places where you can find animated alerts that will give you more of a variety of options. Here are three:
OWN3D – OWN3D has over 100 different animated alerts on their platform. Most have minor customizations available to make them more unique to your channel. 
Nerd or Die – Nerd or Die has dozens of alerts in a wide variety of styles to help you find alerts that work well with you.
Streamlabs Prime – If you upgrade to Streamlabs Prime, you will have access to additional alerts and an app that allows you to customize an animated avatar that will react to specific viewer interactions. 
Other Alert Widgets from Streamlabs
There are several other widgets that you can use to celebrate your viewers on screen. You can use an event tracker to show who recently followed or subscribed, keep track of your current goals, or set up stream labels in Streamlabs. Just remember to not clutter your screen too much as your viewers will still need to be able to see your content.
Set up Your Mic and Audio for Streaming
One of the most important things about aby stream set up is your mic. While it is possible to grow a following without a webcam, it is nearly impossible to grow a following without a mic. Sound quality is just as important as people will be turned off by static, background noise, and uneven sound.
If you can only afford either a good mic or a webcam, go with the good mic. Don't skimp on your audio quality.
Add Audio Source to Streamlabs
Most of your audio will already be picked up by Streamlabs. In the event that you need to add another audio source to Streamlabs, complete the following:
Step 1: Click the "+" above the Source box to add a new source.
Step 2: Select "Audio Output Capture" from the Standard options.
Step 3: Name the source whatever you wish.
Step 4: Choose the source you want to input from the drop-down menu. Click the "Done" button to finish.
Stream Mics for Facebook Gaming Beginners
When it comes to mics for streamers, you don't need to spend much money to get the quality you need. Most viewers won't notice a difference in a mic that costs $100-150 when compared to one that is far more expensive.
That being said, there are some mics in the $50-75 range that work quite well and will give you the audio quality you need. Don't rely on a headset or webcam mic as these are generally lower quality.
Here are three great stream mics for beginner streamers:
Blue Snowball
Crystal Clear Audio
USB 2.0 Device
No Drivers Needed
Sound Mixers for Beginner Streamers on FB.GG
Mixers are used to balance the volume from your mic and the volume from your game for your viewers. You can also adjust the volume from your Discord friends and any other audio input.
Streamlabs – Streamlabs has a built-in mixer on Streamlabs that will meet the majority of your basic mixing needs early on in your streaming career. You can adjust the sound easily from the main screen.
Voicemeeter Banana – If you need slightly advanced software from the Streamlabs mixer, you can download Voicemeeter Banana for free!
GoXLR – as your streaming career progresses, you may want to invest in professional mixing equipment. The GoXLR is a mixer and sampler that was designed with streamers in mind.
Use Royalty Free Music and Sounds
You can find royalty free music for your stream in a variety of places, but Streamlabs Prime makes it easy once again with their Jingle Punks app, which has over 100,000 tracks in every genre that is copyright-free and stream-friendly. The same goes for any sounds you play on stream. It is important to find media that won't attract a DMCA takedown.
Set up Webcam, Green Screen, and Lighting
Many Facebook Gaming viewers enjoy watching a streamer react to their content or to their chat. Setting up a webcam in Streamlabs will help you connect with your strangers as your channel will seem more personable. If you have more than one camera, you can import feed from different ones to either show you at multiple angles on different scenes, show a project you are working on, or show off your pet.
How to Set Up Your Webcam in Streamlabs
To set up your webcam feed in Streamlabs, complete the following steps:
Step 1: Click the "+" above the sources box.
Step 2: Select "Video Capture Device" from the available options, then click "Add Source."
Step 3: Make sure your webcam is connected to your PC so that the software can find it. Choose the right camera source, then configure the settings to your liking. Click "Done" when you are satisfied.
Step 4: Move or resize the Streamlabs webcam feed anywhere on the scene until you find the right look.
Best Stream Webcams for Beginners
Connect with your viewers with one of these webcams. The minimum resolution you should use is 720p. For now, that is good enough, especially since your webcam will generally just take a small portion of your screen. If you want to future-proof a little, however, look for one with 1080p or higher.
Here are three great picks for webcams:
Logitech C922
HD 1080p Resolution
Brighter Images
72° Field of View
Razer Kiyo
Built-in Ring Light
HD 1080p Resolution
Foldable Design
Logitech C270
HD 720p Resolution
Entry-Level Webcam
Clear Video Quality
Use a Green Screen to Stream
If you use a green screen, you can remove your background or replace it with something else entirely. Setting up a green screen in Streamlabs can be done quite easily, especially if you have proper lighting.
Best Green Screens for Beginner FB.GG Streamers
Depending on your space or budget, there are several options for green screens available. Here are three great choices:
Elgato Screen
Premium Screen
Collapses for Storage
Full Coverage Chroma
Set Up Your Stream Lighting Equipment
While this isn't a necessary expense when you first start streaming, once you make a little money, you should look into good lighting to improve your video quality. After your mic, webcam, and graphics, lights should be your next expense.
If you have room for them, you will eventually want to have at least 3 quality lights set up around your stream room. Here is what you will need:
Key light – your key light will be the main source of light. It should be placed in front of you and to the side so that it lights up your face, but isn't centered on your face.
Fill light – the fill light will be placed on the other side of your set up to fill in any shadows created by the key light.
Back light – the back light should be behind you to the side so that it is filling in the space behind you. This will help create a separation between you and your background or green screen. When using a green screen, direct the light toward the screen to remove any harsh or obvious shadows.
When you are just starting, you really only need the key and fill lights to start. If you adjust the fill light correctly, it should also cover your green screen.
Best Stream Lighting for Facebook Gaming Beginners
Good lighting can make all the difference in your video quality. Here are few lights for you to consider as you venture into your streaming career:
Crenova Ring Light
3 Colors
10 Brightness Levels
Stable and Flexible
Elgato Key Light
2800 Lumens, Fully Dimmable
Glare-Free Diffusion
App-Controlled
Decide What to Stream
Though you have probably considered what you would want to stream before setting up your Facebook Gaming account, you will need to have a little strategy in order to bring in new viewers. This will require some market research and some creativity and thinking outside of the box.
Depending on what you stream, you will need to set up scenes in Streamlabs to show off your content.
How to Stream Games on Facebook Gaming
Most Facebook Gaming streamers focus on gaming. Here is how you can set up your gaming app through Streamlabs:
Step 1: Create a new scene using the "+" button above the "Scene box"
Step 2: Then click the "+" icon that sits above the "Sources" box.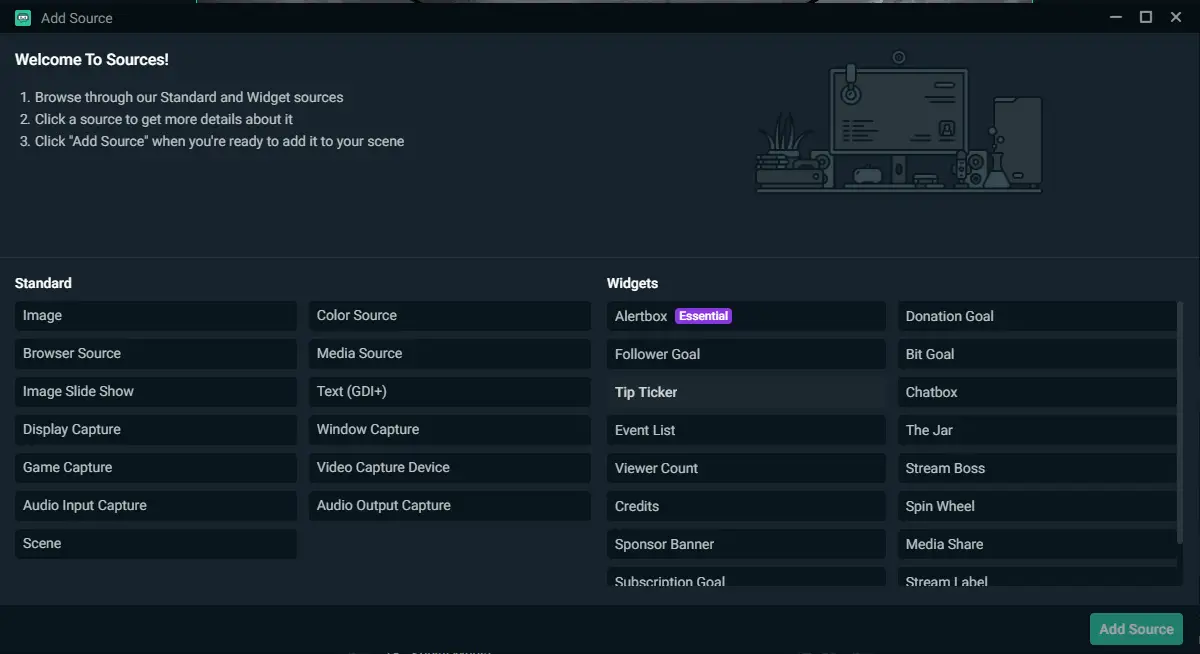 Step 3: Select "Game Capture" from the Standard source choices, then click "Add Source:
Step 4: Name the source whatever you wish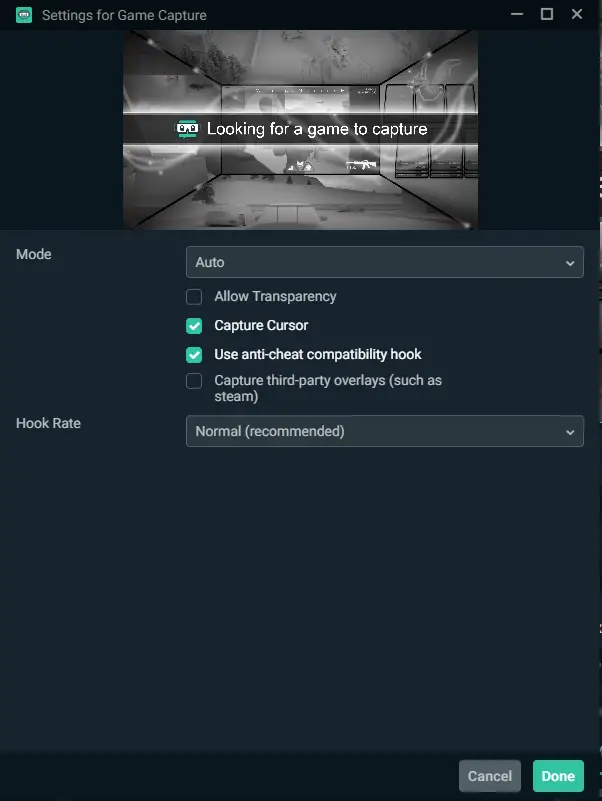 Step 5: A new screen will appear with the standard settings with this source (shown above). Edit these settings to your personal preferences. Click "Add Source."
Step 6: Streamlabs will automatically pull the visuals for most modern games without you having to input the actual game if you have the "auto" capture on. There are a few games that won't automatically capture, so you will want to test the game before you go live.
Try to avoid saturated games. Instead, pick games that have a good viewer to streamer ratio. This will allow you to have a better chance to be seen by random people browsing channels.
How to Stream Your Desktop on Facebook Gaming
Here's how you can stream your Desktop on Facebook Gaming:
Step 1: Click the "+" above the source box to add a new source.
Step 2: Select "Display Capture" from the available options, then click "Add Source."
Step 3: Name the source whatever you wish.
Step 4: Choose whether or not you want to capture your cursor, then click "Done"
Step 5: Add any overlays you want to add to the screen.
Note: try to use a second monitor or a portion of the screen that won't show notifications. You don't want a random Twitter post from one of your friends to dox you.
Go Live on Facebook Gaming
When it is finally time to go live, follow these steps:
Step 1: Make sure your equipment is turned on and in place.
Step 2: Launch Streamlabs and make sure that your settings are correct.
Step 3: Select your starting screen so that it is what is seen.
Step 4: Click the "Go Live" button at the lower right-hand side of the screen.
Note: I highly recommend that you set up a confirmation message before you go live. This will help you make sure that your title, categories, and other aspects are correct and prevent you from accidentally streaming when it isn't your intention.
To do this, go into your Streamlabs settings, and select the "Confirm stream title and game before going live" option.
Build Your Facebook Gaming Community
View your first few streams as a practice round. Very few people are comfortable right out of the gate. Ask some good friends to spend time with you in your chat and to give you feedback about what you can improve. Take their advice. If someone joins your channel, interact with them as soon as you can and be welcoming. Let them know that you are just starting and wanting to learn the ropes.
Keep talking and entertaining. If the game you are playing makes it difficult to interact with your chat, you may need to find another game while you are growing. Newer channels rely on interaction to grow. Be yourself and laugh as much as you can. Don't be afraid to poke fun at your mistakes or if something on your stream breaks. Your viewers are more likely to stay if you can laugh about a situation instead of becoming angry or frustrated.
Create a streaming schedule and stick to it. Start off doing 3-4 days per week until you know how much you want to stream. You don't want to burn out, but you also want to be seen by as many people as you can.
Thank Your Viewers and Sign Off
Don't forget to thank your viewers for spending time on your channel. After you have finished, make sure that you have turned off your webcam and your streaming software. Several people have inadvertently let their camera continue running, occasionally getting banned for streaming content against ToS.
How to Stream Directly From Your Facebook Page
If you just want to set up a quick stream of your gameplay or a video of yourself stating a message, you can quickly go live without any external software. Here is how:
Step 1: Click the "Live" button in the Create box.
Step 2: Write something about the stream in the provided place. When your stream shows up in other people's feeds, they will be able to quickly read about it to know what it is about.

Step 3: Choose between streaming your webcam feed or sharing a screen. Make sure to select your correct mic.
Step 4: Add a title and tags to your stream. Make sure they are relevant to what you are broadcasting.
Step 5: Add any other groups to the "Share to Your Group" section. Make sure that you have permission to do so and that you aren't breaking any page rules.
Step 6: Finally, click the blue "Go Live" button on the lower right-hand side of the
Conclusion
Once you learn to go live on Facebook, you'll be able to stream with a few clicks of the button whenever you want from the broadcast software of your choice.