You've just started streaming recently, you've built a community of a few dozen followers, some repeat viewers, and your stream is starting to gain some traction. You want to take your stream to the next level and you're thinking about purchasing a brand new microphone.
One of the most important factors of a stream is audio quality. While some viewers may watch if the video quality is less than average, most won't stick around if a mic sounds harsh, laggy, or if there is no sound at all. It is important for all streamers to look into mics for Twitch, YouTube, or whichever platform you choose.
There's one specific microphone you keep hearing about: the legendary Blue Yeti. In this article, we will discuss and review some of the features the Blue Yeti has to offer, and if it's worth spending the money necessary for the upgrade.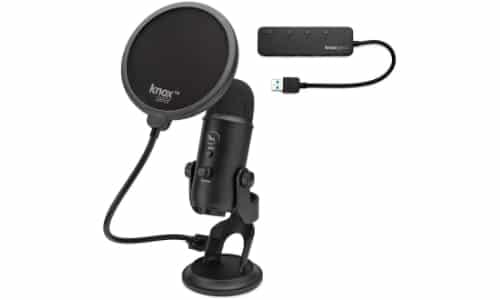 Blue Yeti Features
The Blue Yeti is a USB microphone, meaning that it's simply a plug-and-play microphone. There are no drivers or software needed. The microphone offers several fantastic features that make it great for streamers, podcasters, and content creators. A few of its more popular features include:
The Yeti is great for both new and intermediate streamers, podcasters, and other content creators online. It is affordable, but still offers a lot of quality and versatility to its users.
1. Design and Build Quality
The Blue Yeti has a bit of a unique and unconventional design, but looks very classy. It boasts a metal exterior, plastic knobs, and definitely feels very sturdy. It comes with a metal base stand and weighs 3.4 lbs with the stand, or 1.2 lbs on its own.
The Blue Yeti comes in many different colors including Blackout, Silver, Platinum, Midnight Blue, Aztec Copper, Lunar Gray, Space Gray, Whiteout, and Prime Red.
2. Polar Patterns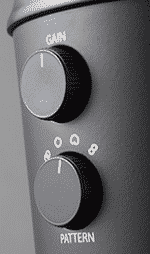 The Blue Yeti features four different polar patterns that will each pick up different sound patterns, depending on your needs. In my opinion, the variety in pickup patterns makes the Blue Yeti such a versatile microphone. The four polar patterns are:
1. Cardioid Mode: This is the most common mode for streamers, podcasters, voice-overs, and recording music. When this mode is selected, the microphone will pick up the sound that is directly in front of the microphone and minimizes the sound from the back and sides of the microphone. I use this mode as a streamer since it will minimize certain sounds like PC fan noise, keyboard and mouse clicks.
2. Stereo Mode: This is the most common mode for immersive experiences such as ASMR, due to the fact that it captures a wide and realistic sound, which is separated on the left and right channels.
3. Omnidirectional Mode: This is the most common mode for conference calls or multi-person podcasts, since it will pick up sound from all directions.
4. Bidirectional Mode: This mode is best for a two-person interview or podcast where you have one person on either side of the microphone since it will pick up sounds directly from the front, or back of the microphone.
3. Gain Control
The gain knob on the back of the microphone is where you can control how much sound the microphone will pick up. The lower the gain, the less sensitive the microphone will be. The higher the gain, the more sensitive the microphone will be, and the more loud and distorted your audio will be.
The Blue Yeti is known for being a very sensitive microphone right out of the box. This was definitely true for me, but it was easily adjustable. I place the microphone about 4 to 10 inches away from my mouth when I'm streaming, and my gain is set at just slightly above zero. If you have your microphone further away from your mouth when streaming, you can simply turn up the gain and it will pick up your voice more easily.
4. Mute Button
The Blue Yeti can be easily muted and unmuted by pressing the mute button that sits on the front of the microphone just below the Blue logo. When the red light on the button is a solid red, the microphone is on. When the red light is flashing, the microphone is muted. This is a great feature because you can mute yourself directly on the microphone with ease and without having to fiddle around with your audio settings on your computer or streaming software.
5. Headphone Jack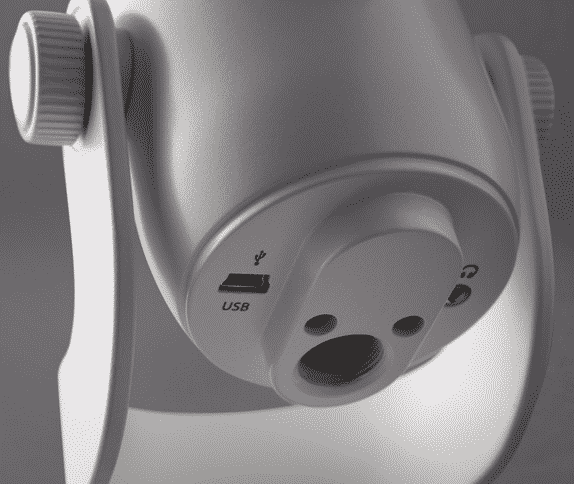 On the bottom right side of the microphone, you will find a 3.5-millimeter-headphone jack where you can plug in your headset and listen to exactly what you are recording without any latency whatsoever. As a streamer, I have not used this feature too much, but it is a great way to monitor your audio levels, or even your computer audio, when recording.
6. Volume Control
The volume control knob on the front of the microphone is used to control the volume output of the headphone plugged into the 3.5-millimitre-headphone jack.
Headphone Amplifier Specs for Blue Yeti
Impedance: 16 ohms
Power Output (RMS): 130 mW
THD: 0.009%
Frequency Response: 15 Hz – 22 kHz
Signal to Noise: 100dB
Is the Blue Sherpa Software Easy to Use?
The Blue Sherpa Software is relatively easy to use. With this software, you can download firmware updates, and customize your microphone settings from the gain to the polar patterns. Although you can already control all these settings directly on your microphone, or even on your computer, with Blue Sherpa you will not have to worry about making any noise while fumbling with the knobs during a live stream or a recording.
Download link for the Blue Sherpa Software: https://www.bluemic.com/en-us/products/sherpa/
Blue Yeti Accessories
There are a few accessories that I recommend purchasing along with the Blue Yeti. When purchasing any of these accessories, it is important to verify the compatibly with the Blue Yeti because of its unconventional design.
The first is a pop filter, which will prevent the loud popping sounds from certain words (usually that start with the letter "P"). This will certainly help the Blue Yeti sound better. I use a simple foam pop filter, which was under $15 on Amazon and does the job.
The second accessory I recommend is a boom arm, which will be mounted to your desk and will be used to get your Blue Yeti as close to your mouth as possible. There are plenty of options that vary in price.
The last accessory I recommend is a shock mount, which will isolate your microphone from external vibrations. This means that if you hit your desk out of frustration, those vibrations will not be picked up by the microphone and will not be heard by your audience.
Yeti Professional Bundle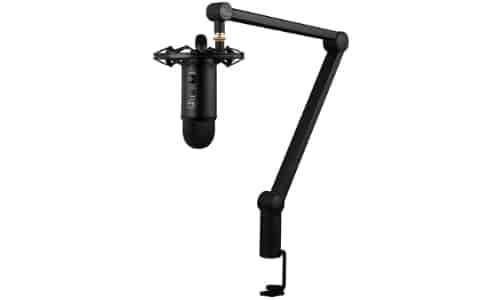 For those of you who are willing to spend a bit more, you can purchase the Blue Yeticaster Professional Broadcast Bundle, which comes with a shock mount and boom arm.
Frequently Asked Questions
How do You Set Up the Blue Yeti?

The setup of the Blue Yeti is actually quite easy due to the fact that it is a USB microphone. The Blue Yeti has a desktop microphone stand included. However, you will probably want to get an aforementioned boom arm so that you can get the microphone in front of your mouth when speaking into it.

Once that's set up, you will want to plug in the microphone to one of your computer's USB ports, and your computer will automatically detect the microphone. Then, you'll need to adjust the gain, pick-up pattern to cardioid (for streaming), headphone volume, and make sure the microphone is unmuted. It is important to speak into the front (not the top) of the microphone on the same side as the Blue logo to obtain the best possible sound.

If you are using software like Streamlabs for streaming, you can add in filters such as a limiter, compressor, and noise gates to adjust the sound to your liking.

Is the Blue Yeti Good for Streaming?

The Blue Yeti is great for both beginner and advanced level streamers. It is a USB microphone meaning that it sounds great and is easy to set up. It has the cardioid polar pattern feature that streamers love since it minimizes all sounds not coming from the front of the microphone.

When Streamlabs filters such as noise gates and compressors are added, you can truly achieve the broadcast quality sound. At its price point, the Blue Yeti is truly unbeatable when it comes to streaming microphones.

Is the Blue Yeti Good for Podcasts?

The Blue Yeti is a great microphone for podcasts. It is extremely versatile and can be used effectively in various different types of podcasts thanks to the different polar patterns it sports. It can be used for individual podcasts because of its cardioid polar pattern, for two-person podcasts because of its bidirectional polar pattern, and for multi-person podcasts because of its multidirectional polar pattern.

It can achieve a sound quality similar to its competitors like the HyperX Quadcast but remains slightly cheaper. Based on all this, the Blue Yeti establishes itself as one of the best microphones for podcasts in its price point.