Twitch panels are located in your about me section. They are a combination of text and images that can be arranged in order to pass pertinent information to your viewers. The best-designed panels will give your viewers a sense of your brand and help them quickly find what they are looking for. 
This article will cover the bases of creating panels for your profile, as well as give you some examples for inspiration.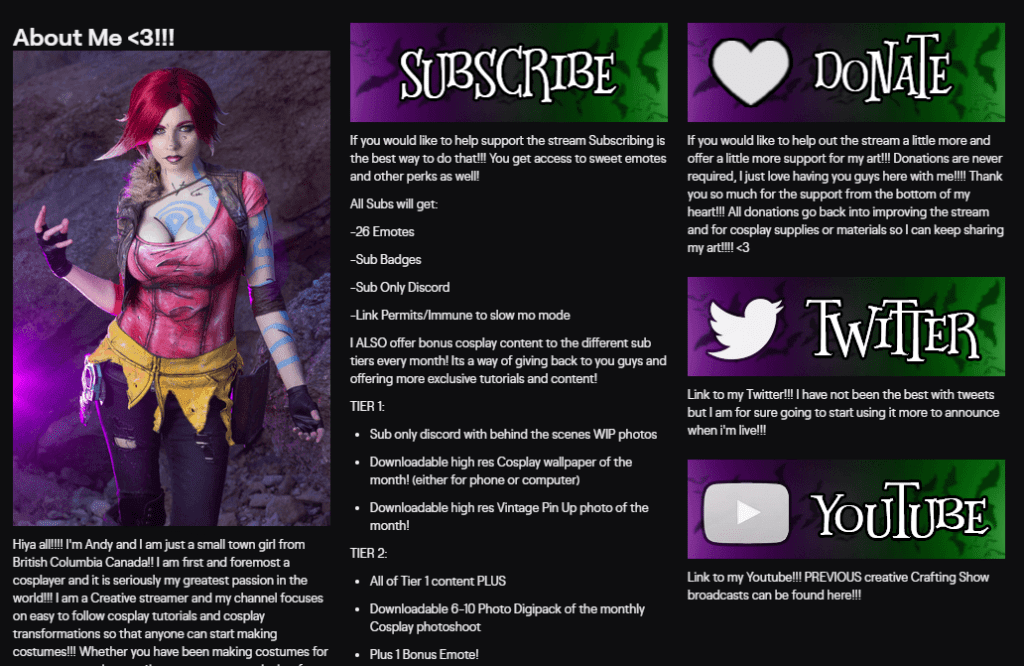 Twitch Panel Size
The recommended size for Twitch panels is 320px wide. While Twitch states that the maximum length is 600px long, many have uploaded longer. Images larger than 320px wide will be scaled down to fit. Panels need to be under 1MB in file size.
Top Panels for Twitch
Unless you are designing your own or can afford a custom designer, you may need to start out with some Free Twitch panels when you are starting out. Here are a few options for you to browse: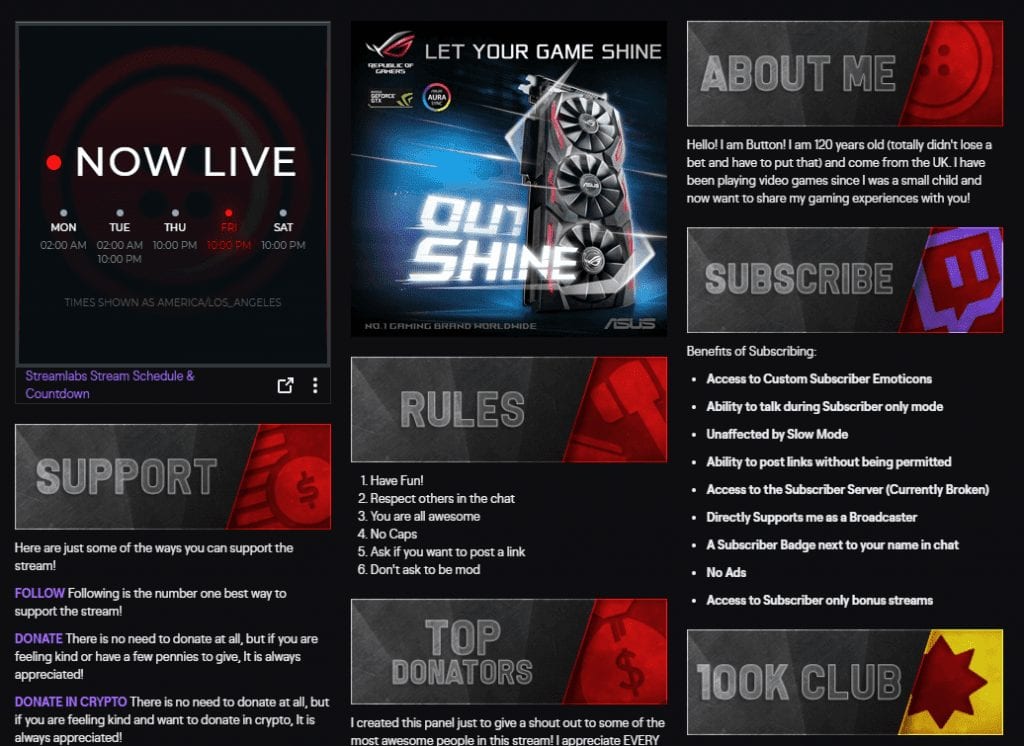 What Your Twitch Panels Should Have on Them
There are some panels that are considered "essential" to include on your Twitch channel. Here are a few that we recommend you create:
About Me
Under the panel, write out basic information about yourself and your channel. Add a fun fact or two that separate you from others who stream similar material. Personal information (even if it is minimal) helps your viewers connect with you and they will be more likely to stay on your channel.
Donate Button
Set up a donation button on Twitch, but don't make it the biggest panel or try to draw additional attention to it. People who want to donate will know it is there. Making it too large may make you look greedy and some viewers will be put off by it.
PC Specs
Questions about your equipment are more common than you would expect. Have a list of the equipment you use in your description.
Discord Server Link
Have a panel that links directly to your Discord server. Building a Twitch community Discord server is a good way to see continual growth as viewers will want to work together in the long run.
Schedule
Post your schedule so that people know when you will be online. Eventually, they will work watching your broadcast into their own routines.
Your Channel's Rules
Make sure that you post Twitch chat rules for your channel and chat in your profile. This way, if there is ever a dispute, you can refer back to them. While most viewers have common sense, showing that you have boundaries will keep everyone a little more respectful.
Channel Perks
If you have special perks for your subscribers, detail them. These perks may entice more people to subscribe and support you long term. 
Examples of Twitch Panels
The following are some examples of Twitch Panels that have been done well. We hope that they spark some inspiration for your own.