How To Set Up Donations on Twitch
Streamers can set up panels in their profile that link to PayPal or a third-party service such as Streamlabs, Stream Elements, or Muxy. Broadcasters can also make the choice to accept cryptocurrency by specifying the coin and providing their wallet's receive address.
Whether you create a way for your viewers to donate when you first start streaming or wait until you have a small community, focus on giving them valuable content. Give them a reason why they want to support you rather than seemingly beg for handouts.
Risks in Accepting External Twitch Donations
Sadly, there can be. While rare, there have been instances where users have donated with the intention of canceling the transaction at a later date. This can be problematic if the streamer has already begun to spend their earnings. If you have your donations set up through PayPal, try not to touch your tips for at least a couple of months to avoid chargeback issues.
Alternately, you can focus on ways to earn on Twitch through platform-based incentives such as subscriptions or Bits or set up cryptocurrency donations. Crypto tips can't be canceled after they have been sent, so once you receive the payment, you're good to go.
Put /me on your blocked terms list to prevent trolls from pretending to donate by changing the color of the chat text. Blocking the command altogether will eliminate the problem.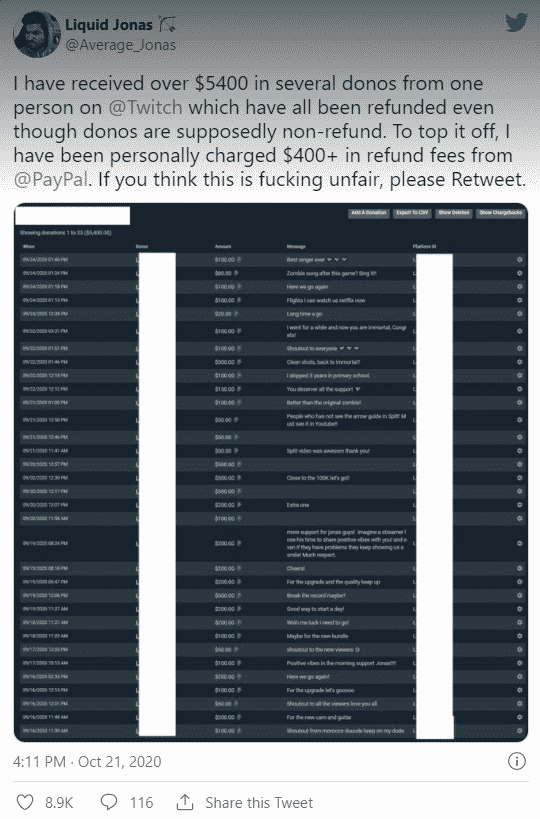 In October 2020, AverageJonas shared how one of his "supporters" refunded their donation and he was left with the PayPal fees. This is something you do need to be aware of, at least until PayPal fixes their system. Fortunately for AverageJonas, Ninja saw this and gave him a donation of $5800 to make up for it.
Third-Party Platforms that Process Tips and Post Alerts
One easy incentive you can give your viewers to donate is through stream alerts. These alerts pop up on your screen anytime someone donates. They are customizable to your brand and when one person gifts you money, others may follow suit.
Many of these same sites that offer alerts also allow you to collect payments through their services without charging a fee. These are our top four picks.
Once you have picked your platform, you need to set up donation panels (read details below).
How to Get Donations on Twitch through PayPal
You don't have to use another platform to process your payments. You can also set up the ability to donate by using the PayPal link or an address to your crypto wallet. This saves a few steps if someone asks you directly if they can donate to your stream.
To set up Paypal, got to Paypal.me and create a unique link. This link can now be attached to one of the panels in your profile (more about that below). You can also set up your Twitch chatbot to display it periodically in your chat or if someone uses a command for it.
How to Donate on Twitch with Cryptocurrency
As stated above, accepting cryptocurrency is a good way to avoid chargebacks due to blockchain technology. In order to accept it, you must have a cryptocurrency wallet. Coinbase and Bitpay are both popular wallets where people buy, sell, and store their crypto.
Choose which currency you would like to receive. Bitcoin, Ethereum, and Litecoin are all very popular and relatively (as far as crypto goes) stable. You will need to specify to your viewers which form of coin you will take. One kind of coin can't be transferred to the wallet of another kind of coin.
Once you have chosen the coin of your choice, click the "receive" button on the wallet's platform. The app will generate random letters and numbers for you. Copy them and add them to the description field when you make your donation panel in your profile.
How to Set Up a Twitch Donation Panel:
Have you ever wondered how to get a Twitch donation button? We will teach you how!
To have a permanent way for your viewers to tip you, you must set up a donation panel in your profile. From your Twitch account's channel screen (twitch.tv/your-username), scroll down below your screen and hit the "Edit panels" toggle. A large plus symbol in a box should appear. Click on this box, then select "Add a Text or Image Panel."
You can add an image or just do text. Keeping to your stream brand is a good way to show you care about your channel.
Fill out the Panel Title and the Description. Link the method of payment in the provided box if possible. For crypto, you may need to put your wallet address in the description. Add a brief message to your viewers thanking them for their donations and what you might use them for. Check out what other people are doing on their channels for reference.
How to Get Donations on Twitch
While many viewers on Twitch are happy to donate, most will choose streamers whom they identify with and whose content they find valuable. For that reason, continue to improve the quality of your stream.
In addition to great broadcasts, there are other ways you can casually remind your viewers to tip without sounding too needy.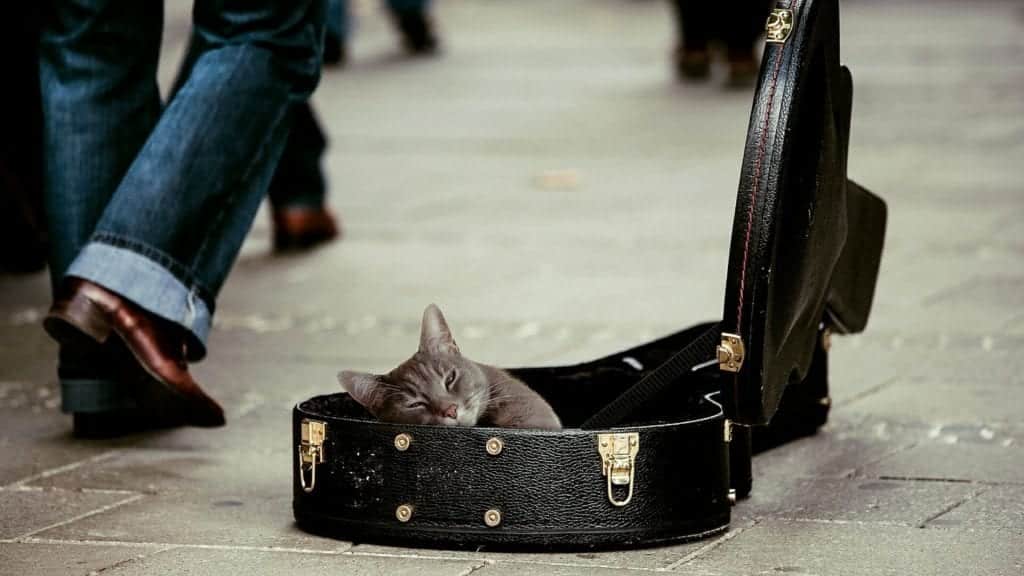 1. Thank Your Viewers ASAP

Thank your viewers for their donations as soon as you can. This shows them that you genuinely appreciate their support and it subtly reminds other viewers that they can tip as well. In addition to verbally thanking them, set up your stream alerts to announce it on screen, and your chatbot to mention it in chat. This way, regardless of where your viewers have their attention, they will see it.

2. Stream Giveaways… Especially if they are No Cost to You

While you shouldn't make donating the basis for their entry, hosting small giveaways on your channel creates hype. People are more likely to give to you if they know you are generous as well. You don't have to go all out on something fancy either. Look for cheap or easy ways to give back. For example, you can give away character skins or in-game currency.

3. A Twitch Donor List in Your Profile

Add a panel to your profile that lists your top donators. There are several to choose from and some can be customized to closely match your brand. Not only does this praise those who have supported you, but it can also create some competition in the form of a tipping war.

Optionally, you can list the names of the last few donations on screen through a widget from Streamlabs, StreamElements, or another platform. Viewers enjoy seeing the fruits of their labor and may donate several times to repeatedly see their name.

4. Host a Subathons/Donation-athons

Once you have a decent following, periodically host streams with the intention of asking for subs or donations. Give your viewers clear incentives for doing so. Have several tiers that you would like to reach. For example, you might dye your hair if you reach $50, or do an extra-long play session with your viewers for $100. Celebrate each milestone with them and clearly explain when you will deliver on your promises.

5. Display a Progress Bar Toward a Goal

If you are saving up for an upgrade for your stream, set up a progress bar on your screen. You can set one up from Streamlabs or another platform and add it to your screen's layout. Some people are more motivated to give when they know where the money is going and if they can see how much more you need.

Once you reach the goal, thank them, buy the item, and show excitement about it on your stream. This will show them you were serious, and they may be more likely to donate again in the future.

6. Commissioned/Bid-For Services

If you perform something on stream and people want to bid to direct your performance, use your donation tab for that. Set some guidelines for your viewers to follow, and enjoy your spoils.
In Conclusion
It is hard to grow as a new streamer and donations really can help bring additional quality to your streams. Just remember to be grateful toward those who support you. Additionally, remember that you will need to follow the tax laws of your country and claim your tips as income. We hope you are able to grow and begin earning very soon.