While most streamers who "make it" can generally earn from sponsors and affiliate links, it can take a long while for someone to get there. If you find someone entertaining, consider supporting them financially. This article will help show you how.
How to Donate to a Twitch Streamer
1. Subscribe to Your Favorite Twitch Streamer
Another great way to support your favorite streamer is through subscriptions. Affiliate and Partnered broadcasters are able to monetize their accounts in this way. There are three tiers of subscriptions, ranging in price from $4.99 – $24.99. In exchange for a Twitch subscription, you can use the channel emotes, watch ad-free, and participate in subscriber-only content.
2. How to Get Twitch Subscriptions for Free
If you have an Amazon Prime account, you can link it to your Twitch account to activate your Prime Gaming. Prime Gaming allows you to subscribe to one channel per month for no extra charge.
Often, if you are a true fan but are unable to subscribe to the streamer financially, another loyal fan may purchase one for you. It is called sub gifting.
While I wouldn't recommend begging for subs directly if you frequent the channel often, interact with the chat, are kind to other viewers, and compliment the streamer on their content and emotes, you'll get a gift subscription. Don't be sad if it doesn't happen. Instead, find another way to help the streamer.
3. How to Donate with Twitch Bits
If the streamer hasn't set up a donation tab or if you feel uncomfortable donating through a third-party site, you can also give using Twitch Bits. Twitch Bits are the in-built currency set up by Twitch. As a viewer, you can purchase them directly from the company for a small markup on their value. Each Twitch Bit is worth 1 US Penny.
| Number of Bits | Price in USD |
| --- | --- |
| 100 Bits | $1.40 |
| 500 Bits | $7.00 |
| 1500 Bits | $19.95 |
| 5000 Bits | $64.40 |
| 10000 Bits | $126.00 |
| 25000 Bits | $308.00 |
People commonly donate bits 100 at a time (a $1 tip), but some like to add a bit or two between words in a comment to make it stand out. Donating with bits is called cheering, and a special animated emote is used. People can also be ranked on channels dependant on the number of bits they've donated.
You can earn free bits by watching ads on Twitch or filling out surveys.
4. How to Donate Directly to a Twitch Streamer
Directly donating to a streamer means that they get 100% of your donation. Twitch doesn't take a bit of it for their use. To donate to a streamer, they must have set it up themselves through a third-party company.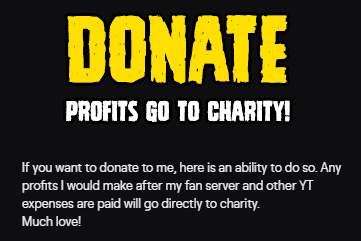 To donate to a streamer, scroll down to their profile and find their donation panel. Click through to the link. Depending on the streamer, you may either pay cash or through crypto-currency.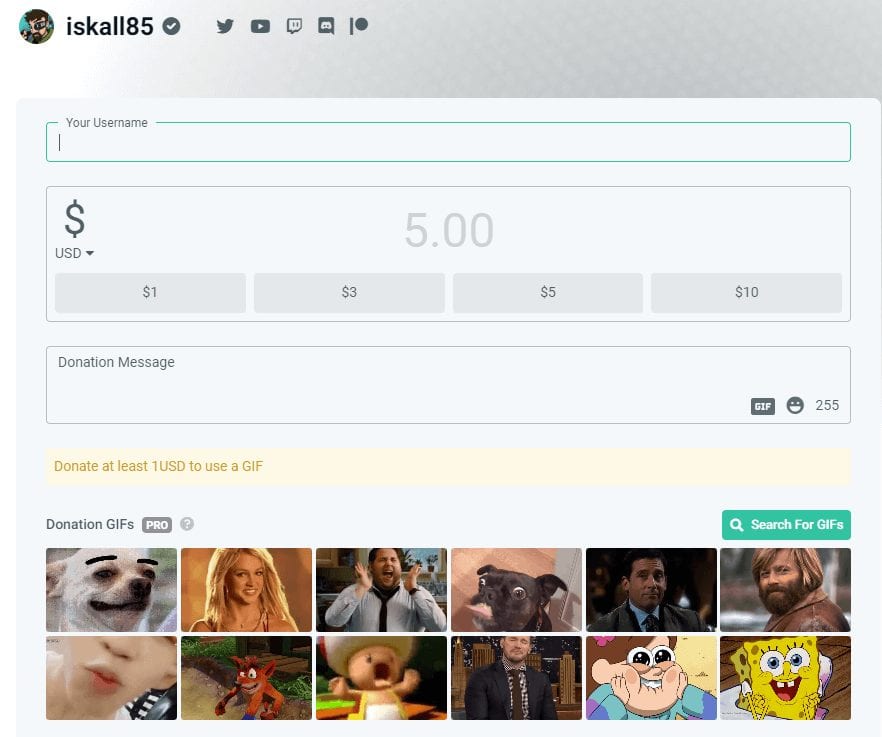 An example of what a donation page looks like through Streamlabs.
Follow the instructions on the page you are sent. You are often given the option to add a special note and to choose a GIF.
5. Help a Streamer by Purchasing Items Through Affiliate Links
Many streamers can set up Affiliate links, even before they can get sponsored. The affiliates will vary depending on the streamer, but they generally have something to with the content, gaming equipment, or sports drinks.
Generally, you can get a 10-15% discount if you buy through Affiliate links, and the streamer will get a small kick-back as well. If you need to upgrade your equipment, it is worth browsing your favorite streamers' channels to see what they have to offer.
You can also support a streamer by purchasing their merchandise if they have some set up. You can usually find t-shirts, sweatshirts, or coffee mugs.
Twitch streamers can also show these sales to potential sponsors so that they can see that the streamer's community actively supports them.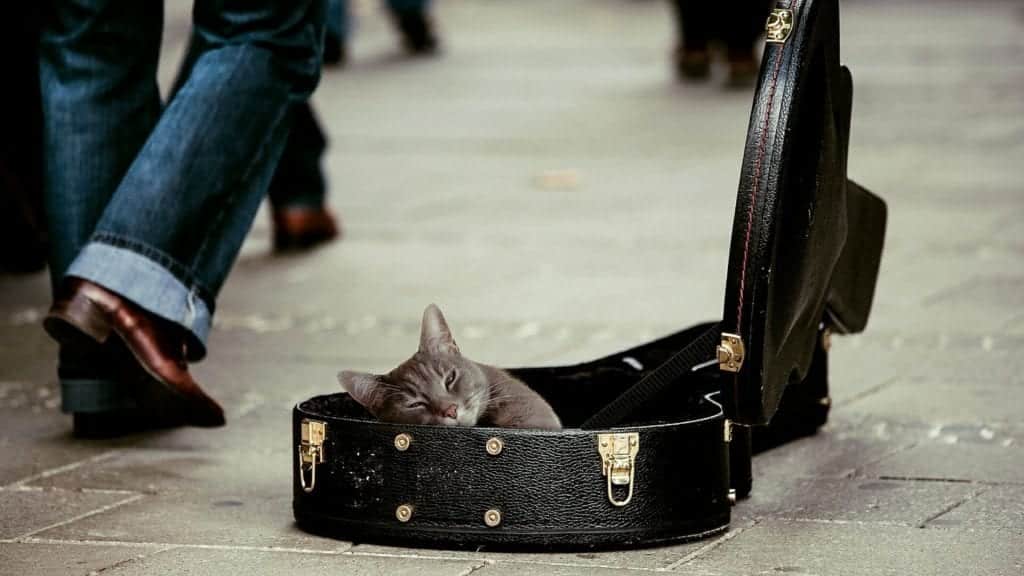 How to Donate to a Twitch Streamer Without Money
If you want to help your favorite streamer, but you don't have the funds to donate financially, there are several things you can do.
Engage with the chat and welcome new members. Add value to the community by being helpful, funny, and interacting with both the streamer and other viewers.
Join their Discord and be active. Post relevant memes and help where you can. Invite your real-life friends to join it and support the streamer.
Reach out to the streamer and ask if they need help with anything. If you are creative, you might be able to help with their graphics or emotes.
Consider being a moderator, if asked. While it can be a hard job at times, streamers appreciate those they can count on.
Promote their stream. Share their social media posts. Let people know how much you enjoy their content and why.
These simple things can help attract more viewers, some of whom may be able to help out financially.
Conclusion
Steamers work hard and it takes a while for them to see any return on their investment. Anything you can do to help support your favorite content creators can help them improve their channel and produce broadcasts in the future.