Choosing your Twitch stream name is an important aspect of your channel branding. Your stream name will be your identity both on Twitch and on other platforms, so choosing the right name is important. Find a name that is memorable and matches the overall tone of your stream.
Best Twitch Name Generator
SpinXO
With SpinXO, you can add names, hobbies, things you like, words, numbers, and more elements that will influence the names you get back from the generator. You can try out several different variations, and spin the generator as often as you like until you find the perfect inspiration for your Twitch name.
Jimpix

With a Random Username Generator from Jimpix, you can choose up to two categories, a letter, and how you want the name arranged. The generator will then spit out names that meet those specifications to give you multiple name options you can use on your Twitch account.
GeneratorMix
With GeneratorMix, you have the option of adding your name, nickname, or a specific word that you want to have added to your name, you can input it into the field. You can also select whether or not you are willing to use numbers or underscores in your name.
You can generate names as often as you wish. Each time you generate names, you will be given 12 to peruse. Even if you don't use one completely, they may give you some inspiration for something you can do.
Fantasy Name Generator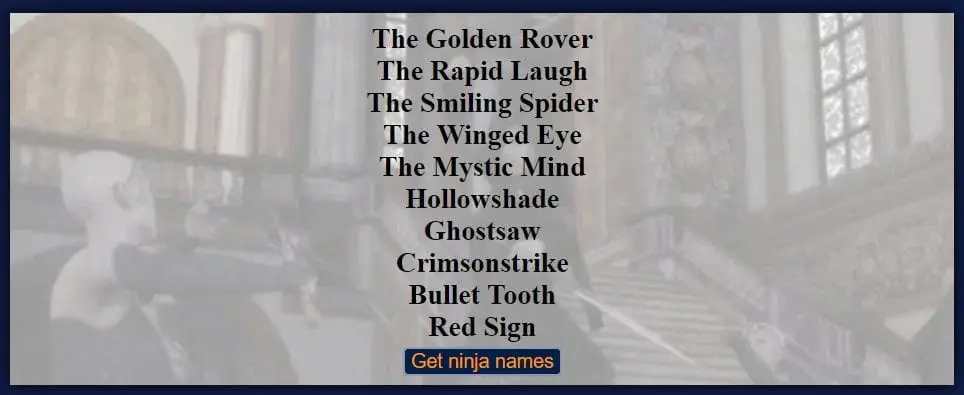 The Fantasy Name Generator is a site where you can choose the type of name you want, whether it be an orc, an enderman name (under the Minecraft category), a robot name, or another category from the dozens of choices available. You can use the generator as often as you like and continually get a list of unique choices.
Name Generator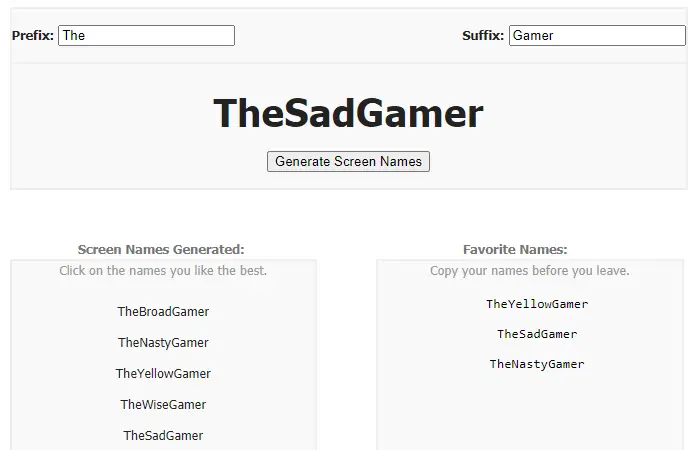 With Name Generator, you can choose the prefix and the suffix of the name (or just one or the other) and press the generate button to get various screen names. You may find the perfect gamer tag that matches up with the rest of your stream branding.
Cool Screen Name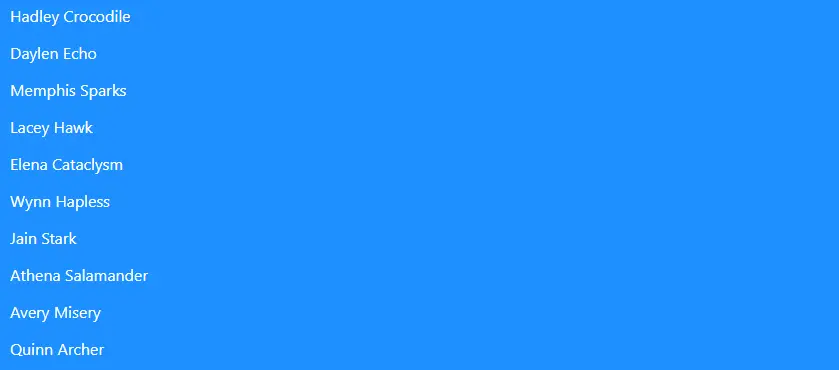 Would you rather go with a moniker instead of a gamer tag? The Cool Screen Name generator will allow you to choose the minimum and maximum length of a name and whether you want a male, female, or gender-neutral name.
Once you have made your selection, press the generate button to be shown a list of several names that remind you of a 1930s detective series.
Rum and Monkey
You can use the name generators at Rum and Monkey to find unique names that are supposedly generated through the series of questions they ask you. You start with a base test then go through a series of questions.
The process can be tedious and in the end, you are greeted with one name that you may or may not love. However, if you want to leave your Twitch name to fate, this may be the perfect generator for you.
VloggingHero
The creator of VloggingHero imputed the names into the generator. They thought of most of the names by themself based on names they enjoy and that they believe are catchy and humorous.
With VloggingHero, you can only search for one name at a time, but they generate quickly. While you can get some good ideas from this generator, if you don't have the same sense of humor as the creator, you may not find a name you like.
Choosing the Best Twitch Name
There are several things you should consider when choosing your Twitch username. You don't want to have to change the name if you can avoid it, so taking the time to find the perfect match early should be your priority. Here are a few tips:
Availablity across platforms – in order to grow your brand, you will need to have social media accounts that represent it. You can use Namechk to see where a username is available.
Short and simple usernames – keep things short and memorable if possible. These names are easy to remember and easy to brand.
Avoid numbers and underscores – numbers and underscores can be distracting and make your brand look less professional.
Futureproof the name – don't use names that are about a game or something that is a fad. Keep something that will maintain meaning for more than a season.
Conclusion
Name generators have been used to create the brand names of many content creators. Childish Gambino got his name from a name generator. Even if you don't find the perfect name, you may be able to find the inspiration for one.