After being a member of a community for a while, it is often nice to look back to determine how long you have followed a channel on Twitch. This post will go over a few ways you can determine the date you followed any channel on Twitch for bragging rights or otherwise.
Twitch Followage Tool 
The Twitch Center follow date tool is a great tool that you can use to check the date you started following any channel on Twitch. It is quick and simple to use and can be done in two easy steps:
Step 1

Go to the follow date tool and you will see some text describing how the data is collected, and two text boxes to be filled.

Step 2

Step 2: The next step is to simply put the username of your account in the box on the left, and the username of any channel you're trying to find the follow date from on the right. This can also be done if you're curious how long another user has been following a specific channel by replacing your username with theirs in the box on the left. It is important to make sure there are no spelling errors when filling these boxes and is often best to copy and paste usernames if possible.

How To Check How Long You've Been Following Someone On Twitch 7

There is an alternative method that some channels may have activated through Streamlabs which will allow you to check your follow date with a command in the chatbox. By default, this command is !followage, and you will get a chat response from the Streamlabs bot with how long ago you followed. This can also be used to check somebody else's follow date by typing "!followage username".
How to See Which Twitch Channels You Follow
When you visit Twitch, if your account is logged in you will see a list of channels you follow in a panel on the left side of your screen. This will list the channels that are live at the top, and then continue listing the offline ones underneath starting with the ones from which you have missed the most content and moving down to the least. 
That is one way of checking a list of accounts you follow, otherwise, you can click on the following button at the top left corner of the site, select Channels, and it will list all the channels you follow, with the most recently followed at the top, and least recent at the bottom.
Twitch Follow Notifications
Twitch sends out notifications when a followed channel goes live in one 3 different ways. The streamer is able to write a go-live message which can be used as a way to give information about what people can expect from the stream and to try and draw people in to watch. If a person is already on Twitch, whether on mobile or desktop, they will get a little popup saying who went live and a button they can click to move to that channel.
If you are not currently watching Twitch, the next thing they will do is send a push notification to your phone if you have your mobile connected to Twitch and push notifications on.
Lastly, if neither of those options is available the go-live notification will be emailed to the followers, where they will receive a link to the channel.
If you are not receiving go-live notifications this may be because you have opted out of notifications for that channel. On mobile, this can be changed in your push notifications settings and turning them on if they are off for Twitch. On the desktop there will be a bell icon underneath the bottom right of the stream, if the bell has a line through it then notifications are off for that channel. 
If you would prefer to get your notifications in a specific way you can go into your notification settings on Twitch, opt-out of smart notifications, and turn on the specific notifications that you would like. That way if you prefer push mobile notifications you can have it set that they will be your default.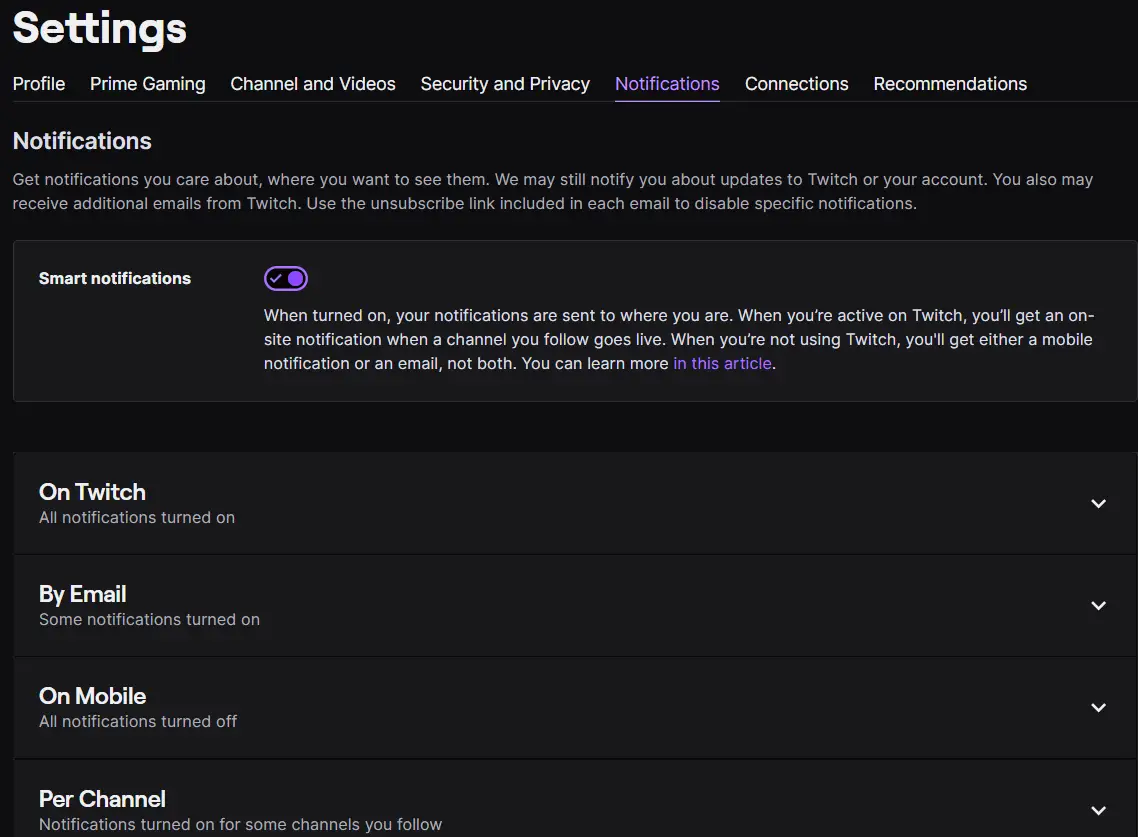 Frequently Asked Questions