Extra Life Charity Fundraising Overview

Twitch Extension Category: Viewer Engagement
Types: Panel
Extension Link: Extra Life Charity Fundraising
Extension Details
One of the best things about Twitch is the amount of charity streams that you will find on the platform. Streamers from all walks of life will fight for or bring awareness to causes they believe in. One of those causes is Extra Life, which helps to heal kids at Children Miracle Network Hospitals.
If you decide you would rather help kids then receive third-party donations (or both), you can add the Extra Life widget to your panels to encourage your viewers to support the cause. You can also use Streamlabs Charity Streaming integrations to set up donation alerts when they do!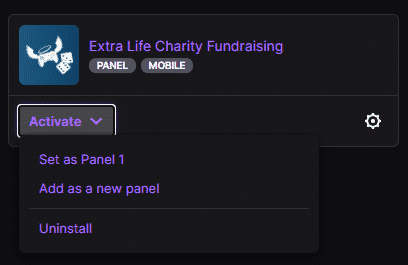 The Extra Life Charity Fundraising extension is easy to install and activate on your channel. You will need to set it as a panel extension.
Eligibility to Use the Extension
In order to use the Extra Life Charity Fundraising extension, you must have the following:
An active Twitch account
An available panel extension slot