Are you searching for a professional-grade microphone for your streams, videos, or podcasts? Look no further than the HyperX Quadcast, which has consistently been one of the highest-rated microphones over the last few years.
Audio quality has been proven, time and time again, to matter much more to viewers than video streaming quality, so having a good microphone is one of the very best investments a content creator can possibly make. It is extremely versatile, as it is compatible with PC, PS4, PS5, and Mac devices, as well as major streaming platforms like StreamLabs, OBS Studio, and XSplit. In this article, we will explore the many reasons why the HyperX Quadcast could be the perfect microphone that you've been looking for.
HyperX Quadcast Features
The HyperX Quadcast is a highly impressive USB microphone that will provide high-quality sound immediately after taking it out of the box and plugging it in. If you have the Quadcast S model, it is compatible with HyperX's NGENUITY software, which will allow you to personalize stunning RGB lighting and dynamic effects right on the microphone itself which is bound to catch the eyes and attention of your audience. With all of its amazing features, the Quadcast is truly the ideal all-inclusive standalone microphone.
This post will cover the following features of the HyperX Quadcast:
Design and Build Quality
Polar Patterns
Tap-to-Mute Sensor
Headphone Jack
Gain Control
Dynamic RBG Lighting with NGENUITY Software
Design and Build Quality
The HyperX Quadcast is a very long, yet lightweight microphone, making it highly compatible with just about any boom arm on the market. It is packed inside a very durable metal honeycomb grill. The top and bottom of the cylinder are padded with fingerprint-resistant rubber.As for colors, the base model of the Quadcast is only available in black with bright red foam inside, but the Quadcast S allows you to customize the interior LEDs using HyperX's NGENUITY software.
Polar Patterns
With a knob located on the back of the microphone, the Quadcast can be set to four different polar pattern settings (Stereo, Omnidirectional, Cardioid, and Bidirectional), making it an ideal microphone for just about any environment.
Stereo – Ideal for vocals and instruments
Omnidirectional – Used for multi-person podcasts and conference calls
Cardioid – Most commonly used for podcasts, streaming, and voiceovers
Bidirectional – Used in face-to-face interviews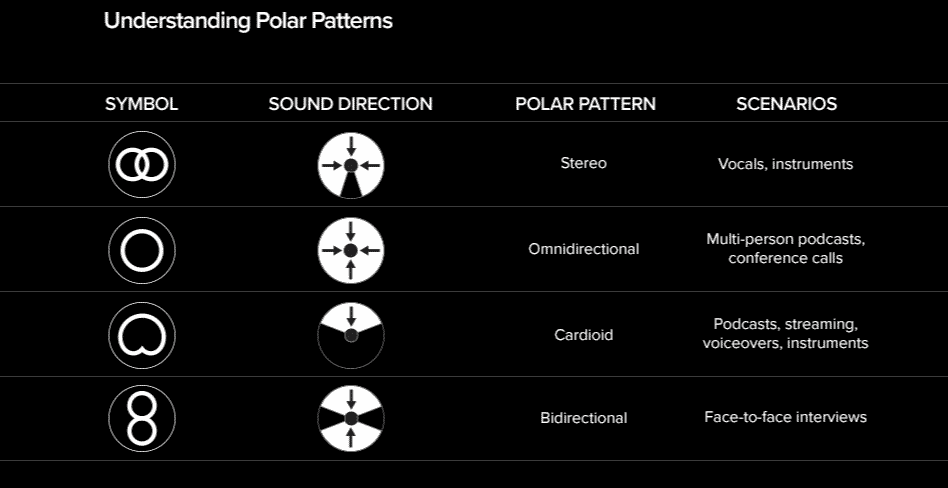 Tap-to-Mute Sensor
Also known as a capacitate mute button, there is a convenient spot you can tap at the top of the microphone to mute and unmute yourself quickly. The status of the microphone is visually aided by the LED light inside of the capsule. If the light is on, the mic is active. If the light is off, the mic is muted.
Headphone Jack
On the back of the microphone, you will find a 3.5mm stereo headphone port, allowing you to listen in and monitor your audio settings to ensure that you sound the way that you want. For my own stream, having this option is an invaluable resource, as there is no longer a need to spend a ton of time recording audio tests before hitting the go live button, or asking my chat to confirm if the audio levels are sounding alright.
Gain Control
At the bottom of the microphone is an easily adjustable dial that will control the sensitivity of the audio it picks up. Having the dial turned all the way up will pick up more sounds, while having it turned all the way down will pick up very little noise. It is a good idea to adjust this level according to your surroundings before recording or broadcasting.
Dynamic RBG Lighting with NGENUITY Software
If you have the Quadcast S model, be sure to install the HyperX NGENUITY Software as well. This is a powerful and intuitive software that will allow you to personalize your compatible HyperX products. With this, you can set up lighting and effects, create and store macros and button binds, adjust mouse DPI, customize your keyboard game mode, and more. The software also comes with a library of presets, so you can quickly choose one to install and get it working right away.
Download Link for the HyperX NGENUITY (Beta) software.
HyperX Quadcast Accessories
Unlike some other companies that also manufacture microphones, HyperX does not sell additional accessories that are made specifically to fit the Quadcast. However, the Quadcast does already come with a few of the accessories you would normally look to purchase for other microphones.
The Quadcast will come with an anti-vibration shock mount, totally free, which provides secure mounting for the mic and also the freedom to move independently of the mic stand or boom arm. This will be useful for eliminating sounds and vibrations, typically caused by moving things around on your desk.
The second accessory it also comes with is a mount adapter, allowing you to connect the shock mount to an aftermarket boom arm, provided that the arm has either a ⅜ inch or ⅝ thread size.
The first accessory to look into getting is a boom arm, which allows you to get the absolute perfect placement for your microphone. This will naturally improve your posture and even the quality of your voice. The HyperX Quadcast is not a particularly heavy microphone, so there are plenty of boom arms out there that will support it.
The last accessory you may want to purchase is a pop filter, which is a multi-layered steel mesh filter used to eliminate pops and hisses caused by plosive speech sounds (which is a harsh release of air, usually following the letters 'P', 'B', 'T', 'D', 'K', and 'G'). These can sometimes be really loud and distracting, sometimes even damaging to more delicate microphones. Getting yourself a pop filter is not absolutely necessary, as there is already an internal pop-filter already built-in underneath the grill that does a decent job of silencing those plosive sounds. However, pop filters are rather inexpensive and would surely be a worthy investment.
HyperX Quadcast Specs
Microphone
Power Consumption: 5V 125mA
Sample Rate: 48 kHz/16-bit
Element: Electret condenser microphone
Condenser Type: Three 14mm condensers
Polar Patterns: Stereo, Omnidirectional, Cardioid, Bidirectional
Frequency Response: 20hZ – 20kHz
Sensitivity: -36dB (1V/Pa at 1kHz)
Weight (Microphone): 254g
Weight (Shock Mount & Stand): 364g
Total Weight with USB Cable: 710g
USB Cable Length: 3m
Headphone Output
Impedance: 32 Ω
Frequency Response: 20Hz – 20kHz
Maximum Power Output: 7mW
THD: ≤ 0.05% (1kHz/0dBFS)
SNR: ≥ 90dB (1kHZ, RL=∞)
Frequently Asked Questions
How Do You Set Up the HyperX Quadcast?
The Quadcast is a USB microphone, so the setup will be quite easy. Inside the box, you'll find that the microphone is already mounted to the desktop stand and shock mount, a braided USB cable, and a mount adapter to connect to a boom arm.
Simply plug the microphone into one of your computer's USB ports and it should be automatically detected. In order to get the best possible sound, a common recommendation is that you speak directly into the front of the microphone, about 6 inches away from your face. However, there are four different polar patterns to choose from, so I suggest experimenting to see which works best for your and your situation.
Is the HyperX Quadcast Worth the Money?
The HyperX Quadcast has a manufacturer-suggested retail price of $139.99, and it is currently listed on sale at $119.99 on HyperX's website. When paired with the right settings, this microphone will provide a clean, crisp, and enjoyable sound that rivals much more expensive equipment, such as the GoXLR. Its price point puts it in the same space as all of the other high-end USB microphones currently on the market, but when you consider the inclusion of the shock mount too, the Quadcast could very well be the best use of your money.
Is the HyperX Quadcast Good for Podcasts?
Audio quality should be one of, if not the most important aspect when putting together a podcast. Keep in mind that not every podcast is the same. Some are louder than others, some have a rotating number of guests, or perhaps it's a podcast on the go, featuring various different spaces all with very different acoustics. Luckily, the Quadcast has all of this stuff covered, making it a great mic for podcasts. Equipped with easily adjustable gain control dials at the bottom of the microphone and four different polar patterns to choose from, the HyperX Quadcast can easily be adjusted to provide the clearest audio, no matter what.