Streaming your Xbox Series X gameplay to Twitch is a great way to engage your audience and generate more views and, eventually, subscribers. The release of the Xbox Series X and Xbox Series S on the 10th of November 2020 came shortly followed by a host of new games, including Cyberpunk 2077, Fifa 21, Assassin's Creed Valhalla, and Halo Infinite.
Despite the console no longer pushing for title exclusives, there is no doubt that many fans are eagerly awaiting the release and many streamers will look to broadcast walkthroughs and gameplays on the new Xbox console.
Xbox Series X Streaming Capabilities
The Xbox Series X will render games at 4k and support up to 60 FPS stream capture, a massive advancement from the Xbox One consoles. The Xbox Series X supports frame rates as high as 120 FPS, with the capture capped at 60. It is worth noting that Twitch is currently limited to 1080p at 60FPS.
As the Xbox Series X offers high-quality gaming and specs that rival and even surpass some gaming PCs at a substantially lower price point, the popularity of the console is all but guaranteed.
What You Need to Stream Xbox Series X:
The three things you will need to stream from your Xbox are the following:
Xbox Series Consoles
You will need one of the following consoles:
Stream Capable Internet Connection
We recommend meeting these minimum requirements:
The minimum upload speed needed for live-streaming is 1.6 Mbps for the lowest HD resolution and at 30 FPS. For high-resolution HD streams, you will need a minimum of 3-3.5 Mbps.
To read more about internet requirements for the ideal stream, read our full article here.
How to Stream Xbox Series X Using the Twitch App
It is important to note that while you can stream from the Xbox for free, you won't be able to use brand-growing graphics such as Twitch overlays, alerts, and other widgets. If you don't use an Xbox appropriate software to stream, your only other option to use any design work is to transfer your game data through a capture card (which can be expensive) into a PC.
Step 1. Download the Twitch App onto your Xbox Series X/ Series S.
Step 2. On the Xbox Series X home screen, navigate to the "Store" found in the top right corner. Scroll to the "Search" bar and type in "Twitch".
Step 3. Confirm the download by pressing "A" on the Twitch App, which will install automatically.
Step 4. Select and launch the game you wish to stream.
Step 5. To start streaming, select the Xbox button on the controller and navigate to the Twitch app and launch it.
Step 6. Scroll to the "broadcast" tab and select pressing "A". Choose a name for the stream and enter it in the "Enter a title.." bar. Once ready, select "Start Streaming" and switch back to the game you previously launched. After a short delay, the stream will begin. At the bottom right of the screen, you can see the number of current viewers and the amount of time the stream has been going.
How to Stream Xbox Series X Using Lightstream
Advantages of Lightstream
Personalize your stream and stand out with branded overlays
Add custom alerts and widgets
No capture card required
Allows for the hosting of live shows with guests
No downloads required
Thankfully the new Xbox Series X is fully supported by Xbox apps and software like Lightstream, making it easier to get started streaming in a few clicks. Lightstream allows for easy integration with Twitch Overlays, Twitch alerts, and other customization that was previously difficult for console streamers. You can use Lightstream for as little as $8 per month, which offers you unlimited streaming from the Xbox Series X.
Step 1. Go to twitch.golightstream.com and grant Lightstream access to your Twitch account
Step 2. Personalize your stream. Choose your overlays and alerts and save preferences for consistent graphics every time you go live.
Step 3. Use the Twitch Xbox App and select Lightstream instead of Twitch in the Destination dropdown.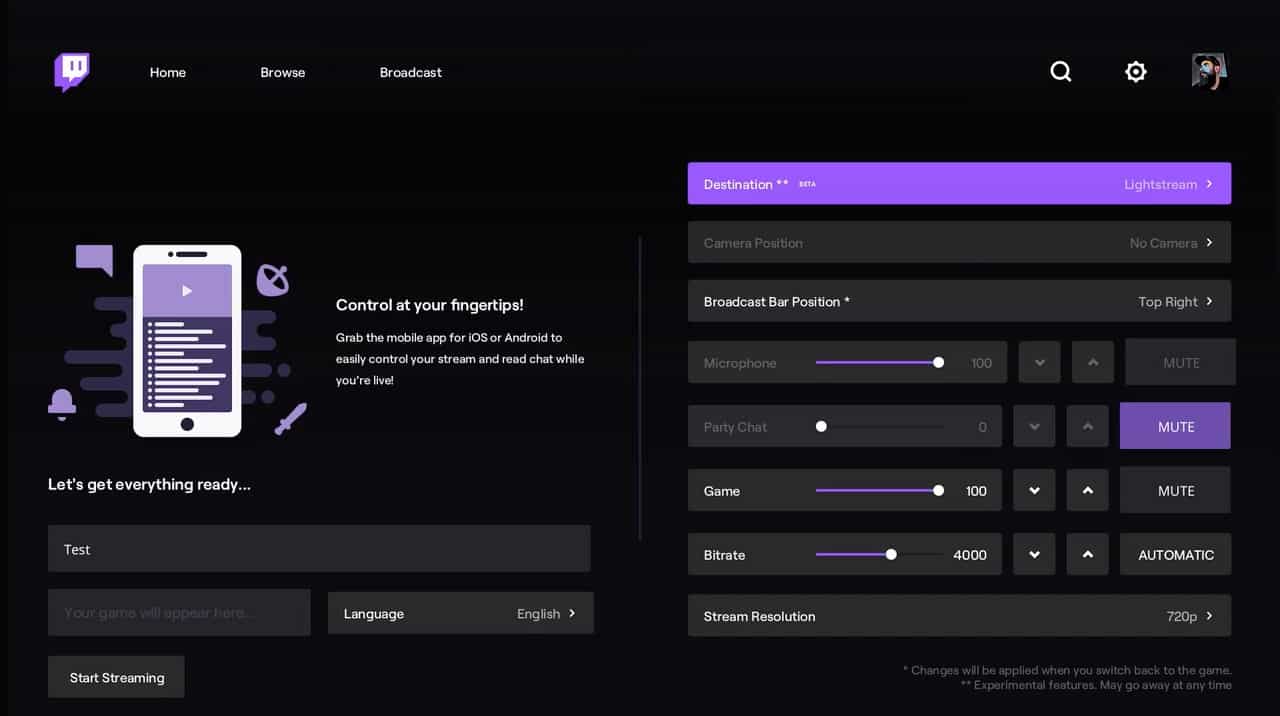 Conclusion
The Xbox Series X has generated a lot of hype already, and we anticipate that it will be a very popular console for years to come. It is a good idea to find and play games that will be popular in the niche of your choice to give you a competitive advantage over streamers on older consoles.
Frequently Asked Questions
Can You Stream Xbox One Games on the Xbox Series X?
The Xbox Series X is backwards compatible which allows users to stream Xbox One Games from the new console. This means if you have an Xbox One game you would like to playthrough on Twitch, Facebook, or Youtube you can do so on the Xbox Series X or Series S without the original Xbox One console.
Can You Stream Console Without a Capture Card?
Yes, the easiest way to stream capture card free is with Lightstream. The software offers a premium service depending on quality. This is the easiest way to personalize your broadcast with overlays and alerts. Alternatively, you can stream straight from your console using the Twitch App although the features are very basic and don't offer as much in terms of viewer experience.
Is it Better to Stream on Console or PC?
It's really all about preference. Most professional streamers use PC due to easier chat management, better graphics, reliance on multiple screens for easy transitions between games. However, consoles hold a lot of advantages for new streamers as they are cheap to get started on and only require a minute or two to set-up and go live.