What Makes a Good Twitch Offline Banner?
A good banner is visually stunning to capture the attention of the viewer. It should incorporate the colors, fonts, and any imagery associated with your channel's brand while providing relative information about your content.
An offline banner is potentially a pivotal part of your growth. It shows potential viewers and other creators (whom you may wish to collaborate with) that you are serious about your content and that you have taken steps to treat your channel professionally.
Find Your Twitch Offline Banner
As offline banners are a way you can grow your community even when you are offline, it is a good idea to find one that looks professional and well branded. Here are our favorite places to look:
Placeit – Placeit allows you to create unlimited banners, logos, and graphics through their monthly plan. It is great for creators who are making content on multiple platforms while growing social media communities. You start with a professionally created base and can customize it to match your brand.
OWN3D – OWN3D has discounted packages of graphics that meat all the needs of a Twitch channel. With several designs available, you are likely to find something that you love.
How to Design Your Twitch Offline Screen
Browse your favorite Twitch channels when they are offline to look for design ideas that appeal to you. You can also look at templates online or ideas on Pinterest. We have also posted nine of our favorite designs at the end of this article!
Examine your stream brand and culture. What stands out to you or your viewers that could be summarized in an image? Using your primary colors, caricatures, fonts, and anything else related to your channel is fair game and should be considered.
Twitch Offline Banner Size
For a professional look, it is important to upload a file of the right specifications. The recommended dimensions for a Twitch Offline banner are as follows: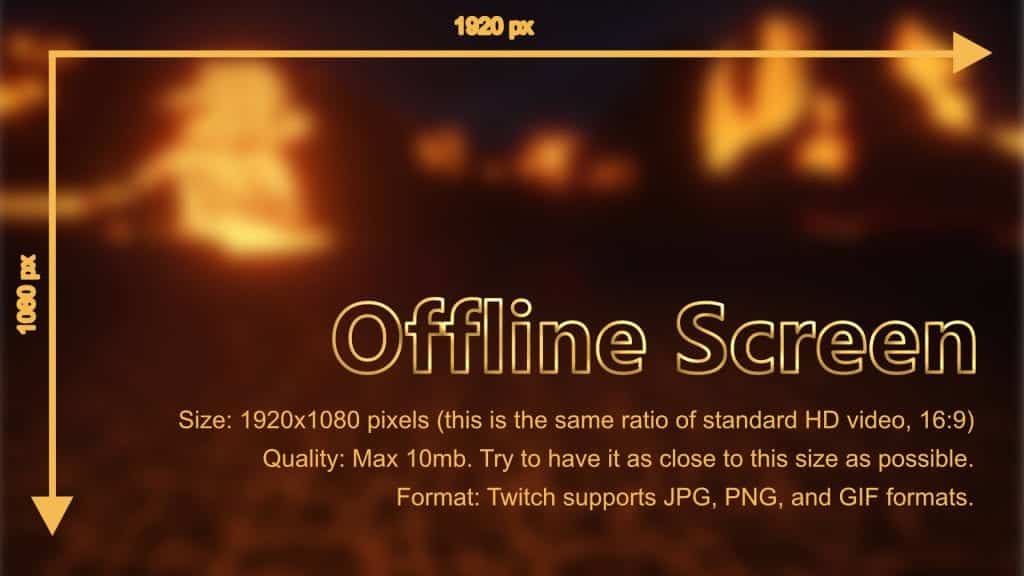 Size: 1920×1080 pixels (this is the same ratio of standard HD video, 16:9)
Quality: Max 10mb. Try to have it as close to this size as possible.
Format: Twitch supports JPG, PNG, and GIF formats.
What Should Be on Your Twitch Offline Screen?
It is often argued that people can simply "scroll down" to find out information on your profile page. They are unable to do so, however, if one of your videos has been embedded on another site. Having the last few frames of every video ending with your offline stream banner will ensure that viewers from other sites will be able to find your channel, social media, and other key information.
While you don't want to clutter your banner, you do want to quickly let your viewers/other content creators know a few things about you and your channel. Those things include:
Your Twitch Stream Schedule
If you have set times where you stream (and you should!), post them on your banner as part of your stream schedule. Include the days and times (don't forget your timezone) of your broadcasts where they can quickly be noticed. This will let people know when they should return to your channel. Wondering how many days per week you should stream?
Your Typical Content
You don't necessarily have this typed. If you have an avatar or caricature associated with your brand, you can stylize it to incorporate what you generally stream. For instance, if you stream cooking videos, dress your avatar up as a chef. If your game, place the logos of the games you stream in the lower right-hand corner.
Your Social Media Accounts
Make sure that you put your active social media accounts and their names on your banner. Funneling people into your social media will allow them to interact with your community even when you are offline. It will also remind them to return to your channel to check out your content.
An Invitation to Watch Videos
Twitch is good about letting those who pass by easily access your latest video. If you upload content to YouTube, make sure you point them toward that channel.
An Invitation to Follow
Gently remind people to follow on Twitch to be instantly notified the next time you go online. If you have fantastic badges or emotes for your subscribers, post a few of them on your banner as a way to advertise them.
If you have editing capabilities to your banner, you can optionally update it weekly with specific information for the upcoming week.
Use Your Twitch Channel When You are Offline
You don't necessarily have to have your channel be quiet the entire time you are offline. Here are a few ways you can put it to work:
Raid Other Twitch Channels
At the end of your stream, consider raiding another stream with your viewers. Not only will this introduce your viewers to another streamer, but it is also a fun and exciting way to end your own stream! Let your followers help pick the channel to raid (staying in your category is a fantastic idea). This is also a good way to encourage the community between you and your other streamers and they may return the favor to you.
Set Up Hosting
If you collaborate with other content creators, try to host each other when you are offline. This will help grow your channels together. You are able to set up hosting options in your channel settings.
Best Offline Twitch Banner Examples:
Here are ten great examples of offline Twitch banners that may give you inspiration for your design: