Our Top Picks For 2023
1. Sal_arts – Best Value
2. Eightyelghtdes – Most Professional
3. Anshyshka – Best New Artist
4. Yorozuya_design – Cheapest
5. Sojirokun – Most Experienced
6. Agunglaksana182 – Multi-purpose Emojis
7. Ri2swardhani – Cute Emojis
How much do Discord Emojis Cost?
While is totally dependent on the artist in our experience an individual Discord Emjoi will cost between $5-$20. A whole set of 5 reasonably priced Emojis will be between $25-80 depending on the quality, the number of revisions, and delivery time.
Discord Emoji Requirements
Discord Emoji names need to be at least 2 characters long and can only contain the letters A-Z and the numbers 0-9.
Emojis must be no larger than 256 kb.
For more information check out our full guide on uploading custom emoji.
While you can make your own Discord Emotes there is always the option of getting them made by professionals. We reviewed some of the top artists for both standard and animated emojis to make this list of the best options to make your ideas come to life. All of the artists on this list are great choices for commissioning custom Discord emojis for a few reasons. They all have high-quality ratings, specialize in Discord emojis, and offer fast turnaround times. Full disclosure, artists on most platforms occasionally close commissions or have extended wait times. Be sure to message them directly first before placing an order.
If you do commission any designers from this list let us know on our Discord. All of our picks are based on community recommendations and we love to see new custom emoji designs!
Best Custom Discord Emojis
Sal_arts is a Top Fiverr artist out of Morocco specializing in both standard and animated Discord Emojis. With a background in Twitch emote creation the Photoshop expert brings a creative spark to any idea you can conjure. The reason we gave Sal number #1 on our list is the affordable prices and the record 5/5 customer rating over a huge 188 orders. A single emoji will set you back about USD $15 or you can deck out a whole Discord channel with 5 emojis for roughly $70. Sal offers great value and an exceptionally fast delivery speed. The core reason Sal_arts takes out the #1 position on our list is the diversity of design options and extremely efficient communication.
Our new partnership with Fiverr will also shave an extra 10% off any order by using the code STREAMSCHEME2022 at checkout!
With a staggering 703 completed orders with a 4.9/5 rating, Eightyelghtdes has been one of the top sellers of Disord emojis this year. The service is fast, professional and no templates are used. The team also covers "cartoony" or realistic styles meaning all bases are covered. They also do gaming logos and overlays for those wanting to have all bases covered.
3. Anshyshka – Best New Artist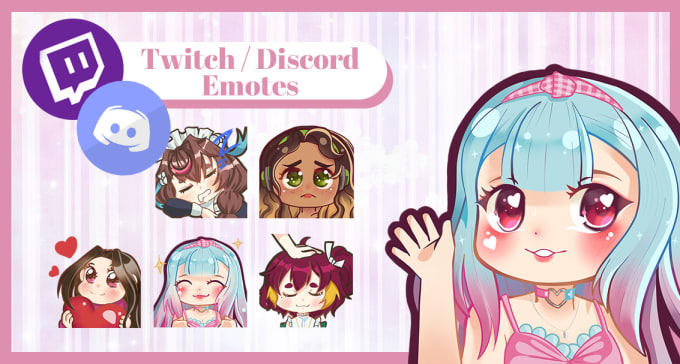 Anshyshka takes out our pick of the best new artist. While she hasn't been doing commissions for as long as some other artists on the list her chibi/ anime designs have amazing detail and are super cute. If you are looking for something adorable for Discord you're sure to love her designs. Simply send her a pm and maybe have a photo ready to send and you'll have a little set in no time.
Yorozuya_design has been a popular choice for Discord users looking to commission cheap, custom emojis. With 28 completed orders and a perfect 5/5 rating you know you are dealing with quality service at a great price. Starting at just $5 USD per emote, they are certainly the best low-cost option on this list. Yorozuya also currently offers unlimited revisions so you are sure to get a design you are happy with that matches your vision.
5. Sojirokun – Most Experienced
Sojirokun is a great choice for those that value clear communication and ultra-fast revisions. With a near-perfect score of 4.9/5 for a staggering 1239 completed commissions, this team is a great choice for people new to having art made. It can be difficult to clearly express your ideas if you don't have a lot of material to reference. In this case, working with an experienced designer who has seen a broad range of ideas can definitely make everything run smoother. Some reviews suggest requested moderations were made just minutes later. For this Reason, Sojirokun takes a solid place on our list and is by far one of the best design teams to work with.
Agunglaksana182 is an established design team with a unique style that blurs the line between emojis and logos. The real advantage of this provider is you can get server emojis and a new Discord avatar in the same order. Even with basic orders, the emoji is delivered in 4 convenient sizes 1000x 1000, 112×112,56×56,28×28 px making it easy to use them for a variety of purposes. The 1000 px image size also opens up the possibility of editing the png at a future date to make variations of the same emote. If that wasn't enough, Agunglaksana182 also offers unlimited revisions making them a safe bet to produce exactly what you want for your own Discord server.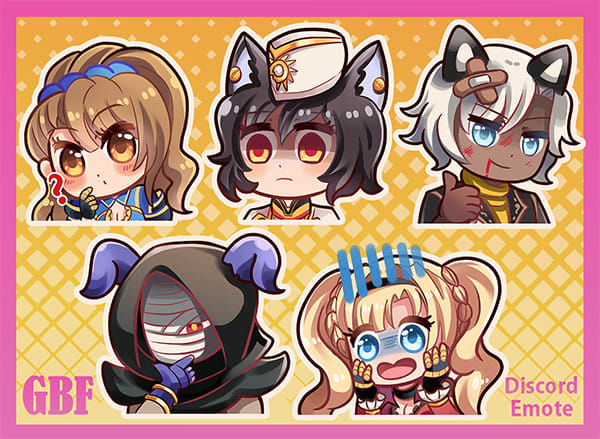 Ri2swardhani specializes in cute chibi emojis. If you love anime and want some fresh designs of yourself, friends, or even popular anime characters this artist is a great choice. So much so that they are even endorsed by Fiverr as one of the platform's top picks. While emojis are slightly more expensive than other designers on the list the quality is high and Ri2swardhani does offer discounts for custom packages of more than 5 emotes. With a loyal base of core customers, those who are after cute, hand-drawn emojis won't be disappointed.
FAQS
Where Can I Get Animated Custom Emojis for Discord?
Not to be confused with GIFs, animated emojis are generally a close-up of a face be it cartoon or realistic. The best place to find artists specializing in animated custom emoji is Fiverr. Just be sure to check "animated" is listed on their profile and send a message to the designer first to confirm before placing an order.
How Many Custom Emojis Can I Have on My Discord?
By default, Discord servers have 50 spare emoji slots. This can be expanded through Discord Nitro by an extra 50 which will also unlock animated emojis. That being said Discord Nitro is not free and will require a monthly or yearly subscription.
Can I Get Custom Twitch Emotes Made into Discord Custom Emojis?
Yes, due to the similar sizes in most cases all you need to do is have the original Twitch emote and upload it as a Discord emoji. You can read our full article on the process of uploading Discord emojis here.
How Long Do I Have To Wait For Custom Discord Emotes?
It depends on which designer you choose but most emote commissions take between 2-7 days to complete after payment has been received. This may be extended if the commission requires revisions.