Emojis are an important aspect of your Discord channel. It helps create community, spread memes, and allows people to react to other posts using your branding. While simple, personalized emotes can create a bond between users that brings them together, making it likely that they will stay on your Discord server.
Each Discord server allows you to upload 50 emojis to the server without any boosts. You will need to boost it with Discord Nitro to get more slots. For a Discord alternative that allows unlimited slots, check out our post on Discord vs Guilded.
Our Ranking Process
When ranking Discord emote makers, there are several things we kept in mind. Although each Discord server is different, a few aspects are commonly looked for regardless of the community. When forming this list, we considered the price of the emojis, overall customization, the user experience on the site or app, and the number of options that were available.
With the above in mind, we have compared makers, templates, and apps. We will cover all the tools currently on the market for custom emoji that you can upload to your Discord server.
Discord Emote Size
Your Discord emotes will be resized to 32×32, though you can upload a larger image. It is recommended that you create an emote at 128 by 128 for the best results. For best results, use thicker lines around the emote to help it stand out. Try to use a GIF, JPG, or a PNG as your emoji file type.
If you want to make the image background transparent, you can import it into Adobe Photoshop and use the lasso tool or the magic wand tool on the left sidebar to remove it. Alternatively, you can use an online tool like remove.bg to create a transparent background on both a static Discord emoji and animated emotes.
Best Discord Emote Makers in 2023
The following are the best Discord emoji makers that are currently on the market. This list covers both the Discord emote designers and emoji makers that you can use to create your own custom Discord emojis.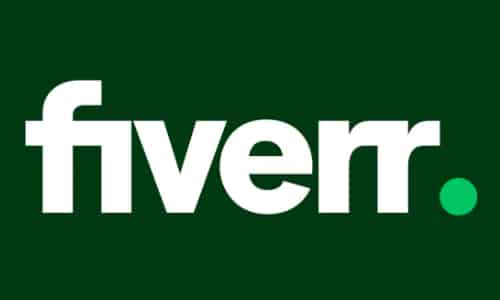 1. Fiverr – Best Overall Discord Emoji Maker
Fiverr is an online marketplace full of freelancers who are willing to create unique emoji that you can use on Discord. You can virtually have anything on this platform created, including Discord emojis. All you need to do is search for "Discord emotes" in the provided field and you will be taken to the section of Fiverr where you'll find portfolios by talented designers.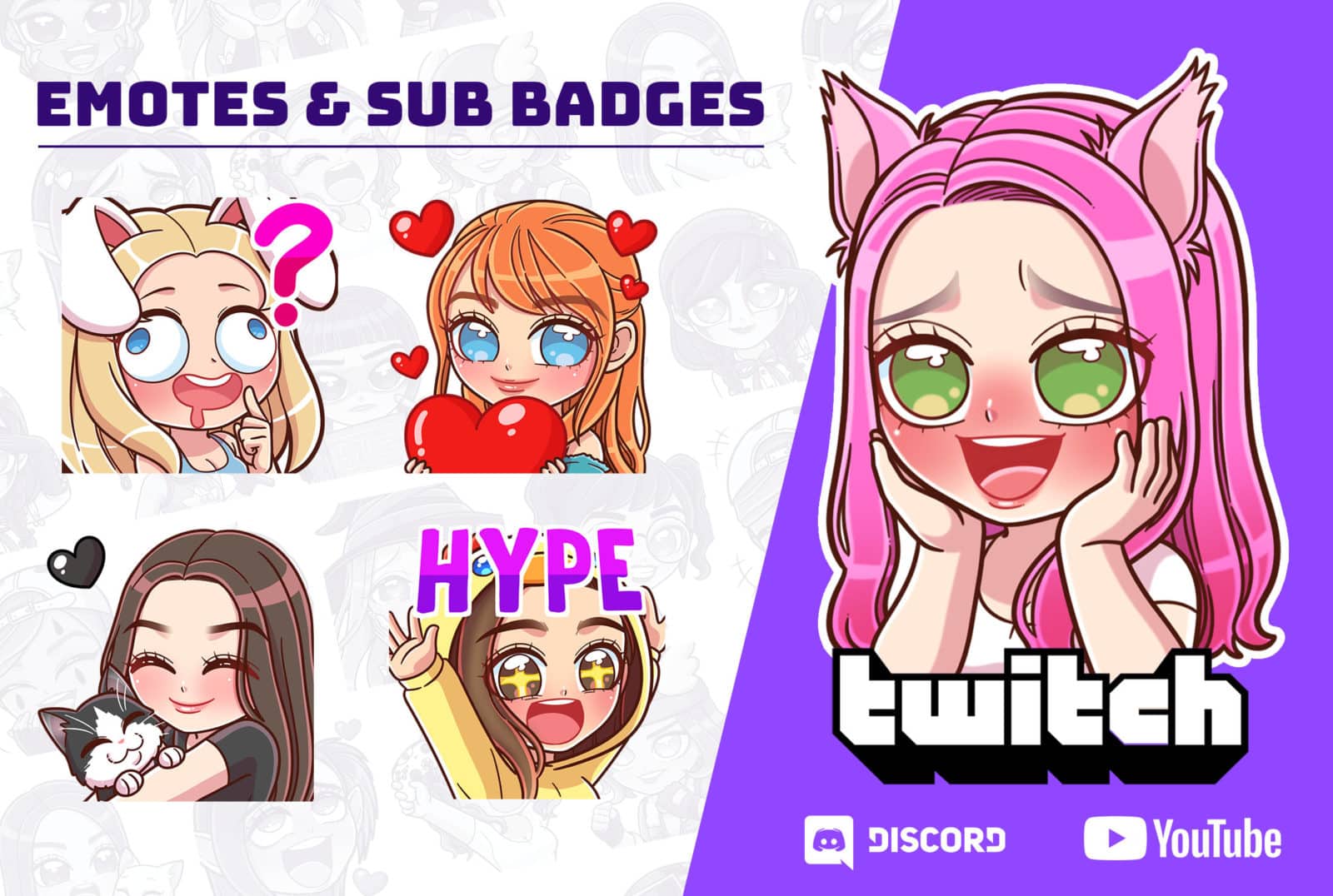 Research each designer. Read the reviews that others have left on their profile and pay attention to their artwork. Look for a creator whose work stands out to you and who will allow revisions on their original work.
Emoji on Fiver start from as little as $5.
Custom Orders Through Fiverr
Every order through Fiverr should be custom-made. Make sure you know what you want before you reach out to the designer. While they will be able to ask you questions to make your ideas more clear if you can give them more information at the beginning of the transaction, you'll ultimately get a better product and a faster turnaround time if you can provide graphics of similar emoticons you want them to portray.
One pretty cool thing about Fiverr artists is that they can also create animated emojis. Where several of the apps and artists will only make static emoji, you can talk to the respective owners of each Fiverr shop to see what they can offer you. In addition to Discord emotes, these same creators are often willing to design emoticons for other platforms such as Twitch.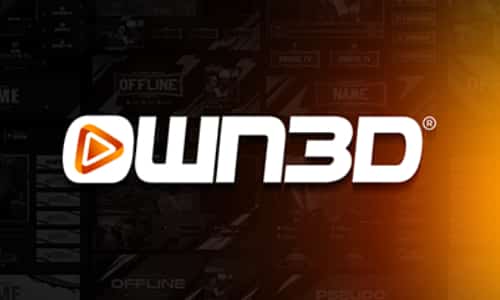 2. Own3D Discord Emote Maker – Quickest
While Own3D was created with Twitch streamers in mind, their work can be used on many websites. As Discord is predominantly a gaming community, many of its creative graphics (including Discord emoji) are just as relevant on other platforms.


Own3D sub badges are delivered in the appropriate sizes for Twitch (28×28, 56×56, and 112×112) and in PNG format. You can download several different designs that will allow your Discord community to display their expressive feelings.
Own3D's creates fun emoji packages that can be purchased and uploaded to the platform of your choice. You can browse them and choose the ones that would fit in with your community's culture. They have badges based on games, animals, beer, flowers, and much more.
Own3D Discord Emoji Maker
Own3D also has a Twitch Emote Generator that can be used as a custom Discord emote maker. The emoji generator lets you use design tools to create an avatar to resemble yourself or another character.
You can create up to 26 different emotes using the character, meaning you can easily make custom emojis that would fit within your overall brand. With so many emotions, this is a great way to let your Discord community react to memes and messages in your channels.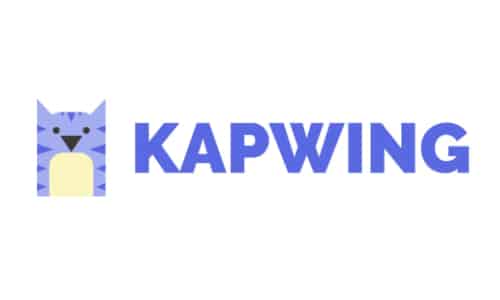 3. Kapwing – Easy Discord Emoji Maker for Images
Kapwing is an editing tool that many content creators use to build graphics either by themselves or in a collaborative setting. It also works well as a Disord emoji creator. You can add both still shots and video media to the editor to start the creative process.
The fun and integral part of the Kapwing editor are the numerous designs, elements, and tools that make it easy to create Discord emojis. And if you are looking for animated emoji Discord graphics, you can easily create them here too.
Kapwing's record feature also allows you to create custom emojis of your face or anything else without having to import anything new. The best part is that you can create images on Kapwing for no charge. If you choose to create animated emojis, you will want to upgrade to Kapwing Pro's affordable premium plan.
4. Etsy Discord Emoji Makers – Best for Cute Designs
Etsy is another online marketplace for crafters and designers. Like Fiverr, you will be dealing with an individual designer, not Etsy themselves. There are multiple emote creators on the platform and you can browse through their portfolios to find someone to work with.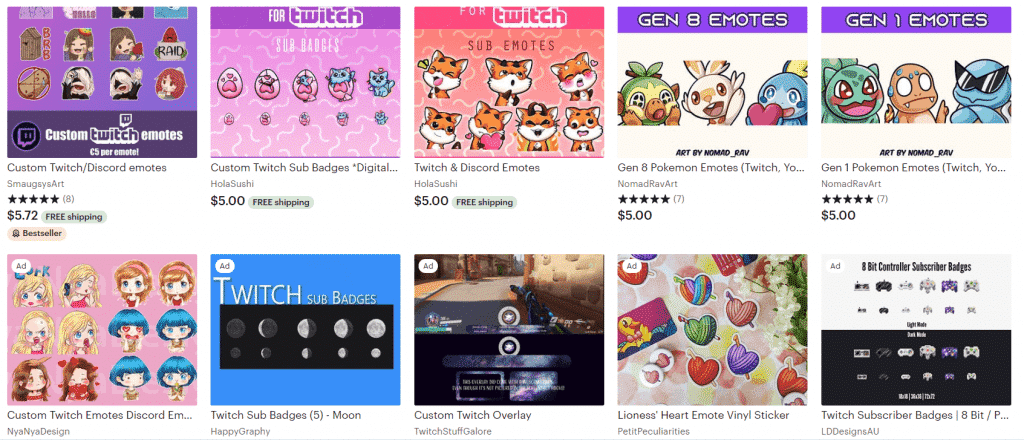 To use the platform, simply search for "best Discord emoji" and the platform will rank many designers who will be happy to create emoji that is the right size for the platform. Whether you want them to add your server name, create stickers, or make avatars of your mods, you will be able to purchase custom emojis for your community.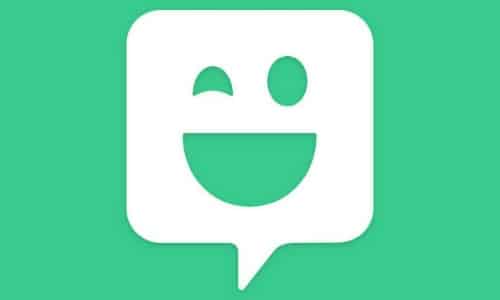 5. Bitmoji – Personalized Emoji for Your Discord Server
Bitmoji is a mobile app that allows you to customize your own emoji. The best news is that this feature is free and can be used on almost any social site, including Discord and Snapchat (you will need to adjust your server settings). Once signing up for the app, you will be able to use their editing tools to create your own avatar that will then be used as a template for hundreds of other emojis.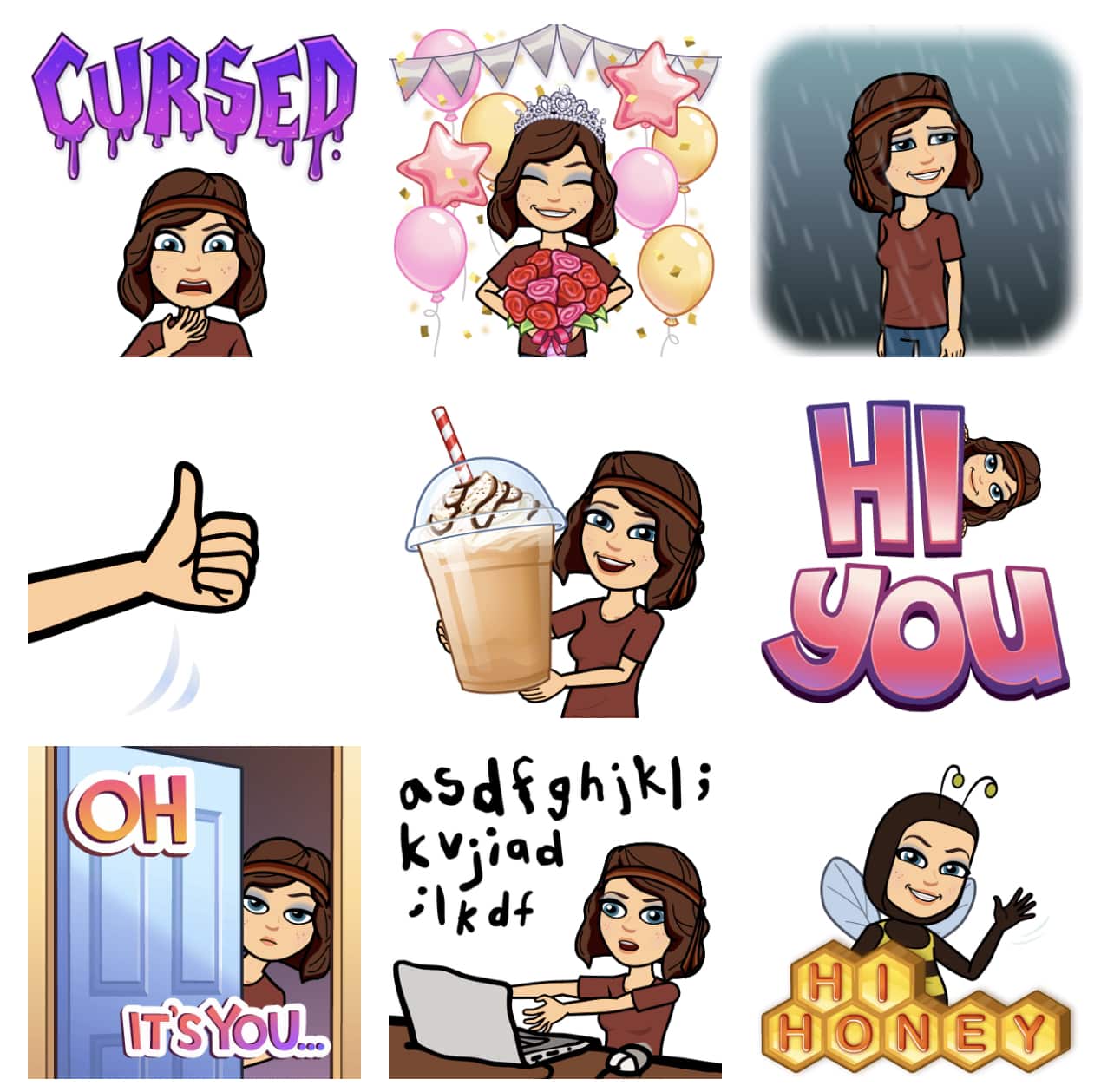 The emoji generator will automatically create stickers based on the avatar that you created. You can search through the sticker templates on the app by using the tags or searching for a specific emoji. Some emotes will include an image of your character holding a sign saying "I gave up," zodiac symbols, and hundreds of other options.
To upload emoji to your Discord, you will first need to download the emoji as an image to your iPhone or Android device. In the end, this free tool can get you many fun Discord emojis that you can use.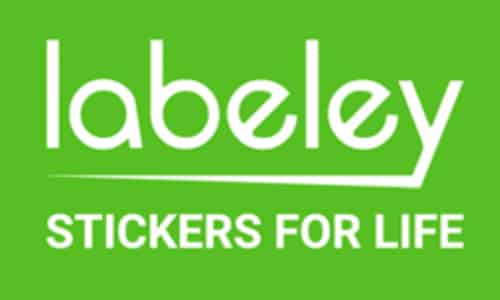 6. Labeley – A Custom Discord Emoji Maker on Your Browser
With Labeley, you will be able to create your own emojis using the tools located on the left sidebar. You will be able to edit the template in many different ways to create your own emojis. Not only can you choose the shape and the background, but you can add facial expressions, accessories, and more.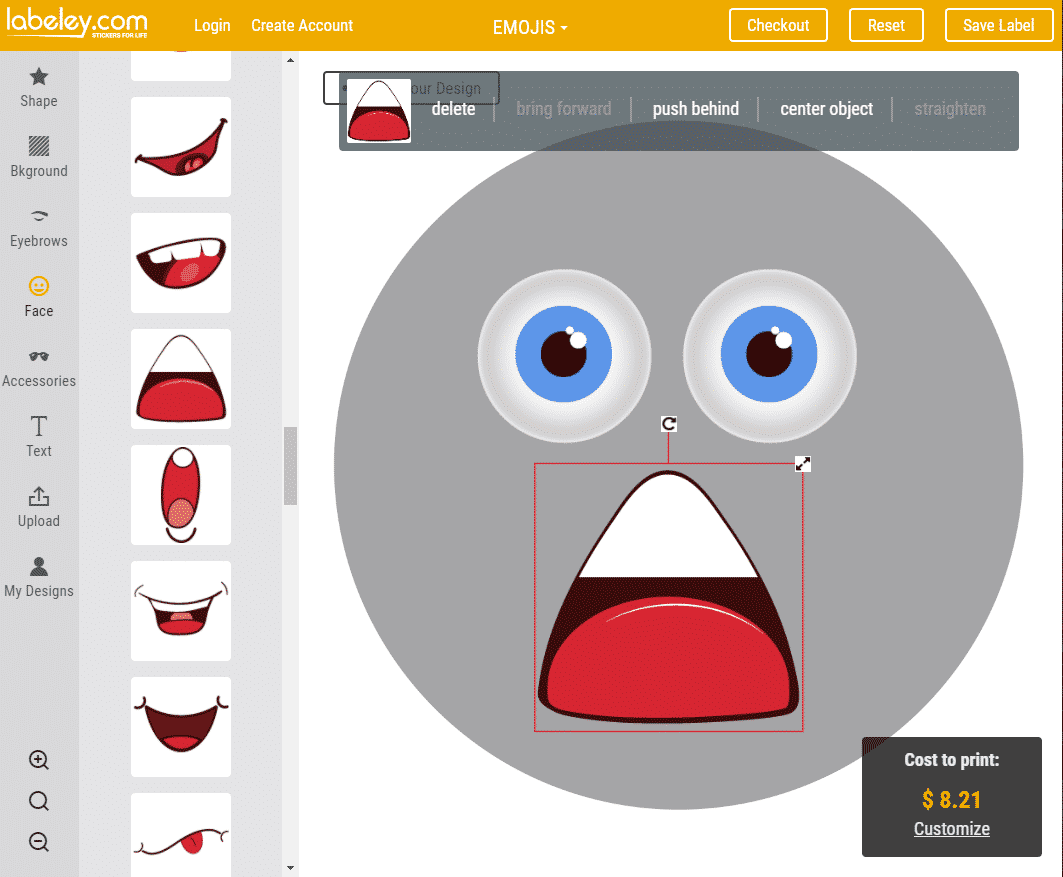 If you want an emoji maker that will allow you to use your own text, Labely has a tool for that. As with other emoji templates on this list, you will need to pay to take advantage of their tools. After purchasing your emojis, you will be able to upload them to the server of your choice.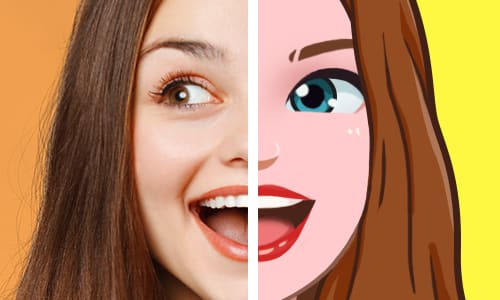 7. Zmoji – Make Custom Discord Emoji of Personal Avatars
Zmoji is another emoji maker that allows users to create fun, expressive Discord emojis based on a personal avatar. Once you sign in, you will need to choose whether you want to pay for the premium version or selects a personal account.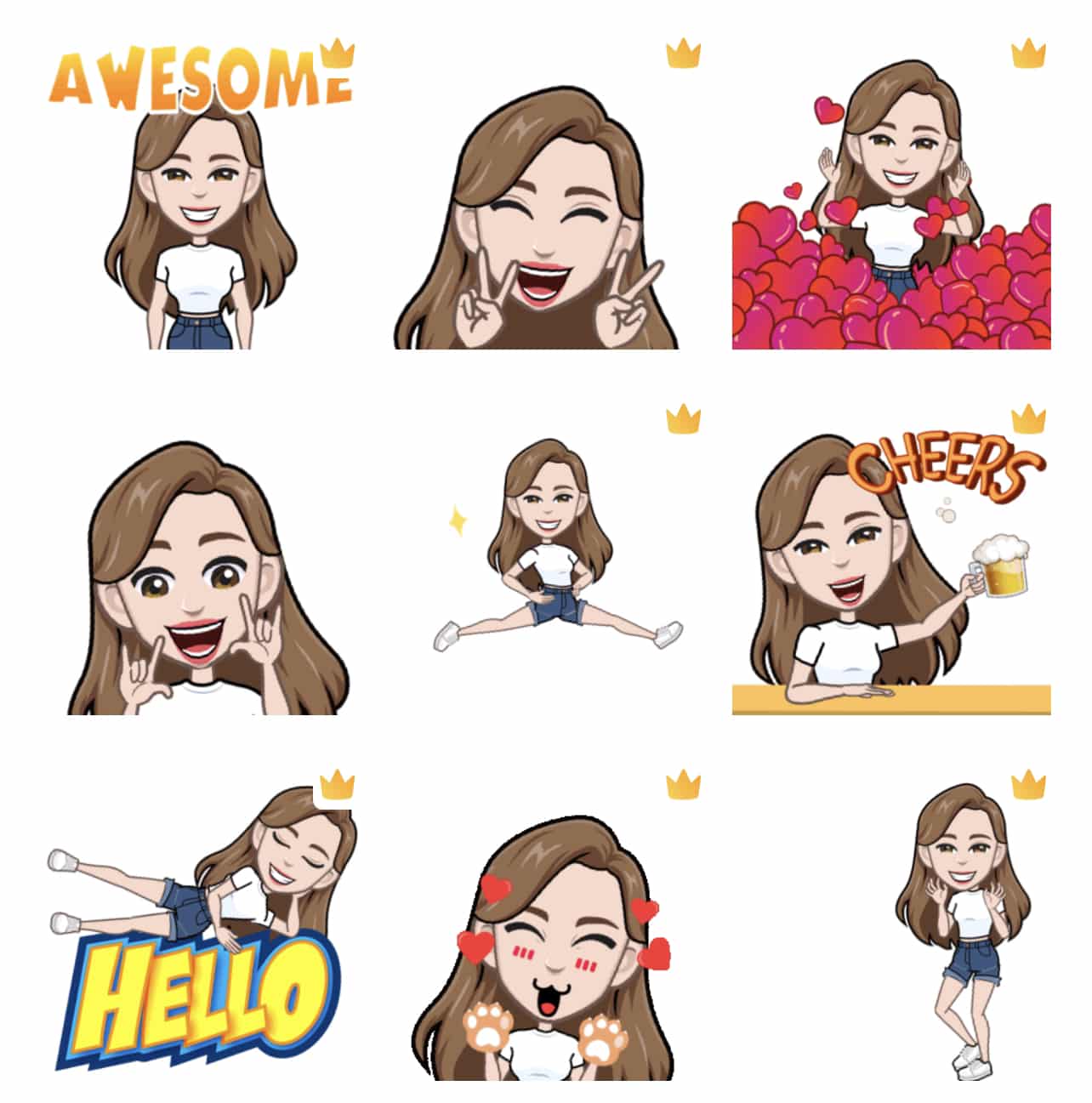 The premium version will allow you to take a selfie which the software will scan. The emoji generator will then create your own emoji that can you download. As with Bitmoji, you will have hundreds of unique emoji to choose from. To upload emoji to Discord, you will need to first save each image you want to your Apple or Android device.
You can also customize your own persona for free using this tool and have access to their emoji maker in that way. Zmoji is a great mobile app for creating special emojis.
Additional Ways to Customize the Best Discord Emoji
If you have a picture that you want to turn into an emoji, you can use software with design tools to edit it to the appropriate size. You can even use remove.bg to easily remove any background, giving you crisp and clean emojis you can upload.

To create animated emojis, you can use MakeEmoji. This browser emoji maker allows you to upload your own unique image, then allows you to download from their list of animated emojis with your graphic added to it. This feature is absolutely free, allowing you to easily edit as many images as you wish using the software.
You can also get your Discord friends to compete on who can create the best Discord emoji. Not only will this create some friendly competition in your server, but you will also end up receiving fun and expressive graphics that you can use. In fact, your friends will likely want to use their own emoji when reacting to announcements and memes.
How to Make Animated Discord Emotes
If you have Discord Nitro, you will be able to upload animated emojis and avatars. You will need to create the emoji in a program that allows you to export in gif format. You would upload them in the same way to Discord as you would a normal emote.
Emote Examples
For inspiration, visit different Discord servers and look at their custom emoji examples. While you shouldn't steal someone else's artwork, you may be able to get some ideas on what you should create surrounding your community's culture.
You can also look at other platforms for inspiration. Look at the top Twitch emotes to see what people enjoy using. Use these same concepts when designing your own emoji. Twitch emotes have made their stamp on the gaming community, many of whom use Discord. While you can't (and shouldn't) use their emotes in your own Discord server, you can be inspired by them.
You should also know that if you are a streamer, you can adjust your server settings after linking it to Twitch so that your subs can use your custom Twitch emotes for your channel in your Discord server. This is a great perk for those who want to support you.
Frequently Asked Questions
How Many Custom Emojis Can You Add to a Discord Server?
On a basic server, you can upload 50 standard Discord emojis. You can also upload an additional 50 animated Discord emoji that your members can use if they have a nitro subscription (with the subscription, they can also have an animated avatar). If you are able to boost your server, you can add up to 250 emotes onto your server, always allowing you to celebrate new ideas and have fun.
Can You Sync Twitch Emotes to Your Discord Community Server?
You don't have to settle for only using Discord emojis. You can also easily sync your Twitch emotes using the Twitch integration features in your server settings. In fact, as long as your subscribers have their Twitch and Discord accounts linked, they will automatically be able to use each emote in your server.
Can You Use More Than One Discord Emote Maker?
You can use as many of the best Discord emoji makers as you want in order to create a fun environment for your users. In fact, you can always replace a PNG file of one of your original Discord emotes with a new one. Just upload emoji through your server.
Can You Use Emotes on Other Applications?
Whether you use a browser tool to download a new emote or create it from scratch, you can typically use your Discord emotes on other apps, including Twitch, Snapchat, and more. Wherever you want to show your emotion through a small image, you can. That being said, you may need to check the size so that you can upload emoji correctly to each app.
Conclusion
We hope this post has helped you find a Discord emoji creator. Any of the above will help you either create or find customized emoji that you can use with your Discord account. You can even use more than one so that you can try a few different styles or create original avatars.