Setting up a bot across multiple platforms can sometimes become very time-consuming though… What if it no longer had to be? In this article, we are going to be looking at (probably) the most powerful streaming tool you will ever find!
What is Botisimo?
Botisimo is a great chatbot that can be used on almost every streaming service. Unlike StreamElements or StreamLabs though, Botisimo is able to sync across all your live streaming platforms and your Discord server too. What's more, with Botisimo you are even able to automatically post every time you go live to your discord and Twitter.
Botisimo Features
Like Other chatbots used for streaming, Botisimo can easily handle tasks such as; commands, timers, moderation, giveaways, and donations, but it also has some pretty interesting features you can't seem to get anywhere else. Here are the more unique and best features of Botisimo.
Cross-Platform Connections

For streams who focus their content across multiple platforms, this is definitely the selling point of Botisimo. You are able to easily connect and sync commands across all major streaming and chat platforms including; Twitch, Youtube, Discord, Slack, Facebook Gaming, Facebook Live, Trovo, and Dlive, for a seamless experience no matter what platform your viewers are watching on.

Cross-Platform Chat Relay

Not only are you able to Connect your bot and sync your commands and timers across platforms, but Botisimo can also relay your chat from one platform to another allowing viewers across platforms to connect and making it easier for you to read every message that comes your way.

That isn't the case for every platform though. Using Twitch as an example, I was able to relay my chat back to most of the services Botisimo covers, but Facebook Live or Facebook Gaming does not seem to allow the same functionality.

Go Live Notifications

Normally to actually post a message when you go live in discord automatically, you will need a bot like MEE6 to handle that. With Botisimo you can post automatically every time you go live by simply just adding the bot to your server.

What's more, you can easily even post every time you go live to Twitter or Slack when you go live too, removing the need for creating applets on IFTTT which can be a bit of a learning curve.

Polls

This feature is not necessarily unique, but it is pretty neat. As a lot of you may know, Twitch already has a poll function on the platform already. However, Botisimo has its very own poll system with its own overlay. I found this to be very engaging given that votes are selected using commands in chat.

Music Player

My favorite feature has to be the music player. You are able to add any songs to the Botisimo music player, share a link with chat who can then listen at their own set volume, and have this in a separate window that is not captured by OBS – you can listen to all the DMCA tunes you feel like without being scared of strikes or takedowns. This is very easy to set up with something like GOXLR or Voicemeeter too, or just simply capture audio from game captures rather than desktop capture.

Welcome Every New Chatter

There is one thing Botisimo offers which I noticed could be very good for growth and engagements. You are able to set a message to welcome every new chatter who sends a message in your stream. You should know that the bot doesn't exactly welcome newcomers to your channel, instead it welcomes new bot users.

When I first set this up, the bot was kind of annoying with welcoming new people who had been in the stream for years. However, I got around this by having the Botisimo introduce itself for the first couple of days. By the end of the week, when users were recognized, Botisimo only welcomed newcomers which led to an instant following most of the time.

Description For Commands

This is something so small, but I couldn't count the number of times viewers have looked at commands on my public StreamElements page and asked 'What does this do?' Well, Botisimo allows you to add a description to all of your commands so viewers can easily tell what's what.

Alexa Skill

Yes, you can control certain parts of Botisimo with your voice using Alexa. Personally, I find this to be a really pointless feature unless you are far too lazy to type a command or have a mod type a command in chat… But I did have fun with it so there you go! I won't go into a lot of details about this function. To learn more about the Alexa Skill on Botisimo click here.
Where Botisimo Could Improve
Remember, this is an honest review and not everything about Botisimo is perfect. There are a few places where it could and should improve.
Firstly, by default, it absolutely spams your chat. It honestly took me far too long to figure out what was doing it, however, after turning off most of the default commands and a timer urging viewers to subscribe, I realized it was their chat-based game called DyneOps. DyneOps is a game that rewards people with loyalty points for 'decrypting' a message that Botisimo sends in chat.
Though it can be fun, considering the hefty amount of messages required to play, I would prefer to use heists from Streamlabs or raffles from StreamElements as they are kind of easier to explain and understand.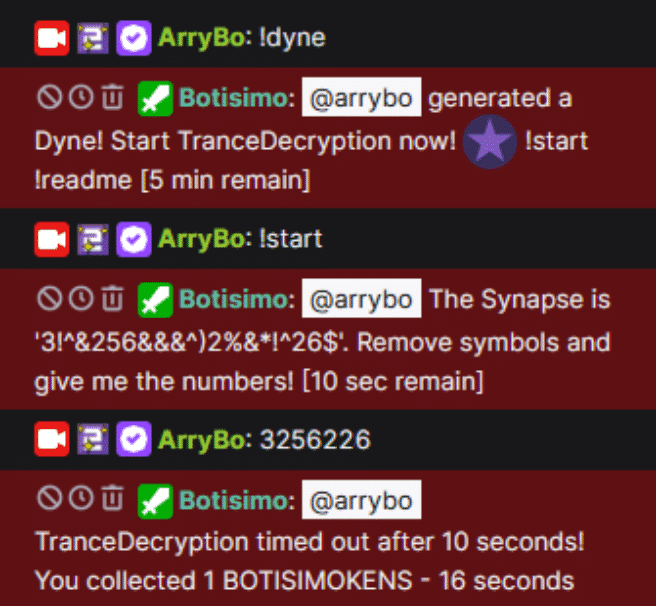 I also had Issues with Botisimo Building up delays and essentially disconnecting from chat. I did however make sure that viewers were heavily interacting with the bot to see how it would handle the engagements, however, there was a time Botisimo broke for around 20 minutes when a raid came in after posting a large number of messages with all the new chatters and followers. There should possibly be a delay added in which it welcomes new chatters, lets say new chatters only trigger this message once every 10 seconds, to stop the bot from spamming and potentially crashing as it did for me.
Lastly, and probably my biggest concern with Botisimo is the price. $10 a month for the most basic package seems like a lot of money to pay for what you get. Though it could potentially be worth the price to a lot of people and the ease of Botisimo is unmatchable, you are able to do everything that Botisimo has to offer for free… just not in one place. Although the Botisimo FAQ section states that free services make money 'by selling information about you, the price still does not seem worth fewer spam emails a month when you already receive hundreds anyway. However, you just go get your 14-day trial with Botisimo and decide for yourself!
Frequently Asked Questions
Is Botisimo Free?
No. Botisimo has a few different options for a price ranging from $10 a month for a pro account to their premium option priced at a massive $600 a month.
Is Botisimo Worth The Money?
If you are a creator who live-streams across multiple platforms at the same time, yes. Botisimo can easily sync commands, timers, and moderation settings across all platforms.
Conclusion
Botisimo offers a lot of unique and interesting features, some even good for growth and engagement. Although $10 a month is a lot to pay, for the ease and synchronization across all platforms there is definitely worth in Botisimo. Especially if you are a multi-platform streamer!