During the last generation of gaming, most people haven't even heard of a Solid-State Drive (SSD). Most PCs and even consoles had regular hard drives (HDD), which took several minutes to load up a game. Nowadays, SSDs have become much more common. They are the standard storage drive of choice since they drastically reduce load times. This article discusses what you should look for in an SSD, highlights some of the best SSDs for streaming, and addresses some frequently asked questions.
Will Having an SSD Improve Twitch Streaming?
A Solid-State Drive (SSD) will not improve the quality of your stream. An SSD is primarily used to increase storage capacity and allow Twitch broadcasters to save their past streams. Popular channels will save all streams to use the footage in Youtube content or as clips for promotion.
What You Should Look For in SSD
These are some features that are important to look for when shopping for a brand new SSD for gaming and streaming:
1. Storage Space

This one is pretty obvious. The more storage space you can get, the better. However, that will also come with a higher cost. In my opinion, an SSD with 1TB is the sweet spot when it comes to value for money. With 1TB, you'll have enough storage space to avoid having to delete games every time you want to download a new one. Some people like purchasing a smaller SSD for their operating system, such as 250GB, and then purchasing a larger hard drive (HD) to store their games, such as 1TB or 2TB. However, I strongly prefer having one large SSD since load times will be way faster.

2. Form Factor and Motherboard Compatibility

There are several types of form factors when it comes to SSDs, such as M.2 SSDs and SATA SSDs. Since every motherboard has different slots to insert the SSDs into, it is important to know exactly which type of SSD is compatible with your motherboard.

3. NVMe/PCIe versus SATA SSDs

If your motherboard supports NVMe/PCIe slots, then you should purchase one of those SSDs since they are typically faster than SATA SSDs due to higher sequential read/write speeds.

4. Internal versus External

When building a PC, most people will opt for an internal hard drive. However, if you need the portability, you can go with an external hard drive.
Best SSD for Gaming & Streaming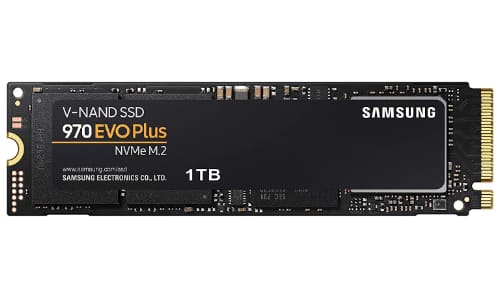 1. Samsung 970 Evo Plus
The Samsung 970 Evo Plus is arguably the best SSD on the market. It is a great bang for your buck option as well considering its price point. This internal SSD is available in several sizes: 250GB, 500GB, 1TB, and 2TB. It even comes with a PCIe interface, an M.2 form factor, and offers read speeds of 3500 megabytes per second. With this SSD, you simply cannot go wrong.
2. WD_Black SN750 NVMe
The WD_Black SN750 NVMe internal SSD offers 250GB, 500GB, 1TB, and 2TB storage sizes. It also comes with a PCIe interface and M.2 form factor, and it offers sequential read speeds of up to 3470 megabytes per second. Although not as fast as the Samsung 970 Evo Plus, this SSD still offers speeds much faster than a regular HDD. It is also important to note that this product is not compatible with SATA motherboard interfaces.
3. Corsair MP400 NVMe PCIe
This is the first Corsair entry on our list. It features a PCIe interface and an M.2 form factor. This means that the SSD fits directly into the motherboard without any added cables, which allows for much faster sequential read speeds of up to 3400 megabytes per second. For the performance you get, it is extremely well priced. One downside to this SSD is that it has a lower endurance than other SSDs.
Best Budget SSD for Twitch Streaming
1. Adata XPG SX8200 Pro
For a budget SSD, the Adata XPG SX8200 Pro has many great features that make it a great price-to-performance product. It comes with a PCIe interface and M.2 form factor, which allows for sequential write speeds of up to 3,060 megabytes per second. This SSD comes in many different storage formats, including 128GB, 256GB, 512GB, 1TB, and 2TB.
2. HP S700 Pro
This SSD has a SATA interface, meaning it will be slower than the aforementioned PCIe SSDs on our list. While it sacrifices the speed, there are some motherboards which only support SATA interfaces. For these motherboards, this SSD is a great option. It offers sequential read speeds of up to 562 megabytes per second. It comes in four different versions: 128GB, 256GB, 512GB, and 1TB of storage space. If your motherboard supports PCIe, you're better off going with one of the other SSDs on our list.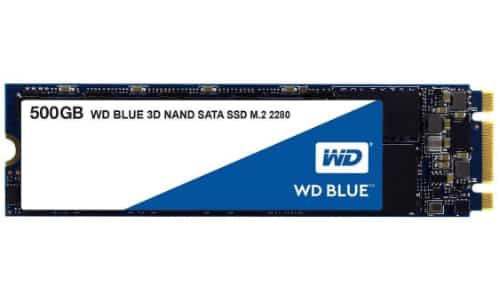 3. WD Blue 3D NAND
The WD Blue 3D NAND SSD also comes with a SATA interface for users whose motherboards are incompatible with PCIe interface SSDs. While this SSD won't achieve the same speeds as the pricier PCIe SSDs, it does offer solid price-to-performance value. This internal SSD offers sequential read speeds of up to 560 megabytes per second, and it comes in five different storage formats: 250GB, 500GB, 1TB, 2TB, 4TB.
Frequently Asked Questions
What Type of SSD Do You Need for a 24 Hour Stream?

The length of your stream has no affect on which SSD to purchase. The only thing that might have to be considered is storage space if you are considering saving your stream on your SSD. Even at that, I highly suggest using an external hard drive to store your streams because they can take up a lot of storage and there's no advantage of storing a stream on an SSD instead of a HD. Only one hour of video can take up to 8GB of storage space depending on many factors.

What is the Best Internal SSD for Your PC?

There are so many great SSDs on the market. It really comes down to how much you're willing to spend. Samsung has a reputation for making arguably the best SSDs on the market. Therefore, if you can afford it, the Samsung 970 Evo Plus is one of the best SSDs to purchase. It has all the features you need for a fast SSD, including a PCIe/NVMe interface, M.2 form factor, and sequential read speeds of up to 3,500 megabytes per second.

What is the Best External SSD for Your PC?

Similarly to Internal SSDs, there are many great products available. One that stands out is the Samsung T5 SSD. This SSD provides ultra-fast speeds and connects to your PC via USB Type-C, USB 3.0, or USB 2.0. On top of that, it has an amazing compact design, which makes it extremely convenient when carrying it from place to place.