Whether you are just getting into building your own computer or looking to upgrade your current setup, the hardware choices can be overwhelming. Knowing what hardware specifications to prioritize can help narrow this down.
Not sure which motherboard is for you? Worry not. I have found the best motherboard for streamers. And there's a list for budget motherboards too!
What You Should Look for in a Motherboard
When picking out a new motherboard, there are a few key things you want to look out for:
CPU

First and most important, is it made for an Intel or AMD processor? Not only are motherboards made for either Intel or AMD processors, but their sockets are also unique. You will want to use Intel's Alder Lake Chips or AMD's AM5 sockets.

Make sure to check the motherboard's list of compatible processors to be safe before purchasing. Sometimes motherboards that are older cant work with processors that come out after them.

RAM

After deciding on Intel or AMD you will want to pay attention to the version and speed of RAM the motherboard can handle, this is noted by the DDR number. I would recommend the motherboard is compatible with DDR4-3600.

Furthermore, I would recommend a minimum of 32GB of RAM with any setup you choose, memory demands have increased over the years, and anything lower will run you into problems.

Size

Another important detail when picking your motherboard is ensuring it can fit within your case. Motherboard typically comes in two sizes, ATX or Micro ATX. ATX motherboards will require a full-sized case and generally are better for your typical user, especially with the large size of most video cards these days.

Micro ATX boards can fit in full and micro cases but are most often used to make compact builds. If this is the option you go you will need to build everything around the space restraints.

Ports

Finally, when choosing the right motherboard, you will want to know what kind of expansion ports and how many there are available. You'll need mostly need Type-C, HDMI, and USB ports.

It can be important to plan with something like streaming, as you may require expansion cards for peripherals, such as cameras, mics, capture cards, etc.

Aesthetics

As a streamer, you may want a setup that looks good together. You would want your equipment for streaming to look its best if it is visible during your streams. And one of the coolest ways to dress it up is with the use of RGB lighting. So, if this is a feature you want, make sure your gaming motherboard can have sockets to accommodate the lights.
Best Motherboards for Streaming
Are you looking for the perfect motherboard for your streaming PC? Look no further, we've found the best motherboard for streamers, and they're all listed below!
Gigabyte Z690 Aorus Tachyon
Durable built quality

Great overclocking capabilities

Has WIFI connection

Has temperature sensors
Limited to one slot for PCIe Gen5

Only allows 64GB of RAM
The Gigabyte z690 Aorus Tachyon is one of the best overclocking motherboards on the market today. It's a modern motherboard that's beautifully designed. This high-end motherboard caters to the latest Intel CPUs and offers WIFI 6E connectivity.
It also allows up to 64 GB DDR5 RAM. This motherboard comprises a 105A power stage, PCIe slots, dual CPU power connectors, and tantalum power capacitors. With all that, it provides its users with the best gaming performance possible. It's arguably the best motherboard you can get as a streamer and gamer.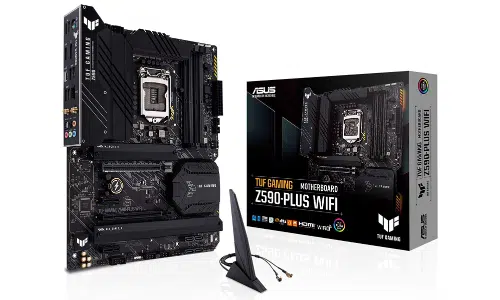 Asus TUF Gaming Z590 Plus
Well-built

Type-C ports

Excellent performance

Great value for the price
Offers only a few USB ports at the back
If you plan to build your own gaming PC, then the Asus TUF gaming Z590 Plus is an excellent choice. This is a premium motherboard designed to be compatible with other Asus PC components making it easier to mix and match PC parts.
This is a high-quality motherboard with a CPU socket for 11th or 10th gen Intel cores and a gigabit ethernet port. The Z590 Plus also offers great cooling solutions that help your PC's fans to keep your system at an ideal temperature.
The DrMOS helps to properly power your computer without the threat of it overheating or malfunctioning. Furthermore, this motherboard has two-way AI noise-canceling technology for better gaming and streaming experience.
Gigabyte X570 Aorus Ultra
Sleek design

M.2 slots have heatsinks

LED lights
The Gigabyte X570 Aorus Ultra is an ideal motherboard for gamers and streamers who are AMD fans. This AMD motherboard has dual channels for DDR4 RAM. In addition, the X570 has great cooling solutions with its fins-array and high thermal heat conductivity pad.
The audio offered by this motherboard also won't disappoint you. Moreover, it's an excellent choice for gamers and streamers fond of RGB lighting. The LED lights of this motherboard will surely go with your overall gaming setup aesthetic.
Asus ROG Maximus XIII Extreme Glacial
Durable build material

Aesthetically designed

Plenty of ports

Optimized thermal design
May not fit most PC cases
The Asus ROG Maximus XIII Extreme Glacial is another motherboard perfect for gamers and streamers who want to DIY their gaming PC. It offers many powerful features for those who wish to build an extremely powerful gaming computer.
This board supports the 11th and 10th gen Intel cores for intense work and play. With its capabilities, this motherboard was built to stay cool during peak performance and extended use. This is a great motherboard, especially for people willing to spend a few dollars more for a premium, good-looking board.
MSI MAG B660M Mortar
Beautiful design

A sufficient number of USB ports

Well priced

Great overall performance

6 SATA ports
Accommodate less number of fan headers
MSI has created a beautiful and efficient motherboard with their MAG B660M Mortar. It has an impressive cooling solution with its M.2 Shield Frozr, extended heatsinks, pump fan support, and thermal pads.
In addition, this is a durable and well-built motherboard for DIY enthusiasts. It has WIFI 6 and 2.5G LAN connectivity options and DDR4 memory slots. Plus, this is one of the more affordable motherboard options on the market today.
ASRock Z690 Taichi
Great overclocking potential

Stable and reliable performance

Thunderbolt ports
Not budget-friendly

Limited to 6 USB Type-A ports
The ASRock Z690 Taichi is an aesthetically pleasing motherboard built to accommodate 13th and 12th gen Intel core processors. It is a future-proof motherboard that can house DDR5 RAM sticks and has polychrome RBG lighting.
The Z690 Taichi has the fastest gaming ports that enable you to play smoothly and with the least latency possible. Furthermore, this motherboard comes with a decent number of ports.
Frequently Asked Questions
Is AMD or Intel a Better Motherboard?

Regarding which is better, Intel or AMD, the answer is usually whichever fits your budget better. Intel tends to be more expensive but has more powerful higher-end processors, especially when looking to overclock.

On the other hand, AMD processors and GPUs are more affordable, with powerful options available starting from the mid-price range.

Note that if you are streaming, no matter the processor you choose, Nvidia graphics cards are the recommended choice due to OBS having the option to use Nvidia's built-in encoder.

What Does it Mean to Overclock?

Overclocking refers to increasing your processor's speed (clock rate) or GPU past the speed. It is certified to go by the manufacturer. This can be done with specific processors and GPUs to great success and with little downside.

Will Overclocking Affect Your Hardware?

The primary side effects of overclocking are increased electricity consumption and generating more heat. This means that when overclocking, it is essential to ensure your cooling solution is sufficient so that the hardware does not burn out.

In the long run, the lifespan of your overclocked equipment will be shortened, but if you look up best practices for the CPU or GPU you are overclocking, you can get extra speed without significantly shortening the equipment's life.
Conclusion
Those are the best gaming motherboards on the market today. We know that choosing from the long list of gaming Intel and AMD motherboards is no easy task.
We hope this article helps you decide on the best gaming motherboard. Whether it be an Intel or AMD motherboard, I'm positive you'll find the best motherboard for you. Have fun with your PC-building journey!