Best Motherboard for Streamers
Whether you are just getting into building your own computer or looking to upgrade your current setup the hardware choices can be overwhelming. Knowing what hardware specifications to prioritize can help narrow this down. We will go over what to look for when picking out a motherboard as well as give a few recommendations on what to buy.
What You Should Look for in a Motherboard
When picking out a new motherboard there are a few key things you want to look out for:
CPU

The first and most important, is it is made for an Intel or AMD processor? Not only are motherboards made for either Intel or AMD processors, but their sockets are also unique. What you will want to use are Intel's LGA 1200 or AMD's AM4 sockets. Make sure to check the motherboards list of compatible processors to be safe before purchasing, sometimes motherboards that are older cant work with processors that come out after them.

RAM

After deciding on Intel or AMD you will want to pay attention to the version and speed of RAM the motherboard can handle, this is noted by the DDR number. I would recommend the motherboard is compatible with DDR4-3600. I would recommend a minimum of 32GB of RAM with any setup you choose, memory demands have increased over the years and anything lower will run you into problems.

Size

Another important detail when picking your motherboard is to make sure it can physically fit within your case. Motherboard typically comes in two sizes, ATX or Micro ATX. ATX motherboards will require a full-sized case and are typically better for your typical user, especially with the large size of most video cards these days. Micro ATX boards can fit in both full and micro cases but are most often used specifically for making compact builds, if this is the option you go you will need to build everything around the space restraints.

Ports

Finally, when choosing a motherboard, you will want to know what kind of expansion ports and how many there are available. With something like streaming it can be important to plan as you may require expansion cards for peripherals, such as cameras, mics, capture cards, etc.
3 Best Motherboards for Streaming
ASUS ROG STRIX Z490-E Gaming
The Z490-E is a nice motherboard for a decent price. It has a lot of the built-in specs you want on a gaming and streaming motherboard without being an outrageous price. The layout of the ports on the board are also a nice fit for most modern cases, where cable management can be an issue depending on the placement of ports.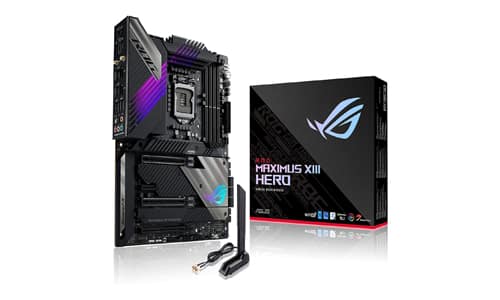 ASUS ROG Maximus XIII Hero
A step up from the Z490-E, the XIII Hero can support a later generation of Intel processors along with faster speeds of RAM. If you are planning on spending more money on your setup for more recent RAM and CPU then this is a great choice.
MSI MEG Z590 GODLIKE
If you want a motherboard with all the bells and whistles and have a case that can hold an E-ATX board then this is what you are looking for. This board is very expensive but well worth it if you have the money and want to go all out on a machine that you won't need to worry about upgrading for years to come.
3 Best Budget Motherboards for Streaming
ASUS ROG Strix B450-F Gaming II AMD
If you prefer AMD this board is a great board for a starter build. Being affordable but still having the ports you want on a gaming PC is a great mix. One of the downsides however is the memory speeds it supports are a bit low, the max recommended being DDR-3200.
MSI B450 Gaming PRO Carbon
For only slightly more than the Strix B450-F this motherboard has the compatibility with the memory speeds you want along with a decent amount of USB and expansion ports.
ASUS ROG Strix B550-F Gaming AMD
Still within the budget category but sporting all the ports and hardware support you would want on a good gaming/streaming motherboard, the Strix B550-F is a great fit for any rig.
Frequently Asked Questions
Is AMD or Intel a Better Motherboard?

When it comes to which is better Intel or AMD, the answer is usually whichever fits your budget better. Intel tends to be more expensive but has more powerful higher-end processors, especially when looking to overclock. On the other hand, AMD processors and GPUs are more affordable with powerful options available starting from the mid-price range.

Note that if you are streaming, no matter the processor you choose, Nvidia graphics cards are the recommended choice, due to OBS having the option to use Nvidia's built-in encoder.

What Does it Mean to Overclock?

Overclocking refers to increasing the speed (clock rate) of your processor or GPU past the speed it is certified to go by the manufacturer. This can be done with specific processors and GPUs to great success and with little downside.

Will Overclocking Affect Your Hardware?

The primary side effects of overclocking are increased electricity consumption and generating more heat. This means that when overclocking it is very important to make sure your cooling solution is sufficient so that the hardware does not burn out. In the long run the lifespan of your overclocked equipment will be shortened, but if you look up best practices for the CPU or GPU you are overclocking you can get extra speed without significantly shortening the equipment's life.