There are more things to take into consideration than just the total RAM.
In this article, I will explain what you should look for in RAM, discuss some of the best RAM and budget RAM for Twitch streaming, and answer some frequently asked questions.
What You Should Look For in RAM
Here are several key features to look for when purchasing RAM for your PC build:
1. Total RAM

Simply put, the more multitasking you do, the more RAM you need. If you're using the internet browser to check your emails, you will need less RAM than someone using their PC to game, stream, play music, and use discord simultaneously. For the former, 8 GB of RAM will suffice.

For the latter, 16 GB of RAM will be needed. You can also go up to 32 GB of RAM, usually only needed for extreme multitasking or high-resolution video editing.

2. Frequency and CAS Latency

Most people overlook this feature by only looking at total RAM. However, the frequency can also increase performance. A good rule of thumb is to purchase RAM with at least 3000 MHz frequency. Some motherboards have a minimum recommended amount of frequency for the RAM that will be paired with it.

If the frequency is too low, it can cause performance issues or even damage your components. As for the CAS latency, the lower the number, the faster the RAM is.

3. DDR Generation

The RAM you purchase must be compatible with the motherboard you pair it with. For example, RAM that is DDR4 has to be paired with a DDR4 motherboard. As such, if you use DDR3 RAM on a DDR4 motherboard, it will not work.

4. Form Factor

There are two different types of form factors. The first is the DIMM form factor, which is compatible with desktop computers. The second is the SO-DIMM form factor, which is compatible with laptops. Therefore, you must purchase RAM with a DIMM form factor when building a desktop computer.

5. Multi-Channel Memory

It would be best if you matched memory sticks with others you already have to optimize performance. For example, if you have 16 GB of Corsair Vengeance 3200 MHz RAM (2x8GB), you should ideally purchase the exact same product and format if you want to upgrade to 32 GB of RAM.
3 Best RAM for Streaming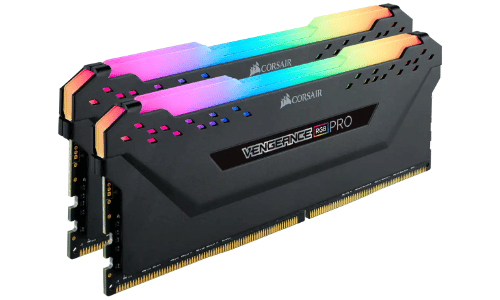 Corsair Vengeance RGB Pro
Good value for the price

A great choice for AMD Ryzen gaming PCs

RGB lighting
Not the best RAM for Intel processors
The Corsair Vengeance RGB Pro is one of the most popular RAM sticks on the market today. Not only does it have an aesthetic design and RGB lights, but it also packs a lot of power for general and professional use.
This is a DDR4 RAM that has been engineered to perform perfectly with both Intel, and AMD PC builds. You can get up to 4600MHz clock speeds without having to worry about its headroom. This is possible with the custom PCB and selected IC for this RAM.
In addition, the RAM has heat spreaders that help with the airflow and cooling of your PC. You can be sure that Corsair has designed and produced this memory to give its users the power needed both for playing games and for professional use.
HyperX Predator
Well-built RAM stick

Great heat sink

Impressive overclocking headroom

RGB lighting
HyperX is one of Corsair's main competitors. Although this RAM is 16GB, it is enough for gaming and streaming. It comes in a DDR4 and 2x8GB configuration.
This means it will use up to 2 DIMM slots on your motherboard, allowing for future upgrades. This RAM features a frequency of 3200MHz with a CAS latency of 16 and RGB lighting.
G.Skill Trident Z Neo
Premium design and build quality

Excellent performance

Ideal overclocking potential

Steady speed
Unimpressive clock speeds
G.Skill's Trident Z Neo can give your gaming setup the bright RGB colors it possesses. But this RAM is not only great for aesthetics. It's a great memory stick for content creators focusing on live streaming. The Trident Z Neo is worth checking out if you're building your streaming PC.
This RAM is optimized for AMD Ryzen gaming PC builds. The Trident Z Neo has an admirable overclocking performance while looking good simultaneously. Thanks to its RGB lights and dual-tone heat spreaders, this RAM keeps up with the overall aesthetic of your gaming setup. With the Trident Z Lighting Control software, you can control the RGB lighting.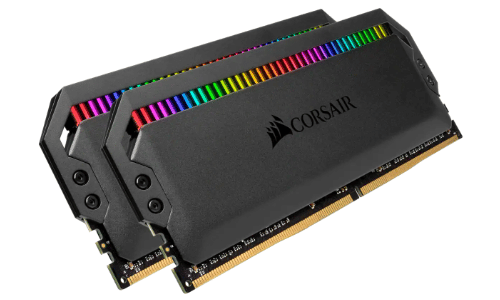 Corsair Dominator Platinum RGB
Sleek design and premium build material

Impressive overclocking and XMP performance

Lifetime warranty
Might be difficult to find in store
The Corsair Dominator Platinum RGB memory kit does not disappoint. This RAM can help you play and stream even the most modern games available today. It has a premium build and design without having to compromise on performance.
To start, the Dominator Platinum RGB is built with a 10-layer PCB which helps it produce superb performance, especially when overclocking the ram. In addition, memory kits like these have dual-path DHX cooling technology, so you won't have to worry about overheating with extended use.
What's more, the colorful lights of this RAM kit will surely entice most gamers. You can control these lights with Corsair's iCUE software. It looks good and performs well, which makes it something worth looking into.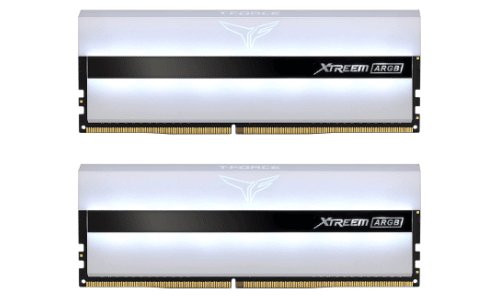 TeamGroup T-Force Xtreem ARGB
Amazing performance and overclocking capability

Premium and modern design

Affordable
Lacks sensor for temperature

Might be difficult to find due to its popularity
The T-Force Xtreem is an excellent RAM for gaming. TeamGroup has incorporated ARGB technology into this RAM stick. The full mirror light penetration adds to the overall beauty of this device.
Apart from its aesthetics, this random-access memory operates with an aluminum alloy heat sink for better cooling solutions. It also works with both AMD and Intel motherboards, so it won't limit your choices in that aspect.
The Xtreem is a reliable RAM stick that'll help you smoothly run PC games and stream them as well. With this RAM, you can get better performance when streaming games on your preferred platforms.
3 Best Budget RAM for Streaming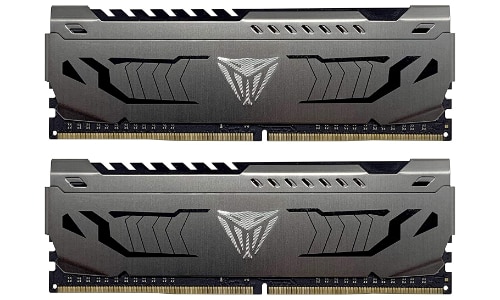 Patriot Viper Steel DDR4 16GB
Sleek design

Exceptional overall performance

Reasonably priced
Not the best heat spreaders
The Patriot Viper Steel DDR4 is a high-end RAM that has decent pricing. So if you are a PC gamer with a set budget, the Viper Steel is worth considering.
The Viper Steel manages heat well, has XMP 2.0 support, has a clock speed of up to 4400 MHz, and comes in a sleek and modern design. With this, Viper Steel can also help improve your stream's video quality. Content creators will surely appreciate the Viper Steel DDR4 RAM sticks.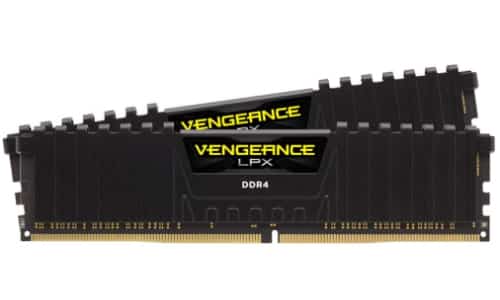 Corsair Vengeance LPX
Simple and clean design (available in different colors)

Superior overclocking capabilities and overall performance
The Vengeance LPX has one of the most exceptional overclocking capabilities. Plus, it comes at an affordable price too. As with any RAM from Corsair, the LPX has a custom PCB and hand-selected IC. This ensures the best performance from their RAM sticks.
What's more, the LPX has aluminum heat spreaders and XMP 2.0 support. It even comes in 4 different colors (white, black, blue, and red) to match your gaming PC's current theme. This is one of the more affordable and reliable RAMs with a lifetime warranty on the market.
Patriot Viper 4
Beautiful design

Automatic overclocking

Outstanding XMP performance
Not the best overclocking headroom
The Patriot Viper 4 is another budget-friendly, powerful RAM for gaming. It has clock speeds of up to 4400 MHz giving you peak performance during gaming and streaming. What's great about the Viper 4 is its effective heat shields and automatic overclocking.
It is built with premium materials and features that are perfectly compatible with the latest motherboards. You get a lifetime warranty with the Patriot Viper 4; for this price point, its specs and features are a steal.
G.Skill Ripjaws V
Excellent performance

Great value for the price

Tight XMP timings
42mm height might not be compatible with your case
G.Skill is a well-known brand, especially for RAM sticks. The Ripjaws V is another product of theirs that has impressed many gamers. Ripjaws V is a cheaper alternative to the Trident Z Neo. It's also a DDR4 DRAm with a lifetime warranty.
This RAM may be budget-friendly but don't be fooled. You can get a lot of work and play done with the Ripjaws V. It's the perfect RAM for those trying to balance out gaming and working for their PC build. This single-channel ram is great for most gamers, streamers, and content creators.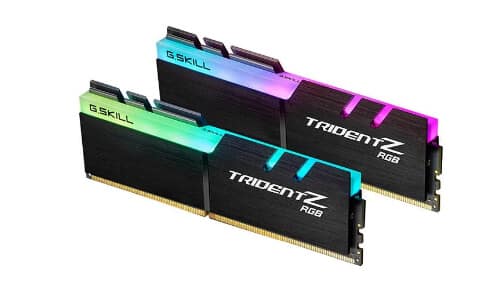 Trident Z RGB
Durable build and modern design

Fantastic gaming and data rate performance

LED lighting is programmable
Only 32GB offers the four-rank performance
The G.Skill TridentZ RGB 16GB comes in a DDR4, 2x8GB configuration. If you care about RGB lighting, this RAM will have you covered despite its cheaper price. It also has all the specs required to stream, including a frequency of 3200MHz and a CAS latency of 16. It also has one caveat, given that it is specifically designed for Intel systems, although AMD systems are very popular now.
Frequently Asked Questions
Should I Use 16GB or 32BG RAM for Streaming?

A good place to start is 16 GB of RAM, as streaming does not take much RAM. With 16 GB of RAM, you can run almost any game on the market right now, as that number either exceeds or equals the current recommendations for most games.

Some games may recommend 32 GB of RAM in the future, so if you go with this option, you will be future-proofing your purchase. It is important to note that upgrading RAM is extremely easy if you have the extra open slots on your motherboard.

How Much Does RAM Affect Streaming?

RAM doesn't affect streaming too much. RAM is primarily important for running the specific game you're playing, so it's important to adhere to the minimum game requirement. As for streaming, RAM helps your computer pre-load video.

If your stream is choppy, the first thing to do is make sure you have sufficient internet speed. If this is the case, the issue might be your RAM, although this will not be the issue for most PCs with at least 8 GB or 16 GB of RAM.

How Much RAM Do You Need for 4K Streaming?

For 4K streaming, 16 GB of RAM should be enough since RAM handles how many tasks your computer can handle at once. Whether you're streaming at 4K or 1080p, the number of simultaneous tasks you're running will likely not be any different.

It is imperative also to make sure you have an adequate GPU (graphics card) and CPU (processor) that can handle gaming at 4K, as this will have a bigger effect on the stream than the RAM.
Conclusion
If you notice that you are producing poor streaming quality, it might be because your RAM cannot handle the number of tasks needed to stream games. Remember that streaming games require quite a large RAM capacity. So, it may be time to upgrade your RAM sticks. Hopefully, this list has helped you find the perfect RAM for your setup.