Whether you need an avatar for your gaming logo or merely want one as your Discord profile image, there are many templates you can use to build one. Avatars are a fun way to create a unique image that represents yourself without using a personal photograph.
Avatars or characters can also be used as part of a gaming logo design, creating that extra element that is completely unique to your branding.
Our Avatar Maker Ranking Process
When ranking these avatar makers, we considered the following traits:
Easy customization – being able to move graphics or create changes to the overall look of your avatar allows you to get something you know you will love and use
Price point – not all gamers have expendable income that they can use on custom graphics
Overall selection – some platforms have more templates, stickers, and options to choose from over others.
Other products and services – you will likely need additional graphics as well. Having a "One Stop Shop" allows you to easily create many designs that correlate together.
Best Gaming Avatar Maker
Placeit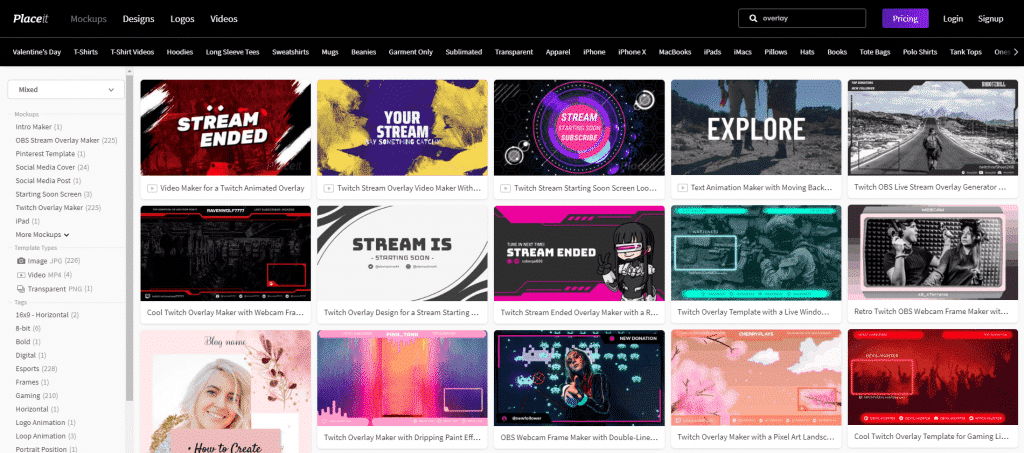 Placeit specializes in creating unique templates for a variety of different purposes. They have several avatar templates that you can customize in several ways. You can change hairstyles, clothing, facial expressions, the colors of everything, and much more.
They have several styles so you are likely to find a template that matches your personal style that you can easily build on and customize to closely fit your brand. Once you have your avatar, you can actually upload it as an image and use it to create a logo, video intros, or more. The possibilities are endless.
Fiverr

If you want something truly unique and specific, you could use Fiverr. Fiverr is an online freelance marketplace that has designers that range in skill, expertise, and price point. You can generally find someone on Fiverr who is willing to create almost anything for you. 
Be clear about what you want from your gaming avatar. Have a basic concept in mind and don't be afraid to send them similar graphics that you like that you hope they can use for inspiration. Find someone whose art you enjoy and who offers at least one revision at the end of the project. That way, you know you are likely to get something you love and will use through your gaming career.
Visuals By Impulse

The designers at Visuals by Impulse are high-end professionals who specialize in gaming and streaming graphics. They are so popular that they turn away work that they don't believe is thought through enough to streamline their own processes.
In addition to avatars, Visuals By Impulse will make some of the best Twitch overlays, banners, logos, and animated alerts. They also spend time each week helping others learn some aspects of graphic design on their Discord.
Avatar Gaming Logo Maker
The Google Play store has an Avatar Gaming Logo Maker app. The app allows you to mix and match various elements to an avatar template, change colors, add text, and more. The possibilities are endless and you can end up with something creative and unique.
You will also be given the opportunity to add background elements or add accessories to your character. While there are several options available, their library could be increased, and it will likely improve over time.
Graphic River
Graphic River has a myriad of gaming avatar templates that you can purchase and use. Most will come with a collection of assets that you can use to change the overall look of the character. You will typically need a photo editing software in order to use these designs and there can be a learning curve.
Conclusion
Gaming avatars are a fun way to set yourself apart and show off a bit of your gaming flair. You can find designs that resemble you as a person or create an online persona.