If you are looking to become a professional Teamfight Tactics player, hiring a good coach could potentially be an investment in your future. Not only will you be able to improve your game and rise higher in the ranks, but you may also get the opportunity to network with others who are doing the same, potentially joining or forming competitive teams. 
If you become skilled enough at TFT, you may be able to turn your love for the game into a career, through being an esports athlete, growing a Twitch community centered around gameplay, or becoming a Teamfight Tactics coach yourself. 
Our Coaching Ranking Process
When reviewing different coaches and platforms, we chose programs through a ranking process. We kept several qualifications in mind as we created this list and will share what we looked for in coaches with you. Here's the process:
Credentials – you will want to find someone that has achieved a lot in Teamfight Tactics, both in personal gameplay and in coaching. 
Esports experience – look for a coach who has experience in the esports industry, especially if you are hoping to eventually join the pros. They will bring a different perspective than someone who is merely a high-ranking player-turned-coach. 
Coaching experience – just being a great player doesn't necessarily mean someone will be a good teacher. You will want to find someone who has coaching experience so that your time with them will be maximized. 
Price – we understand that price is an important factor for many gamers. While the more experienced pros will charge more per hour, we will provide options that are affordable for most TFT fans. 
Best TFT Coaching Services
GamerSensei
GamerSensei is a coaching platform that showcases esports level coaches who are willing to help all skill levels. Many of the coaches are past esports pros who have filled out their profiles detailing their past experiences, teams, and others they have taught. Balance their achievements with the time they have coached other people in the game, as teaching is an entirely different skill set than gaming.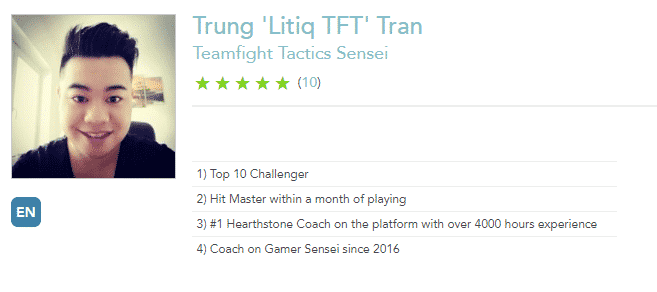 GamerSensei puts their coaches through a 5-stage application process to ensure that they are quality gamers and teachers before they are allowed on the platform. They provides the following experiences:
One of One coaching – get full attention from one of the best coaches on the market as they go over your gameplay with you and give you tips and techniques that will help you rank to the next level.
Replay analysis – a sensei can go over your past gameplay and focus on specific areas of weakness to really point out what you could do better.
Team coaching – trying to grow as a team? Coaches can work with all five of you at the same time to help you find ways to work better together.
You can search through dozens of different choices, though the platform already ranks their top coaches in order. You can view their TFT rank, their experience with Teamfight Tactics and similar games, and their overall coaching experience. You will be able to choose a coach based on your needs so that you can get the advice you want. The platform also lists each coach's qualifications so you know that you can expect great results. 
Fiverr
Fiverr is a freelance marketplace where you can find an assortment of services, including affordable game coaching. Each Teamfight Tactics coach sets their own price based on their experience. As the platform doesn't input how prices should be set, you will want to read through several profiles to make sure that you find the best trainer that fits within your budget.
Take the time to read through what each coach typically offers as part of their service as well as any reviews from other customers. Make your selection after you have read through all available information. This way, you have the best chance to find the right coach that will give you the direction you need.
Gramno
Gramno's coaches can help you move from the bottom 80% of Teamfight Tactics players by showing you ways you can improve your game. Their prices are reasonable and their coaches can help you reach your gaming goals.
Their coaches will give you a one-on-one analysis of your gameplay so that you can see the areas you need to work on to improve. They will also make sure that you fully understand the concepts of the game so that you can grow on the game and become a better player.
ProBoosting
With ProBoosting, you can sign up for the length of time you will want to be coached and specify what you will want to learn. Once you have signed up, you will be able to talk to your assigned coach to figure out a schedule and go over your overall goals. If you don't like your TFT coach, you'll be able to contact the platform so that they can sort any issues. 
Hero Boosting
With Hero Boosting, you can quickly find coaches that will help you with your TFT game. You will be able to quickly what strategies the coach can teach and the languages they can speak. With a brief bio, you will be able to pick the best person to teach you the game. Once you select how long you want to work with them, you'll be able to go to another page where you can discuss scheduling with them. 
When Should You Get a Teamfight Tactics Coach?
There are several reasons why you may want to get a coach while you're playing TFT:
Plateau – if you have reached a plateau and can't seem to improve your game or rank, a coach may be able to point out simple things you can work on to improve. 
Bad habits – playing with the same friends over and over could create some bad habits if you get used to a specific style of gameplay as you know specifically how to beat them. A coach may be able to point out these habits to make you more aware of them so that you can replace them with good habits to build and complete better.
Improve position – you are likely better at either offense or defense, but both are necessary for this game. Find a TFT coach who is willing to work with you with your weaker position so that you can improve and help your team win more rounds.  
Professional aspirations – if you are looking to become a pro esports athlete, regularly working with a professional coach will help you improve your game as well as learn how to find and join a sponsored team. Most coaches who have previously played at an elite level have industry connections.
Teamfight Tactics Coaching for Free
If you can't afford to purchase personalized coaching, but still want to learn to improve your game, you can watch YouTube tutorials or skilled streamers. Here are a few that we recommend:
Useful YouTube channels
ProGuides – Proguides is known for producing good content for a variety of games. They will go through patch notes, different comps, and more.
ShadyPenguinn TFT – this YouTuber shows gameplay and guides to help you learn more about Teamfight Tactics and improve your rank.
Pro streamers to watch
Scarra – this man was a League of Legends pro who now frequently streams Teamfight Tactics
DisguisedToast – known for his personality and gameplay, many people have learned a lot about streaming and gaming from this streamer.
Conclusion
This spinoff of League is popular in its own right and has a great future. Working your way to the top could potentially land you a gig with a team or help you grow a channel on Twitch, YouTube Gaming, or Facebook Gaming.