Felix "xQc" Lengeyl is an infamous content creator, professional player, Twitch streamer, and YouTube personality who remains to be a top-tier gamer despite the many issues he was associated with over the course of his gaming and streaming career. Find out more about xQc: net worth, streaming career, dating history, and many more in this article.
Who is xQc?
Early Life
French-Canadian Twitch streamer, Felix "xQc" Lengyel was born on November 12, 1995. Even before, he already loves playing video games since he was a child. He is known for his witty personality, and he's been into multiple eSports organizations throughout his gaming career.
Gaming Career
xQc started his Overwatch career in 2016 with the eSports organization, DatZit Gaming. At the end of the year, he was scouted by Denial eSports; but his time with them was short-lived because he suddenly quit after saying they didn't pay him. In early 2017, he joined Arc6 but only played for about a year. And by the end of 2017, he was scouted by a major league franchise, Dallas Fuel.
xQc played for Dallas Fuel for a year. They parted ways in 2018 after xQc's multiple suspensions for 'bad behaviors' displayed on tournaments and on social media. His eSports career is rather controversial as he hops from one organization to another because of his behavioral issues. Some of the other eSports organizations he's been into include GOATS, and Gladiators Legion.
Felix Lengyel's career shot up as he became the main tank for Team Canada during the Overwatch World Cup 2019. He was with Team Canada for 3 years before teaming up with Luminosity Gaming, which is currently part of their Overwatch roster.
Game Awards & Achievements
xQc's time with his Overwatch Team Canada won against Los Angeles Gladiators in the OW World Cup 2019. He also has multiple nominations for The Game Awards and Stream Awards from 2018 through 2022.
Overwatch World Cup
xQc participated in three Overwatch world cups in 2017, 2018, 2019; where he took home a championship title in the latter year with Team Canada.
Twitch Streaming Career
Felix Lengyel was one of the gamers who quit school to become a full time streamer. His streaming career is also controversial because of the multiple temporary Twitch bans he received over the years. One significant ban he was penalized for was by making homophobic remarks to other Twitch streamers whom he was in rivalry with.
Becoming a Twitch Streamer
xQc was also streaming League of Legends under the pseudonym 'xQcLoL' even before making a career out of Overwatch. Unfortunately, he quit after receiving a permanent LoL ban for inappropriate in-game chat behavior.
Games that xQc Plays
Although xQc is widely known for playing professional Overwatch, he also plays and streams other games including the following:
Just Chatting
GTA V
MineCraft
Among Us
Fortnite Battle Royale
VALORANT
CS: Global Offensive
Apex Legends
xQc Net Worth – How They Made Money
Streamers usually earn through live stream ads, paid subscriptions, tournament prizes, donations, exclusive contracts, and some awesome brand deals.
How Much Does xQc Make From Twitch?
xQc earns from Twitch through streaming, gaming, ads viewed during each live stream, donations, and subscriptions. He has more than 83,000 active subscribers (24,000+ of which are active paid subscriptions), which gives him more than $300,000 monthly income on Twitch subscriptions alone.
xQc Twitch Channel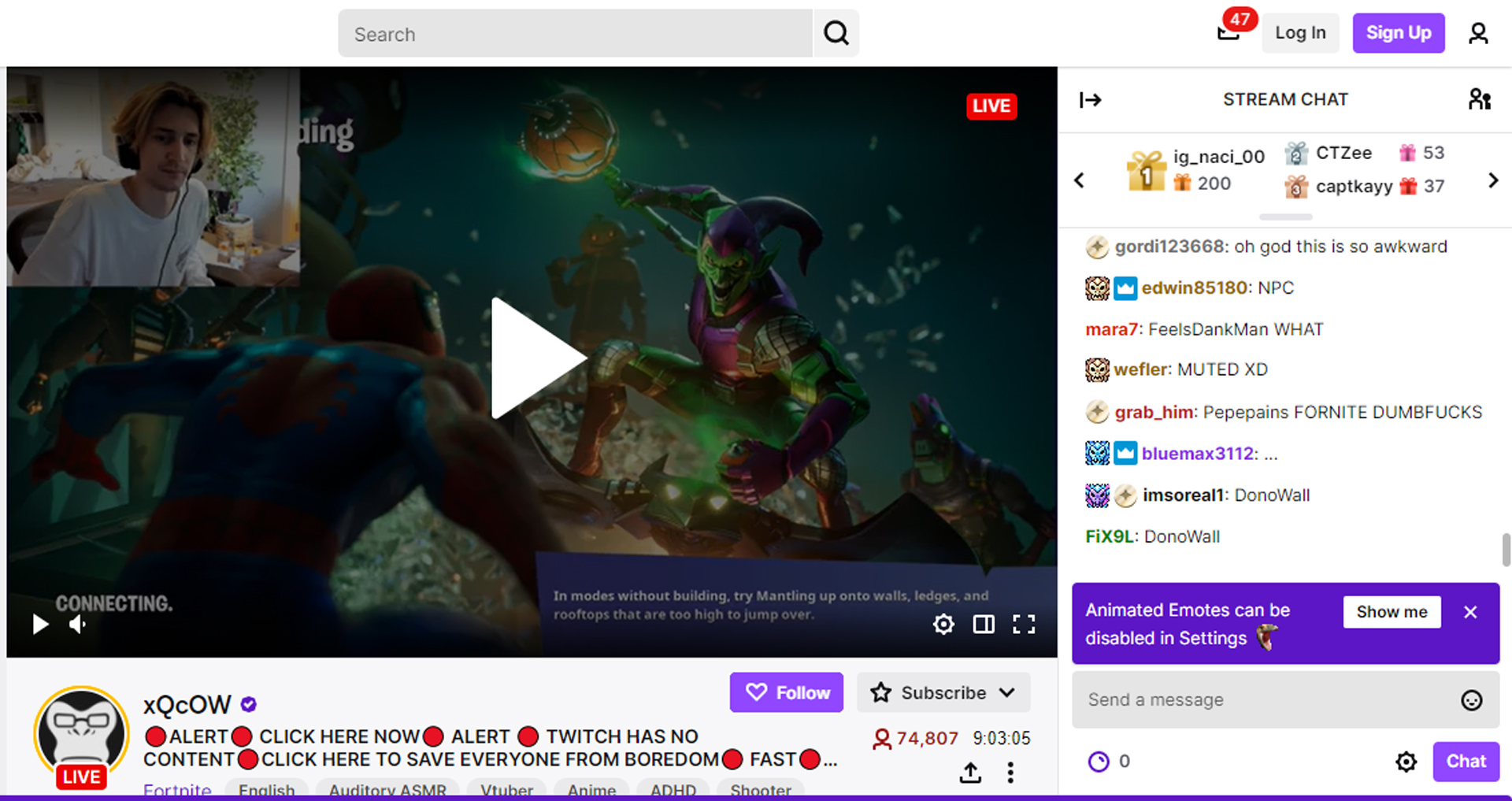 xQc Twitch Tracker Stats
Being ranked #1 on Twitchtracker.com, xQc is notably the most-watched streamer on Twitch since 2019.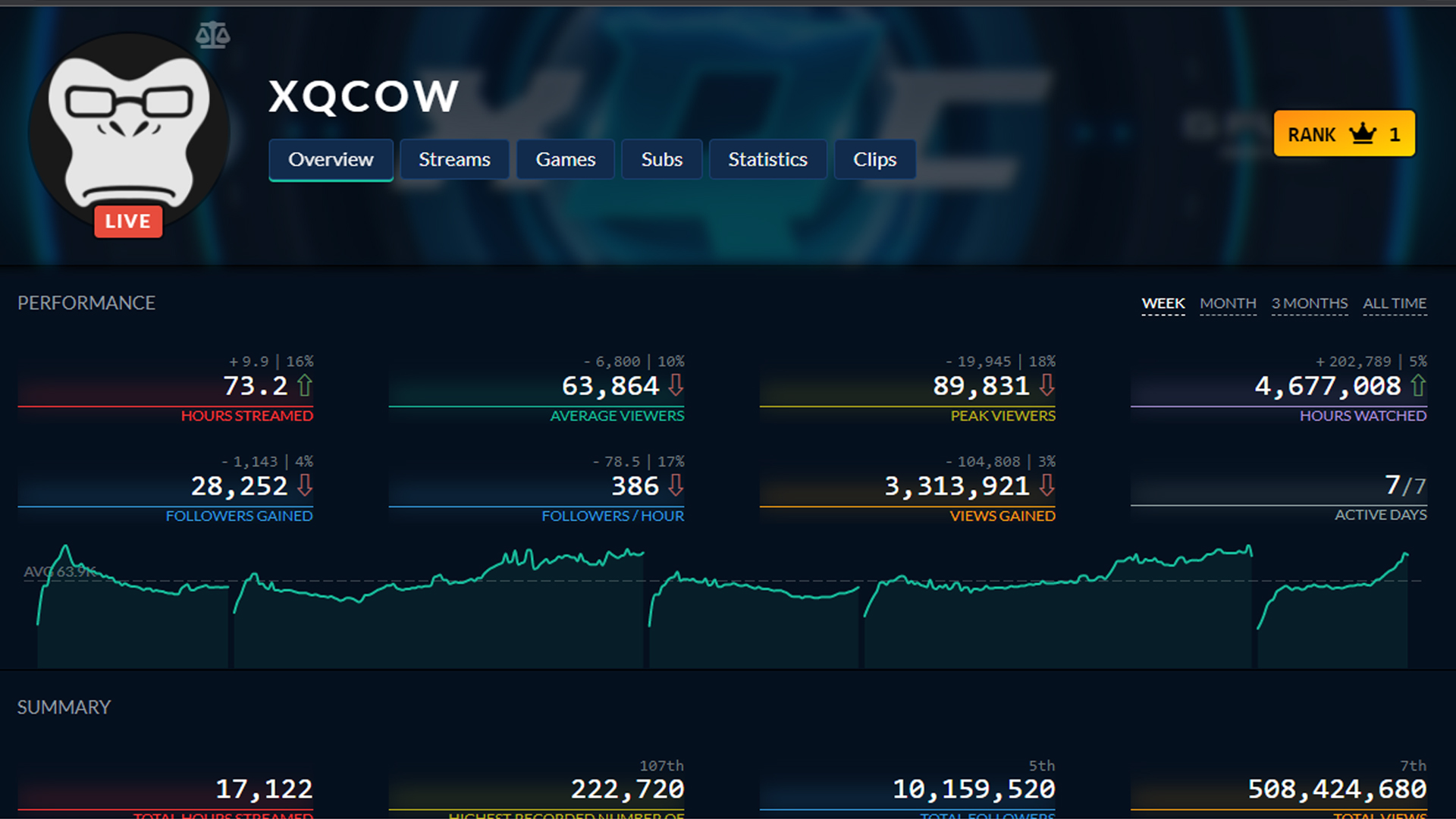 How Much Does xQc Earn From YouTube?
xQc posts his YouTube videos regularly with varying contents, but mostly, about gaming. His popular YouTube channel now has more than 1,090,751,294 registered views. With this kind of trend, xQc may be earning roughly more than $150,000 a month on YT ads alone.
With Twitch and YouTube earnings combined, xQc should be able to make around $350,000-$500,00 on a monthly basis.
xQc Merch
Felix Lengyel has available merch on a Redbubble platform. He also sells merch through an online affiliation with an Etsy store. Some of his merch lines like hoodies and shirts are also available on a online store at the DOTEXE platform.
Who Sponsors xQc?
Sponsorship deals are also another way of earning for streamers and gamers. For xQc, they are G Fuel, and a gaming apparel company, Meta Threads.
FAQs About Felix 'xQc' Lengyel
What is xQc net worth in 2022?
Many are saying that xQc's estimated net worth is around $6-8 million. But judging from his increasing revenue, it may be hitting up to $10 million by the end of 2022.
Who is xQc dating now?
Felix Lengyel used to date famous YouTuber, Adept, but their relationship ended in 2021 after both publicly announced that they are over. Although some rumors are spreading that they are back together, it was never confirmed and proven true.
Is xQc a Chess Master?
No, xQc has been playing chess but he isn't a Chess Master. Him being called a 'Chess Master' might've happened as a misinterpretation of the audiences when Chess GrandMaster Hikaru Nakamura called him 'master' during one of their collaborative streams in 2020.
What is xQc username on social media accounts?
Some people search for xQc on social media platforms that end up on the wrong landing page. This is because Felix Lengyel doesn't use "xQc" on all his usernames. He uses the following usernames for his social media accounts:
What is xQc Streaming setup?
As a top-tier gamer, xQc uses custom-built PC and peripherals for his cool streaming setup. He mostly upgrades them, from time to time, but here are some of the stuff he uses for his setup:
ASUS ROG Swift PG258Q
LogiTech Gaming Mouse
SteelSeries Apex Pro TKL
SteelSeries Mechanical Keyboard
II Webcam
Conclusion
Felix Lengyel's huge success in the gaming world is really something. From being a college dropout to becoming a top-tier millionaire gamer, his life story is indeed awesome. xQc's story (regardless of his 'infamous' personality and some inappropriateness) is still [by far] one of the concrete examples of pursuing one's dream and passion in life–and being able to fulfill them.
If you're still new to gaming/streaming, and you really love what you're doing, just keep it up! There's always a reward for the hard-working; and right gain in striving.