American streamer and content creator, TimTheTatman is a widely recognized internet personality. He is famous for his humor and smooth gaming skills. He is also considered as the famous streamer with the least controversies in the gaming industry. Find out about TimTheTatman's net worth, streaming career, award, and more in this article.
Who is TimTheTatman?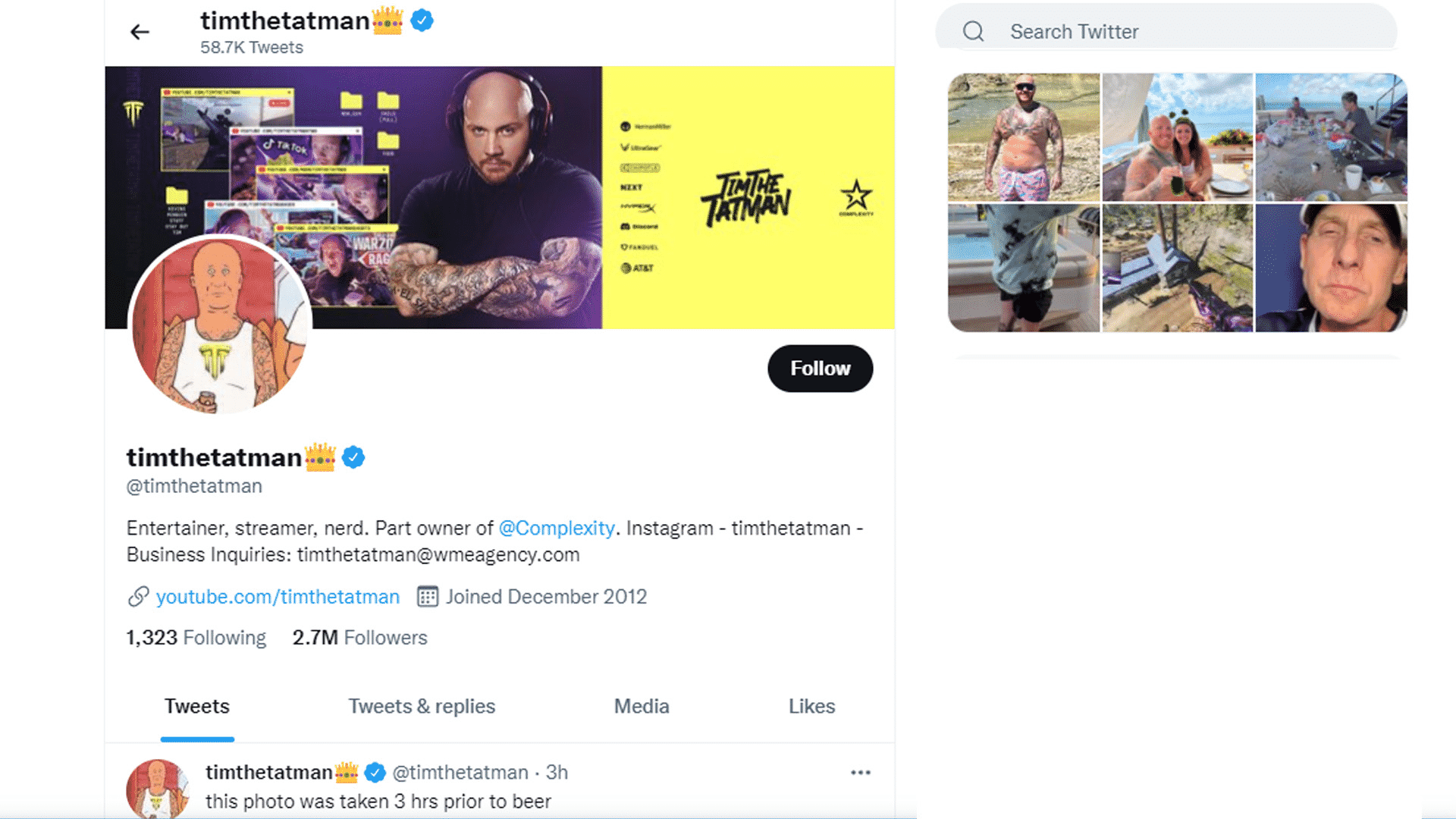 Early Life
TimTheTatman's real name is Timothy John Betar. He was born on April 8, 1990 in Syracuse, New York. Tim bought his first PC from saving up his allowances. This introduced him to video games at an early age. Growing up, he sneaks around to play games whenever he can.
Playing Video Games
In his early life, TimTheTatman started playing computer games like Counter Strike 1.6, and then escalated to Call of Duty: Warzone. As his gaming skills were honed, he started challenging himself with more games offered in the market like World of Warcraft and Overwatch, until he got acquainted with Fortnite Battle Royale in 2017.
Attending University
TimTheTatman was a diligent student and never neglected his studies. In fact, he went to North Park University where he graduated with a degree. Later, he worked as a Social Worker and started to upload gaming content as a part-time hobby.
Becoming a Full Time Streamer
When TimTheTatman realized he could actually make money out of his favorite hobby, he decided to quit his day job in order to become a full-time Twitch streamer. He also created channels on other social media platforms where he uploads content. Later, he became one of the most popular streamers on the Purple Platform.
Streaming Career
TimTheTatman was among the most popular Twitch streamers back in the day. He got widely famous around the Fortnite Community which holds 25.1% of his streaming percentage in his TwitchTracker stats.
He also managed to raise a $106K record-breaking donation for St. Jude's Research Hospital with fellow Twitch streamer Ninja Blevins in just 4 hours while streaming a Fortnite game.
Later, he signed an exclusive contract with YouTube gaming.
Games that TimTheTatman Plays
Tim has been playing great in his gaming career. He was one of the biggest streamers playing Overwatch, and other popular games like Call of Duty, and Fortnite. Other games he plays include:
Counter Strike: Global Offensive
World of Warcraft
Fall Guys
Call of Duty: Black Ops
PUBG: Battlegrounds
VALORANT
Apex Legends
Tim is very candid and honest when it comes to his interests in gaming. In fact, he once said that he's been playing Counter-Strike since he was 13 years old, and now still plays Counter-Strike: Global Offensive to this day. He also jokingly said that he will never admit (and even deny it to the grave) that he watches Summit1G in between streams. This guy is really warm and lighthearted no wonder people like him so much.
Just recently, Tim posted a tweet celebrating his 2nd Year anniversary with CoD: Warzone.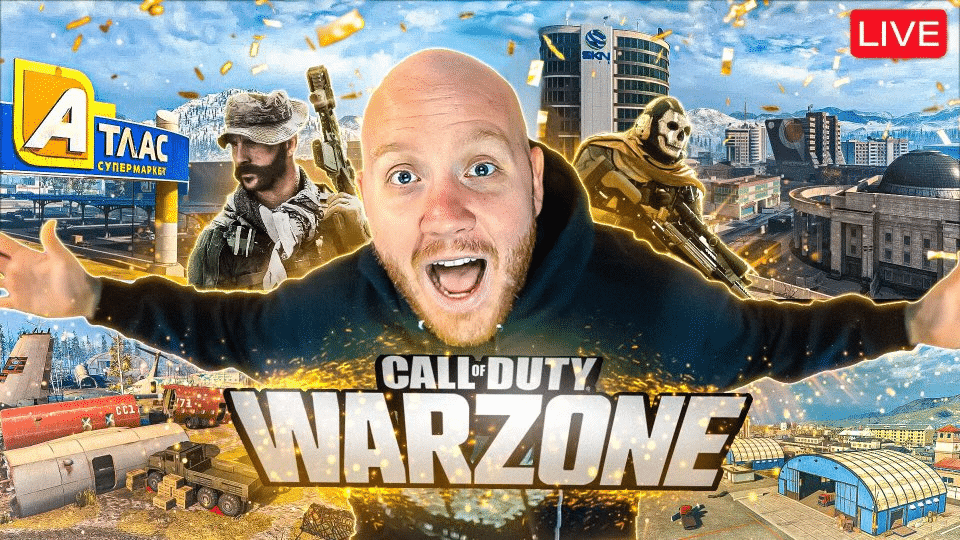 Game Awards
TimTheTatman also has his share of awards and nominations. In 2018, he won the Fan Favorite Male Streamer/Gamer Award during The Gamers' Choice Awards. He was also nominated for Content Creator of the Year during The Game Awards in 2020.
TimTheTatman Net Worth – How They Made Money
TimTheTatman generates income from streaming, gaming, ads view, subscriptions, brand deals, and other sources like businesses and tournament winnings.
How Much Money TimTheTatman Makes From Twitch?
Just like how Twitch channels work, Tim earns through live streaming, gaming, advertisements, donations, and subscription fees from Twitch subscribers. In 2018, he signed an exclusive contract with Twitch. During such time, Tim had 35,000 subscribers to which he would make around $122,000 every month and $4,500 on advertisements. He also generates a stable $4,000 from donations.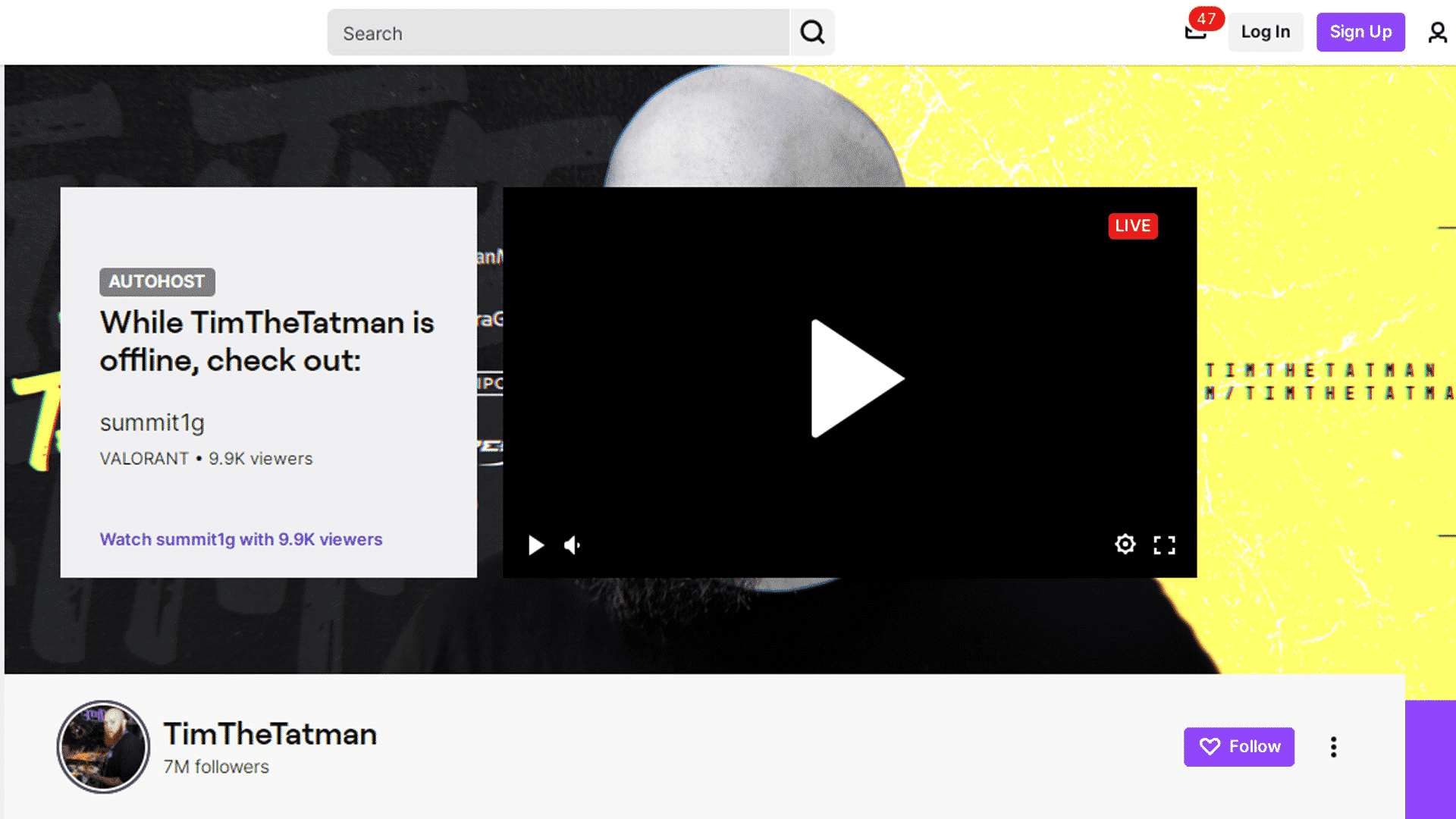 He was one of the top players with highest donations received in Twitch platform.
TimTheTatman TwitchTracker Stats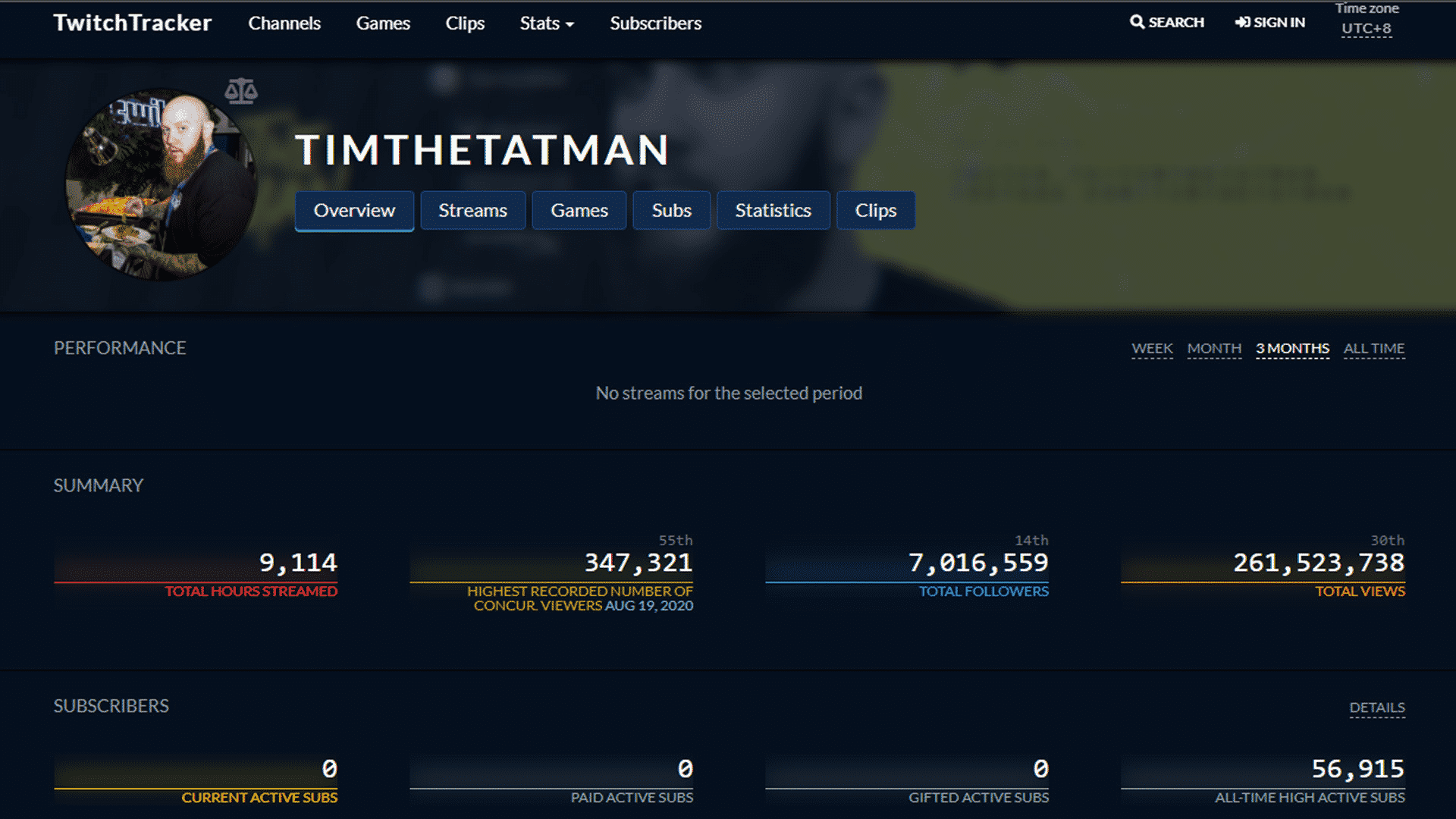 However, he shocked the Twitch Community when he announced that he will be streaming on YouTube after signing an exclusive contract with them in 2021.
How Much Money TimTheTatman Makes From YouTube?
Tim earns basically from YouTube ads, in-game ads and donations through live streaming, and his undisclosed amount of exclusive contract with YouTube. TimeTheTatman started with a $70,000 monthly income from ads alone when he transferred to YouTube. If you add the amount he earns during live stream, and the exclusive contract he has, he's likely to earn much more than he's ever had with Twitch.
Twitch and YouTube combined, TimTheTatman earns around $2 million annual income.
Own Merch
Aside from streaming, TimTheTatman also earns through his own merchandise line at merch.timthetatman.com; and he is also a part-owner of Complexity Gaming.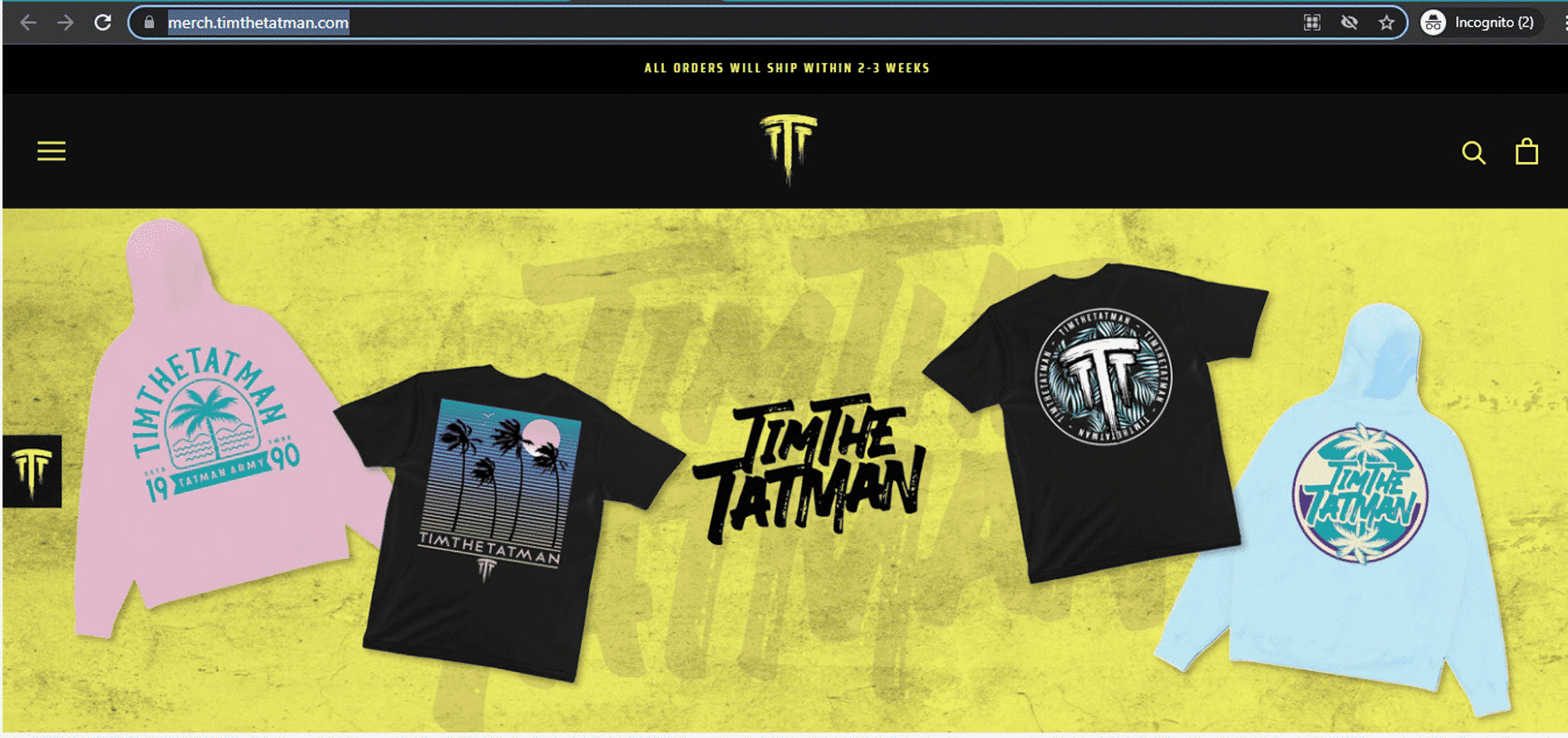 Who Sponsors TimTheTatman?
Here's a list of sponsorship deals TimTheTatman has:
Monster Energy
Herman Miller Gaming Chairs
UltraGear
Chipotle
NZXT
HyperX Gaming peripherals
He is also enjoying a partnership with Discord, Fan Duel, and AT&T.
FAQs About TimTheTatman
What is TimTheTatman's net worth in 2022?
In just five years, TimTheTatman managed to increase his net worth drastically from 2017 with less than a million to an estimated net worth of 10 million dollars by the end of 2021. With this kind of trend, TimTheTatman's net worth could be estimated at $10-12 million by the end of 2022.
Who is TimTheTatman Girlfriend?
TimTheTatman married his long-time college sweetheart, Alexis, in 2016. They welcomed their beloved son named Brewer in April 2019.
Conclusion
Timothy "TimTheTatman" Betar's successful career is truly an inspiring story. For Tim, it's never too late to pursue one's passion and dream. You just need to couple it up with the right drive and determination without letting view counts take control of how you do things. He realized there's no better way to live life to the fullest than to do what you love the most.