Pokimane is a Moroccan-Canadian streamer that is widely regarded as a gamer and content creator. She is also the most followed female streamer on Twitch, a celebrated internet personality, and world-renowned in the gaming industry. Find out more about Pokimane's net worth and how she's living the dream!
Who is Pokimane?
Pokimane is a popular streamer on Twitch and YouTube with more than 17 million followers combined. She was a featured celebrity in Forbes on their 30 under 30 campaign in 2021.
Early Life
Pokimane's real name is Imane Anys. She was born on May 14, 1996 in Morocco but grew up in Quebec. She went to McMaster University in college and took up Chemical Engineering. In 2013, she dropped out of school to become a full-time streamer in Twitch.
Streaming Career
Pokimane started streaming on Twitch platform mostly playing League of Legends. She would stream her games with a simple setup in her dorm room during her college days before finally doing it full time.
The Best Twitch Streamer
With her growing network of followers and subscribers, Pokimane's average views on her Twitch streams also rose drastically. In 2018, she became one the most successful female streamers (if not the biggest female streamer with 8.9M followers) on Twitch, and even made it to their Top 100 highest paid gamers.
Content Creation Career: Offline TV
Pokimane is a co-owner and content creator of Offline TV, an online social entertainment group, with William "Scarra" Li, Jeremy "DisguisedToast" Wang, Lily "LilyPichu" Ki, and Michael Reeves. With the revenues Pokimane make from streaming, she has the highest net worth among five of them, according to her colleagues.
Aside from Twitch, Pokimane has three other YouTube channels that have more than 8 million subscribers in total, where she continues to upload contents from time to time.
Games that Pokimane Plays
Pokimane was first known playing League of Legends in her Twitch Channel back in 2013. Later, when she became a full-time streamer, she also streamed other games such as:
Just Chatting
VALORANT
Fortnite Battle Royale
Among Us
Minecraft
Grand Theft Auto V
Rust
Teamfight Tactics
She also gained a lot more subscribers and followers when she started playing and streaming Fortnite Battle Royale. In fact, in 2020, Pokimane announced on her Twitter post using a TikTok video that she's having her own Fortnite Game Emote in partnership with Epic Games.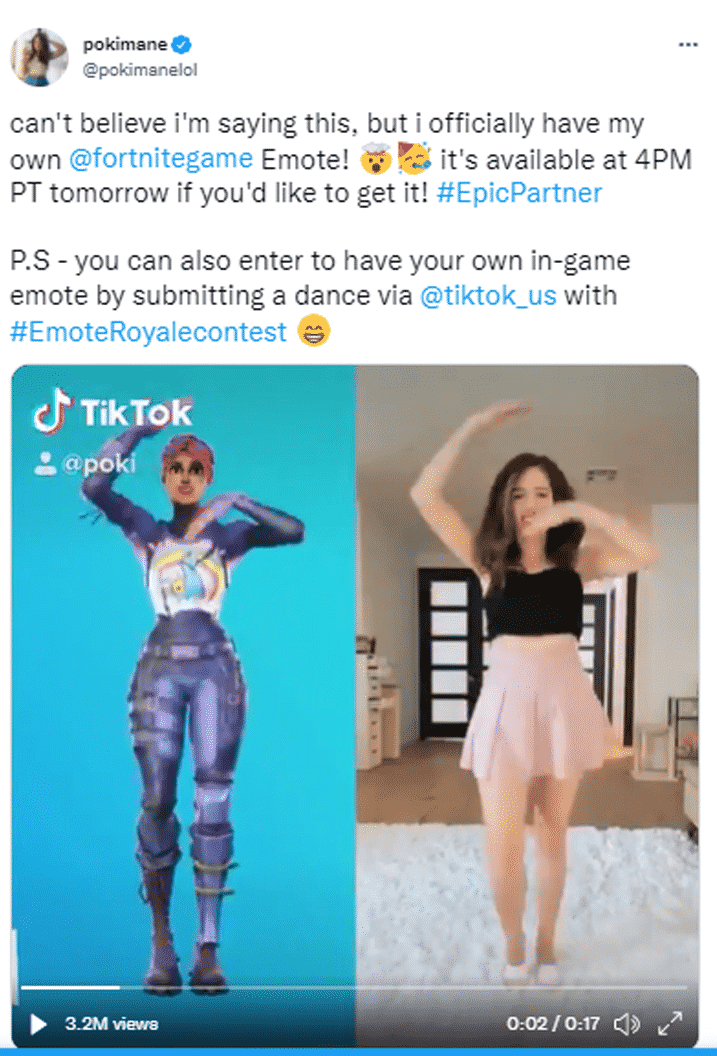 Pokimane's streaming setup includes an NZXT custom build PC, a BenQ monitor, Sony A6000 webcam, an Electro-Voice RE-20 microphone, and mostly HyperX peripherals for her gaming mouse, keyboards, headset, and etc.
Game Awards
Pokimane also received recognition as an online streamer. She won the Shorty Award for Best Twitch Streamer during the 2018 Shorty Awards. Aside from that, she also had multiple nominations including Content Creator of the Year (The Game Awards), and Live Streamer of the Year (The Streamy Awards) in the same year.
Pokimane Net Worth – How They Made Money
Just like other gamers, Pokimane earns through online gaming, sponsored streams, paid ads, subscriptions, user donations, and other sponsored deals. In rough estimation, Pokimane makes a collective $66.3K monthly revenue sourced from YouTube and Twitch.
How Much Does Pokimane Earn From Twitch?
Pokimane earns from doing live streams and online gaming content. From her 9 million followers on Twitch, she has about 9,500 subscribers. With a $10,000 per 3,000 subscribers profit ratio, Pokimane makes around $35,000 a month in Twitch subscriptions alone.
With an exclusive contract Twitch, Pokimane makes income directly through Twitch payouts.
Pokimane's Twitch Channel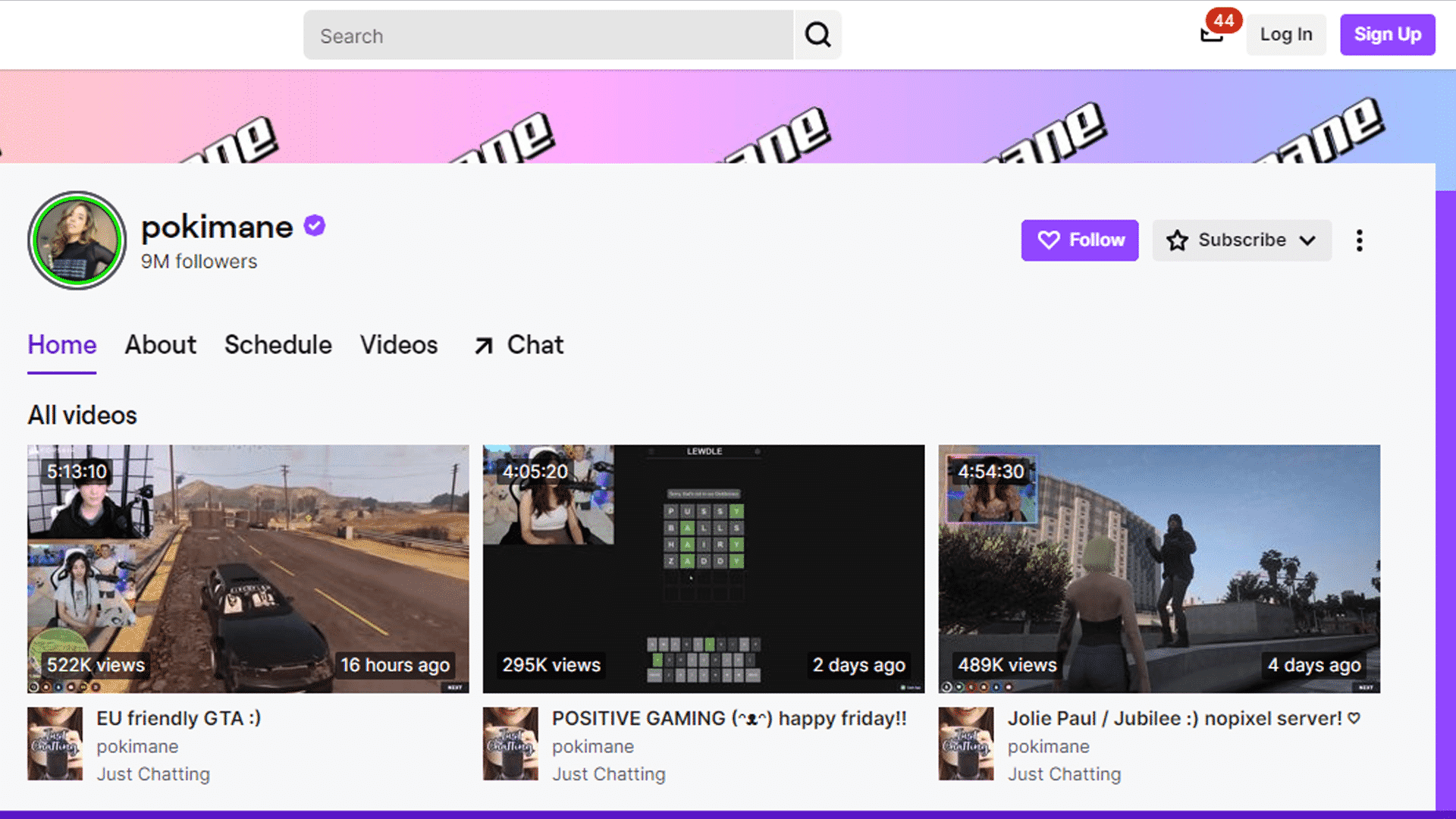 Pokimane Twitch Tracker Stats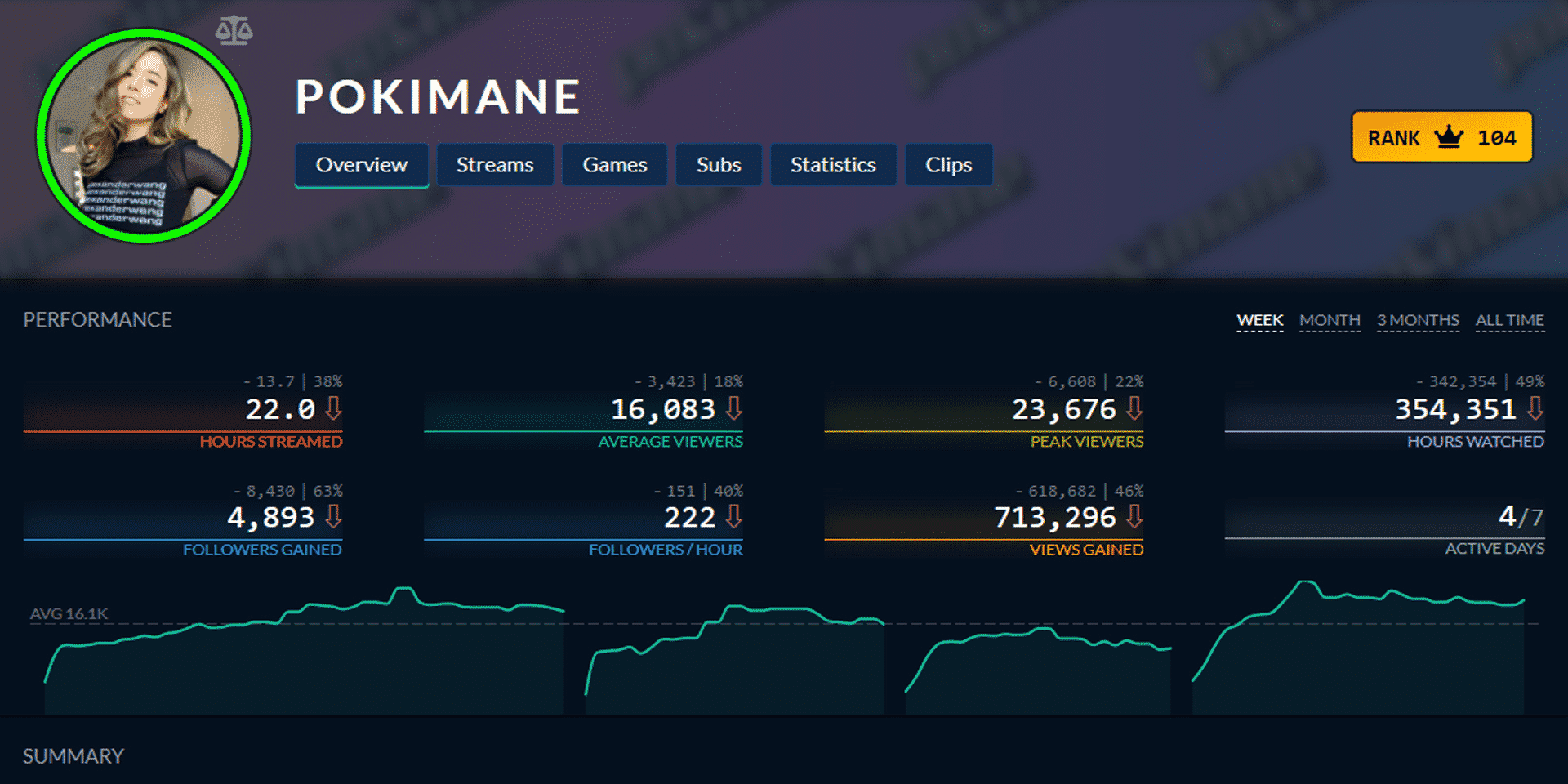 How Much Does Pokimane Make From YouTube?
Pokimane is also streaming on YouTube. As of date, she has three YouTube channels with different kinds of related contents that has reached a total of 795,121,480 views.
Pokimane Official YouTube Channel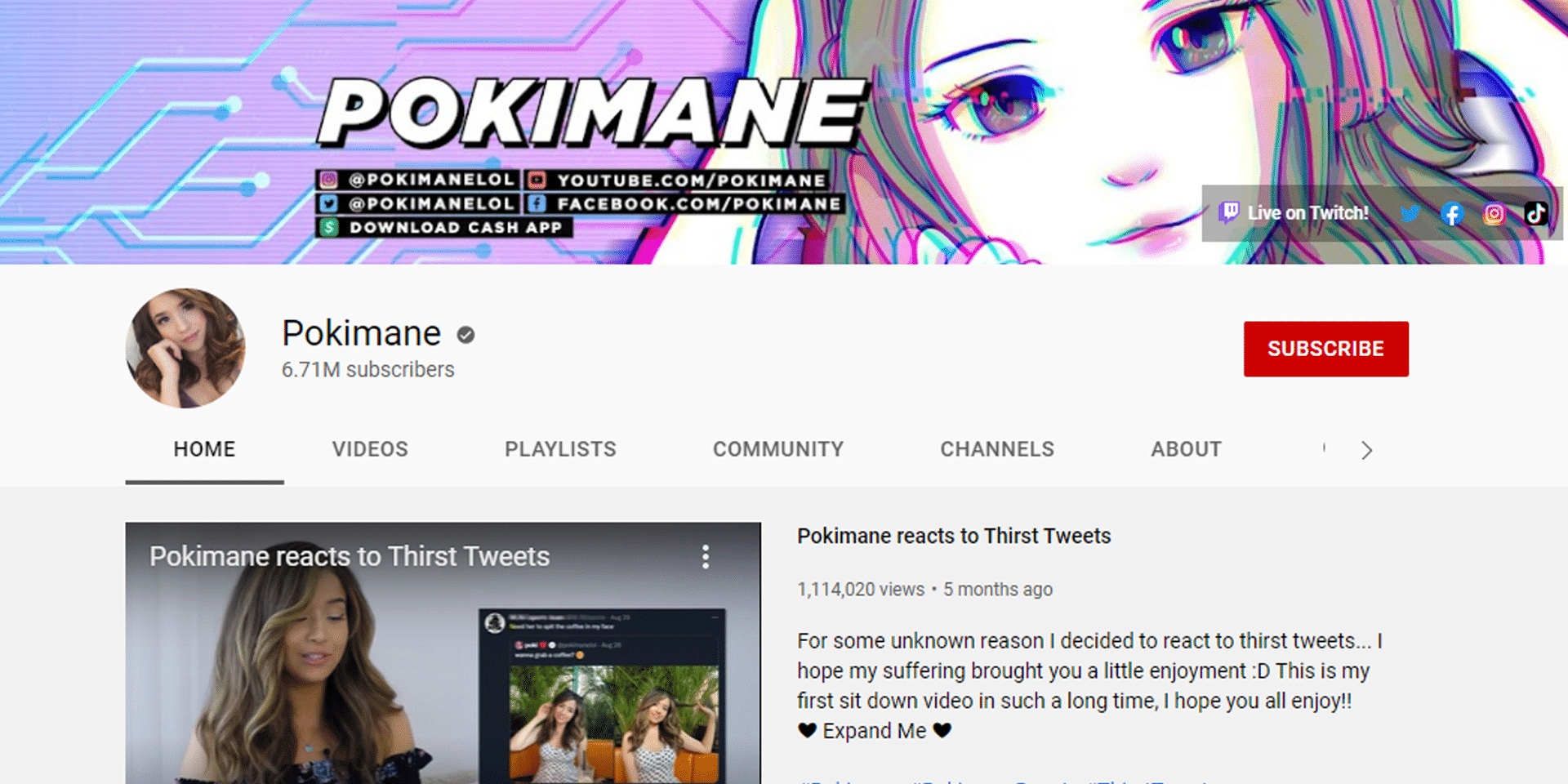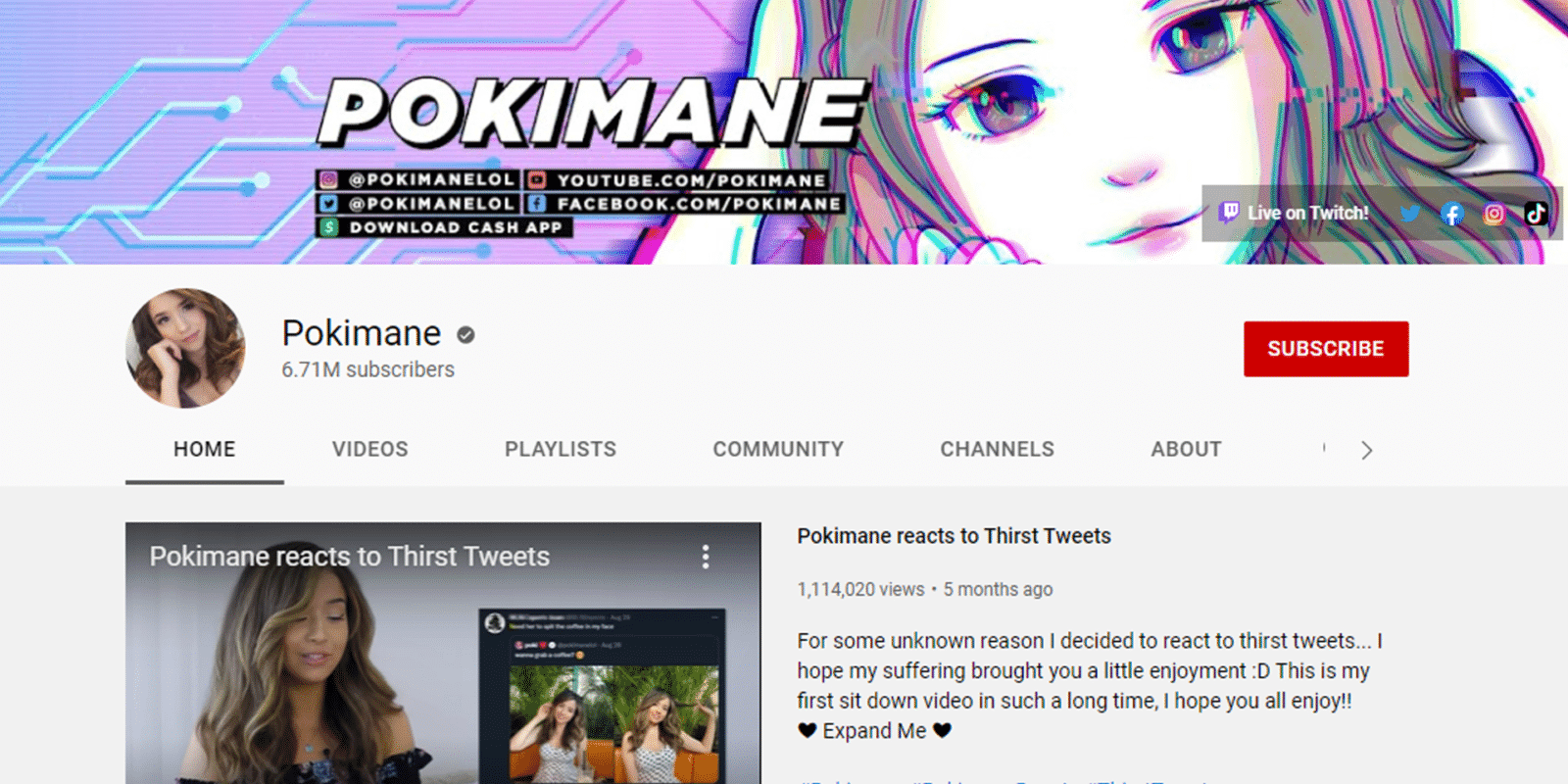 Poki ASMR YouTube Channel
Her second channel consists of ASMR related content. One of her most viewed ASMR videos was about 'Mouth Sounds & Ear Play' which reached 12 million views.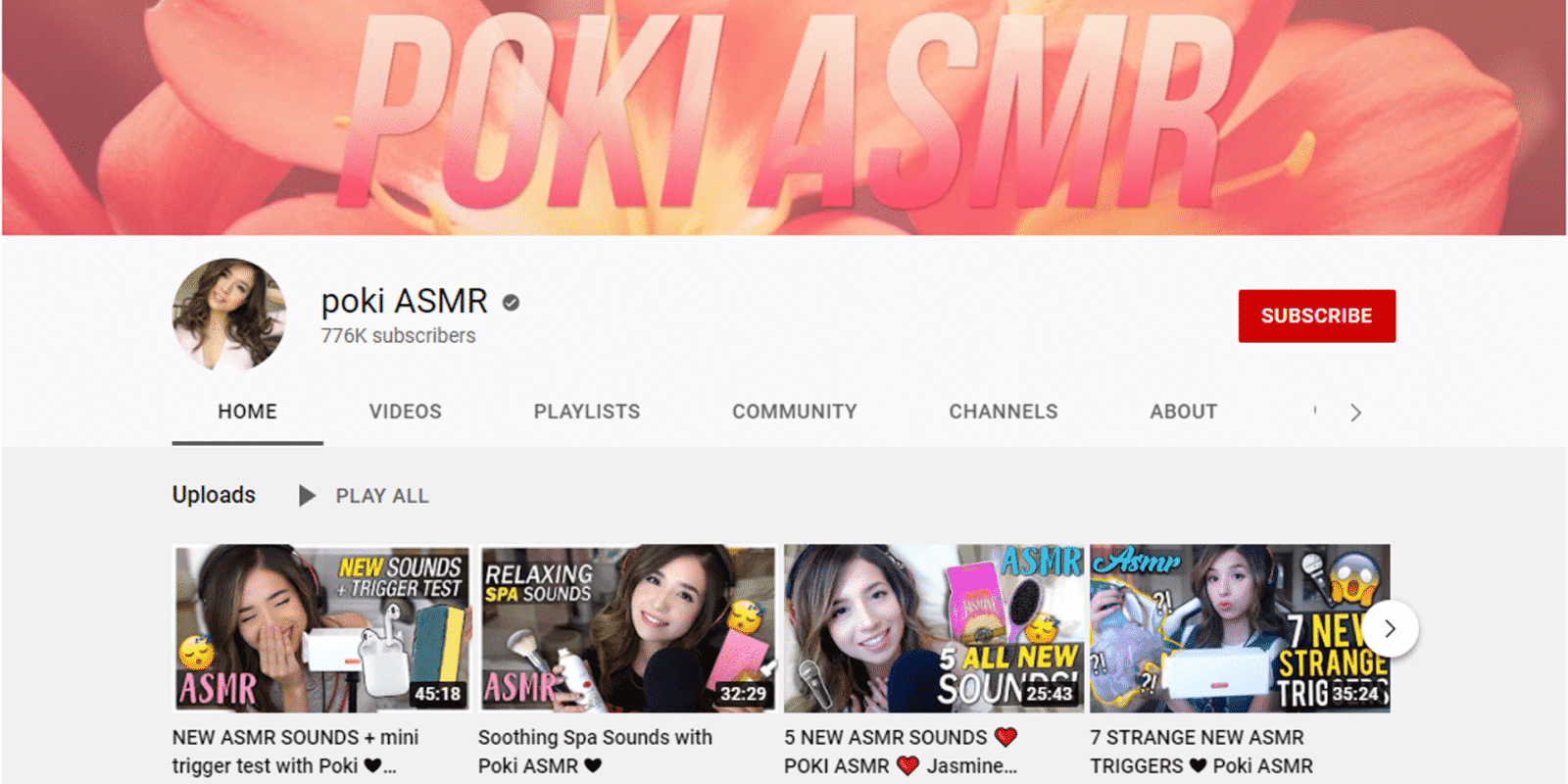 Her third channel, Pokimane Too, is a vlog-type personalized channel where she can regularly create content and upload whenever she feels like.
Collectively, Pokimane makes around $5,000-$12,000 on YouTube every month.
Pokimane Merch
Aside from her earnings in streaming and exclusive contracts, Pokimane also generates income from her own Merch at Pokimerch.com. Her very own business platform also contributes to her ever-growing gross revenue, beside Twitch and YouTube.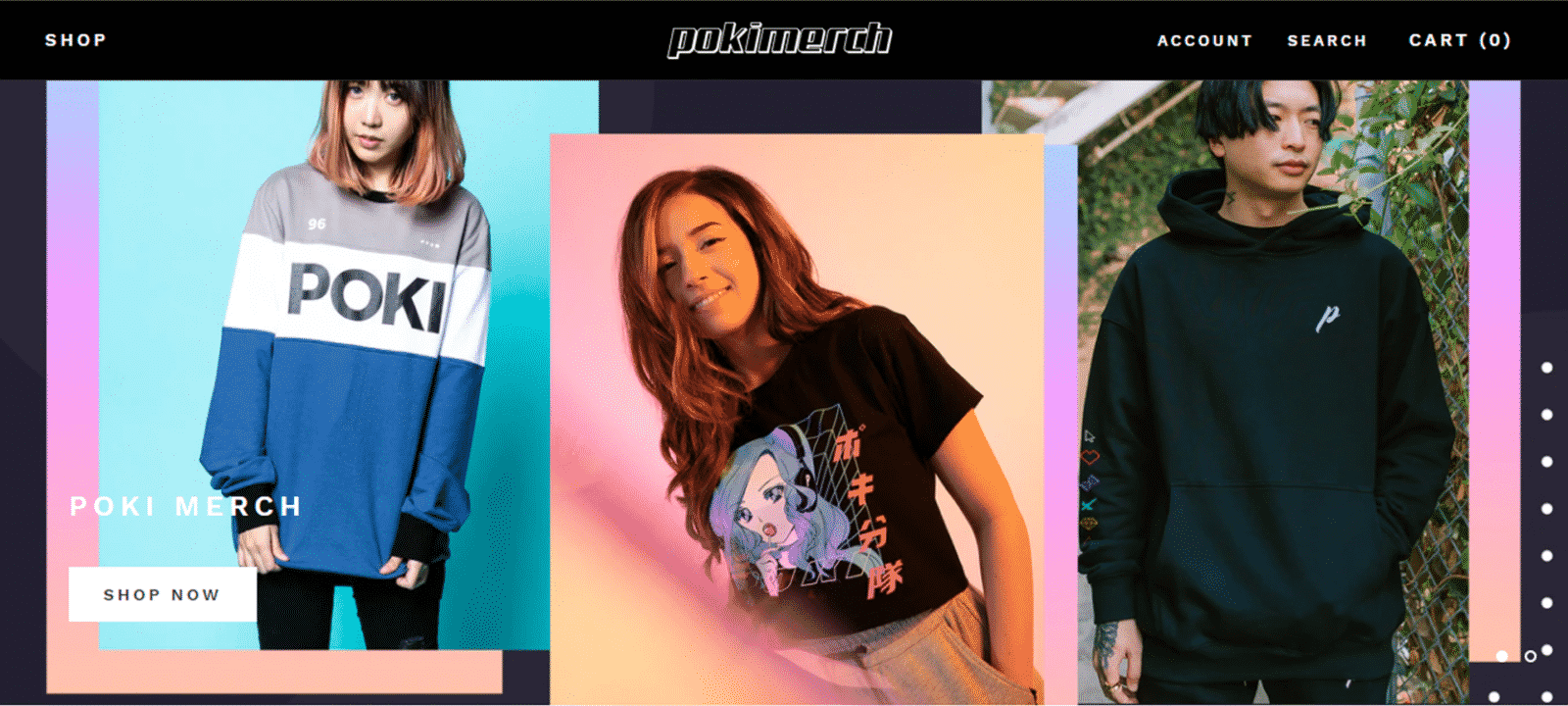 Who Sponsors Pokimane?
Of course, Pokimane also enjoys privileges and special promotions. Some of the famous sponsorships Pokimane affiliates herself with are from CashApp, NZXT, and Postmates.
With the money she's earning from exclusive contracts and sponsorship deals, she must really make a lot of money because Pokimane recently revealed that she has capped her donations and fundraising platform to a $5 limit per transaction, saying (non-verbatim) that 'she is already doing well enough with what she has right now and doesn't need to take more'.
Pokimane also started investing at Theragun by Therabody, a wonderful muscle remedy system that re-launched in 2016. Since its re-launching, Theragun has made quite the name having world-famous celebrities like NBA player Kevin Durant, multi-talented singer Rihanna, and Justin Timberlake as its investors/ambassadors.
Pokimane Net Worth (2018-2021)
Since the time Pokimane started streaming on Twitch, her net worth from 2018-2021 was already at $1-2 million. From a college dropout to being a sensational YouTube personality, Pokimane has made a massive impact in the gaming world. Now, she is even more expanding her network of income sources that it's no brainer she will make a higher net worth in 2022.
FAQs About Pokimane
What is Pokimane's Net Worth in 2022?
In 2022, Poki's net worth is set to rise at $2-3.5 million.
What are the three channels of Pokimane?
"Pokimane" for her Stream Highlights from all kinds of games she plays, "PokiASMR" for her ASMR channel, and "Pokimane Too" for her personal Vlogs.
What are Pokimane's Fortnite Settings?
Pokimane uses the following when playing Fortnite:
X Sensitivity: 0.1
Y Sensitivity: 0.1
Scope Sensitivity: 1.0
Mouse DPI: 800
Polling Rate: 1000Hz
Is Pokimane on TikTok?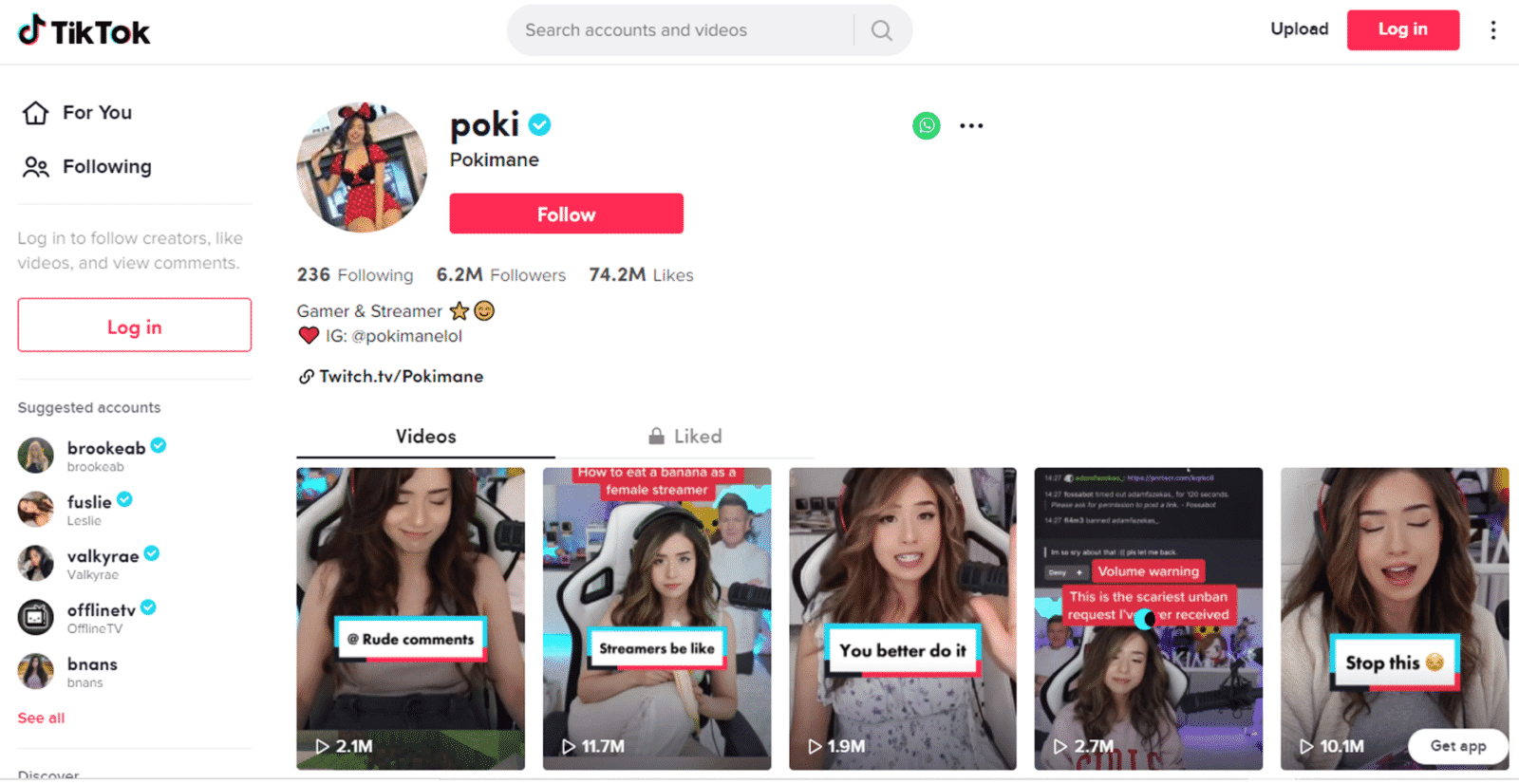 Yes, she is. Pokimane is not only popular in Twitch and YouTube but also in TikTok. Currently, she has about 6.2 million followers with 74.2 million likes.
Latest News
In February 2022, Pokimane announced that she signed a new contract of a multi-year deal with the Purple Platform (Twitch) and turned down a big offer from YouTube Gaming.
Conclusion
Pokimane's success as a female streamer in a man's world is truly inspirational. If you're an aspiring female online gamer and are looking to be recognized in the world, you can try to start streaming on Twitch. This platform can help you get acknowledged in the gaming industry, and who knows, maybe one day you'll become the next female best streamer in Twitch!