If you have been on the internet for quite some time, it's impossible you haven't heard the name PewDiePie. He became super famous mainly for his gaming videos related to ultra-popular games, particularly in the horror and action niche.
For a long time now, he is the number one most followed individual on YouTube with 111 million subscribers. He's known not only by gamers and streamers around the world but also by virtually anyone who's been on YouTube. He's practically a celebrity, and even people who are famous outside of YouTube have heard of him. As some have stated, his name has become synonymous with YouTube gaming itself.
With his massive fanbase on YouTube and beyond, it makes anyone wonder how much someone he earns from the platform. How much does his PewDiePie channel earn from every video upload? What companies sponsor him and how much does he get from him? Finally, how much is his net worth?
In this article, we'll be answering these questions in detail, so grab a seat and we'll dive right into it.
Who is PewDiePie?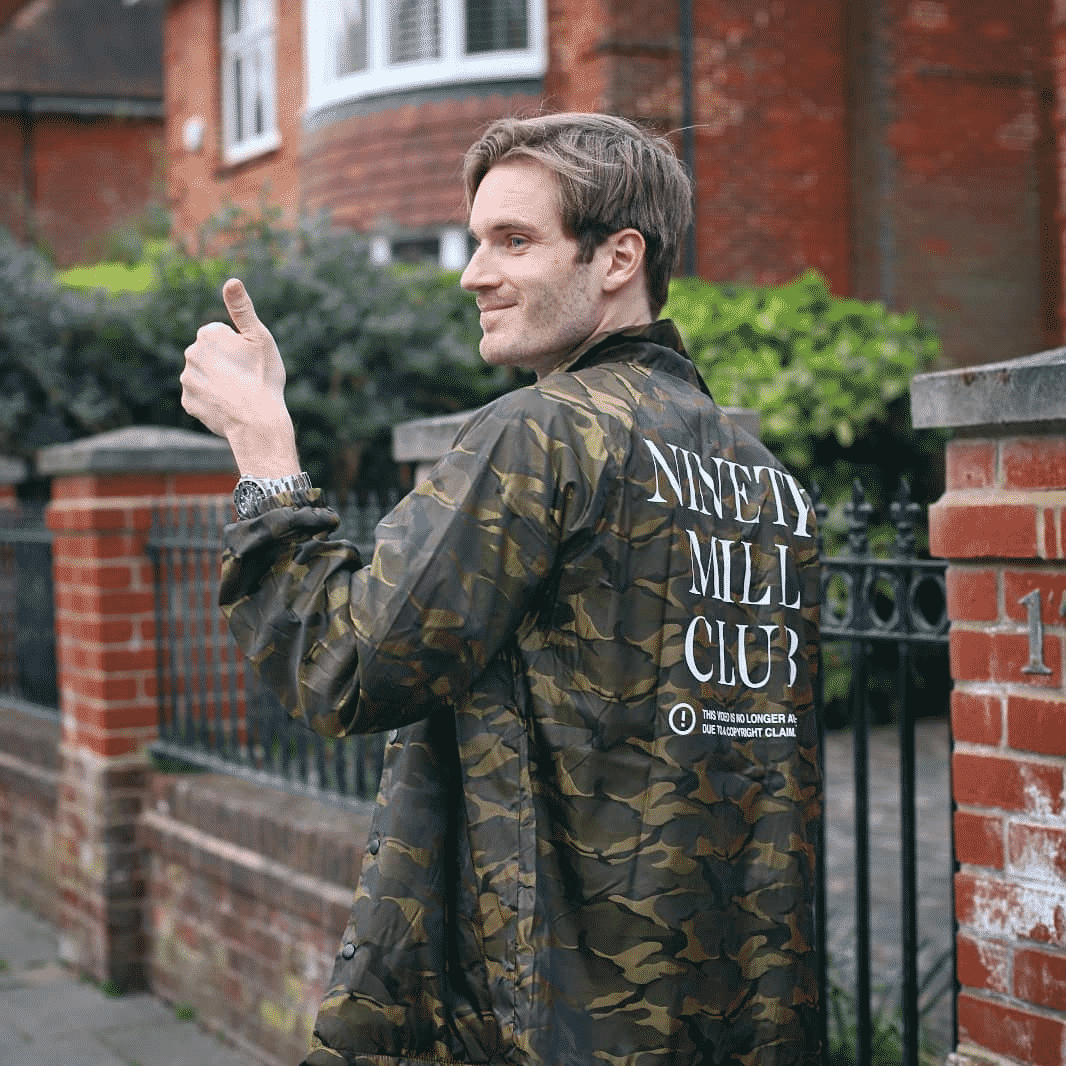 There's no individual on YouTube that has achieved what PewDiePie has done yet. Time and again, he has broken the record as being the most subscribed channel on YouTube. He even made it to Time's 100 Most Influential People in 2016, being the most followed YouTube channel that year with 43 million subscribers. Even if recently he has been surpassed by other large YouTube channels, nobody has yet to beat him as being the most subscribed YouTube channel owned by one person.
How did Felix Kjellberg, more popularly known as PewDiePie, went from zero subscribers to being the number one YouTuber?
Pre-YouTube Years
Kjellberg was born to Lotta Kristine Johanna (née Hellstrand) and Ulf Christian Kjellberg. He grew up with his sister, Fanny, in their hometown Gothenburg, Sweden.
Ever since he was young, Kjellberg loved playing video games. In fact, he probably loves it too much to the point he would skip classes to stay home playing video games. Sometimes, he would play at an Internet cafe with friends. He studied industrial economics and technology at the Chalmers University of Technology. However, he later left, stating that his lack of interest made him quit university.
After he left Chalmers, Kjellberg worked as a harbour captain and even took a job at a hot dog stand. He also sold prints of photoshopped images he made. He then used the money he saved from these jobs to buy a computer, which he used to make his videos.
Early Beginnings on YouTube
Kjellberg's first YouTube channel was actually not PewDiePie. Rather, it was "Pewdie", which he created sometime in 2006. He says that he got the idea from the sound gun makes "pew", and the word "die". However, he forgot the password to that account, so he started a new one which he called "PewDiePie" in 2010.
His earliest uploads were focused on commentaries on some popular video games, such as Call of Duty, Minecraft, and others. However, he probably started to take notice from YouTube audiences for his Amnesia: The Dark Descent videos. More than ten years later, Kjellberg will still continue to upload Let's Play and commentary videos of various video games, especially in the action and horror category.
Aside from gaming videos, he also uploads vlogs. On September 2, 2011, he started a weekly vlog show called Fridays with PewDiePie.
In less than a year, PewDiePie gained 50,000 subscribers, and his fanbase would continue to grow until now.
Rise to Fame and Becoming the World's #1 YouTuber
The subscribers of PewDiePie's YouTube channel continued to grow steadily, reaching 1 million within the span of two years. He also became the number one YouTube channel in the same year, as ranked by OpenSlate.
In August 2013, he surpassed Smosh as the most subscribed YouTube channel and was given recognition by Guinness World Records. In the same year, his subscriber count reached 15 million, being the first YouTube channel to do so.
Accompanying his rise to popularity, he attracted a number of sponsorship deals and opportunities from big-name companies. He signed with Maker Studios in 2012 and starred on Scare PewDiePie, an original web television series exclusively available on YouTube Red.
Controversies
However, the following year later, PewDiePie experienced major turbulence in his career. He became involved in controversies, most notably in some of his videos and statements where he was accused of antisemitism and racism. The series of controversies that he got involved in would cost him 2 million subscribers. He also lost his deal with Maker Studios and YouTube Red following the incident.
In 2018, he got into a subscriber competition with the Indian record label T-Series. As a response to T-Series's projection that they would soon surpass his subscriber count, Kjellberg uploaded the diss track "bitch lasagna", which then became on his most-viewed YouTube video, now at 302 million views (as of March 2022). This has caused T-Series to take legal actions against Kjellberg, which consecutively resulted in some of his videos being blocked in India.
PewDiePie Now
Although his career took a rather serious hit sometime in 2017, he later got back on track and his fanbase has grown larger than ever. In August 2019, PewDiePie became the first individual YouTuber to reach 100 million subscribers and received a custom-made Red Diamond Play Button award from the platform. Throughout the years, he has been featured in other media, such as games, TV shows, magazines, and others.
As of March 2022, PewDiePie still consistently uploads videos on his own YouTube channel with 4,465 video uploads and a total of 28.2 billion views.
Personal Life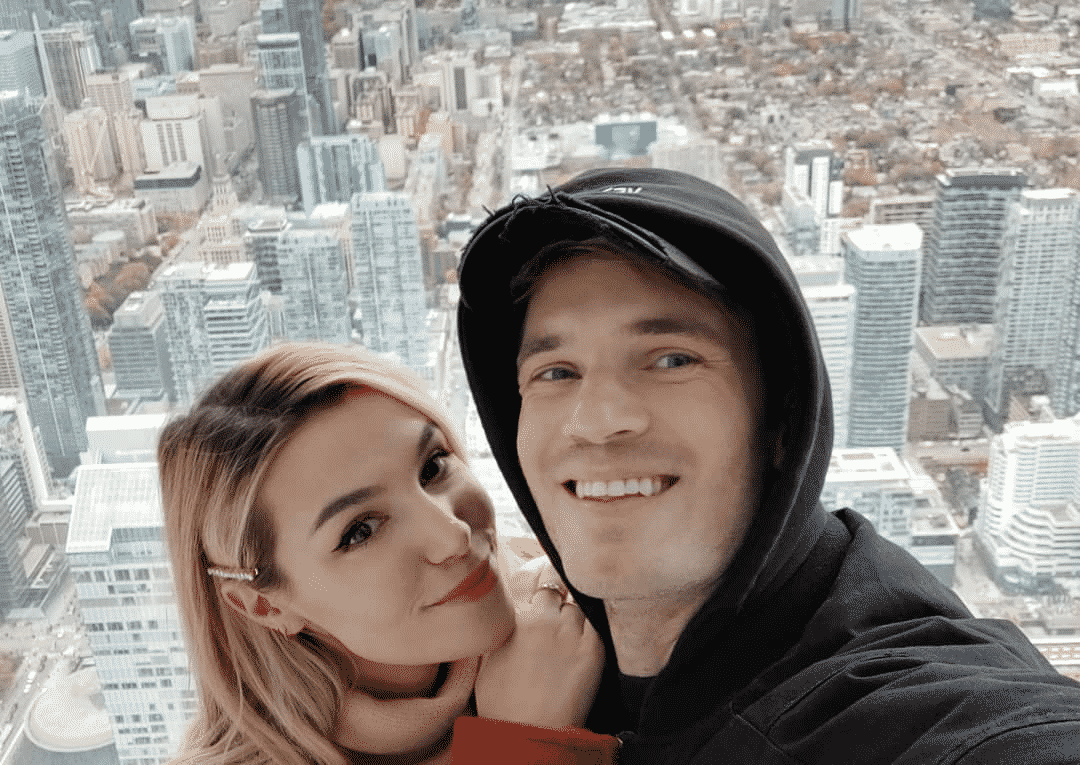 Outside YouTube, Kjellberg also has other ventures, such as video games and authorship. He has even written and published his own book, This Book Loves You, in 2015. Aside from that, he is also a known philanthropist, giving to charities and starting various fundraising events.
In 2019, he married Marzia Bisognin, an Italian internet personality, former YouTuber, and fashion designer, who was his then-girlfriend for around eight years. The couple now lives in Brighton and Hove, United Kingdom, with their dogs Maya and Edgar, and a hedgehog named Dogy.
Games that PewDiePie Plays
PewDiePie has played a lot of video games in the course of his career as a YouTuber and a streamer. He mainly uploads playthroughs of action and horror games, for which he became famous for doing so. Some of the video games he plays are the following:
Call of Duty
Minecraft
Amnesia: The Dark Descent
Terraria
PlayerUnknown's Battlegrounds
Five Nights at Freddy's
Outlast
Elden Ring
Half Life 2
Skyrim
Subnautica
The Last of Us 2
Ghost of Tsushima
Resident Evil
Dark Souls
PewDiePie Net Worth – How They Made Money
As the number one YouTuber, PewDiePie is surely making a lot of money. For more than a decade, he has maintained his position as the most subscribed channel owned by an individual on YouTube. Aside from that, he also secured deals and sponsorships from companies.
So how much is PewDiePie's net worth, really? Common estimates say that his net worth is around $40 million. That's not surprising, considering that besides his YouTube channel, he also has sponsorships from major companies and runs a number of businesses with his wife, Marzia.
However, is that really how much his net worth is? Let's go down into details below.
How Much Does PewDiePie Earn From Twitch?
Although PewDiePie has a whopping 1.3 million subscribers on Twitch, we can assume that he may not be earning anything from the platform as of the moment. Since he has signed with YouTube to exclusively live stream on the platform, he has not been appearing on Twitch recently and his past videos are currently unavailable.
How Much Does PewDiePie Earn From YouTube?
With YouTube, it's a whole lot of a different story.
It's safe to assume that one of Kjellberg's main sources of income is his YouTube channel, PewDiePie. He gets earnings from YouTube ads, paid sponsorships, and his channel membership.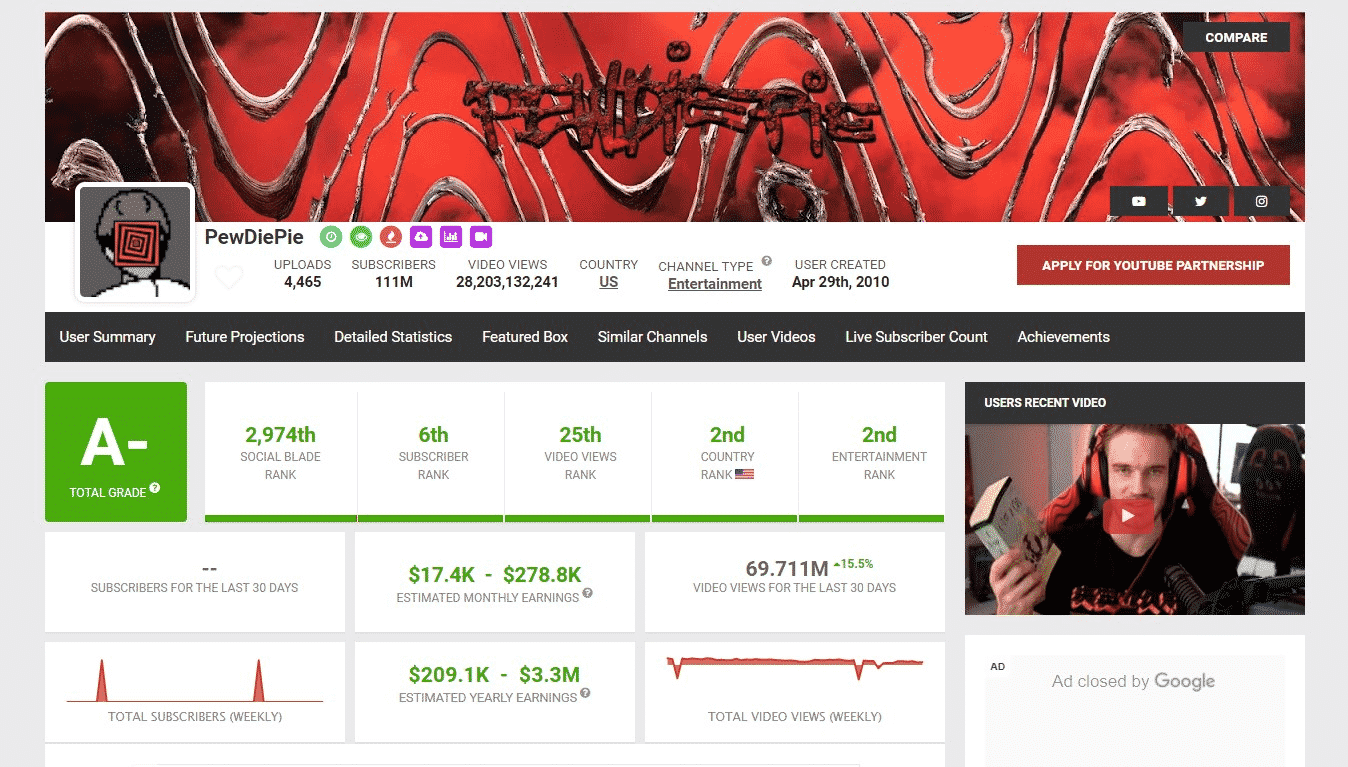 According to Social Blade, PewDiePie is currently earning $209.1k to $3.3 million annually.
Well, it's not surprising, given that Kjellberg has an insane number of subscribers. He also reportedly charges $450k per video sponsorship and brands are eager to partner with him. Plus, his fans can be members of his channel to access exclusive content and perks, with membership monthly fees as high as $7.99 per month.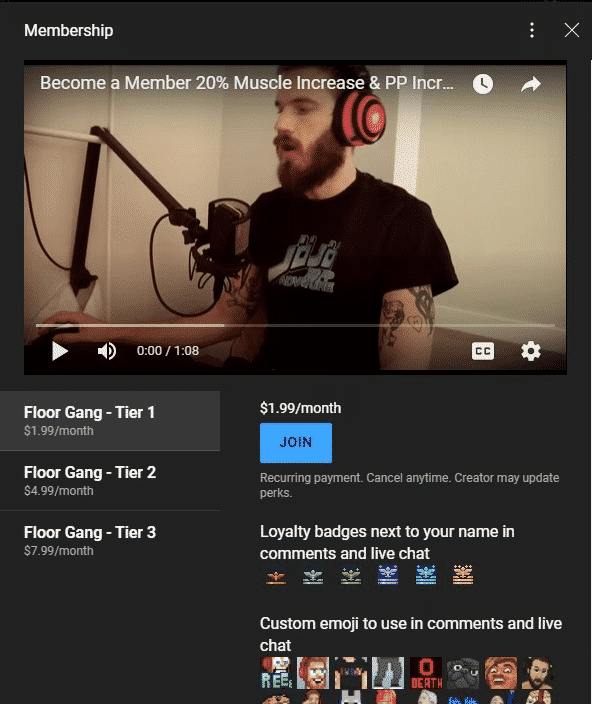 Over the years, various media outlets have reported their own estimates of Kjellberg's net worth. In 2016, Forbes reported that he's earning $15 million per year, making him the highest-paid YouTuber of that time. Now, several years later and his subscriber count has doubled since then, he is earning way more money than that.
In one of his videos, he reacted to the common estimate of his net worth of $40 million with "forty million? Come on!". While that's not a sure indication that his net worth is bigger (or lower), forty million may not be the number that's close to his actual net worth. There's no way to know how much exactly his net worth is, except if he chooses to divulge it.
However, with his staggering subscriber count, in addition to his other ventures, we can assume that Kjellberg has a higher net worth: close to, or maybe even more than $50 million.
Merch
Felix and Marzia Kjellberg run several merch stores, including Tsuki.market and Pdp.store. With such a large fanbase and followers who are willing to buy their merch, they might be earning a remarkable sum of money from that as well.
This Book Loves You
In 2015, Kjellberg wrote a book titled This Book Loves You which has sold over 112,000 copies as of 2017, according to a report made by Common Sense Media. The book is currently available on Amazon for $10.88 paperback. With this in mind, the book has made more than $1.2 million dollars in sales sometime in 2017, and a percentage went to Kjellberg himself.
Who Sponsors PewDiePie?
PewDiePie has secured a number of sponsorships and deals over the years. In recent years, some of his most notable sponsors are the following:
Opera GX
Opera GX is a special gaming browser by Opera Software.
NordVPN
NordVPN is a VPN service provider. Over the years, it has partnered with a number of big-name YouTubers, including, as you've guessed it, PewDiePie.
Ghost KeyBoards
Ghost Keyboards manufactures wireless keyboards specifically made for gamers. PewDiePie is one of their biggest YouTuber partners. There's a PewDiePie Ghost Keyboard available on their website, which is inspired and promoted by the YouTube icon.
GFuel
GFuel is a gaming and eSports energy drink. PewDiePie constantly mentions and promotes GFuel in his videos.
Clutch Chairz
Clutch Chairz is a company that manufactures gaming chairs. They have a special PewDiePie edition chair, which is available for sale on their website and in other stores.
Famous YouTubers Who Collaborated With PewDiePie
PewDiePie is known to have worked with a great number of YouTube giants, including:
CutiePieMarzia
CinnamonToastKen
Jacksepticeye
MrBeast
Markiplier
Conclusion
YouTube would have been very different today if not for PewDiePie. And that's not merely an exaggeration. He has influenced and is known by a whole generation of YouTubers, gamers, and internet users even beyond the platform. Before he became famous, YouTube gaming isn't much talked about. Now, it's one of the biggest categories on the platform.
Posting more than four thousand YouTube videos is already a great feat and shows his dedication to his craft. His commitment to his YouTube channel has paid off quite nicely. Not only does he have the largest YouTube channel owned by an individual, but he's also making a comfortable living out of it and helping others through charity. Despite the controversies and setbacks, PewDiePie remains a living legend among YouTubers and streamers.