Nick Kolcheff (a.k.a NICKMERCS) is a gamer, pro player, and an amazing content creator. This popular Twitch streamer and YouTuber has been trailblazing since he started streaming on the Purple Platform. Find out more about NICKMERCS' estimated net worth, early life, marriage, gaming, and streaming career, in this article.
Who is NICKMERCS?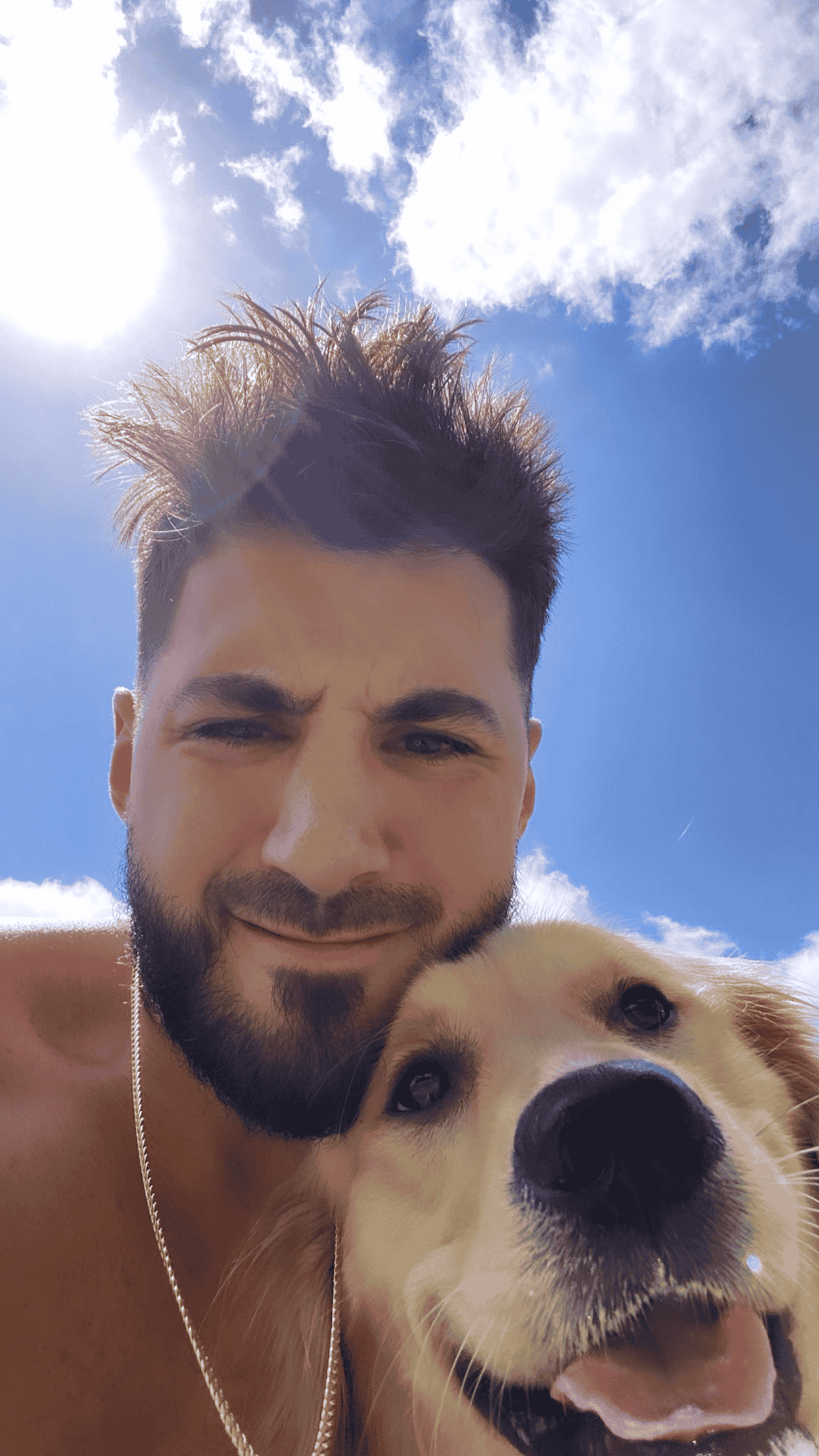 Early Life
NICKMERCS' real name is Nicholas Kolcheff. He was born on November 21, 1990 at Detroit, Michigan USA. Before becoming one of the most popular streamers (and also one of the highest paid at that), Nick Kolcheff went to a community college but dropped out and enlisted to be a Navy SEAL.
However, he struggled with the underwater training because of his fear of drowning and wasn't able to complete it. When he returned to school, he was introduced to streaming and that was where he developed a passion for it. And although his parents did not approve of it at first, he went on and proved them wrong by winning multiple MLG Championships.
Pro Player Career
Nick started his pro playing career by joining competitions for Gears of War. Winning multiple championships, he also went and played Halo. After a brief stint with Halo, he moved on to streaming online. Becoming a streamer opened a lot of doors for NICKMERCS and he was able to expand his horizon both in gaming and streaming.
Later, he started playing CoD and even participated in a Call of Duty: Warzone tournament. He also joined 100 Thieves and became one of its content creators. However, his time with 100Thieves ended shortly, and he left because of internal conflicts. NICKMERCS decided to continue his pro career with a FaZe Clan partnership in 2019.
Taking under FaZe's umbrella, Nick became a professional Fortnite player and participated in multiple tournaments and events. Playing Fortnite made a huge impact on his follower count on Twitch when his squad broke the world-record of 54 kills.
With his superb gaming skills, NICKMERCS was daubed 'Console King' because of his sick controller skills in gaming.
Sometime around 2021, NICKMERCS became co-owner of the competitive eSports organization, FaZe Gaming Clan.
Streaming Career
NICKMERCS started streaming Call of Duty in 2010. The following year, he also created his YouTube channel and posts highlights of his gaming streams, mostly, with Call of Duty.
Joining FAZE Clan, NICKMERCS' career kicked off the charts when he started playing Fortnite.
Later, doing collaborations, NICKMERCS streamed together with other famous Twitch streamers in his channel like TimTheTatman and DrDisrespect.
In 2021, NICKMERCS announced his big contract to exclusively stream on Twitch.
Games that NICKMERCS Plays
Ending his long-time pro playing career in Gears of War, NICKMERCS has been streaming a lot of online games on Twitch ever since. Here are some of Nick's most played games:
Apex Legends
Fortnite
Call of Duty: Warzone
Call of Duty: Modern Warfare Remastered
Call of Duty: WWII
Tom Clancy's Rainbow Six Siege
League of Legends
NICKMERCS Net Worth – How They Made Money
Just like most streamers, NICKMERCS earns through a lot of income-generating resources like gaming streams, live-chat streams, advertisements, sponsorships, donations, merch, exclusive contracts, and of course, through Twitch subscribers and YouTube ads.
How Much Does NICKMERCS Earn From Twitch?
With Twitch, NICKMERCS may earn through ads, donations and tips, Twitch subs, and exclusive contracts on the platform for top-tier streamers. Here's a little
On average, NICKMERCS has about 58,000 subscribers on Twitch which gives him at the very least $203,000 subs earnings a month; while each of his streams would reach approx. 25,000 views, giving him around $5,000 on advertisements.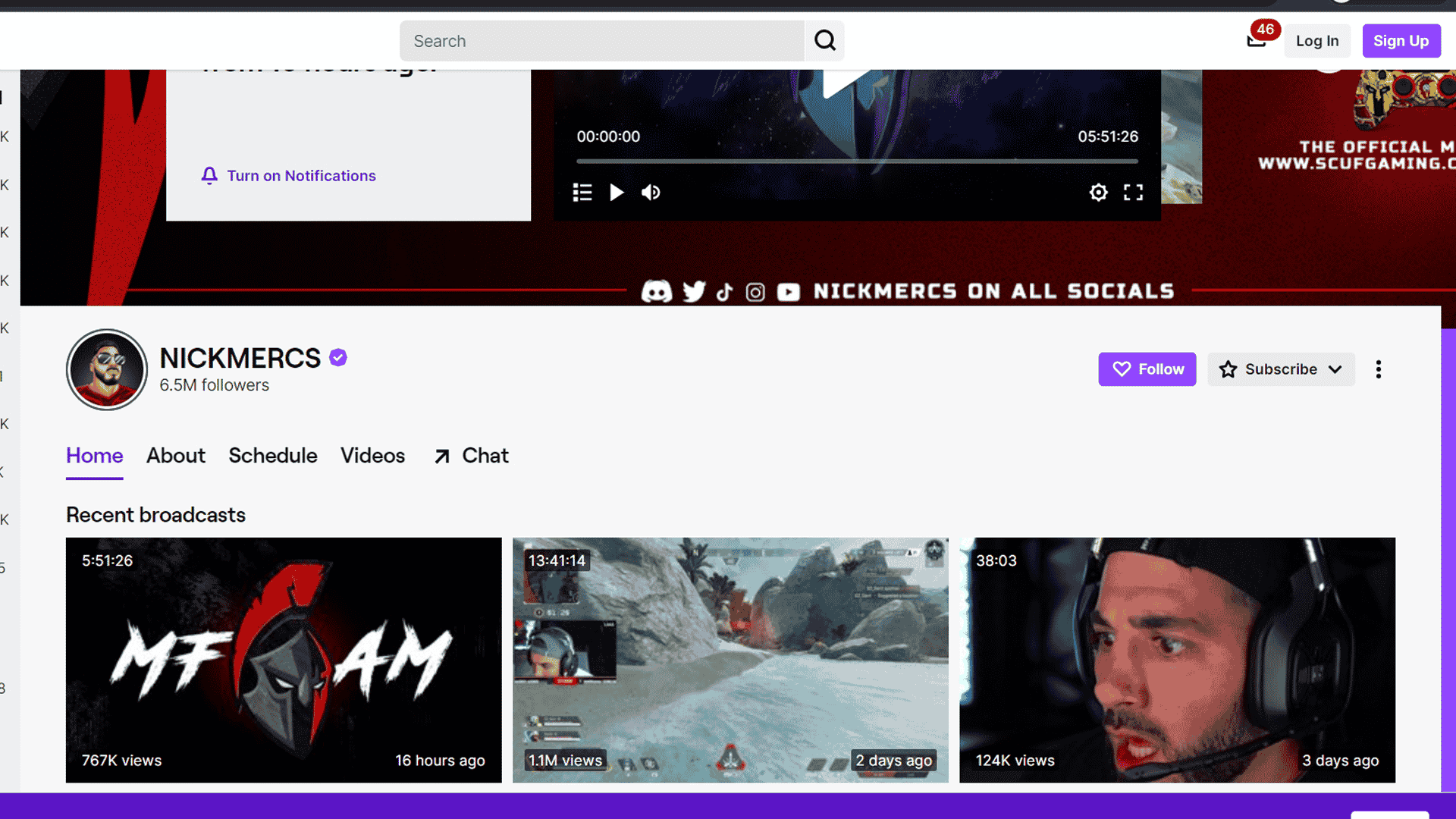 NICKMERCS Twitch Tracker Stats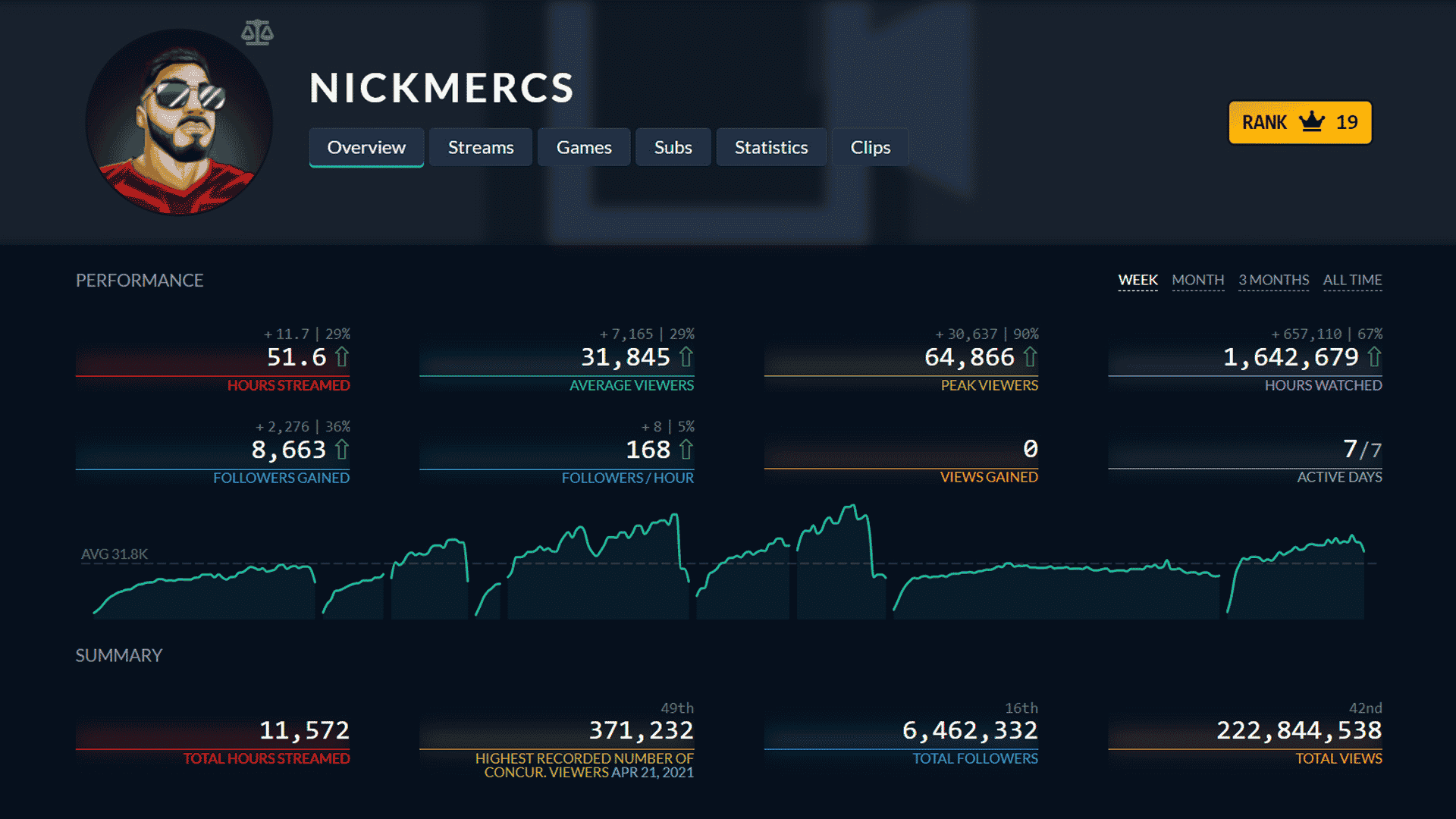 How Much Does NICKMERCS Earn From YouTube?
NICKMERCS is also famous on YouTube with a 4-million subscriber count. This is where he would stream highlights and upload contents of his favorites like Fortnite, Apex Legends, and Call of Duty games. NICKMERCS' YouTube channel has reached more than 697,910,646 views (approx. 700 million) and he averages 6 million views a month. This figure would grant him around $18,000 ad revenue every month.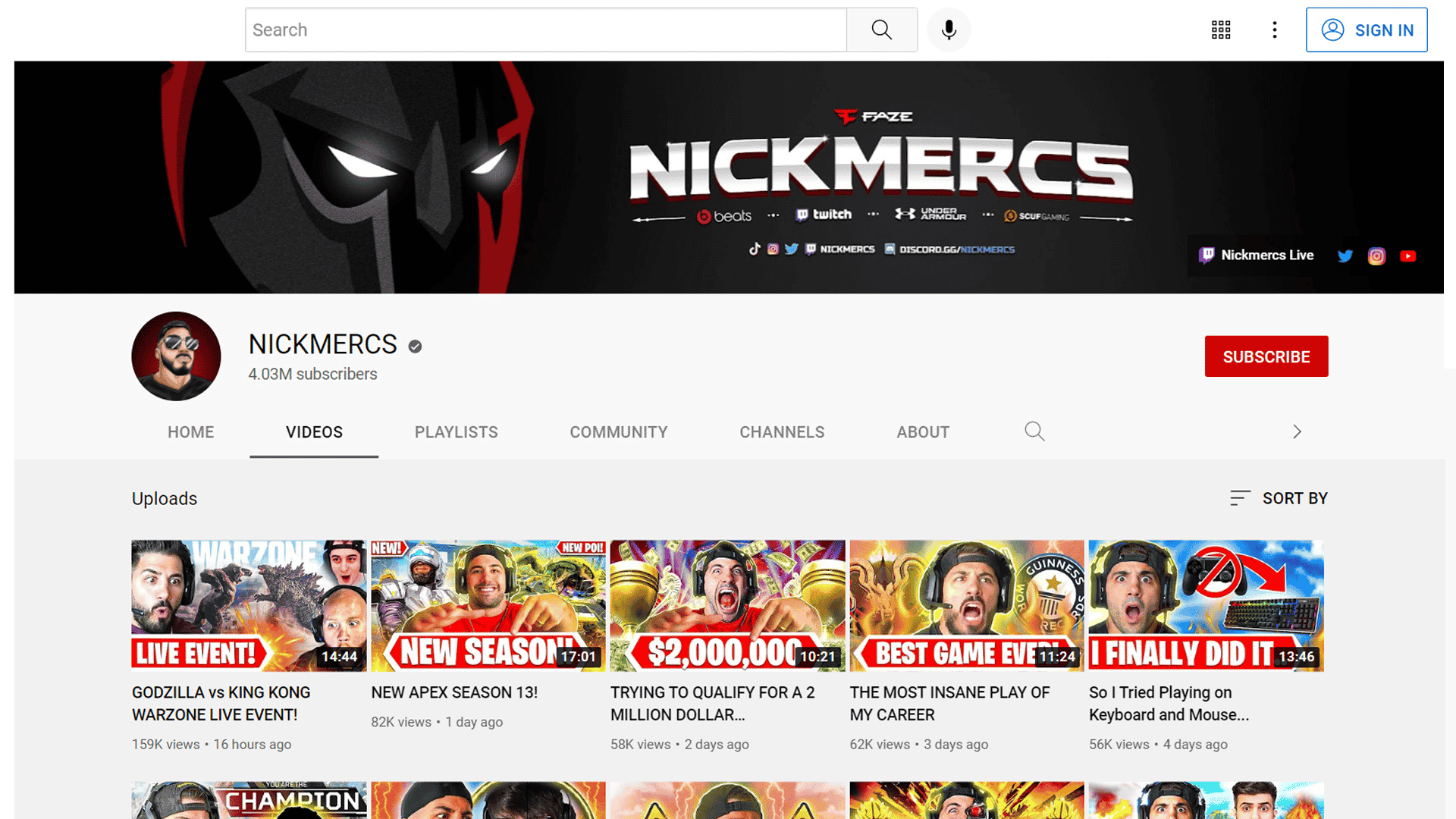 With this Twitch and YouTube earnings combined, NICKMERCS should be making around $226,000 monthly, or an overwhelming $2.7 million annually.
Moreover, the estimate given above does not include his earnings with exclusive contracts from brand deals and other commission-based earnings from sponsorships, as well as his income from personal and official merchandise sales.
NICKMERCS Merch Sales
You can buy NICKMERCS' merch at FaZe Clan's official website. SCUF also offers NICKMERCS MFAM edition controllers at scufgaming.com.
Who Sponsors NICKMERCS?
Although NICKMERCS started with Gears of War, his career skyrocketed with him playing Fortnite. His rise in popularity along with Fortnite opened a lot of opportunities for NICKMERCS like signing huge contracts for bigtime sponsors. Here are some of them:
SCUF Gaming
GFuel Energy
Cash App
Under Armour
Recent News
Although he experienced a slight drop of subscribers early this year, NICKMERCS recently won first place in the Top 50 Most Watched Apex Legends Streamers in April 2022. This only proves that Nick is still on top of the line, and he continues to live in that momentum.
FAQs About NICKMERCS
What is NICKMERCS' net worth in 2022?
In the last five years of his streaming career, NICKMERCS' estimated net worth is around $4-6 million. Given his consistency and high level of gaming, NICKMERCS' yearly earnings could still rise to $7 million by the end of 2022.
Who is NICKMERCS' wife?
NICKMERCS married long-term girlfriend Emumita Bonita on October 2020.
What is NICKMERCS' streaming setup?
Here's a rundown of NICKMERCS' streaming setup:
Main display: Alienware AW2518H monitor
Flanking displays: Curved AW3420DW (2 pieces, left and right)
Webcam: Logitech Brio
Headset: Astro A40
Microphone: Shure SM7B
Controller: Scuf Infinity4PS Pro MFAM
Main PC: Asus GeForce RTX 2080TI with 32GB of G-Skill Tridentz RGB Series with an Intel I9-9900K Processor
Conclusion
From a GoW pro player to becoming FAZE Clan's co-owner, NICKMERCS is surely a groundbreaking pro gamer-turned-streamer. His success in his gaming and streaming career, and the ability to consistently be on top for many years, is something that reflects his heart and determination in what he's doing. Streaming, as a full-time profession is a challenging feat, and NICKMERCS is making it look easy.