Twitch has made a lot of gamers become popular through streaming. Perhaps it's because it makes people happy to meet others that share the same interests as them, or perhaps it's merely their preferred form of entertainment. Whichever the case is, if people find your streams to be interesting or think your gameplay is excellent, chances are you will gain a following on the platform. One of these streamers who rose to prominence in recent years is Moonmoon, a Twitch streamer who now has an impressive 1.1 million followers.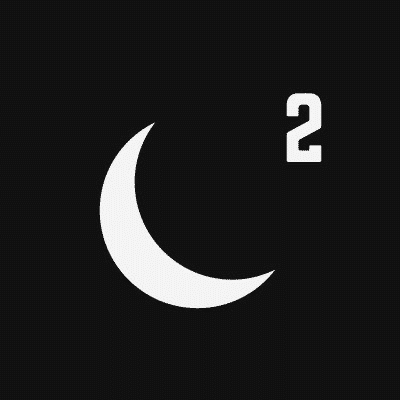 In this article, we'll do a quick answer to our reader's burning questions about Moonmoon's bio, his presence on various social media platforms, and his estimated net worth. Let's start.
Who is MOONMOON?
MOONMOON or MOONMOON_OW is a popular streamer on Twitch with over 1.1 million followers as of the time of this writing. He became famous for his playthroughs and gameplay of various games, including Overwatch, Dark Souls, Elden Ring, Daddy Dating Sim, and others.
In every game that he streams, Moonmoon actively engages with his audience as he frequently tries to answer questions. He knows how to joke around and make hilarious comments while playing video games. Perhaps the reason why he's so popular is he creates entertaining content in addition to his remarkable gaming skills.
Personal Life
Moonmoon is very private about his personal life. There is little info available about his early life, his family, and where he came from because he doesn't usually talk about it in his live streams.
Additionally, he hasn't uploaded any video or has done an interview that discusses his personal life. For someone as famous as him on Twitch, you can say that maintaining one's privacy is quite remarkable, which is something he has so far achieved.
Across his different streams and popular videos, Moonmoon has mentioned bits of things about himself, including his gaming career, education, and family.
Moonmoon has claimed he has a wife and a son. However, due to his secretive nature, some fans have disputed the fact even though he claimed he was telling the truth. This led to disagreement between his fans, as most often than not, he wouldn't confirm nor deny it.
However, it's most likely true that he has a family. In a recent stream, he made on his Twitch channel, Moonmoon was seen playing a video game attempting to win every level to impress his kid who was watching at the moment. He's making an effort to keep his family and private life free from prying eyes, and he does it successfully so far.
Moonmoon isn't active on most popular social media platforms. The only public social media account he has is on Twitter, where he goes by the same username.
Twitch Career and Expanding to YouTube
He has been playing games in various genres throughout his streaming career. He rose to popularity when he began streaming games in the RPG category, most notably, Overwatch.
His Overwatch streams have brought him to the spotlight where he remains to this day. Some time ago, he answered a fan asking him to play the game again. However, he responded that he has no desire of playing or streaming Overwatch again.
Following his popularity on Twitch, he started a YouTube channel called MOONMOON_OW which now has 139k subscribers.
Games that MOONMOON Plays
Moonmoon is known for PC playing video games. He has played over 200 games, from those in the RPG to simulation category. Some of the games he played on his YouTube and Twitch channel are:
Overwatch
Dark Souls
Sid Meier's Civilization VI
Elden Ring
Daddy Dating Sim
MOONMOON Net Worth – How They Made Money
Moonmoon primarily earns money from his Twitch streams and YouTube channel. As of the moment, he has no merch and has no known partnerships with brands. However, since he's a prolific and popular streamer on Twitch, we estimate his net worth may be around $1.7 million.
How Much Does MOONMOON Earn From Twitch?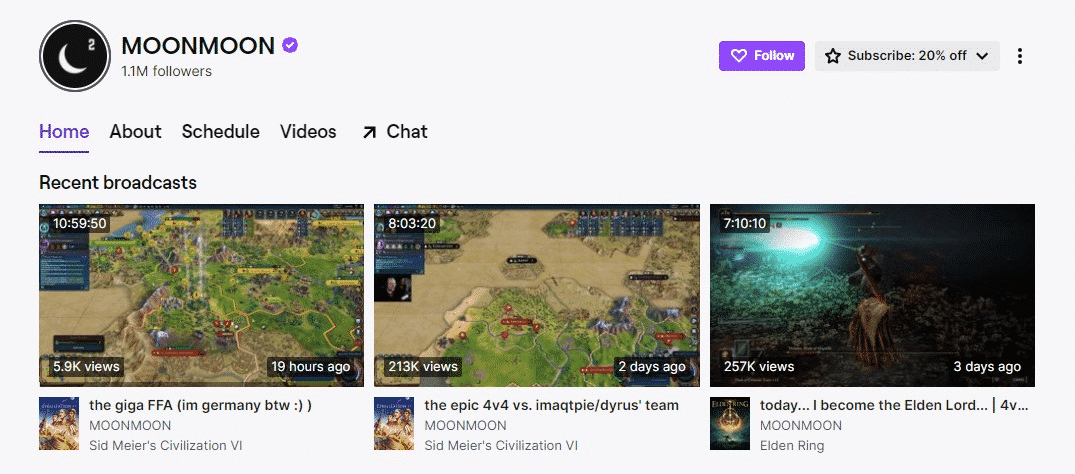 Twitch streamers generally earn from these methods: ads on their channel, subscription, and bit. Although we can't yet estimate how much Moonmoon earns from ads, he seems to get a decent income from subs.
According to TwitchTracker.com, his current active subscriber count (as of March 2022) is 19,393. The subscription fee to his channel usually costs $4.99 a month. Multiply that by his number of active subscribers, his channel makes $96,771 a month. However, Twitch usually takes half of the fee, so Moonmoon keeps around $48k a month, which is not bad at all.
How Much Does MOONMOON Earn From YouTube?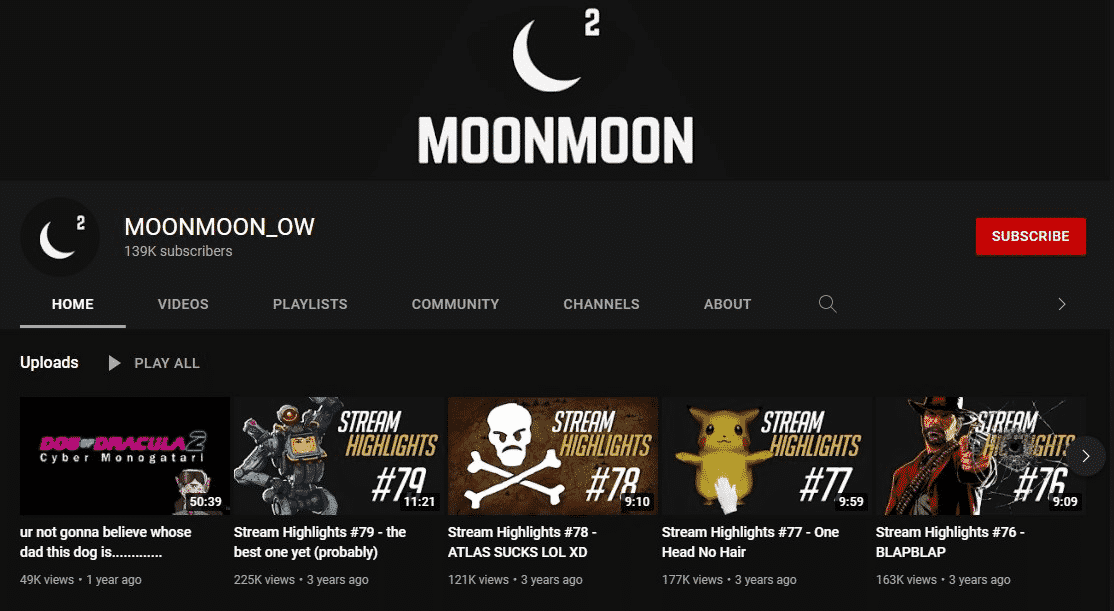 According to Social Blade's data, MOONMOON_OW approximately earns $8 to $132 a month, or $99 to $1.6K a year. His channel has a 139k follower count as of March 2022, and his videos combined have been viewed more than 28 million times. However, we can expect his channel to grow more in the coming years, so this number will likely increase.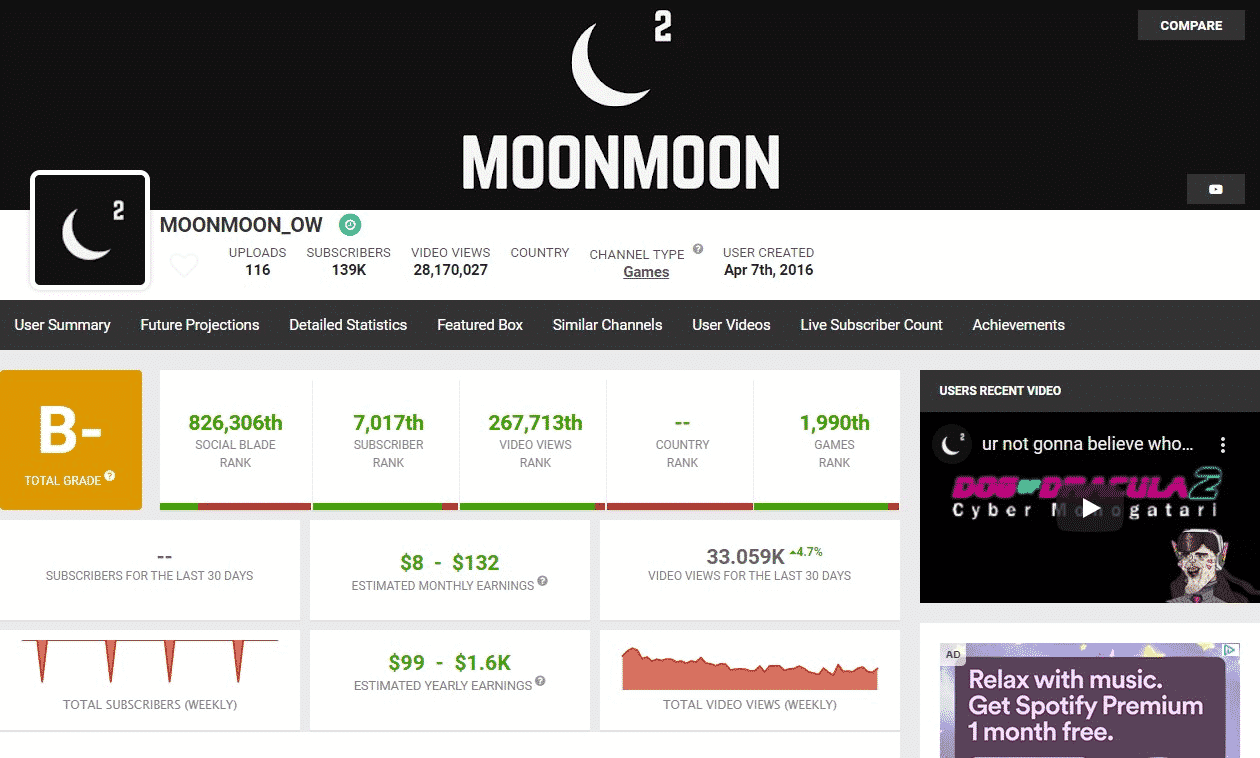 Who Sponsors MOONMOON?
Moonmoon doesn't currently have a sponsorship deal with a brand or company. As of this time, he's solely focused on his streaming channels and interacting with his fans. Whether he has plans to venture beyond gaming or not, he hasn't disclosed anything yet.
Conclusion
Thirty years ago, nobody would have guessed that millions of people would willingly watch pro-gamers play video games in the comfort of their homes. More than that, nobody would have also thought that anyone who has the skills and the will to become a streamer could earn a decent amount of money and make a living just by playing video games. Moonmoon is one of those people who chose to do what they love regardless, and now it has paid off seeing how successful he is on the platform.