If you've ever searched for the top content creators on YouTube today, surely you've come across the name "Markiplier". Mark Edward Fischbach is among those rare internet celebrities that practically do anything: from streaming gaming content, creating podcasts, to making films. Aside from that, he's also a voice actor, host, philanthropist, and businessman.
Now that he's achieved success and worldwide fame, just how much does he earn from all of these ventures? We're going to detail those and more in this article about Markiplier's net worth.
Who is Markiplier?
Markiplier is undoubtedly one of the biggest YouTubers and internet personalities today. Not only is he well-known in the platform and the gaming community by extension, but he's also branching out to other media, such as podcasting and movies.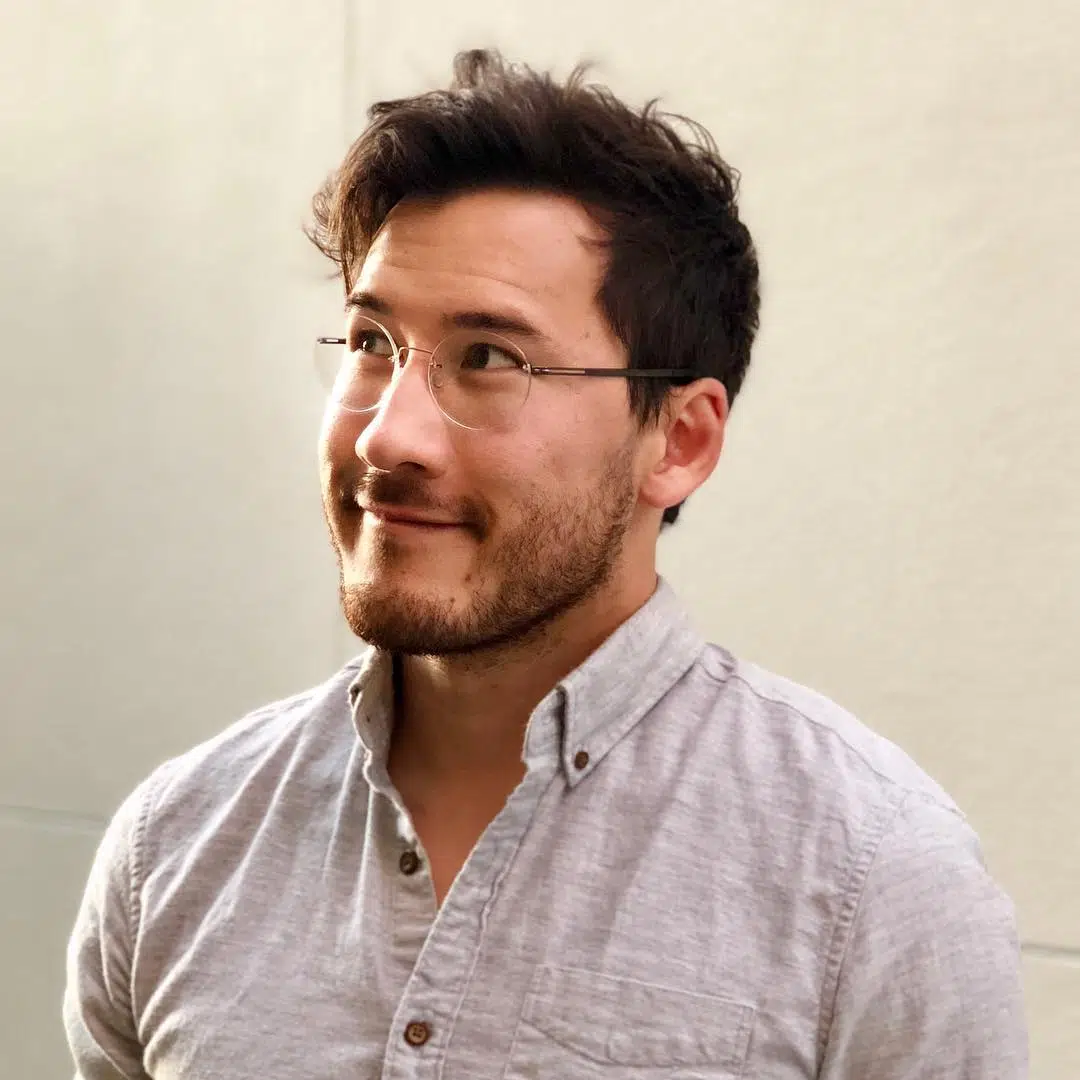 He became known for his Let's Play videos on horror-survival games, such as Five Nights at Freddy's and Amnesia. Although, he also plays various games in other genres, such as Minecraft.
One of the remarkable things about gameplay commentary videos was his focus on indie games of almost any genre. His purpose was to bring more attention to this video game. His viewers were entertained by his funny commentaries, exaggerated facial reactions, and sometimes doing dialogues of the characters.
With a subscriber count of more than 32 million as of the time of this writing, it's safe to say that his YouTube channel is one the most successful out there, and it's most likely here to stay. He's also on Twitch and goes by the same name, streaming a variety of content from gaming to random Photoshop live streams.
Besides gaming, he's also a comedian and podcast host. He regularly uploads comedic sketches on his popular YouTube channel. From time to time, he produced, co-created, and starred in films, TV, and web series. The online phenomenon A Heist With Markiplier and the series Who Killed Markiplier were just some of his most well-known creations.
Personal Life and Early Days on YouTube
Mark was born to Cliffton Morris Fischbach Jr. and Sunok Frank on June 28, 1989. Mark's father was an army officer stationed in South Korea when he met his mother, and the couple moved around until they settled in Ohio. He has an older brother named Jason Thomas Fischbach, a comic book artist and the author of the webcomic Twokinds.
He attended Milford High School, and while he was there, he became a member of his school's marching band and played the trumpet.
He took up biomedical engineering at the University of Cincinnati. Even while at college, Mark had a passion for gaming and creating content on YouTube. This has caused him to become torn between his studies and passion which later turned to a YouTube career, so, two semesters before he had to graduate college, he decided to drop out.
According to him, he wasn't enjoying engineering studies, so he chose to do what he enjoyed the most: creating and uploading YouTube videos. He uploaded his first video on April 4, 2012.
Mark's first channel was banned by YouTube because Google thought he was abusing the AdSense system, even though his channel wasn't monetized. As a result, he had to create another channel which he named "markiplierGAME". Later, he reverted it to just "Markiplier", which is the name he goes by today.
What does "Markiplier" mean?
His channel name was a combination of his first name "Mark", and "multiplier". Markiplier's YouTube channel was originally intended for comedic sketches where he would portray all the characters, hence, the idea of "multiplier".
Rise to Prominence and Larger Projects
Markiplier's channel continued to grow steadily in the following years. About two years after his channel was created, he made it to NewMediaRockstars Top 100 Channels, finishing at number 61.
In 2015, Mark co-created a sketch comedy and music channel called Cyndago, with other YouTubers, Daniel Kyre and Ryan Magee. Matt Watson later joined the channel. However, Cyndago was disbanded following the death of Daniel Kyre. As a result, Markiplier went into a hiatus for almost one month. On his return, his YouTube channel reached 10 million subscribers, earning him YouTube's Diamond Creator Award.
Since then, Mark has won several awards for gaming and other achievements, particularly Golden Joystick Award in 2017 as the Best Streamer/Broadcaster. In 2016, he signed with Endeavor, a top talent, and media agency based in California.
He's also been part of projects, such as A Date With Markiplier on YouTube Originals and the Unus Annus channel with Ethan Nestor aka CrankGameplays. The duo collaborated on Unus Annus by uploading a video every day for one year, and then afterward deleting the channel. It gained 4.58 million subscribers in its year-long run.
Markiplier Now
Over the years, Markiplier has ventured to other areas as well, including business, voice acting, and philanthropy. As of the time of this writing, Mark has raised a total of $3 million to charity, and he continues to do so. According to him, he prefers living frugally and donating proceeds from his live streams or events to charity.
He's also collaborated with Jacksepticeye and later Pokimane to run CLOAK, a clothing line focused on comfort.
He currently resides in Los Angeles, California.
Does Markiplier Have a Wife?
Mark is currently dating Amy Nelson. The couple isn't married yet, but they have been together since 2015.
Games that Markiplier Plays
Markiplier is mostly known for uploading playthroughs of indie and horror games. Here's a list of some games he streamed on YouTube and Twitch:
Five Nights at Freddy's
Amnesia
Yandere Game Simulator
Slender: The Eight Pages
Happy Wheels
Elden Ring
Half Dead 3
Haunt Chaser
Resident Evil
Among Us
Markiplier Net Worth – How They Made Money
As one of the most subscribed channels owned by an individual, Markiplier has made a great deal of money from his YouTube channel. He also streams on Twitch where he signed a multi-year partnership with the platform.
In addition to his Twitch and YouTube community, Mark earns from his business, podcasts, sponsorships, acting and voice acting gigs, and other ventures. Suffice to say, these multiple income streams have largely contributed to Markiplier's net worth.
Our estimation of Markiplier net worth is around $30 million. In a 2019 video, he claimed that's his net worth is a little lower than the common estimates at that time, but at the same time, it's far more than he hoped for. However, that was a couple of years ago and now he's still among the highest-paid YouTuber, so if you add his earnings from other ventures, his net worth is close to $30 million or even more.
How Much Does Markiplier Earn From Twitch?
On Twitch, top streamers reportedly earn ¢3 per viewer. As for Markiplier, he may have earned around $268k to $401k since he started streaming on Twitch in 2017.
How Much Does Markiplier Earn From YouTube?
Markiplier is still uploading actively on YouTube as ever. With his massive following, it's not surprising that he earns a lot of money from YouTube ads and video sponsorships. According to the data published by Social Blade, Mark roughly earns $49.2K to $787.3K per month or $590.5K to $9.4 million annually.
Other Ventures
CLOAK
Mark runs a clothing line business with fellow YouTubers Jacksepticeye and Pokimane named CLOAK. They mainly sell t-shirts and hoodies on their website. Over the years, they have collaborated with other brands and video games such as Five Nights at Freddy's.
Voice Acting
Mark is also a voice actor. He currently voices the character 5.0.5. in the Cartoon Network series, Villainous.
Podcasts and Streams
On Twitch, he usually streams a podcast called 3 Peens in a Podcast along with Wade Barnes (LordMinion777) and Bob Muyskens (Muyskerm). Aside from that, he's also in numerous podcasts, including Distractible and Go! My Favorite Sports Team.
Who Sponsors Markiplier?
Throughout his YouTube career, Markiplier has received sponsorship deals from various brands and worked with companies, including:
Polaris – An American multi-channel network owned by Disney.
Endeavor – A well-known talent and media agency in Hollywood.
Robot Entertainment – An indie-game development studio based in Texas.
Dirty Bomb – A first-person shooter game by Splash Damage.
Guns of Icarus – A PVP, steampunked theme game developed by Muse Games.
He has also collaborated and worked with many other YouTubers, including:
Jacksepticeye
PewDiePie
Pokimane
Captain Sparklez
LordMinion777
Conclusion
Markiplier has taken a risk dropping out of college to pursue his YouTube career. However, looking back at it now, anyone could say that it's all worth it, with his massive success continuing to this day. His story proves that taking risks and persistence are necessary to achieve your goals, no matter how big or daunting they may seem.