Ironmouse is a virtual YouTuber and an internet sensation who is currently signed under VShojo, an entertainment agency which focuses on voice talents and by giving them opportunity to work online. Ironmouse is still new in the entertainment industry but she already has a large number of followers online. Being the controversial character that she is, many are wondering about Ironmouse's real identity and how much money she's making.
Find out about Ironmouse: face reveal, net worth, relationship status, real name, birthday, and more in this article.
Who is Ironmouse?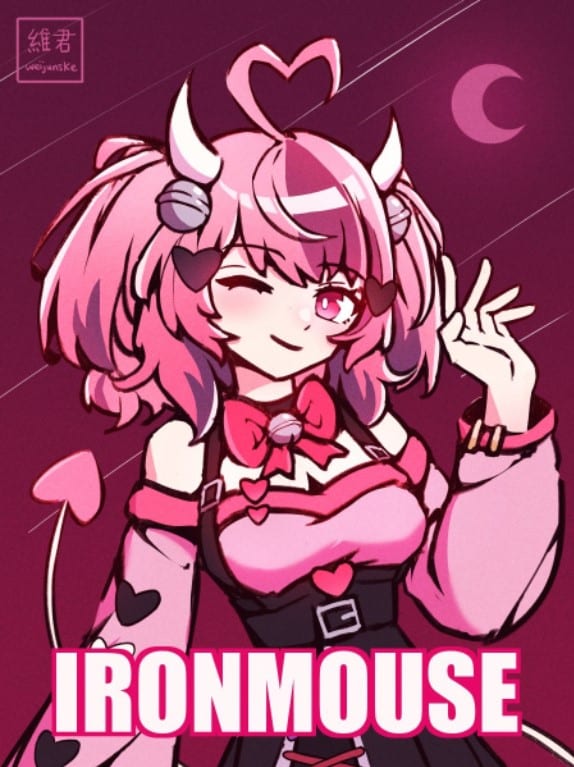 According to her character description, Ironmouse is a demon queen who wants to experience what it's like to live in the human world. She is said to be a mad loli with a crazy personality who wants to make new friends and live life to the fullest that she can, at least, virtually.
Personal Life
Ironmouse is a very private person: not only because she is currently going through a medical condition called Common Variable Immune Deficiency (CVID), which is a problem with the immune system, but also because it's a part of her job description being a VTuber.
Fun Facts
Being a virtual streamer, Ironmouse is also a great voice actor. She has a pleasant high-pitched voice and she also sings quite well. Ironmouse is indeed a great voice talent, according to her followers.
Apart from singing well, Ironmouse composes original music, too. She was part of a musical theater group in high school and wanted to be an opera singer had she not been diagnosed with CVID later.
Ironmouse is an American virtual steamer of Puerto Rican descent. She speaks fluent English and Spanish; and can also converse in Korean and Japanese.
Ironmouse hosts her own Talk Show in Twitch which she calls "Speak of the devil" where she interacts with her followers and fans from all over the world to a talking, singing, just chatting, fan arts showcase, and basically anything that can be referred to as 'fun time'.
Becoming a Twitch Streamer
Ironmouse joined Twitch in 2017 but only started streaming in August 2018. After streaming for a while, she went on hiatus for almost three years before her comeback in February 2021. She was an independent streamer until she signed a contract with VShojo agency.
Now, Ironmouse is a virtual Twitch streamer and a top-tier Twitch partner. She still does virtual streaming until today and her fans are still waiting for her face-reveal act.
Games that Ironmouse Plays
Ironmouse is primarily a 'Just Chatting' streamer. However, she also plays a variety of games and streams them on Twitch. Here are some of them:
Resident Evil
Black Desert
Elden Ring
Minecraft
Among Us
Phasmophobia
Ironmouse Net Worth – How They Made Money
Ironmouse doesn't really do much gaming since that is not her forte. However, she does a lot of 'Just Chatting' streaming online and she generates income during each live stream. Apart from that, she also earns through advertisements, donations and tips, merch sales, paid subscriptions, and also her exclusive contract signed with VShojo.
How Much Does Ironmouse Earn From Twitch?
Ironmouse earns in the Purple Platform through live streams, ads viewed per stream, tips and donations, and paid subscriptions from hardcore followers who pay her channel monthly.
Additionally, Ironmouse has a Stream Gifts and StreamLabs tip jar linked on Twitch.
With more than 1.1 million followers on Twitch and more than 7,000 active paid subscriptions, Ironmouse is likely to generate around $24,500 monthly income or $294,000 annually.
Ironmouse Twitch Channel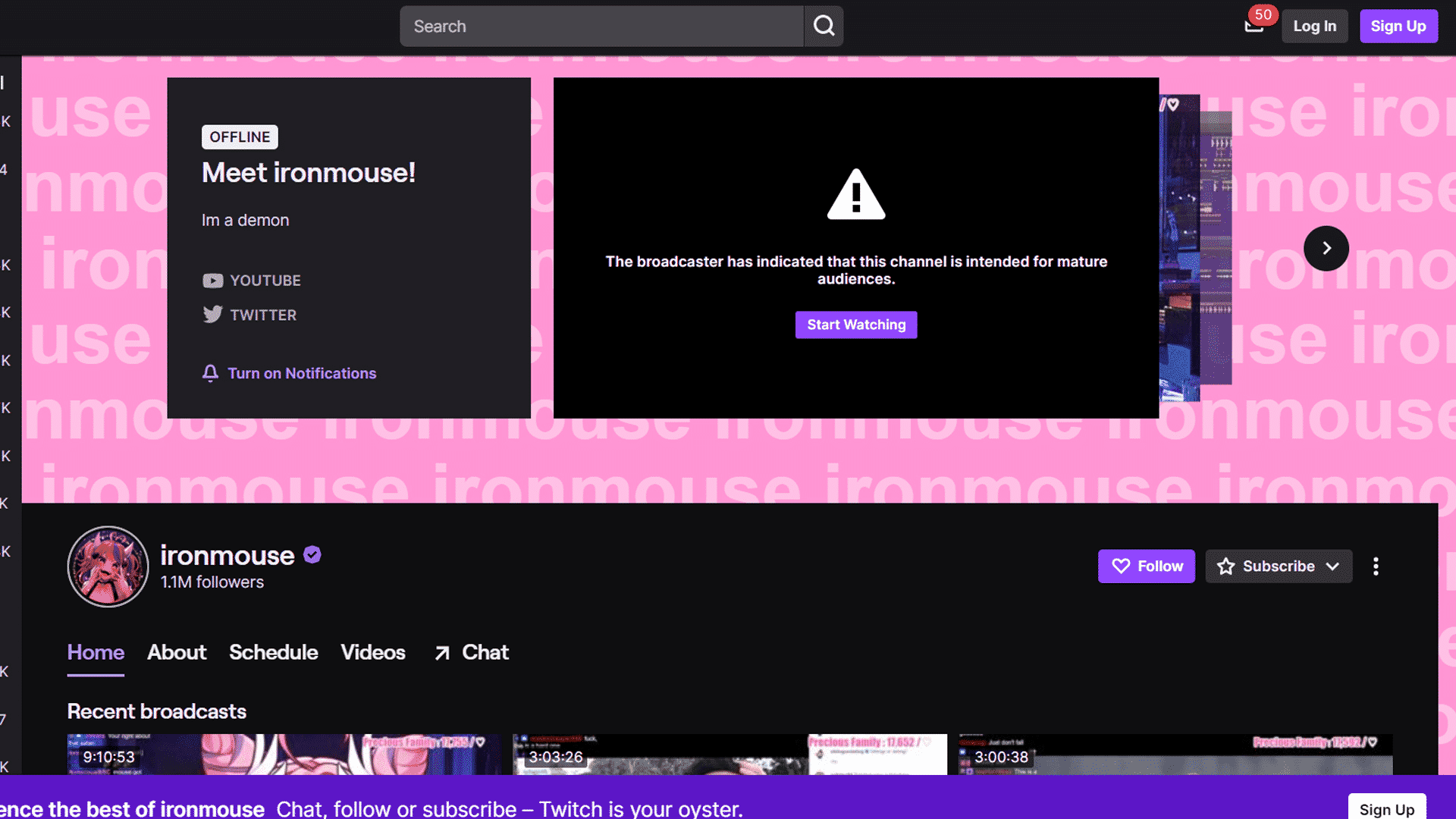 Ironmouse Twitch Tracker Stats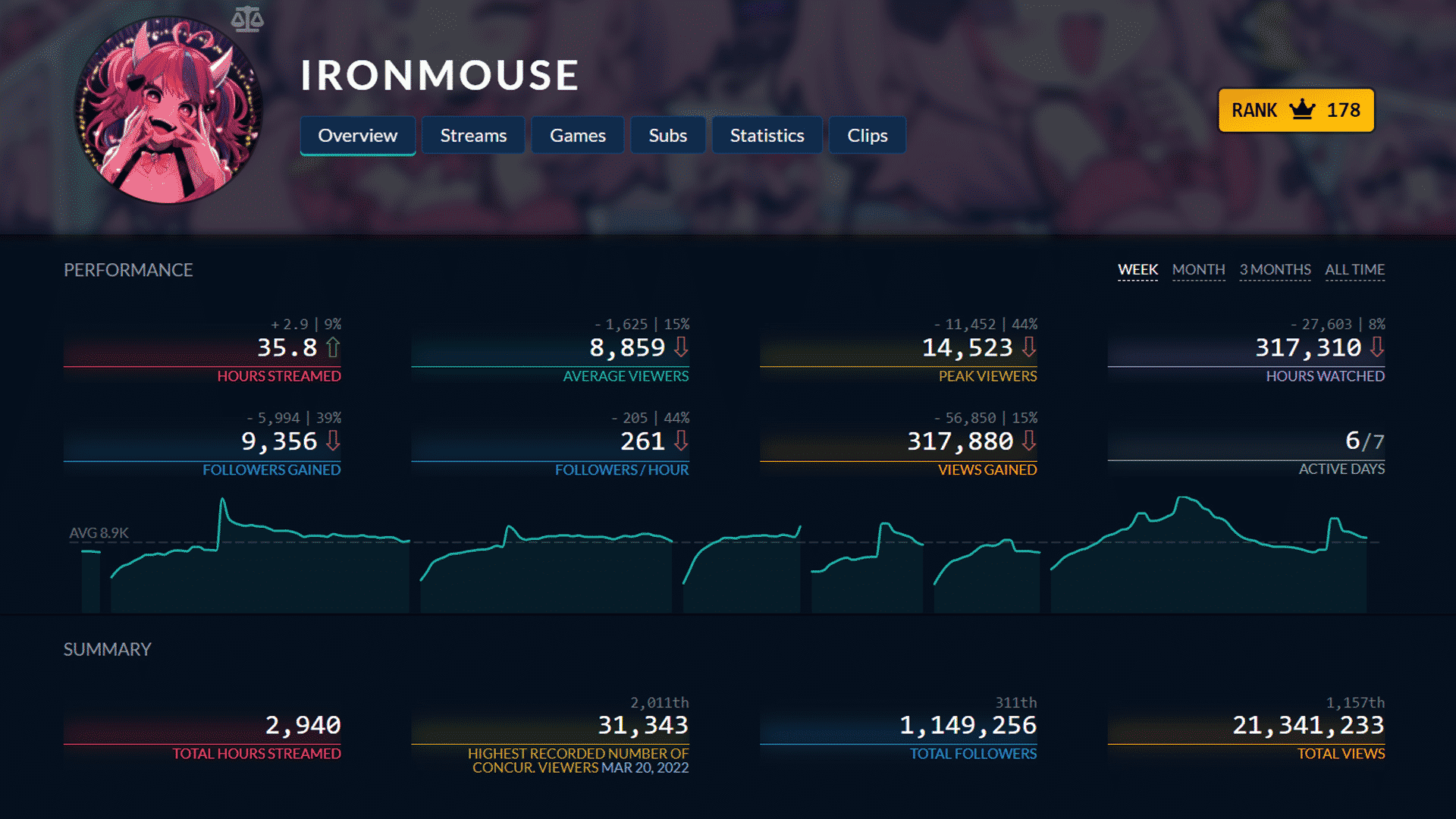 How Much Does Ironmouse Earn From YouTube?
Just like how most channels work, Ironmouse mostly generates income through advertisements and paid promotions viewed on her YouTube videos. With more than 673,000 subscribers and 25,441,871 views, Ironmouse is likely to earn around $5,855 monthly ad revenue and approximately $70,260 annually.
Ironmouse YouTube Channel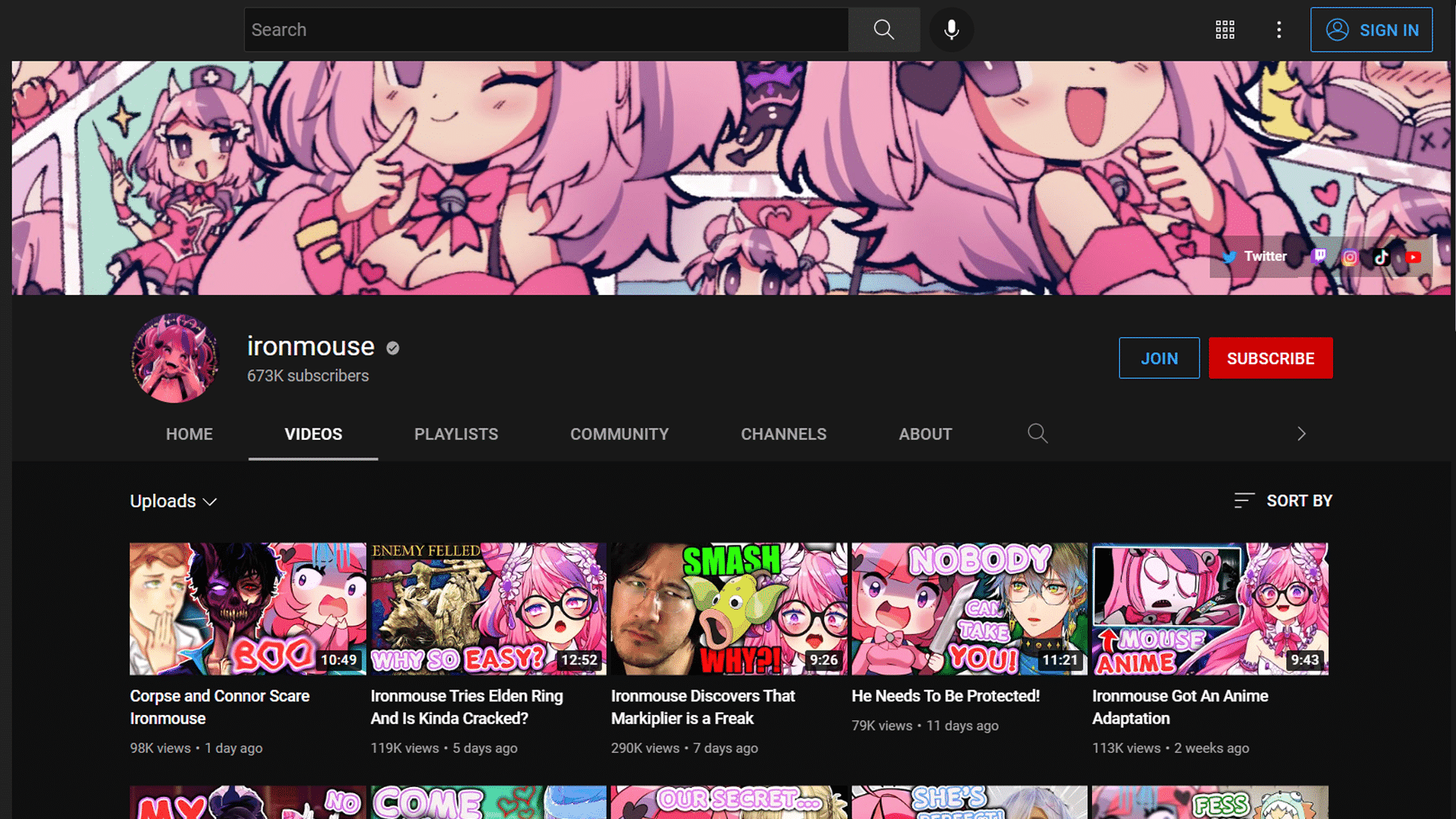 With Twitch and YouTube earnings combined, Ironmouse should be generating around $30,355 monthly income or $364,260 yearly.
This estimation does not include her earnings from merch sales and monthly fee at her contract with VShojo Agency. Additionally, her Patreon account is also generating donations that have never been disclosed to the public. This is also excluded in the estimation above.
Ironmouse Merch
Ironmouse has available merch on a SharkRobot store online. She has also announced an upcoming personalized website, ironmouse.com, on her Twitch channel.
Who Sponsors Ironmouse?
(list who sponsors them or partners with them and a little about each place)
FAQs About Ironmouse
What is Ironmouse's net worth in 2022?
With her fast-growing network of followers and subscribers, Ironmouse should reach the $800,000 mark by the end of 2022 if her fan base continues to expand.
What is Ironmouse's age?
Ironmouse should be 25 years old now.
Who is Ironmouse dating?
Because of her current health status, being diagnosed earlier with Common Variable Immune Deficiency (CVID), Ironmouse appears to be unattached and single for most of her life. And since Ironmouse doesn't really appear in public, no one will be able to know or prove that she has a romantic relationship going on right now.
What are Ironmouse social media accounts?
Ironmouse is famous on social media. Here are some trivia about her social media accounts:
Instagram account – Ironmouse uses the username @ironmouseparty on Instagram; she has about 38.8K followers and has created 46 posts since joining the platform.
Twitter – Ironmouse uses the @ironmouse username (just like on Twitch); she has about 553K followers since joining Twitter in 2009.
Patreon – Ironmouse has created a Patreon page for her growing fan base. This particular account currently has four subscription tiers, namely: Precious Family, Flancito, Senpai, and Hentai. Ironmouse creates mature content so you need to be at least 18 years old in order to view her content and/or subscribe to her Patreon account.
Twitch TV – Ironmouse is most famous in her Twitch account with more than a million followers since she started really streaming in 2018 until present.
TikTok – Ironmouse is also active in TikTok with the username @ironmouse. She has about 95.2K followers with more than 457.5K likes from just 17 videos uploaded on her account.
What is Ironmouse's real face?
Many fans and followers have been waiting for Ironmouse's face reveal time ever since she debuted in the virtual world in 2020 under VShojo management. However, she hasn't revealed her face until now. It might be a little disappointing to some fans, but it also keeps the mystery going. Ironmouse has done a great job in maintaining her mysterious effect on the masses following her in Twitch and YouTube.
Conclusion
Ironmouse's medical condition, as common as it may be, is still deemed a hindrance to doing what she loves. However, Ironmouse doesn't let it get her. Even with her health condition, Ironmouse still manages to do what she is passionate for. This only proves that drive, determination, and passion are also key factors in achieving one's success. She may still be new to the industry, but Ironmouse is now enjoying the results of her sacrifices and hard work.