Jeremy "Disguised Toast" Wang is a famous Twitch streamer and YouTuber with millions of followers and subscribers online. Know more about Disguised Toast: net worth, personal life, streaming career, and FAQs in the article below.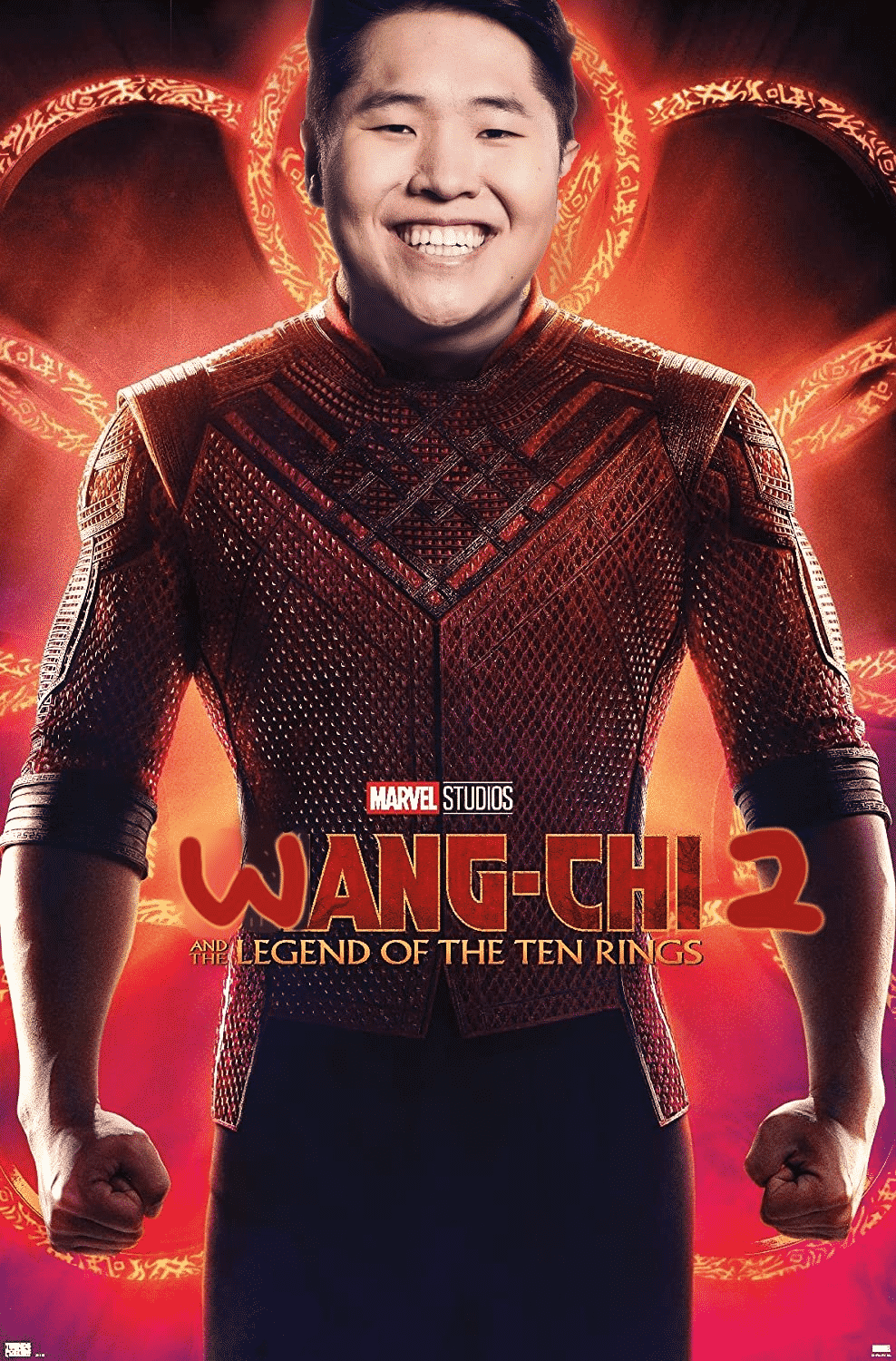 Who is DisguisedToast?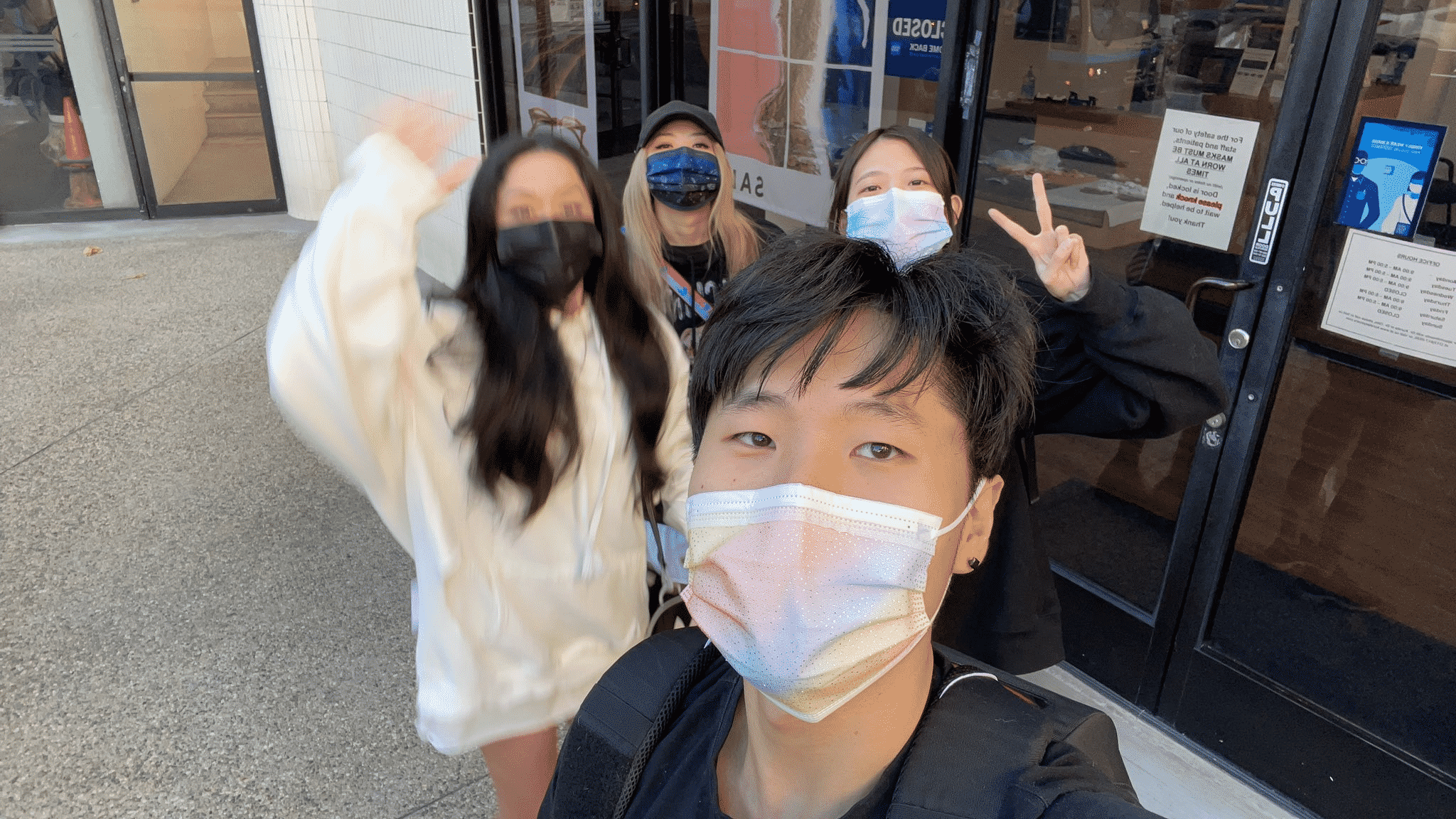 Early Life
Jeremy Wang "Disguised Toast" was born on November 25, 1991 at Taipei, Taiwan. Before turning one, his family moved to Penang, Malaysia where he grew up at. Later, they moved to Canada when his older brother attended university.
Disguised Toast attended at the University of Waterloo where he completed his 3 years degree in Mathematics majoring in Computer Science.
Before he became a full-time streamer, Disguised Toast worked as an app developer for famous names and trademarks like Mercedes-Benz, NFL, and Royal Bank of Canada.
Streaming Career
Disguised Toast started his YouTube channel in 2015 where he uploads contents mainly as information videos for Hearthstone, a digital card game. He also creates content for tactical playing methods like TeamFight Tactics, and other online games.
He started streaming on Twitch in 2017 and became the most watched Twitch streamer in 2018. Becoming a notable streamer, Disguised Toast attracted offers from major companies for exclusive contracts. And in 2019, he finally signed an exclusive streaming deal with Facebook Gaming after having an issue with Twitch banning him for certain days due to unclear reasons.
Offline TV Collective
Somewhere in October 2017, Jeremy Wang joined Offline TV with online gaming content creators and famous Twitch streamers like Pokimane, Michael Reeves, William 'Scarra' Li, Yvonne Ng, and LilyPichu.
Games that DisguisedToast Plays
Disguised Toast started his streaming career with Hearthstone but eventually became known also for playing other battle royale games. Here are some of them:
Hearthstone
TeamFight Tactics
PUBG
League of Legends
Fortnite Battle Royale
Among Us
Apex Legends
Elden Ring
Disguised Toast also collaborates with other famous streamers from time to time.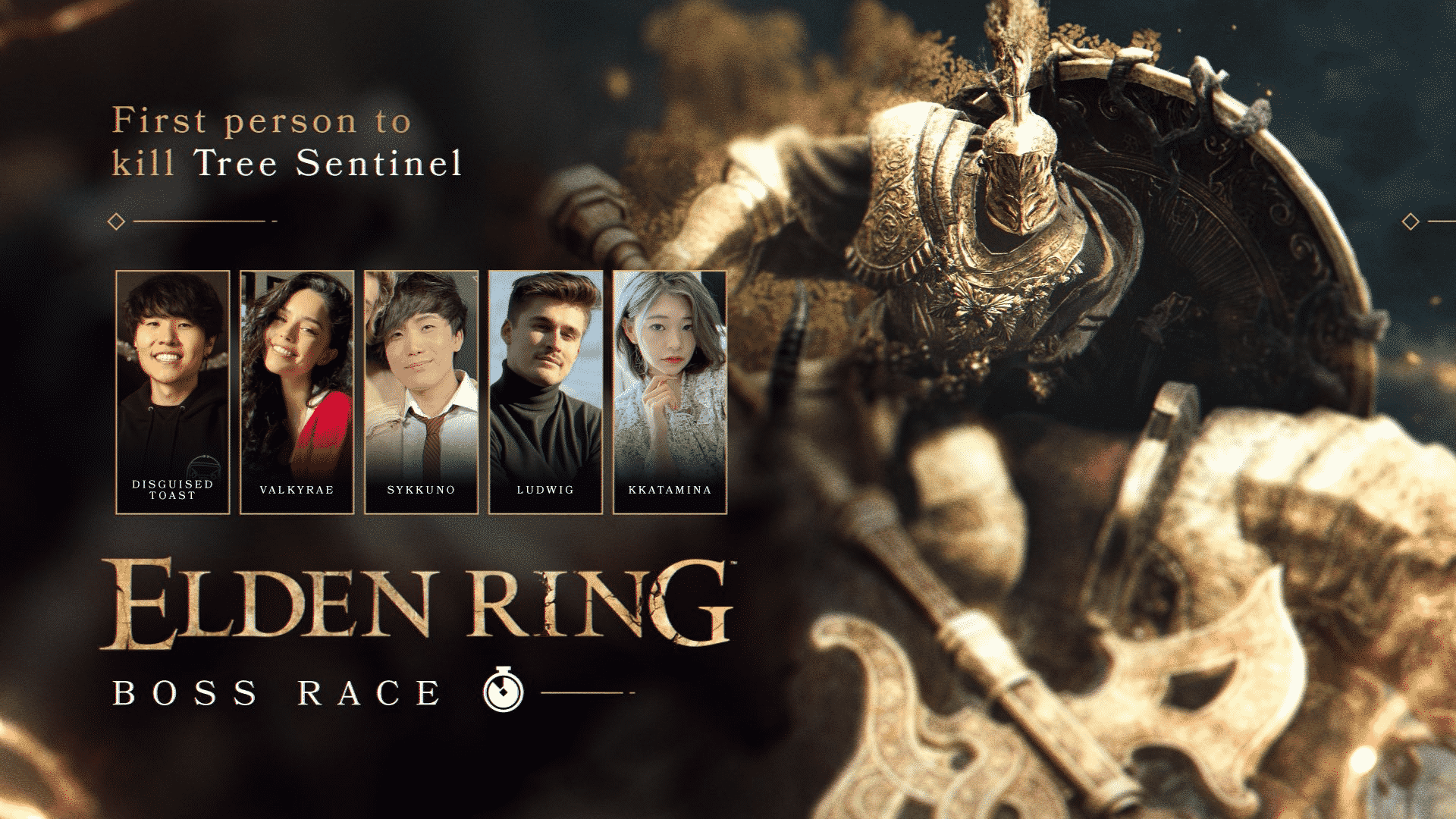 Gaming Career
Disguised Toast also has his share of notable tournament rankings. He won multiple Hearthstone Tournaments and also ranked in other tournaments for battle royale games such as Fortnite and League of Legends.
He also joined the ONOG Major Circuit but got disqualified for oversleeping and failed to participate. Although he didn't win it, he was still among the top thirty two participants who placed and received the prize money allotted.
DisguisedToast Net Worth – How They Made Money
Jeremy Wang earns through gaming, streaming, ads views, sponsorship deals, and merch.
How Much Does Disguised Toast Earn From Twitch?
Just like any other streamer, Disguised Toast earns through live streaming, gaming, ads, donations, and subscriptions on Twitch. Toast's Twitch account grew popular and he became a notable streamer in 2018. After switching to Facebook Gaming in 2019, Toast sometimes streamed on Twitch where he created a blind eDating content for his 2.4 million followers. During such time also, he switched his donations and ad button off telling his followers to give them to 'smaller streamers' instead.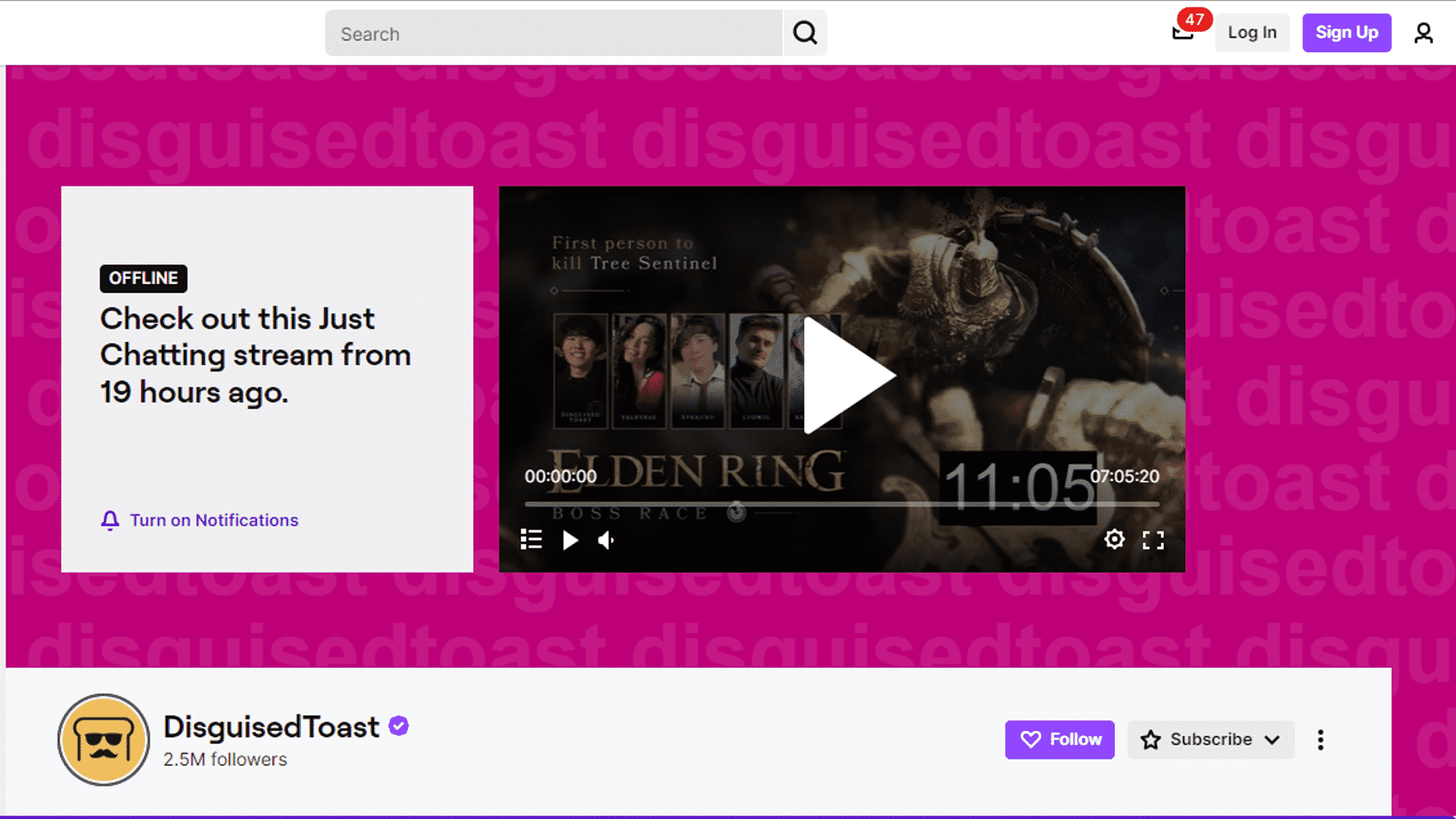 Disguised Toast TwitchTracker Stats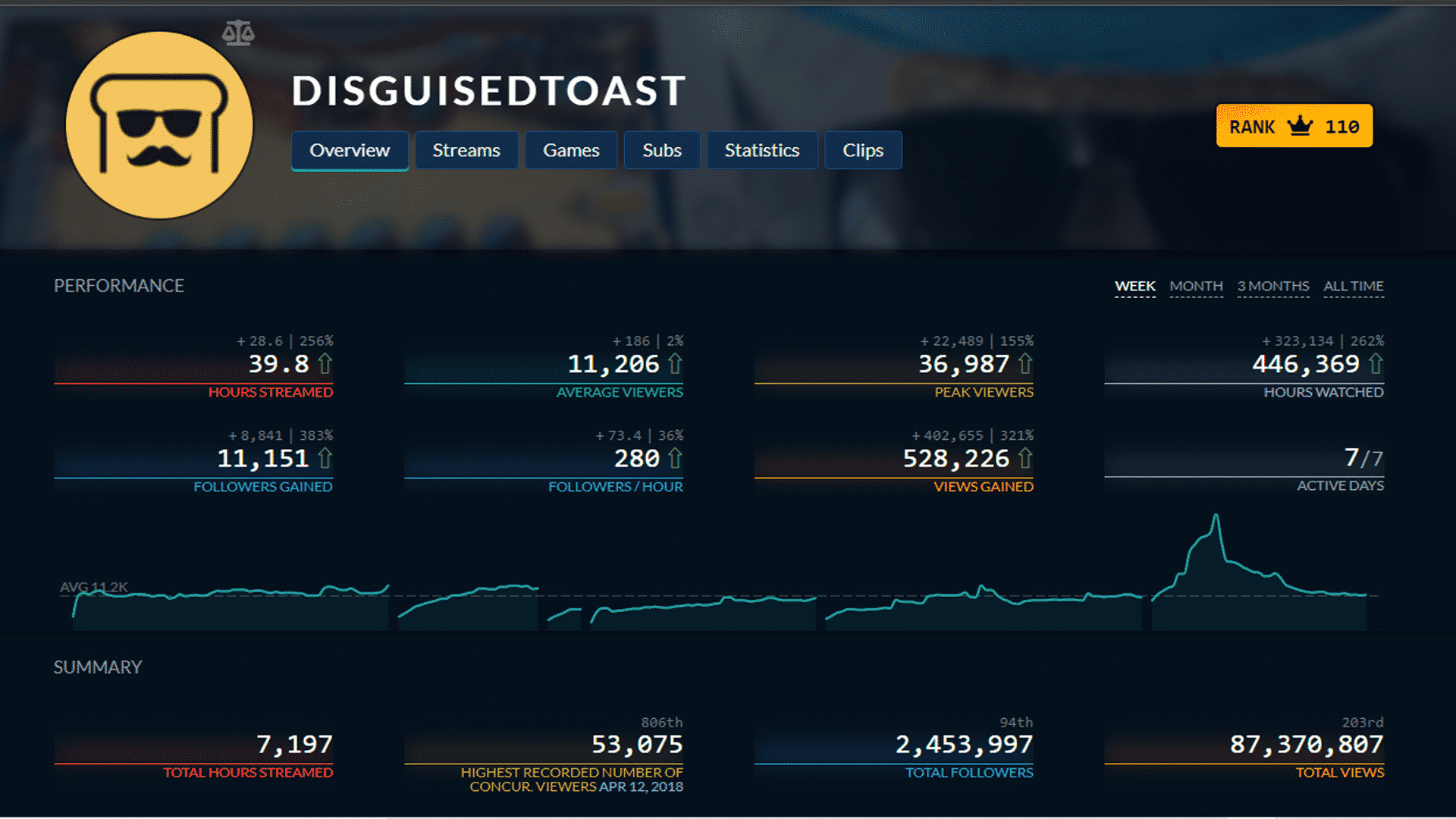 Disguised Toast also disclosed in one of his videos that he was making more than $14,000 a month on Twitch ads and subscriptions (with approx. 4,000 subscribers).
How Much Does Disguised Toast Earn From YouTube?
Disguised Toast's YouTube channel started in 2015 where he uploads mainly Hearthstone content while wearing a toast-looking mask in his videos to hide his real face. Later, he also did Teamfight Tactics until he began uploading videos with other content like stream highlights on his games. In 2016, while doing a live session, Disguised Toast's mask accidentally fell off and his real face was shown on camera.
As of 2022, he has around 3.6 million subscribers and has 1,039,944,746 views. With this trend, he would be earning more than $150,000 annual YouTube revenue on ads alone.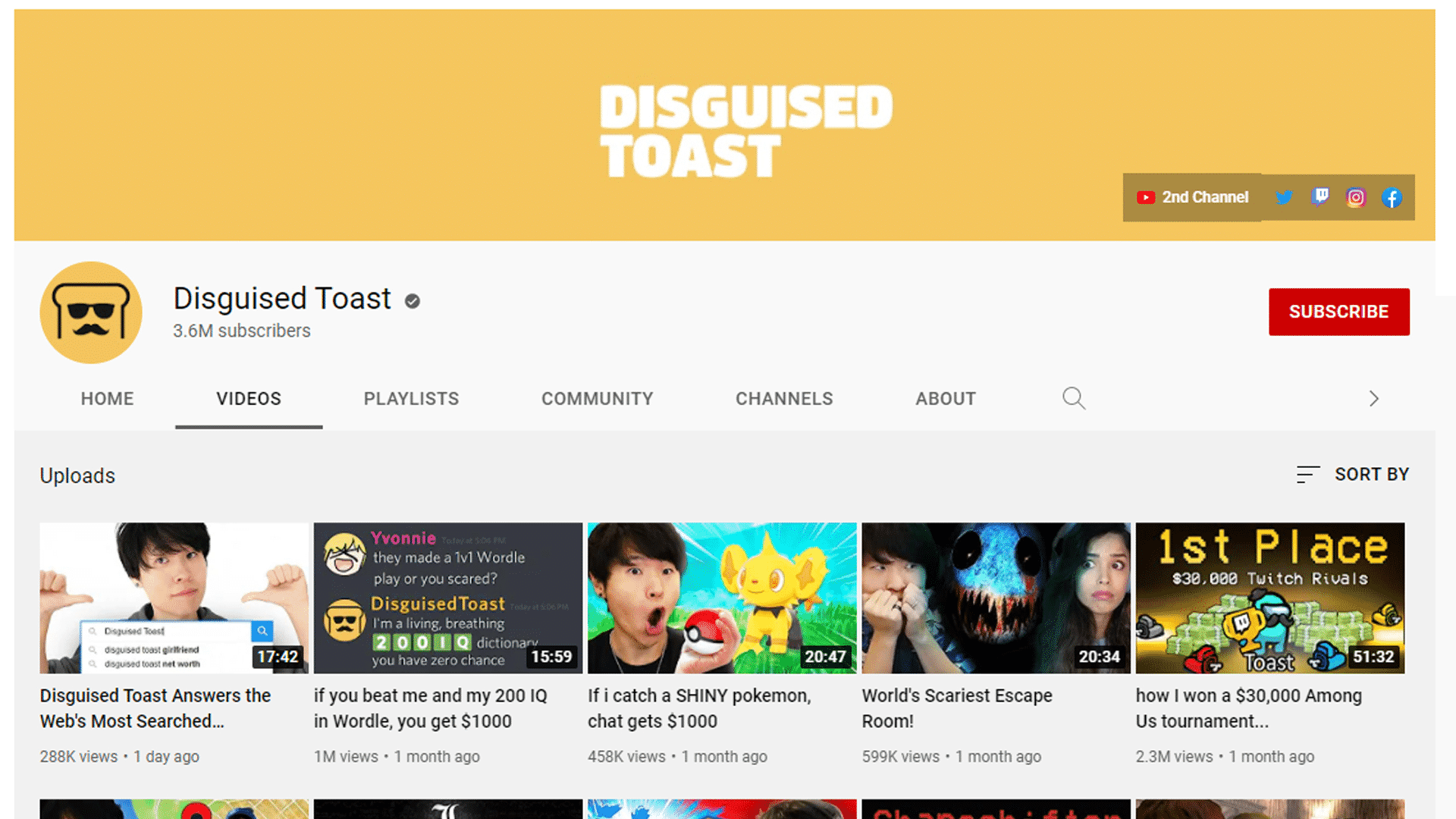 With his Twitch channel and YouTube combined, Disguised Toast could be earning more than $200K annually in ads revenue. Donations, sponsorship, and exclusive undisclosed contract deals are not included in that estimate.
Own Merch
Disguised Toast has his own merch available online. He sells limited edition 'Disguised Toast' plushie pillows at $24.99 each. You can check out his merch at www.disguisedtoast.com for more information and shipping charges.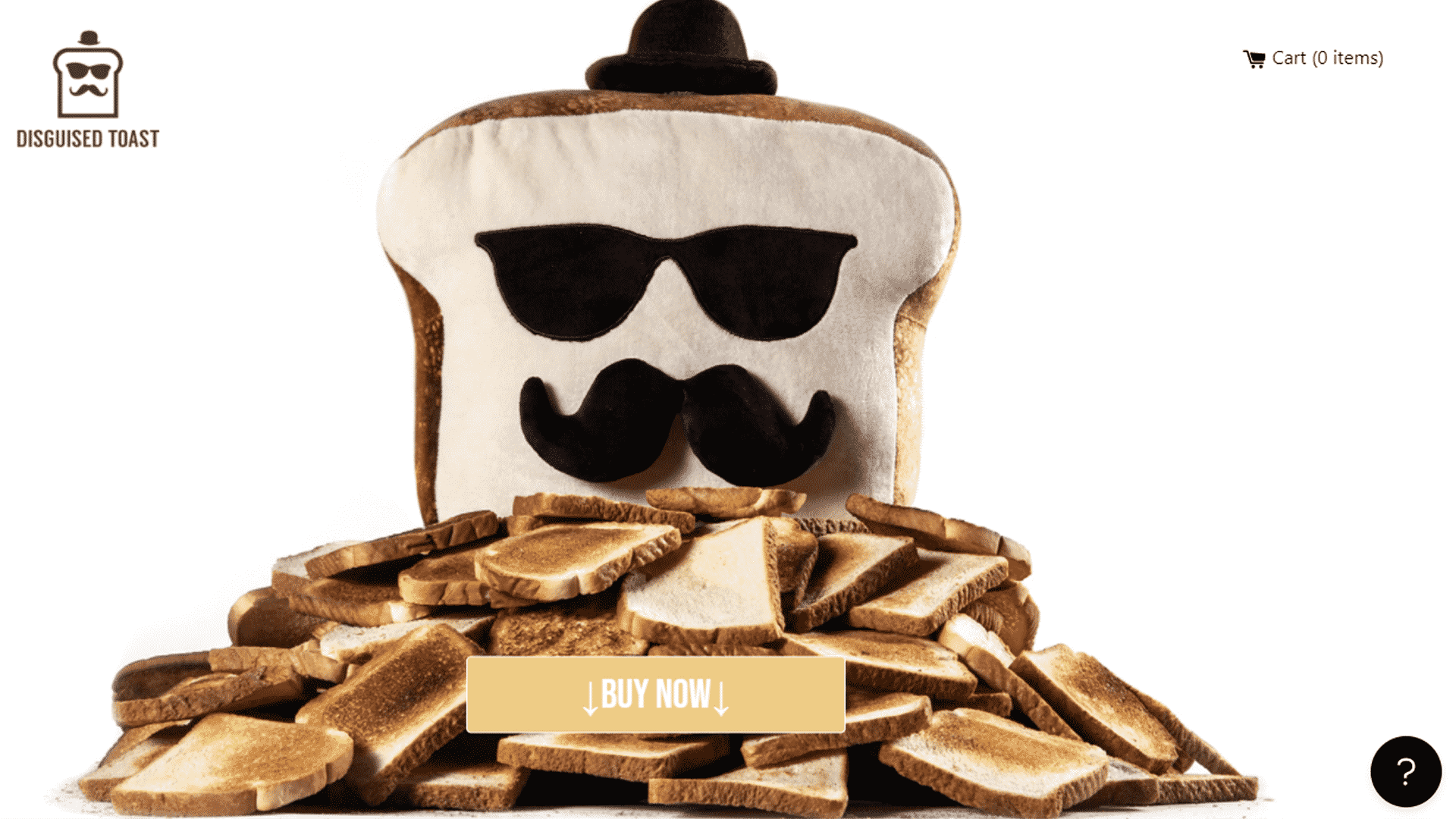 Disguised Toast net worth in Five Years
Toast started from less than a million dollar net worth in 2017. Winning tournaments and doing collaborations with other Twitch streamers helped him get noticed in the Purple Platform. He also earned through tournament winnings. His YouTube videos also earned a lot of views and continued to rise in subscriptions. He also landed on major sponsorhips and exclusive deals from different platforms that contributed to his growing net worth. In 2021, Disguised Toast managed to accumulate around $2 million net worth.
Who Sponsors DisguisedToast?
Becoming a popular streamer, Disguised Toast landed on multiple sponsorship deals and business opportunities. Some of his well-known sponsors are:
NCSoft
Stunlock Studios
Respawn Entertainment
HTC Gaming
Amazon
HyperX Gaming peripherals
NeXon
Facebook Gaming Pact
In 2019, Disguised Toast signed an exclusive deal with Facebook Gaming and stopped streaming gameplays on Twitch. His deal with Facebook Gaming was contemporary to Ninja and Shroud's contract with Microsoft Mixer where both streamers also left Twitch.
Toast's switch to Facebook Gaming was really successful that it became one of the fastest growing channels reaching more than 1 million subscribers in less than a year.
FAQs About Jeremy Wang "Disguised Toast"
What is Disguised Toast's net worth in 2022?
With his growing exposures and rising revenue, Disguised Toast's estimated net worth should be approximately hitting the $4 million mark.
Who is Disguised Toast girlfriend?
Disguised Toast is currently single. He dated Janet Rose, aka "xChocoBars" in 2018 but their relationship lasted only for 3 years and ended in 2021. Apparently, it was a mutual decision.
Does Disguised Toast have a tattoo?
No. According to him, he doesn't have a real one. He only uses fake tattoos on occasions.
Conclusion
Disguised Toast started his streaming career basically because he loves playing online games. Even after working as an app developer for big names like Mercedes-Benz and NFL, he still went and became a full-time gamer/streamer. It only proves that you can also make a career out of something you love doing, and nothing beats the fulfillment of it.