Amouranth is, without a doubt, one of the most recognized names on Twitch today. With over 5 million followers on her Twitch channel alone, she's considered to be the most popular female streamer in the English language. Besides his massive audience on Twitch, she has a solid following on other major platforms, including YouTube, Twitter, and OnlyFans.
With her insane popularity, however, she was constantly under scrutiny from the public for various controversies and bans. She has been making news almost every other day, whether it's about her latest feats, newest investments, or any other thing she does on her channels. Thus, it makes anyone wonder how much money does Amouranth make? Where does she get revenue? We'll answer all that and more in this article about Amouranth's net worth.
Who is Amouranth?
Amouranth is a popular Twitch streamer who came to fame by producing ASMR content and hot tub streams. For years, she has become quite a controversial figure because of her sexually suggestive streams. During the "hot tub meta" of 2021s, she was one of the top content producers on the platform, in which she streams videos of herself on a tub or an inflatable pool, wearing sexy clothes ranging from character costumes to bikinis. In late 2022, however, it was revealed that her husband forced her to create that content and she is currently re-defining her content.
Amouranth also has a total of four YouTube channels, where she posts similar types of content she uploads on Twitch. Originally starting out as a gamer, costume designer, and cosplayer from Houston, Texas, Amouranth is now one of the most talked-about streamers on Twitch.
Amouranth: Beginnings
Amouranth, or Kaitlyn Michelle Siragusa, was born in Houston, Texas on December 2, 1993. She was raised in a conservative family, with a brother who's five years older than she is.
Kaitlyn recounts in her January 2022 interview with Anthony Padilla that she doesn't have many friends growing up, owing to the fact that there aren't many children around her age who live in their neighborhood.
Because of this, she usually spends her time playing alone or sometimes enjoying video games with her brother. She says that this has caused her to become closer to animals since there are a lot of dogs in the area, and she usually plays with them.
Since she was younger, Kaitlyn loved to sew clothes and was deeply interested in creating costumes from fictional characters, such as Disney princesses and comic figures. In college, Kaitlyn took Fashion Design and Theatrical Costume Design and got recommended to Houston Grand Opera and Houston Ballet. She worked there as a Costume Designer.
It was Kaitlyn's love for design and her natural business streak that paved the way for her own company, A Charmed Affair. It's a children's party company featuring fairy tale princesses, based in Houston, Texas. Her business has been featured on television, such as in TLC's The Littlest Couple.
Content Creation Career
Sometime in 2016, Twitch decided to contact Kaitlyn to become a streamer on their platform where she creates costumes live. However, she soon eventually turned to other categories, such as ASMR, dancing, and Just Chatting streams. Her content tends to blur the lines between safe-for-work and NSFW, which has caused her to get banned on Twitch five times. When the "hot tub meta" occurred in 2021, she became one of the most recognized streamers to take off in this particular category.
Noticing how quickly she became popular in this category, Kaitlyn soon launched her accounts on adult platforms such as OnlyFans and Fansly. She became a top creator on these platforms, equating to a huge income boost. Aside from those, she has accounts on other streaming platforms and social media, such as TikTok, Instagram, Twitter, and Snapchat.
Amouranth's channel on YouTube has a wider scope, including video game streams (which she uploaded when she first started on her main YouTube channel), cosplays, ASMR content, podcasts, and try-on videos.
In October 2022, Amouranth explained that she was married but that he husband had forced her to stream while pretending to be single. He coerced her to create her NSFW content and was abusive toward her. After that, she took a short break from Twitch, then returned to start a new beginning.
Controversies
Kaitlyn's career wasn't as smooth sailing as others perceive it to be. Other than the several times she got banned from the Twitch platform, as well as on Instagram, and TikTok, she also faced setbacks and controversies. She was harassed online and in real life by obsessed stalkers and haters.
Authorities would also sometimes come to her house due to allegations of her being in danger. From time to time, Twitch streamers or just general users of the said platform want to kick her out because of the type of content she streams.
Is Amouranth married? Is Amouranth single?
In 2020, there were allegations that Amouranth was married to a man named Nick Lee. The rumors have said she lied about her marital status to prevent the loss of her fanbase. In 2022, those rumors were confirmed and the couple is currently separated and seeking a divorce.
Amouranth Now
Amouranth enjoys great fame (as well as a fair share of infamy) on all of the platforms she's currently in. She keeps her head up high despite the incessant criticism, threats, and harassment she receives. What's even more amazing is how she distances her personal life as Kaitlyn, versus her online persona Amouranth.
She's also been making the news lately with her crazy yet incredible investments, such as her purchase of a 7/11 store, a gasoline station, and the controversial Activision Blizzard stock.
Kaitlyn states that her ultimate goal is to build a sanctuary for abandoned and mistreated animals, which is a passion that she had for so many years. To achieve this goal, she has been working hard to earn the money she needs to fund the sanctuary.
For Kaitlyn, bad press is still press. She fully knows her actions might spur hate comments and criticisms, but the point is she's still talked about. And the more people talk about her, the more her net worth and income add up.
Kaitlyn said so herself: "Haters are my biggest advertisers."
Games that Amouranth Plays
Amouranth is mostly known for streaming in the following categories:
ASMR
Just Chatting
Pool, Hot Tubs, and Beaches
According to Twitchtracker, she has also played several games, such as:
Fortnite
MarioKart
Overwatch
World of Warcraft
Apex Legends
Amouranth Net Worth – How They Made Money
Considering her Twitch and YouTube subscriptions, Amouranth surely makes a lot of money from these platforms. However, as it turns out, she generated more revenue from her OnlyFans, which was followed by her Patreon account and Twitch channel. (We will update this in the future when we know more about where Amouranth plans to head). Not to mention that she has other ventures, including her numerous businesses, investments, and merch. In this regard, our estimated net worth of Amouranth is around $30 million.
How Much Does Amouranth Earn From Twitch?
Exactly how much money does Amouranth make on Twitch? Recently, she disclosed that she makes about $100,000 just from the platform alone.
How Much Does Amouranth Earn From YouTube?
According to Social Blade's statistics, Amouranth makes around $549 to $8.8K per month, or $6.6K to $105.4k per year. This is just the data from her main YouTube channel; of course, she may earn more from her three other channels.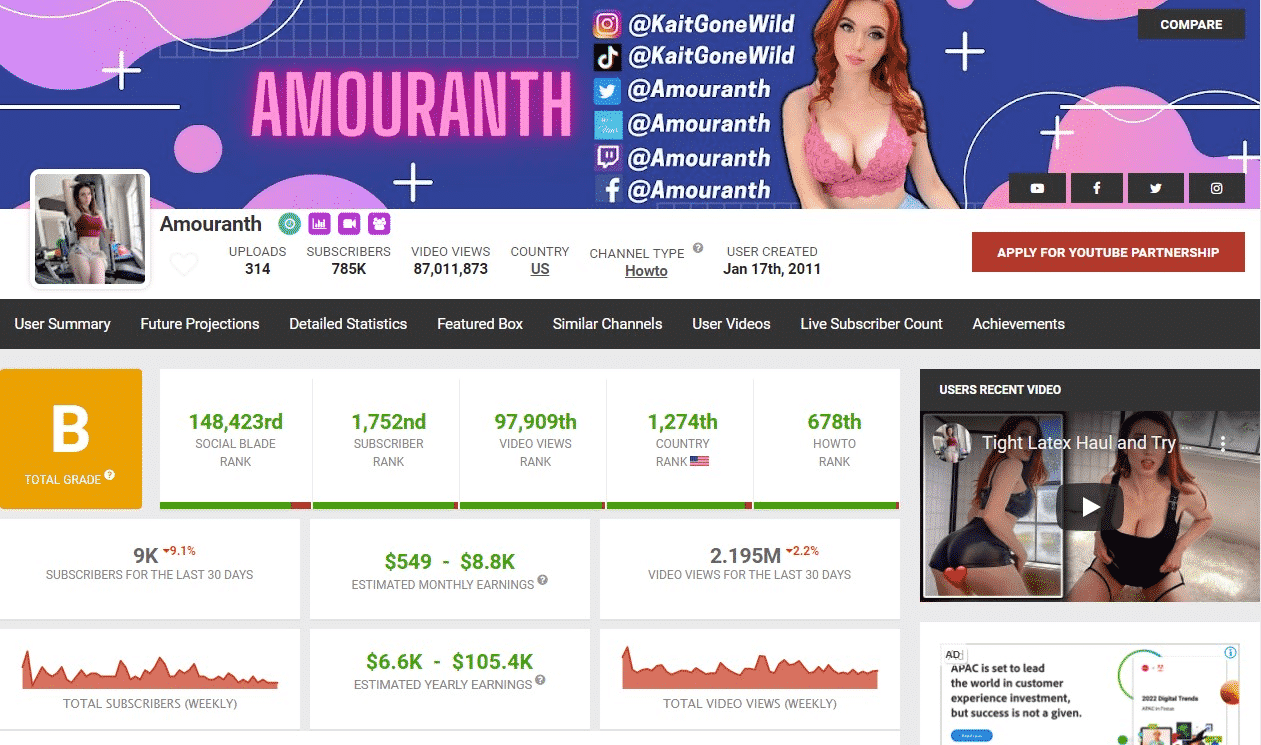 How Much Money Does Amouranth Earn From OnlyFans?
OnlyFans seems to be the platform where Amouranth gets her biggest revenue. According to Amouranth herself, she earns over one million dollars from her OnlyFans account alone, and that's per month.
How Much Money Does Amouranth Earn From Patreon?
Patreon is Kaitlyn's second-biggest income-generating platform. She earns more than $100,000 per month from her patrons.
Amouranth's Business, Investments, and Online Stores
Amouranth openly discloses her businesses and investments to the public. Some of them are the following:
Stocks
Business Investments
Gasoline station (leased to Circle K)
7/11 store
Inflatable pool toy company
Products
Amouranth sells scent jars and hot tub water, which costs $99.99 and $999.99, respectively. Imagine the amount of money Amouranth makes from that, whether the buyer is an avid fan or just brought it out of mockery or curiosity.
Who Sponsors Amouranth?
Amouranth has sponsorship deals with some well-known brands and companies, including:
Apart from those, she's also now an official Playboy model.
Conclusion
Love her or hate her, Amouranth has certainly succeeded in making a name for herself, and the income she generates from all the platforms she's on skyrocketed her net worth. Besides being a streamer, she's a smart entrepreneur who knows exactly what she's doing and focuses on the bigger picture. She also works hard to keep her fans pleased, regularly streaming and producing content every day.
But more than being Amouranth, she's Kaitlyn Michelle Siragusa: a person laser-focused on achieving her goal to build a ranch sanctuary for the animals she loves the most.