Viewer Geolocation Overview

Twitch Extension Category: Loyalty and Recognition
Types: Panel
Extension Link: Viewer Geolocation
Extension Details
Ever wonder where your viewers are watching from? Viewer Geolocation will show you the countries of all of your viewers and even number them for you so that you have a good idea of your target audience's location.
You can show them either ranked or a live feed of viewers.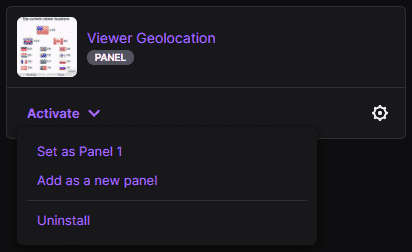 The Viewer Geolocation extension is easy to install and activate on your channel. You will need to set it as a panel extension.
Eligibility to Use the Extension
In order to use the Viewer Geolocation extension, you must have the following:
An active Twitch account
An available panel extension slot