Crowd Control Overview

Twitch Extension Category: Extensions for Gamers
Types: Overlay
Monetization: This extension has the option of requiring your viewers to pay bits to use specific features. All bits paid through the extension will be split between you and Crowd Control. You will receive 80%, Crowd Control will receive 20%.
Extension Link: Crowd Control
Extension Details
Crowd Control supports 40 different popular games where your audience can directly influence elements inside the game. While you play the game, your viewers will have the option of spending bits to give you benefits within a game or make things more challenging.
This engagement can create memorable moments that keep your audience entertained while helping you earn a little extra income. You will be able to keep 80% of all bits paid to your channel through the extension, while the other 20% will go to the developers.
Here are ten of the 40 games that are supported by the extension:
Minecraft
Sim City
The Elder Scrolls V: Skyrim Special Edition
The Legend of Zelda: Breath of the Wild
Terraria
Tony Hawk's Pro Skater 2
Fall Guys
Super Mario World
Pokémon Red/Blue
Mega Man 8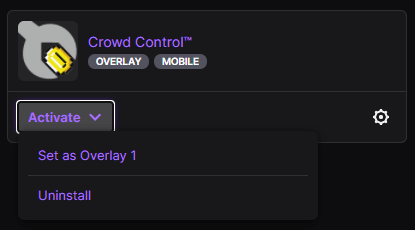 The Crowd Control extension is easy to install and activate on your channel. You will need to set it as your overlay extension.
Eligibility to Use the Extension
In order to use the Crowd Control extension, you must have the following:
An active Twitch account
An available overlay extension slot