The market for quality headphones is competitive, but worry not! I've got you covered. Considering comfortability, durability, audio & mic quality, and so on.
This article will cover some of the best headsets for streaming that you might want to check out later.
Top Streamer Headphones for Gaming
Many gaming headsets are suitable for streaming. Manufacturers of gaming headphones make it a point to provide exceptional sound quality.
They also want to give their consumers the best microphone for in-game communication.
Here are the best gaming headsets for streaming: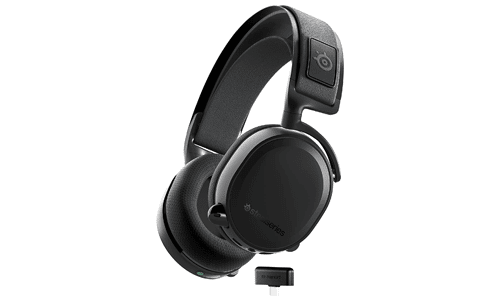 SteelSeries Arctis 7
ChatMix dial

Surround sound

Retractable microphone

Up to 24 hours of battery life

Lossless and ultra-low latency wireless audio
Charges via Micro-USB

Shallow ear cups (may cause discomfort)
The SteelSeries Arctis 7 has won several awards for its features that are perfect for gaming. The audio quality is superb, and so is the microphone quality, thanks to its noise-canceling properties.
This device can deliver high-quality audio, but that's not all. Arctis 7 has an on-headset control for adjusting gaming and chat audio volumes.
SteelSeries calls this feature the "ChatMix dial." You have a volume control of the chat and game audio without leaving your game.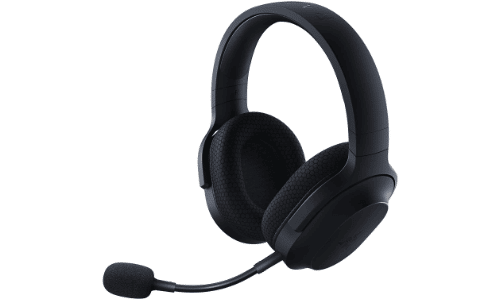 Razer Barracuda X
Lightweight

Removable microphone

Up to 50 hours of battery life

Dual wireless connectivity (2.4GHz and Bluetooth)
No included pouch or case
The Barracuda X is a versatile gaming headset that offers amazing audio quality while keeping the design sleek and modern. You also win in terms of comfort with its memory foam ear cushions.
You have the option to use it wired or wirelessly. A wireless Type-C dongle is provided for better connectivity.
This Razer headset has both 2.4GHz and Bluetooth connectivity options. Furthermore, the battery life of the Barracuda X is exceptional.
Plus, you get access to Razer's audio app as well. Lastly, a 3.5mm audio cable is included too.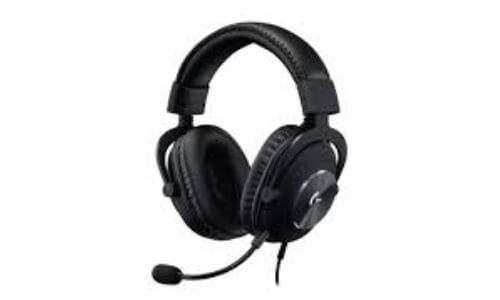 Logitech G Pro X
DTS surround sound

Memory foam ear pads

Detachable microphone

Durable design materials

Comes with a carrying pouch

Great software for audio and microphone
Logitech's G Pro X is specially designed for gaming professionals. It utilizes Pro-G 50mm drivers that deliver impressive overall audio quality.
In addition, the headset mic works with Blue Voice technology for background noise reduction and better voice audio. It makes gaming and streaming a joy.
The G Pro X enables you to use different audio EQ profiles of different esports athletes. And you can also customize the EQ and save it as your own. It's all possible on the G HUB gaming software.
Furthermore, this device is also offered in a wireless version: the Logitech G Pro X Wireless LIGHTSPEED gaming headset.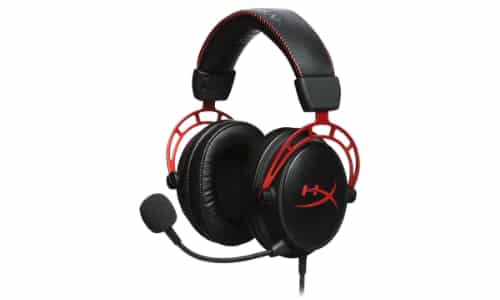 HyperX Cloud Alpha S
Dual chamber drivers

On-headset bass adjustment sliders

Detachable microphone

Game and chat audio balance
Lows are sometimes muddled

No wireless connectivity

Not the best surround sound experience
You can expect a clean and sturdy design with the HyperX Cloud Alpha S. It's built with an aluminum frame and memory foam ear cushions for comfort. Moreover, bass adjustment sliders are present on each side of the device.
Alpha S offers chat and game audio balance with its advanced audio control mixer. Furthermore, its dual chamber drivers provide decent audio quality. It comes with a removable and noise-canceling microphone too.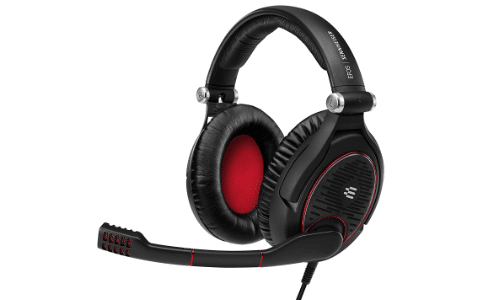 Sennheiser Game Zero
Comfortable ear cups

Good microphone quality

On-headset volume control

Foldable, compact, and comes with a carrying case
Pricey

No wireless option

The microphone is not removable
Sennheiser has created one of the most comfortable gaming headsets on the market. Game Zero's ear cups are made of triple-layer memory foam that increases the quality of your listening experience and keeps your ears comfy at the same time.
You get clear and rich audio quality with this headset. The volume control is also on the device as well. What's more, you can instantly put yourself on mute by lifting the microphone's boom arm.
The star feature of this device is the closed-back headphones. It does a great job with noise isolation to provide uninterrupted game time.
And as a bonus, the Game Zero folds into itself, making it compact and travel-friendly.
Best Wireless Headsets
A clutter-free desktop is pleasing to the eyes. These days, people try their best to hide and manage the wires of their devices.
Most people choose to go wireless. So, it's completely understandable why you're not a fan of wires.
Here's a list of the best wireless headsets for streaming.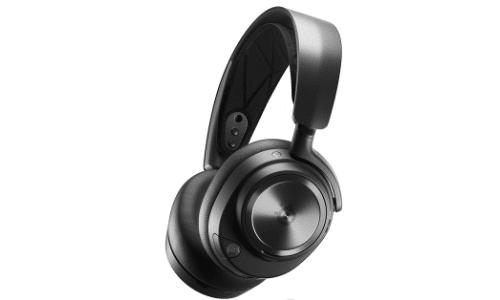 SteelSeries Arctis Nova Pro Wireless
Swappable batteries

Active noise cancellation

AI-powered noise-canceling microphone

Dual wireless connectivity (2.4GHz and Bluetooth)
Pricey

It comes in 2 variants – one that's only compatible with the PlayStation and another only for Xbox
These wireless headphones are called Pro for a reason. The Arctis Nova Pro packs high-fidelity drivers that deliver superior sound quality and great spatial audio. The AI-powered microphones do a great noise-canceling job for enhanced clarity.
However, there are two variants of this device. One is the Actis Nova Pro which is compatible with PlayStation. And the other is Arctis Nova Pro for Xbox, which is (you guessed it) only compatible with Xbox.
There wouldn't be any problem if you played only one or the other. But if you play both gaming consoles, you'll have to get both variants (or none at all).
If you're looking for a cheaper alternative, you can check out the SteelSeries Arctis Nova 7.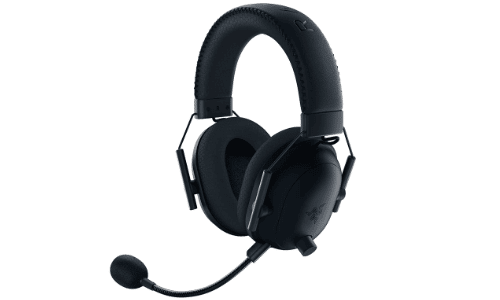 Razer BlackShark V2 Pro
Lightweight

THX spatial audio

On-headsets controls

Detachable microphone

Up to 24 hours of battery life

HyperSpeed wireless technology

50mm drivers for improved sound quality
Can't adjust headband

Doesn't feel durable

On the pricier side
Razer's Blackshark V2 Pro efficiently utilizes HyperSpeed wireless technology to deliver crisp and clear sound quality and great mic clarity. Its competitive features make it an awesome headset for streaming.
Moreover, you get a removable microphone with noise rejection and improved ear cups for better sound isolation. Moreover, the THX spatial audio feature gives its users an immersive gaming experience.
With all that, you also get a comfortable gaming headset with Razer's FlowKnit Memory Foam Ear Cushions. Plus, the Blackshark V2 Pro is offered in 3 different designs.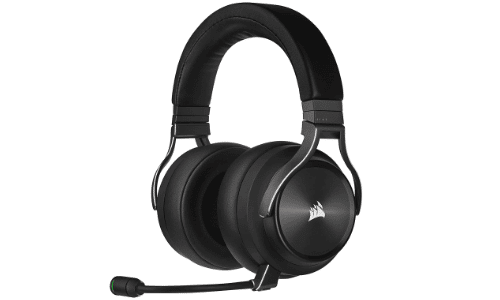 Corsair VIRTUOUS RGB Wireless XT
CORSAIR iCue software

Great microphone quality

4 types of connection (2.4GHz wireless, Bluetooth, USB wire, 3.5mm wire)
Pricey

Can't go wireless on Xbox and Nintendo Switch

Battery life does not do well when connected to two devices
You get high-density drivers and broadcast-grade microphone quality with VIRTUOUS RGB Wireless XT. Both of which are perfect for streaming headphones.
This device is similar to Corsair's VIRTUOUS RGB Wireless but without Bluetooth connectivity.
You also have the option to use it with the included 3.5mm jack and USB wire. The XT is well-built and lightweight for comfort, plus it has Immersive Dolby Atmos that further adds to the gaming and streaming experience.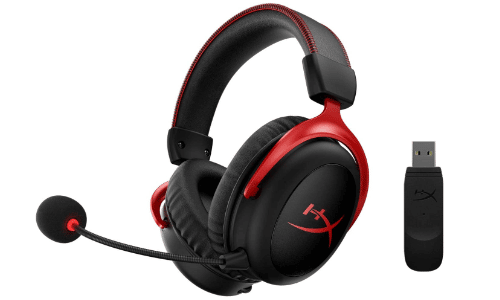 HyperX Cloud II Wireless
Detachable microphone

Lightweight and durable

Up to 30 hours of battery life
No Bluetooth connectivity
Get up to 30 hours of battery life with HyperX's Cloud II Wireless. On the other hand, its 2.4GHz wireless connectivity ranges up to 20 meters. Moreover, Cloud II's aluminum frame keeps it lightweight yet durable.
That's not all. The device carries 53mm drivers great for gaming and streaming. It has 7.1 surround sound and DTS spatial audio features that elevate your listening experience.
Furthermore, the microphone is not only removable but also noise-canceling. This is perfect for streamers looking to enhance their mic's audio quality.
And with its LED indicator, you'll easily see if you're on mute. The mic also features a built-in monitoring device that lets you hear yourself on chat and in-game.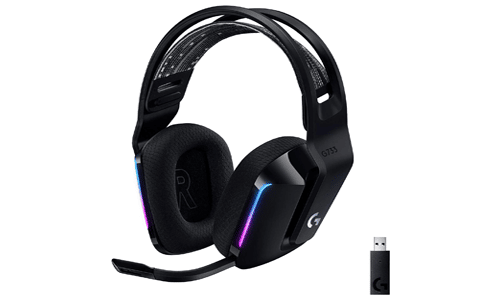 Logitech G733
DTS surround sound

Detachable microphone

Customizable accessories

Lightweight and comfortable
Some colors may not be available depending on your location
The Logitech G733 headset is a wireless device offered in vibrant colors. The premium drivers make for good sound quality and directional surround sound.
Plus, G733's LIGHTSPEED wireless technology delivers seamless and accurate sound to its users.
Moreover, the suspension straps and dual-layer memory foam lets the device sit comfortably on your head. You're also free to mix and match different colors of its accessories, such as the reversible suspension straps and mic covers.
What You Should Look For in a Streaming Headset
Knowing what you want when shopping for streaming headsets is important because you'll use them for hours straight. Do you have any specific features in mind? Try to focus on quality, comfort, and value.
Here are some key aspects when looking for streaming and gaming headsets:
Comfortable Fit

You're already expected to wear your headphones for extended periods. You never know how long gaming sessions may take. With this in mind, you should look for the most comfortable gaming headset.

When it comes to comfort, consider the following:

Headsets for streaming should be properly padded and lightweight. Double-check the type of material the headphones are made of. Although Aluminum and plastic materials help keep the product lightweight, plastic might not be that durable.

Additionally, inspect the pads used for the ear cups. Leather or cotton material might cause an allergic reaction or might not be to your liking. Ask for hypoallergenic ones if you have been diagnosed with allergies. Faux leather ear cushions and foam ear pads are commonly used for headphones. You might want to try them instead.

Durable Build Quality

Investing in high-quality headphones that will last for years is always a good idea. To achieve this, a well-built frame is a must.

Currently, streaming headsets are made of aluminum, metal, or plastic. Take note that not all plastic headphones are flimsy. There are also several sturdy ones in the market.

Check the quality of the accessories as well. Despite having a strong frame for your headphones, it's still wise to check what the wires are made of and their insulation. Other accessories, such as dongles and removable microphones, should also be examined.

Great Sound Quality

Audio quality is a must, of course! The main purpose of headphones is to listen to audio. So, you should look for a device that provides amazing sound quality. When talking about sound quality, consider the following:

Excellent audio quality
Good surround sound headphones
Sound volume
Sound vibrations
Sound pressure

You can get features like surround sound and spatial audio. Having those will surely give you an immersive gaming experience when streaming. And if you're also an audiophile, a headset with a 7.1 surround sound and customizable equalizer is a big plus.

Good Sound Isolation and Noise Cancellation

Great streaming headphones have good sound isolation or noise cancellation (or both). These are ideal for streaming and gaming, so the headphones should perform well.

If you didn't know, noise isolation is different from cancellation. While noise isolation is more common with gaming headphones, noise cancellation is still good.

To better understand the difference, noise isolation is when the headset's physical body blocks external noise. Meanwhile, noise cancellation blocks surrounding sounds with the help of a chipset in the device. To put it simply, noise isolation uses the headset's material and design to block the noise. In contrast, noise-canceling headphones use technology to do so.

Getting headphones with these features will provide crisp sound while lessening background noise.

Type of Connectivity

Do you prefer to keep your space wire-free? Or are you completely okay managing wires and cables? Depending on what you like, you will have to choose between a wired and wireless headset.

Wired headsets can be connected via a headset jack or Type-C cables. Since they are plugged into your device, you don't have to worry about charging them.

On the other hand, a wireless headset connects to your device via 2.4GHz or Bluetooth wireless connectivity. Although the wireless connection is convenient, you must remember to charge your device now and then.

Battery Life

While we are on the topic of charging, you will also have to consider the headset's estimated battery life. Your headphones' battery dying in the middle of a stream is not ideal.

Compatibility

Note that some headphones aren't compatible with one or more gaming platforms. The greatest compatibility issue concerns PlayStation and Xbox users. Most gaming headphones are only compatible with either one or the other.

Microphone Quality

Since you'll be streaming, your audience should hear you clearly, too. If you're not planning to get a separate microphone, you should look for headphones with great mic quality.

Microphones today can minimize background noise. This way, your audience will hear your voice.

Aesthetics

Technical aspects aside, the overall look of the headphones should suit your style. You want to look your best while streaming, and your headset can help. You'll want to look for a design you like and see if they have color options.

Frequently Asked Questions

Are Wired or Wireless Headsets Better for Gaming?

Wired headsets are better for gaming. You get better audio latency with wired headsets, which is crucial when gaming. Even a single-second audio delay can cost you the game.

You also don't have to worry about battery life. However, the wire can limit your movement, and you also risk damaging the wire.

Which Gaming Headset Has the Best Sound?

The Logitech G Pro X is arguably the best gaming headset today, with the best sound quality. It has powerful Pro-G 50mm drivers with DTS surround sound.

And with Logitech's G HUB gaming software, you can adjust audio and mic settings according to your personal taste.

How Long Do Bluetooth Headsets Go Without Being Charged?

This usually depends on the brand. Different Bluetooth headsets have different estimated battery lives. However, Bluetooth headphones can average anywhere between 6 to 30 hours, depending on usage and brand.

Are Wireless Headsets Good for Gaming?

Modern wireless headsets are now more reliable for gaming, especially after 2.4 GHz wireless connectivity was introduced. Though the audio latency of a wireless headset is higher than a wired headset, it won't be significantly noticeable.

Conclusion

As a streamer, you have several specs to look for. It's good that most headphones today deliver excellent sound quality with microphones that are perfect for streaming. But also remember the importance of comfort, durability, and, most importantly, compatibility.

Don't settle for a good gaming headset; go for the best one! With all that, have a blast streaming your favorite games regardless of which headset you choose!