Nowadays there is a wide plethora of monitors to choose from, that suit all sorts of different tasks. As a gamer, you'll have to make a choice on which monitor suits your needs, whether it's content creation, casual gaming, esports, or all of the above. Let's take a look at some of the latest offerings, hopefully by the end of this article you'll be well informed to make your decision.
What to Look for in a Gaming Monitor
Screen size
Panel Type
Resolution
Colour Accuracy
Refresh Rate & VRR Support
Response Time
HDR standard
Warranty terms
Best Monitors for Gaming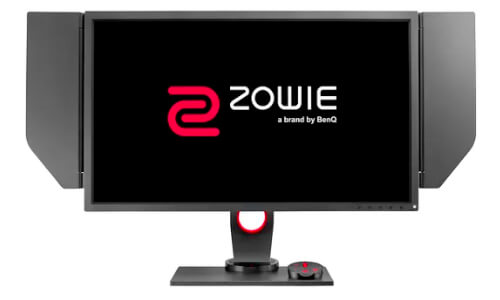 BenQ XL2546K – Best Response Time
When it comes to pure response time, BenQ reigns supreme. Their monitors have been the choice for esports enthusiasts all around the globe, boasting the lowest response times, and the most fleshed out competitive enhancing features. The XL2546K is the ultimate esports monitor. A brief look at the spec sheet gives us a monitor that has a 1920×1080 resolution and can support 240hz. This means the monitor is capable of refreshing 240 times in a second. In the world of esports the faster the monitor, the better.
The monitor has been meticulously designed for ergonomics, allowing users to adjust any part of the monitor to fit their posture and sitting habits. It has the smallest stand, which allows for the most versatile positioning for your peripherals, such as your keyboard and mouse. The real breakthrough in Zowie's monitors comes from their DyAC+ technology.
This technology effectively eliminates motion blur and gives a near-perfect clear image, which for any FPS enthusiast is a dream come true. This monitor comes highly recommended for any esports fanatic, especially for gamers who primarily play games such as CSGO, Valorant, Rainbow Six Siege, Apex Legends & League of Legends.
Although the XL2546K is an incredible gaming monitor, it must be stressed it's very much designed for esports first, this means it has sacrificed in other areas. The color reproduction on the BenQ XL2546K is poor, it has a 72% coverage of the NTSC spectrum as it's using a TN panel. A TN panel type is great for getting fast refresh rate monitors, but their color accuracy is low and it might be visually unappealing for average gamers.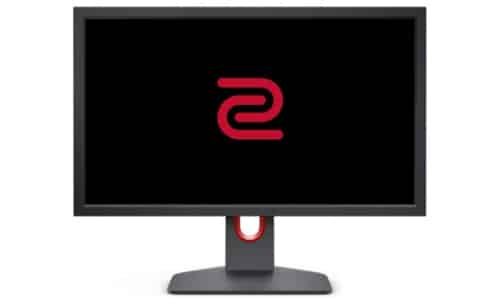 BenQ Zowie XL2411K – Best Budget
The XL2546K is Zowie's most premium offering, however, there are budget solutions. The XL2411K borrows a lot of the great features and technology from the XL256K at a much lower price point of $199. For this price, you're going to have the same famous DyAC+ technology to eliminate motion blur, a 144hz refresh rate panel, and the same great ergonomic design and stand. Like the XL2546K you will also have a TN panel, so don't expect the colors to be anything great, however like its premium counterpart it is designed first and foremost for esports enthusiasts who demand the best performance.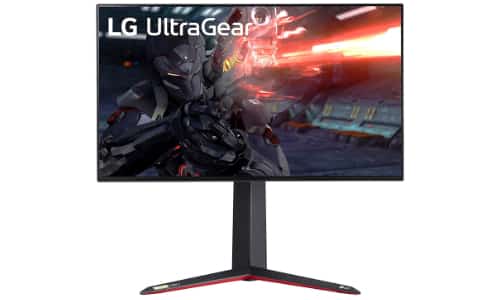 LG 27GN950-B – Best Resolution
If you're a gamer who prefers resolution over refresh rate, then LG will not disappoint. In fact, you won't have to sacrifice either. The LG 27GN950-B is the pinnacle of modern display technology. It boasts a full 4K Resolution at 144hz, with a Nano-IPS Panel type that delivers gorgeous color reproduction, any enthusiast gamer that has the hardware to push this monitor to its limit can expect a wonderful experience.
Included in this package you're also getting Variable Refresh Rate support, this means that if you're not getting over 144FPS to cap that 144Hz refresh, it will dynamically change the monitor's refresh rate to match your framerate. What this all comes down to is a tear-free experience, there will be no image separation due to a mismatch and your gameplay will look extra smooth at all framerates. However, it's best to really consider your current rig, and make sure it's up to spec to get the most out of this monitor.
Since this monitor has so many premium features, as an early adopter of 4K 144hz you'll be paying roughly $750-850.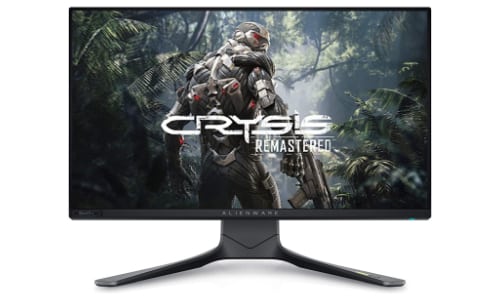 Alienware AW2521H – Best Refresh Rate
As we've talked about before, refresh rate is king for any enthusiast esports gamer. Look no further than the Alienware AW2521H, thanks to advancements in IPS panel technology, you'll be getting 360hz with great colors. 360Hz is a blistering fast panel, and you'll have to have the hardware to boot to push anything close to these framerates, luckily games like Valorant, CSGO, and Rocket League can reach beyond 360FPS. Fluidity is the main game for the Alienware AW2521H, animations will be extremely smooth. Whether it's acquiring targets, tracking a ball, or watching spells animate beautifully, this panel is going to deliver a sublime experience.
As expected, the main cost of this monitor ($530), really comes down to the early adopter tax for such a fast display. There's nothing else quite like it. You will be sacrificing resolution, and Nano-IPS levels of color reproduction, but you'll still get great color and viewing angles from standard IPS tech. Like the LG, it supports variable refresh rate with NVIDIA G-SYNC, so if you're not quite hitting that 360FPS target, the monitor will downclock to meet your current framerate for a buttery-smooth gaming session.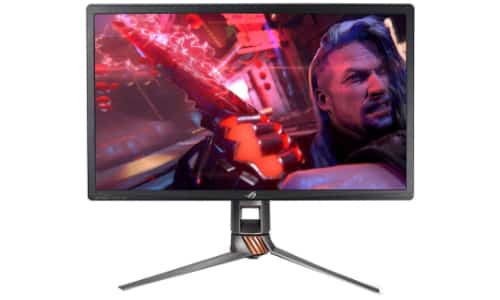 ASUS ROG PG27UQ – Best HDR
HDR or High Dynamic Range, is essentially measuring how much of a contrast there is between your deepest black and brightest white. As a result, when you're watching content with lots of contrasting colors or playing games with beautiful lighting and sightseeing environments, HDR can absolutely enhance the experience ten-fold. There are a million different HDR standards, but the bread and butter you can count on is DisplayHDR certification. There are different levels of HDR certification such as DisplayHDR 400, DisplayHDR 600, and more. The higher the number, the higher the contrast a monitor can display between your black and white colors.
In this case not only is the ASUS ROG PG27UQ a 4K monitor with 144hz like the LG, but it's also DisplayHDR 1000 certified. Using this monitor, with its massive HDR budget is an incredible experience. This monitor was designed for performance, however, it's a massive bonus for any adventure, action, or sightseeing game. If you're going to pick this monitor up, we'd recommend trying the Tomb Raider series, the lighting and god-rays that are reproduced on DisplayHDR 1000 certification are absolutely mesmerizing. Like the other premium monitors, it does also offer NVIDIA G-SYNC for a smooth experience, and it can maintain HDR features while enabled.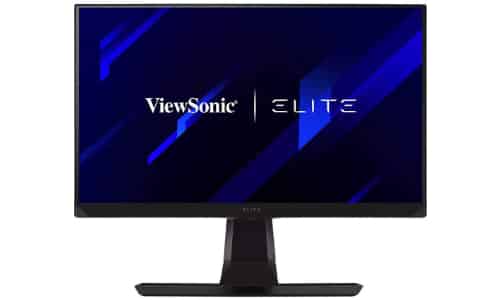 ViewSonic Elite XG270QG – Best Color Accuracy
Color accuracy can be important for gamers who'd like to either produce content or have work that's dependent on color-critical displays. In this case, ViewSonic attempts to saturate that need. The XG270QG has a crisp 2560×1440 resolution at an overclockable 165hz refresh rate. The real kicker comes from its 10-bit panel, our previous monitor listings all use 8-bit panels with the exception of LG.
The difference between an 8-bit and a 10-bit panel is how much color information is stored, on an 8-bit panel you can expect your usual 16.5 million colors, however on a 10-bit panel that becomes 1.07 billion. If you're doing color-critical work, such as Photo Editing, Video Editing, or Color Correction in general, you'll have a great experience using the XG270QG. Of course, once you're finished with work, you'll have a great panel for gaming too, so it's the best of both worlds! The XG270QG can be usually found for around $400.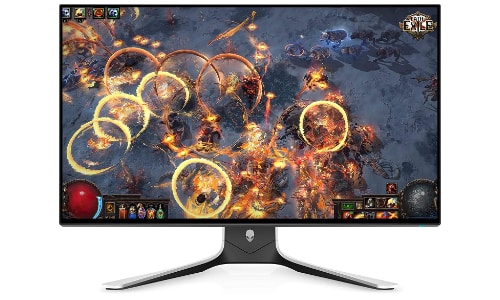 Alienware AW2721D – Best Overall
Our best overall monitor recommendation goes to the Alienware AW2721D. This monitor has it all, amazing color accuracy thanks to its Nano-IPS display technology, a 2560×1440 resolution that is easier to drive than 4K but still very crisp. It has DisplayHDR 600 certification for a great HDR viewing experience, and unlike the offerings with G-SYNC, this monitor has G-SYNC Ultimate. This is NVIDIA's top-tier G-SYNC Solution, in the monitor itself there is a hardware-based G-SYNC Module, which handles all of the variable refresh rate processing and gives it the fastest response time for switching between refresh rates.
Other added benefits are extremely slim bezels, the monitor's bezels completely fade away in your peripheral vision when you're focusing on work or games. Also since Alienware is a subsidiary of Dell, your Alienware AW2721D is backed by a 3 Year Guarantee. If you have even a single dead pixel, or your panel stops works, Dell will replace your monitor. The Alienware AW2721D can be found for around $750.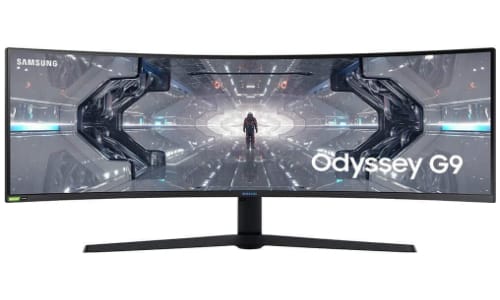 Samsung Odyssey G9 – Total Overkill
Lastly for this list, it would be impossible to not mention the Samsung Odyssey G9. This monitor is truly an ode to abundance and Samsung has clearly decided to throw all their display technology know-how into one panel. This 49″ behemoth has a 5120 x 1440 resolution with a quantum dot film, giving it amazing color reproduction.
It pushes this panel to 240hz for a buttery smooth experience and to top it all of it has DisplayHDR 1000 Certification, giving it best-in-class HDR performance. If you're looking for a monitor that has absolutely no compromises to performance and features, then you've found it. For $1200 it's extremely expensive, but if you've got the disposable income and the computer hardware to drive it, it's going to deliver an experience like no other.
Frequently Asked Questions
What Monitor Do Most Gamers Use?

Most gamers opt for a medium resolution display with high refresh rates. For example, 1920×1080 with 144hz or 240hz is extremely common, as modern monitors will strike a good balance of gaming performance and colors.

Are Monitors Better Than TVs for Gaming?

Monitors are better for games due to their significantly lower response times and higher refresh rates. Games will feel far more fluid and responsive on gaming monitors than TVs, however, it comes down to your personal needs.

What Size of Monitor Should I Choose?

This will primarily depend on your use case for the monitor. If you're a hardcore FPS gamer, you'll likely be purchasing a 24″ monitor. If you're interested in RTS games, you might opt for 27″ or 32″. It's also important to consider what you'll use the monitor for beyond gaming, for example watching Netflix or doing work on a higher resolution monitor will be much easier, which are typically on larger monitor sizes.