We have all lost games due to not being able to keep precision at crucial moments. Wins can seep through our fingers in a matter of seconds. If you frequently experience sweaty palms which cause your controller to slip, you may want to consider gaming gloves.
Gaming gloves help prevent sweaty hands allowing you to play for much longer than you normally would. They help relieve pain from arthritis or carpal tunnel syndrome and can even be preventative to those issues.
The best gaming gloves will feel snug and be made out of fabric that allows them to breathe, keeping your hands feeling good through long gaming hours. Depending on your full activity, you may want to choose between fingerless or full fingers or whether or not they are touch-screen sensitive.
You also need to consider the elements necessary for either PC gaming or console gaming and get a pair of gaming gloves that is appropriate for you.
This post will cover the best gaming gloves on the market as well as give you guidance through the selection process.
Console Gaming Gloves vs PC Gaming Gloves
Not every pair of gloves is created equally and you will need a different style of gloves for gaming depending on your style, your method of gaming, and how sweaty your hands get during sweating sessions. You will also need to consider any pain you get in long gaming sessions so that you can focus on what features can offer you pain relief.
Choosing video game gloves with an ergonomic design, snug fit, and added grip can improve your overall gaming experience. How these will look, feel, and fit will vary depending on your specific gaming needs (do you need finger gloves or those with a fingerless design? wrist support? moisture-wicking fabrics?).
Here are a couple of things you should note about what to look for in your gaming gloves based on the equipment you use to game.
PC gaming gloves should offer support to that hand, allowing you to remain agile and skillful as you game. It should also offer the support you need to not injure yourself in a long gaming session. Gaming compression gloves or arthritis gloves can help provide the wrist support you need to prevent help joint pain.
Console gaming gloves should help you stay agile. The most important element of console gaming gloves is that they wick away moisture to keep your fingers dry to prevent slippage.
Mobile gaming gloves will typically need to have a fingerless design, especially if it is necessary for you to touch the screen. If you have extended gaming sessions on your phone, it will likely get warm, so look for those that will prevent sweaty palms, offer wrist support, and a grip to allow you to keep better control over your device.
Best Gaming Gloves in 2022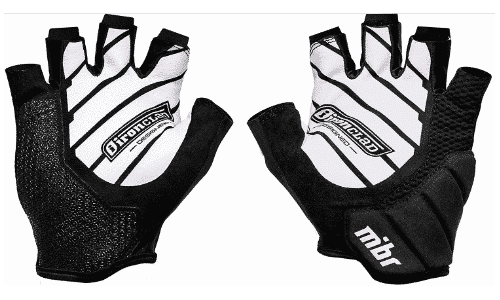 Ironclad MIBR PC Gaming Gloves
The Ironclad MIBR PC gaming gloves were created for the gaming enthusiast by a company that understood the importance of collaboration with competitive gamers. Ironclad reached out to some of the top Esports athletes to find out how they could create a design that would reduce friction while also improving gameplay.
Each gaming glove boasts moisture-wicking properties and sufficient ventilation to allow you to play without sweaty hands. The half-finger design will give you adequate support while allowing the tips of your fingers to have the same functionality they would without wearing gaming gloves.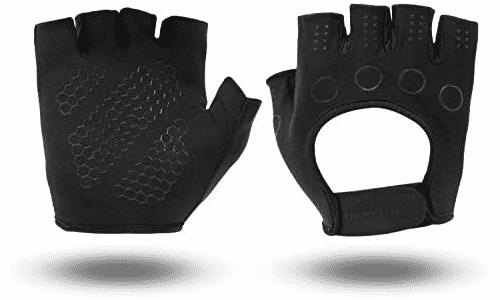 Foamy Lizard Gloves
The Foamy Lizard Gaming Gloves were specifically designed to be lightweight and soft as they keep your palms dry while you game. As they are fingerless, you won't have to worry about losing your grip on your controllers (which they were made for) or clicking the wrong keys as you game. You also won't have to worry about losing any range in your fingers.
This great pair of gloves have a silicone traction texture in the palm that grips your console controller, keeping it perfectly in place so that you don't have to worry about it slipping during a tense moment in-game. That being said, they are also well ventilated, allowing air to still reach your skin so that you can stay comfortable.
In order to stay comfortable in these gloves, you should purchase the correct size for your hands. They are supposed to fit comfortably and breathe in order to work effectively, otherwise, they could actually make your hands feel more sweaty.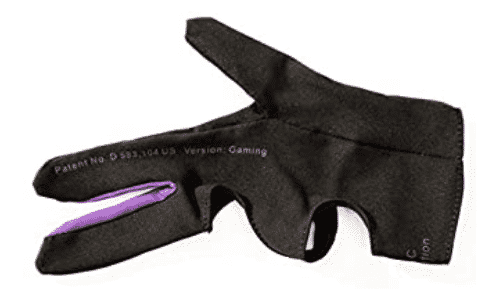 SLEEKZ Moisture Wicking Gloves
The patented design of SLEEKZ Moisture Wicking Gloves covers every part of your hand that touches the controller while allowing the rest of your hand to stay free and cool. The rest of the fabric works to keep your hands dry but still gives you sufficient enough movement. The gloves come in two sizes so you can choose the fit that works best for you.
If you need gaming gloves for sweaty hands or wrist support on a budget, these fingerless gloves may be the product you need. They are made from breathable material while still giving your hands some support to reduce joint pain. They are especially good to use on your mouse hand where it is more possible to cause some issues that would require medical treatment later on.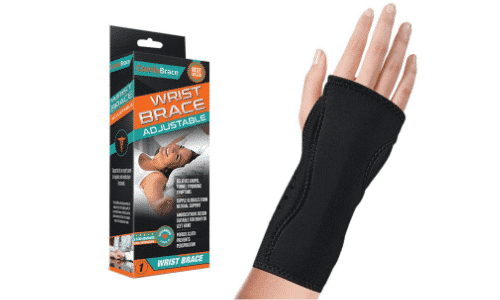 ComfyBrace Support Brace
Have you ever binged a new game all night for three nights straight until your wrist hurts? This is typically caused by carpal tunnel syndrome, which affects millions of PC gamers and workers every year. While you won't have as much movement when you wear the brace, many will wear it when they aren't gaming or when they are asleep to help heal or reduce the chances of getting the condition.
The ComfyBrace wrist brace is made so that it can fit on either hand. The seamless design keeps the wrist rigid (though they do allow a small amount of movement) and in the right condition to heal. They are fairly comfortable and will generally help speed up recovery so that you can get back to the game.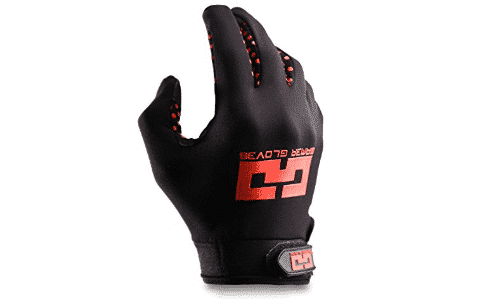 EPG Gamer Gloves
The EPG Gaming Gloves (EPG standing for Elite Performance Generation) were created as full-hand console gloves. The gloves were made from breathable fabric for console gamers. They are too thick to be very effective for PC gamers. These gloves firmly grip consoles, but they tend to be a bit warm, not ventilating as well as others on s this list.
These video game gloves are good for those few people who struggle with cold hands while gaming. They do have a full range of motion, making it easier to play your games.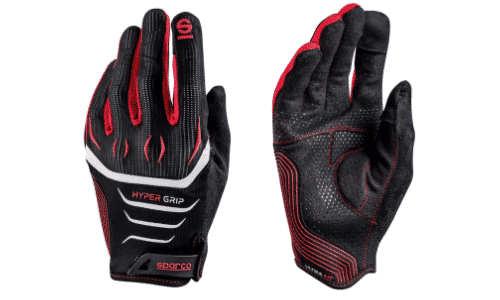 Sparco Hypergrip Gaming Gloves
If you are into driving games, you may want to try out the Sparco HyperGrip Gloves. They help you grip the controller well so that it doesn't slip while you continually push forward in the game. Playing driving games for hours can typically result in sweaty hands, but this will allow you to play longer with fewer issues.
As a bonus, you can use them in a real car, making your transits to work feel more like a game. When you have the right fit, the gloves are extremely comfortable and while they wick away the moisture from your hands, they will still be able to breathe.
The gloves include touch-sensitive tips, allowing you to still use your mobile devices and have greater control over other controllers as well. You can even remove a couple of the tips if you prefer your bare fingers to have direct contact with your grips in your gaming sessions.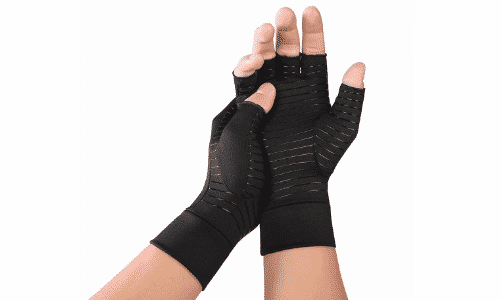 Copper Compression Arthritis Gloves
The Copper Compression arthritis gloves are perfect for gamers who suffer from arthritis or carpal tunnel but need a fuller range of motion than what a brace can offer. These compression gloves fit well and gently remind your hands how to sit so that you don't have to worry about associated pain. Many users claim that their pain and soreness are greatly relieved, allowing them to play games for several more hours.
While these compression gloves aren't necessarily marketed as gaming gloves, they do offer all-around support that can offer health benefits, improving your overall gaming experience. The half-finger design will also still allow you to easily hold your controller or keep a grip on your mouse.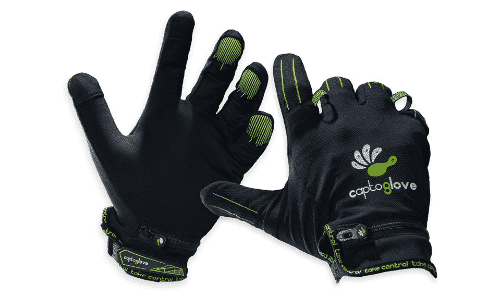 CaptoGlove Wearable Gaming Gloves
Unlike the other best gaming gloves on this list, the CaptoGlove gaming gloves act as a controller. It works with multiple platforms but is best when paired with a VR headset as it creates a more immersive experience.
You can still use your smart devices when wearing the gaming gloves and it has up to 10 hours of usage when in use. It connects to devices via Bluetooth.
Frequently Asked Questions
Do You Need Magnets in Your Gaming Gloves?
While many people claim that both magnets and copper have helped them relieve pain from arthritis or carpal tunnel, most scientific journals state that copper compression arthritis gloves are unnecessary to relieve pain and have little to no actual effects. For that reason, don't feel obligated to spend extra on items promising that the magnets and copper will help to protect you.
Do Gaming Gloves Help with Gaming?
The best gaming gloves can indeed help with gaming, especially if you play for hours at a time, frequently experience too hot or too cold hands, or experience issues with the grip on your controller. While you will still need to practice in order for your gaming skill to improve, a good gaming glove can make the process easier.
What Gaming Gloves Are Good for Sweaty Hands?
The best gaming gloves for sweaty hands will typically have a fingerless design or a half-finger design. They will also be made from material that wicks away moisture. Gaming can make your hands warm, especially if you are gripping a controller or mobile device. The best gloves will counteract that with breathable material.
Conclusion
Looking for the right gloves for gaming can take some time, especially when you are considering everything involved. While you may want compression gloves that will help support your wrists, you will also want gloves that keep your palm area cool. Don't forget that you'll need to grip the controller.
We hope that this post has helped you in your search for the best gaming gloves for your personal needs.