The main reason Twitchs is so popular is unlike competitors such as Facebook and Youtube, Twitch is solely dedicated to live-streaming and has been around the longest. Many creators jumped onto the platform early and haven't found a compelling reason to switch.

Twitch was founded in 2011 as a gaming-focused spinoff of the live streaming platform Justin.tv. By 2014, it had gained massive popularity and was acquired by Amazon for $970 million. Since then it has experienced explosive growth. In Q1 2020 alone, Twitch had more than 3 billion hours watched, 100 million hours streamed, and an average of 1.4 million concurrent viewers across the platform, firmly cementing it as the number one streaming platform worldwide.
How Did Twitch Start?
Back in 2007, a man named Justin Kan decided to experiment with turning his life into a de-facto reality show. Kan began streaming his life around the clock on Justin.tv. He received mixed reactions initially, but he had clearly found a concept that people would at least tune into, if not enjoy.
Though the platform was originally only for Justin to do his lifecast, Justin.tv was relaunched as a network allowing curated creators, and later anyone, to produce their own streams. One of the original stars of Justin.tv was iJustine, who's now a tech YouTuber with nearly 7 million subscribers. In less than one year, the platform had reached over 1 million users.
By 2011, the team behind Justin.tv decided to hone in on the site's most popular section: Gaming. They called the service "Twitch.tv" and it took off. By 2012 the site had 20 million visitors per month, and was eventually purchased by Amazon in 2014 for nearly $1 billion.
Lifestyle streamers, casual gamers, and professional players of all stripes are now able to earn a living and more by streaming on Twitch, turning their passions into paychecks.
Twitch Competition
While it's undeniable that Twitch is the most popular streaming platform, recently it's begun to face new competition. YouTube Gaming and Facebook Gaming are gaining popularity amongst gamers and many people find that it's easier to get started there because of the steep competition on Twitch.
So what makes Twitch so popular? This ends up being a two-pronged question: Why is Twitch popular for viewers, and why is Twitch popular for streamers?
Twitch's Popularity With Viewers
Here are a few things that stand out as to why Twitch has become popular with viewers:
Broad appeal – It hosts by far the widest variety of creators and categories, making it easy for viewers to find the type of content they want to watch. After the Amazon acquisition, they introduced Twitch Prime, allowing Prime members the ability to subscribe to their favorite creators for free.
Focus – But in my opinion, Twitch's strongest feature is its focus. I don't go to YouTube or Facebook to watch live streams because, in my mind, that's not what the platform is for. Facebook is for social media; YouTube is for premade content, and Twitch is for streaming. Since it's focused on being built for streaming and nothing else, they can make that experience as good as they possibly can, and I've always found that it's much easier to navigate to find what I'm looking for.
Is Twitch Good for Streamers?
So what about streamers? In many ways, streamers are a lot like viewers… Because oftentimes, streamers used to be viewers. As Twitch gets older, its users do too, and younger viewers who were watching wide-eyed as big streamers played their favorite games back in 2014 are now turning into young adults with similar aspirations.
When people think "streamers" they typically think of "Twitch." People who've been on the platform for a while are more-or-less familiar with how it works, and there is a wealth of guides, tutorials, and support available that other platforms don't have yet. In the last several years, they've also introduced new opportunities for small streamers to earn revenue like the Twitch Affiliate Program.
At the end of the day, it isn't as much about what Twitch offers. It is that the competition isn't currently offering enough benefits to entice streamers to leave Twitch.
The biggest advantage that Facebook and YouTube offers is increased discoverability, making it appealing for streamers who are just starting out, as well as an existing audience of Facebook and YouTube users that might not be reached on Twitch. Is that enough? Maybe for some, but for now, Twitch still reigns supreme in the world of streaming.
Twitch's Main Demographic
Twitch, much like gaming, is a male-dominated space. It is estimated that about 59% of gamers and 65% of Twitch users are male, though in 2017 Twitch published official stats stating that 81.5% of the user base was male.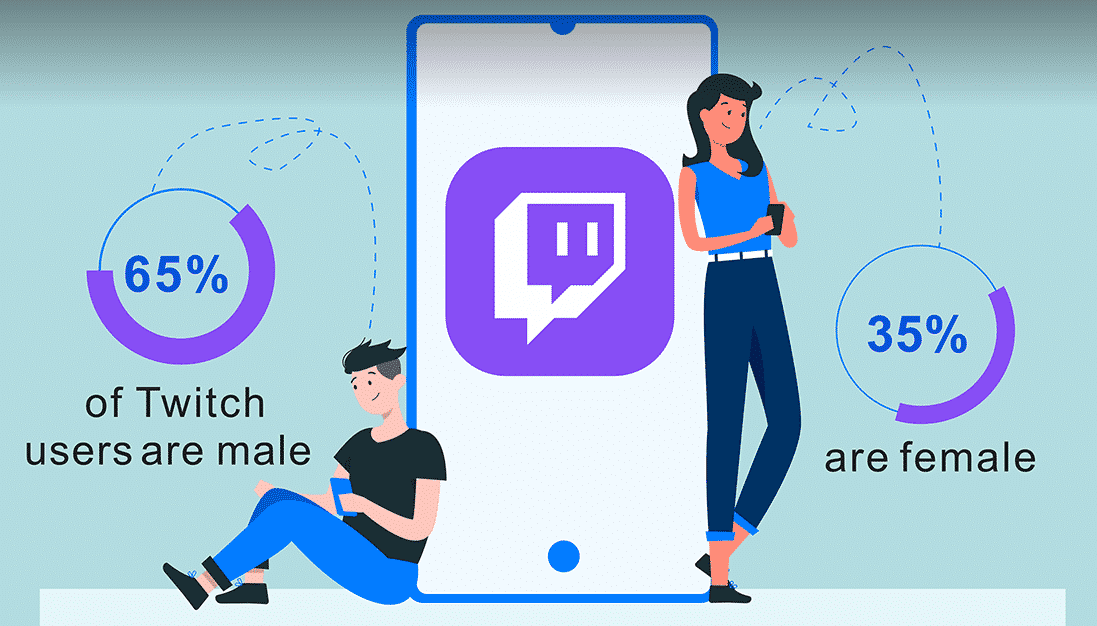 Female streamers are also rare to see atop the charts. Through 2020, Pokimane ranked the #58 most-viewed streamer of the year on Twitch, as the second-most-watched female streamer. Less than 25 of the top-500 streamers on Twitch are women.
The Impact of Twitch
Twitch has, almost single-handedly, changed the course of the gaming industry. Gamers can now learn about the games they love from experts in real-time, while developers and researchers can gather useful information and feedback. Meanwhile, advertising any game is as simple as finding a large streamer who's willing to play it – often for a price – and that game is guaranteed to be seen by tens of thousands of the target demographic. Charity events like Games Done Quick, which raise millions of dollars yearly, wouldn't be possible without Twitch to broadcast the event to the world.
Above all else, Twitch has created opportunities for countless people:
Industry – Companies like Elgato have created an entire industry out of innovative gear designed specifically for streaming.
Side Gigs – Casual gamers can now stream as a hobby, picking up a bit of income on the side while getting to meet and interact with new people. Meanwhile, somebody who's dedicated their life to a game can hone their skills, get discovered, and truly put their passions first, allowing them to play games for a living.
Fame – Twitch has even allowed top players like Ninja to become a regular household name for many, introducing an entirely new cast of celebrities known worldwide.
Now more than ever, Twitch continues to grow. Amidst the pandemic, more people are consuming more media on a daily basis, leading Twitch to see record-breaking growth numbers.
Beyond gaming, Twitch streamers can now connect with their viewers to the fullest with non-gaming categories such as Just Chatting. The possibilities are limitless: Q&As, music production, challenges, and even political commentary from the likes of HasanAbi have seen massive popularity, allowing Twitch to reach new heights. US Senator Alexandria Ocasio-Cortez was seen on Twitch when encouraging the nation to register to vote, amongst other Twitch celebrities that have joined the platform to the delight of their fanbase.
Most Popular Twitch Categories
Twitch's top 5 most-popular categories in the last year according to SullyGnome are:
Just Chatting is the clear favorite, with nearly 500 million more hours of watch time than second place. What do all of these categories have in common? Accessibility. League, Fortnite, and GTA, are some of the most popular games in history, while Warzone capitalizes on Call of Duty's name, the popularity of Battle Royale games, and a cross-platform free-to-play model. And of course, Just Chatting? Everybody likes to get to know their favorite streamers on a more personal level.
Conclusion
What started out as an entrepreneurial endeavor by Justin Kan back in 2007 has exploded beyond anyone's wildest imagination. According to Alexa, Twitch is the #33 site in the world and #16 in the US. It has sparked the rise of many of the world's top content creators today, as well as entire industries, ranging from gamers and coaches to new hardware for audio, video, and recording.
While some competitors have reared their heads, Twitch remains the top dog in the streaming world to date. As long as Amazon doesn't get complacent, we hope to see many more years of Twitch. After all, where would we be without all the funny clips, intense highlights, and billions of hours of free entertainment?