What is a VRChat Avatar?
A VRChat avatar is a 3D character that is used in the game VRChat. VRChat is a social platform that can be used through Windows or Oculus Quest. Avatars can be found within "worlds" inside the game or be uploaded to the game. These characters can be customized to look like anyone or anything.
Best VRChat Avatars
In addition to the skins you can find in avatar worlds within the VRChat game, here are a few places where you can get your own custom VRChat Avatars:
Our pick for finding the best custom character modeling designs is Fiverr. If you really want to stand out and own a 3d model that is totally unique there is no better marketplace of artists. Prices range from $5-$350 depending on what you want to have created. Always specify with the seller first that you intend to use the design in VRChat to make sure it is a compatible format.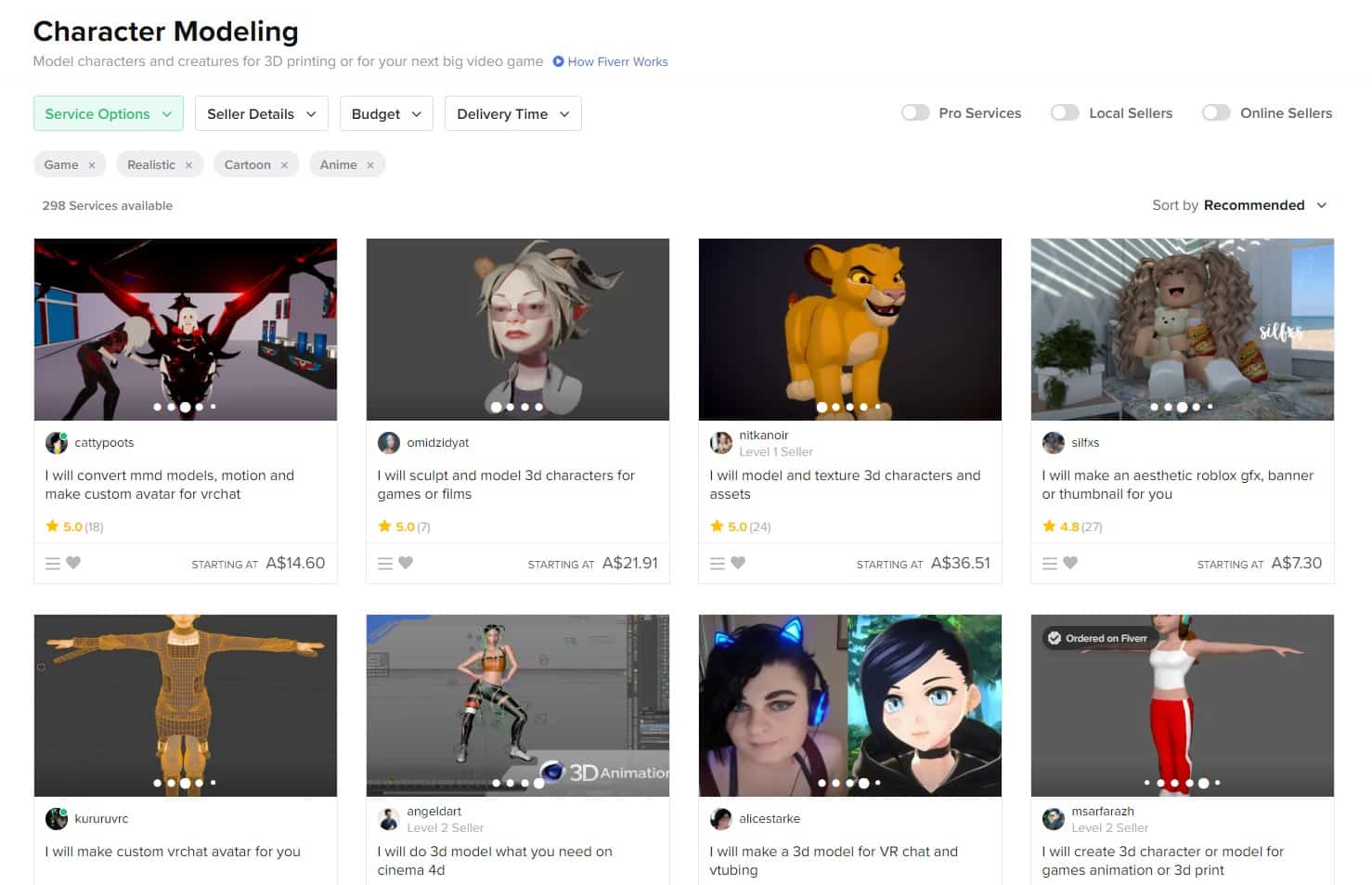 Many VRChat designers on Fiverr have basic templates already made and can change things to resemble you or whatever you wish your VR character to be. This option is generally more affordable than purchasing a fully custom character outright.
You can browse the work of hundreds of world-class designers and commissioning your own avatar is as simple as signing up, choosing your artist, and filling out a design brief. We recommend contacting the seller first with your idea so they can quote you a price and let you know how long it will take to complete.
Visit the Fiverr Character Modeling marketplace here.
2. Unity Store
One of the easiest ways to get a VRChat Avatar is to download something premade from the Unity Asset Store. You must search for a 3D character model but can refine your search to different types of characters. Generally, these are already set up to be downloaded and imported to your game. You need to make sure that there are fewer than 70,000 triangles (or 10k for the VRChat game if you are playing on Oculus Quest) or you will not be able to upload the asset.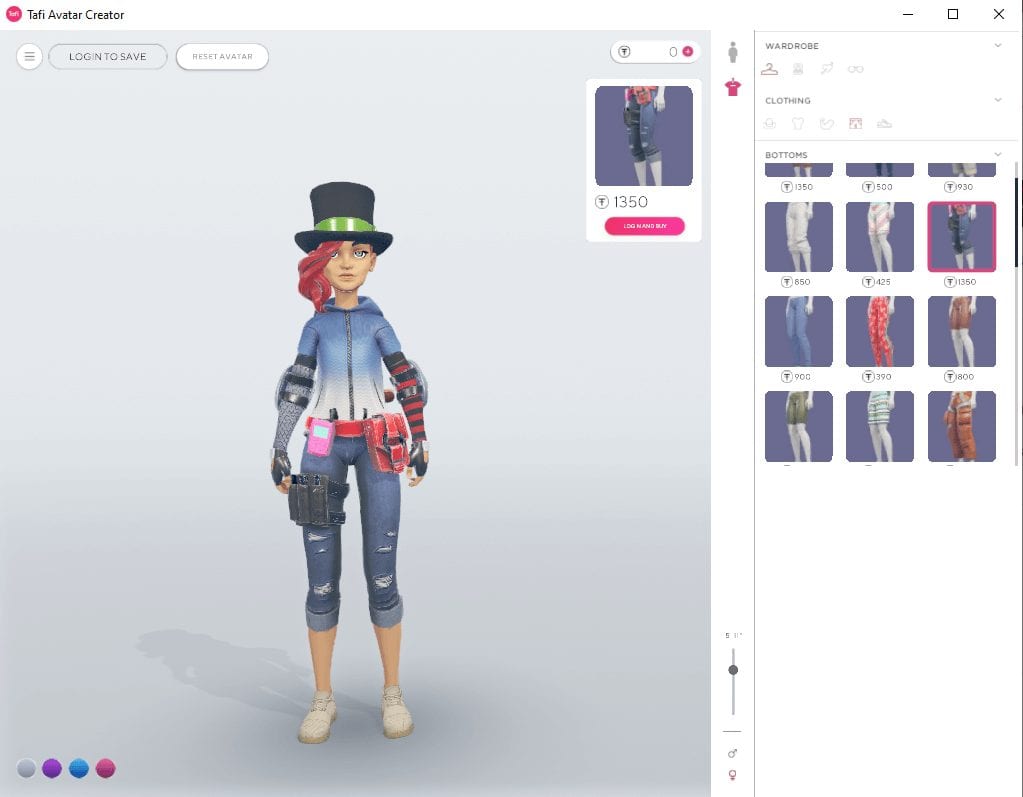 3. Tafi
Tafi is a company that has created a "sims-style" platform where you can create your own avatar. While sign-up to use the platform is free, certain elements of the character designs (select hairstyles, etc) require on-platform currency. When signing up, the platform gives you 1,000 coins for free. If (and when) you run out of coins, you can purchase more for real cash. Tafi is an easy way to build a "custom" avatar without having to use Blender or Unity.
4. VRC Traders Discord Server
The VRC Traders Discord is a server designed to network VRChat designers with users who want to commission work. The server is set up very well and has a channel full of reviews that you can browse to find out what it is like to work with a particular designer. You can also commission VRChat items, 2D art, logos, and many other designs through this server. 
How to Create Your Own VRChat Avatar
To create your own VRChat avatar, you must first find or create a 3D character, then ensure that it is the right size in Unity.
3D Software Options for VRchat Character Design:
Blender – this free, open-source software has several tutorials on YouTube. While there is definitely a learning curve, this is a good software to begin your avatar-making journey.
Houdini – Created by SideFX, this is professional software that is intuitive and based on nodes that are "wired" to create specific outcomes.
Maya 3D – created by Autodesk, this premium software uses advanced tools to create realistic characters, worlds, and objects.
If you are just starting, we recommend using Blender. There are several tutorials available on YouTube on how to create a 3D Anime character. Raymond Cripps does a very good job of giving an overview of each step. He also points you in the direction of where he learned his techniques. His first video goes over creating the basic geometry of the animated character:
He has three other videos that explain the process further. After watching them, you may have an idea of whether or not you want to tackle learning to create your own 3D character.
Make Sure it is the Right Size in Unity
There is no way to upload content to VRChat without Unity. You will need the version: 2017.4.28f1 or you can use the Unity Hub to manage installed versions.
The following YouTube video by Morris covers how you can prepare a 3D model for VRChat using Unity. Be sure to also read his description for information that he inadvertently left out in the filming.
What to Do if Your VRChat Avatar Isn't Loading
If you are receiving the loading error, there are a couple of things you can try to fix it. You can either change your default world on startup or clear your cache.
Change Default World
To change the default world on startup, complete the following steps:
Step 1: Open your game library on steam
Step 2: Right-click the VRChat game and select "Properties" from the menu
Step 3: Right-click on the "Set Launch" options
Step 4: Paste this link in launch options: vrchat://launch?id=wrld_d0b62423-fd59-48f7-9e4b-e6fece81b7ed
Step 5: Finalize by clicking "okay"
Clear Cache
To clear the cache of your game, follow these steps:
Step 1: Type "run" into the Windows search function.
Step 2: Click on the desktop app "Run" to open it.
Step 3: Type "AppData" in the provided space, then click "Okay."
Step 4: A folder should open with files. Open the "LocalLow" file, then the "VRChat" file.
Step 5: Delete the "vrchat" file from within the parent "VRChat" folder.
Step 6: Relaunch the game.