You're thinking about streaming on Twitch or YouTube but you still don't have a proper streaming computer. You're not even sure what kind of computer you need to begin streaming. Don't you fret because this article is the right place to get answers as it discusses the minimum computer requirements you'll need to stream, weighs the pros and cons of building your own computer compared to purchasing a pre-built computer, and even lists some solid pre-built options that can get you up and running on Twitch.
Minimum Computer Requirements for Streaming on Twitch
Twitch recommends these minimum system requirements to stream on their platform:
Intel Core i5-4670 processor (or its AMD equivalent, such as the AMD Ryzen 5 1600).
8GB of RAM.
Windows 7 or newer or Mac.
There are many other factors to take into consideration as well, such as whether you are going to be using a single- or dual-PC setup. If you're gaming with the same PC, then you will need to make sure your PC adheres to the minimum requirements of the specific games you would like to stream.
Best Pre-Built Computers for Twitch Streaming
Here is a list of three pre-built PCs that will allow you to stream on Twitch: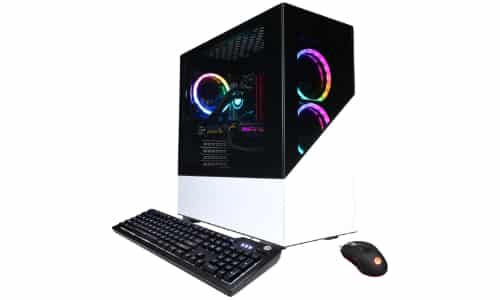 1. CyberPowerPC – Gamer Supreme Gaming Desktop
The CyberPower PC Gamer Supreme Desktop is an absolute monster. It features an AMD Ryzen 7 3700X, 16GB of RAM, a 1TB SSD, and most importantly, an Nvidia GeForce RTX 3070 GPU (graphics card). When purchased separately, 30-series GPUs are almost impossible to find due to supply shortages and high demand.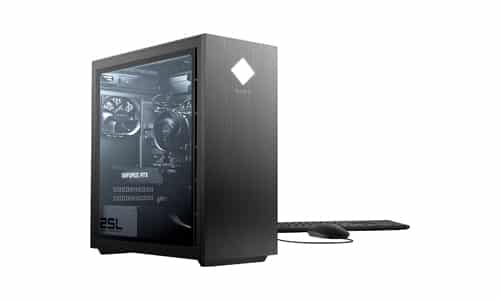 2. HP OMEN – Gaming Desktop
The HP OMEN has everything you need to stream and game simultaneously. It boasts an Intel Core i7, 16GB of RAM, an Nvidia GeForce RTX 2060, and a 512GB SSD along with a 1TB HDD.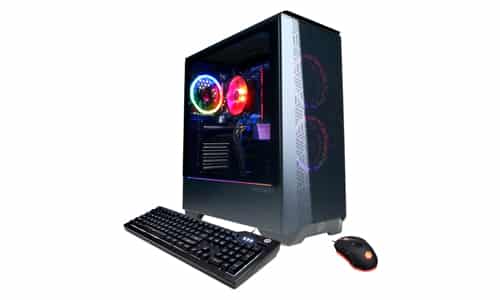 3. CyberPowerPC – Gamer Master Gaming Desktop
This PC isn't great if you want to stream high-graphics games. Instead, consider it if you plan to stream "Just Chatting" and games that aren't very PC demanding. Nevertheless, this PC adheres to Twitch's minimum requirements with an AMD Ryzen 5 3600, 8GB of RAM, a 500GB SSD, and AMD Radeon RX 580 GPU.
Pre-Built vs Building Your Own Streaming Computer
This is the age-old question that many people seem to always ask. Usually, building your own PC will be more advantageous. Nevertheless, let's take a look at some pros and cons for both options.
Pre-built Pros
Convenience/peace of mind

If you go to the store and buy a PC, it'll be ready right away and you won't have to worry about which components to purchase or putting the components together.

Price

Generally, pre-built PCs will cost less than custom-build PCs.
Pre-Built Cons
Cheaper Components

While it'll cost less, often you will not get the best components. For example, pre-built PCs might not feature the best Samsung SSDs, but a budget SSD instead.

Harder to Upgrade

Many sellers will lock their motherboards, meaning you will not be able to swap components such as RAM or CPU. If you want to upgrade, you'll have to get an entirely new rig.
Custom-Built Pros
Customization

It is your build entirely; you can splurge on or save money on whatever components you want. You can also make it look the way you want with the case and RGB lighting.

Quality

Since you are buying the individual components, you can buy brands that you trust for each component, such as Samsung for SSDs, AMD for the CPU, and Nvidia/EVGA for the GPU.

Upgradability

You can upgrade whenever you want. True, the initial cost might be more, but you'll likely never have to buy another computer in your life. You will just upgrade components over time and swap out older components.

Better Warranties

When you buy individual components, you usually get at least a 3-year manufacturer's warranty for each component. If you buy a pre-built PC, you'll only usually get a one-year warranty and you'll have to replace the entire PC if there's an issue.
Custom-Built Cons
No Technical Support

If there's an issue, you can't call Dell, HP, or Acer. You're the one who needs to troubleshoot what's wrong and solve the issue on your own.
Can You Use a Laptop to Stream?
You certainly can use a laptop to stream under certain circumstances. However, I strongly recommend using a desktop PC because they generally have better components, such as a stronger CPU, which will lead to a better overall stream and viewing experience for your audience.
Listed below are some pros and cons of using a laptop to stream:
Pros
Mobility

This can be useful if you are planning on streaming from different locations. With a desktop, you will not be able to easily pack it up and bring it with you.

Webcams

Many laptops have built-in webcams that can have better image quality than standard webcams people buy for their desktop PCs. This can be beneficial to those of you doing "Just Chatting" streams where you will take up the entire screen.
Cons
Specs

Laptops are generally less powerful than desktop PCs. Therefore, this may hurt the overall quality of your stream and adversely affect the viewing experience for your audience.

Price

Laptops are generally more expensive than desktop PC counterparts. Therefore, you will likely spend more money, but get less quality for your laptop.
If you do decide that you need a laptop for streaming, two laptops that will get the job done are the following: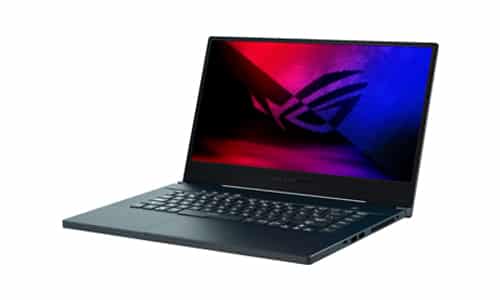 1. ASUS – ROG Zephyrus M15 15.6″ 4K Ultra HD Gaming Laptop
The ASUS – ROG Zephyrus M15 has all the specs required for a smooth streaming and gaming experience. It comes with an Intel Core i7 CPU, an Nvidia GeForce RTX 2070 GPU, 16GB of RAM, and a 1TB SSD.
2. Lenovo – Legion 5 15″ Gaming Laptop
This can be the right laptop for you if you're on a tighter budget, need the laptop exclusively to stream, and are gaming on an entirely different system. It adheres to Twitch's minimum streaming requirements. This gaming laptop boasts an Intel Core i7 CPU, an Nvidia GeForce GTX 1660 Ti GPU, and a 512 GB SSD.
One PC vs Dual PC Streaming
Many of you will wonder whether you need a one-PC or dual-PC setup to stream. This, once again, entirely depends on your setup and what equipment you have already. If you're starting from scratch, I strongly recommend using a single PC setup. Nowadays, gaming PCs are so powerful that it isn't really worth it to spend money on a second PC. A new gaming rig will be more than enough to game and stream simultaneously. If you have an older PC, consider upgrading certain components, as opposed to building a second PC.
Let's take a look at some pros and cons of one-PC and Dual-PC setups.
One-PC Pros
Simple Setup

All you need to do is set up your streaming software to capture the game you're playing and hit the "go live" button.

Cost-efficient

You won't need to splurge on a second PC or capture card to be able to stream.
One-PC Cons
CPU-Intensive

If you don't have a powerful PC, you might have to turn down some in-game settings and stream at a lower resolution (such as 720p) to ensure your PC and CPU can handle gaming and streaming simultaneously.
Dual-PC Pros
Improved Performance and Stream Quality

If you have a dedicated gaming PC, that PC will handle the gaming tasks and it will free up your streaming PC to only handle the streaming tasks. This means you can game in higher settings and stream at a higher resolution.
Dual-PC Cons
Expensive

As previously mentioned, buying two PCs, two monitors, two sets of mice and keyboards, and a capture card will ultimately cost more than building one extremely powerful PC.

Complicated Setup

You will need to run many different cables and determine which computer will be used for certain hardware, such as your microphone, and which computer will be used to run certain applications, such as Discord.

Noise

There will be two sets of computers making fan-noise, so it's important to make sure that your microphone doesn't pick up these extra sounds, as it can interfere with the audio quality of your stream.
Feel free to refer to this article for a more detailed guide on a one-PC or dual-PC setup.
Conclusion
Ultimately, there are several rules of thumb to keep in mind when deciding what kind of computer will be the best fit for your streaming purposes. A custom-built PC will usually yield better results than a pre-built PC, a desktop computer will usually be more powerful than a laptop, and a one-PC setup is more cost-efficient than a dual-PC setup. At the end of the day, making your choice between the aforementioned options comes down to your specific wants and needs, since everybody's situation is different.