OBS then encodes your video and allows you to record or even broadcast the resulting video on certain platforms such as Twitch, YouTube, or Facebook.
In this article, we will discuss the OBS in more detail.
History of OBS
Open Broadcaster Software was initially released on September 1, 2012, as an open-source program allowing streamers and content creators to decide exactly what they want to show on the streaming platform of their choice.
Initially, a small project that was created and managed by Hugh "Jim" Bailey, the OBS project quickly grew as the streaming community banded together to create features that would revolutionize the world of online streaming.
OBS Studio replaced Open Broadcaster Software (or OBS Classic) in 2016. Windows and Mac users in the streaming community have continually worked to improve the live streaming program to include new features monthly. These add-ons make OBS Studio even more robust with a powerful API.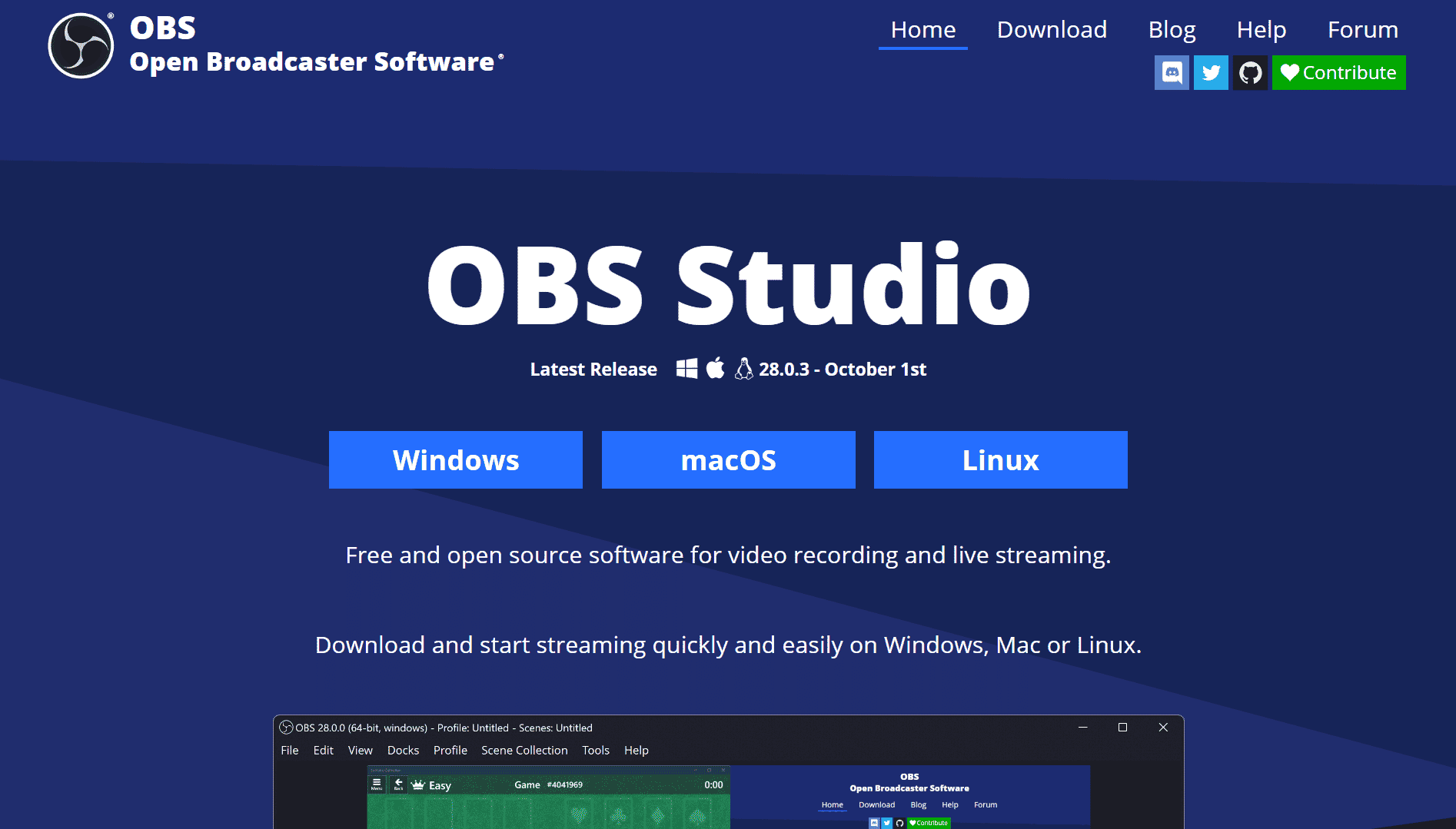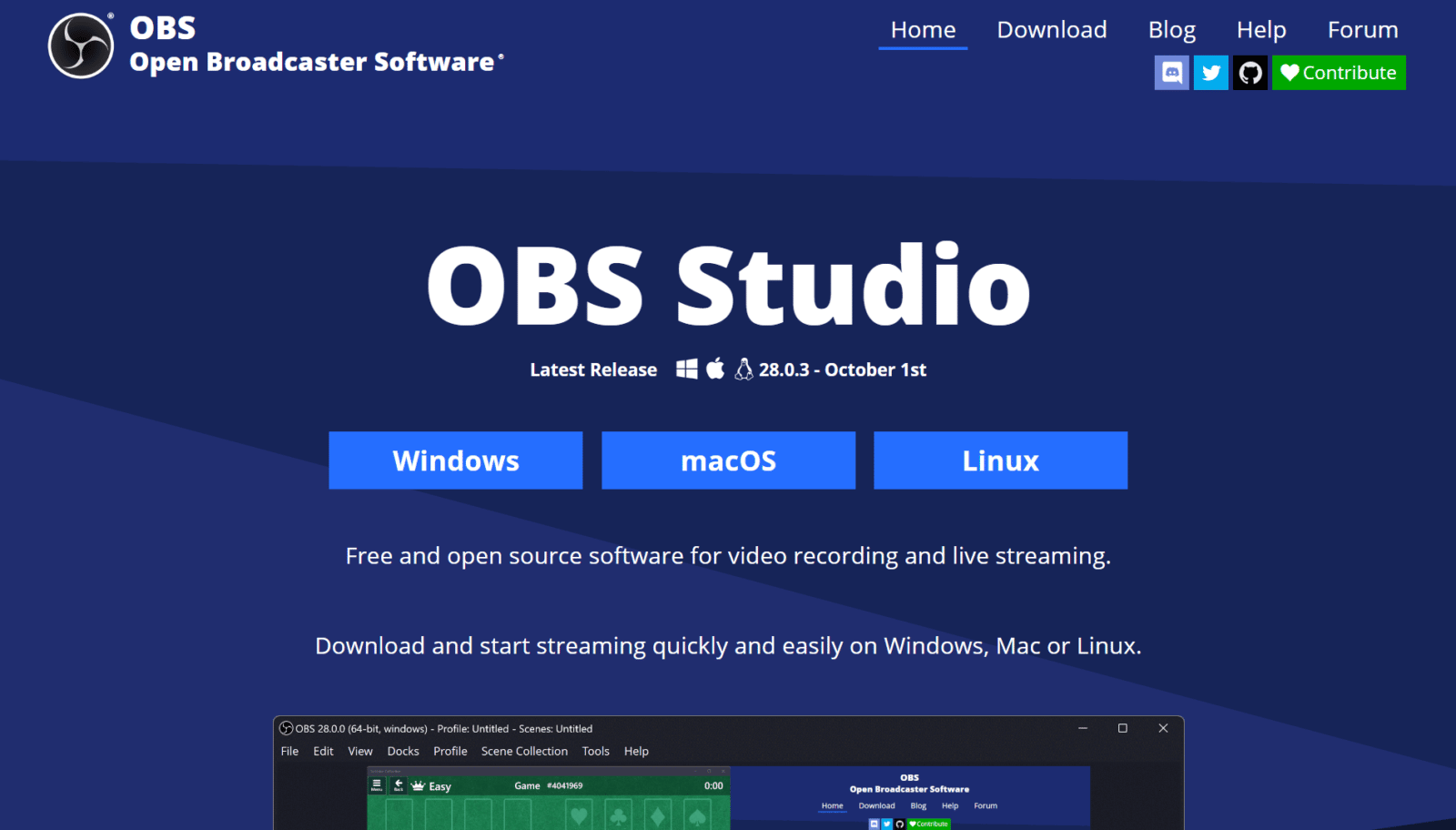 OBS Studio allows people to play a specific game, layered correctly with stream overlays and other graphics as well as pull in audio and video sources. This professionalism can bring in many viewers when people on Twitch are live streaming, making it easier to grow an audience.
What Does OBS Stand For?
OBS stands for Open Broadcaster Software. It's a free, open-sourced software that allows users to screencast and stream to various platforms such as YouTube and Switch, as well as to record videos shown on screen.
Who Uses OBS?
OBS is used by many YouTubers looking to record content for their videos, and by many Twitch, YouTube, and Facebook streamers.
OBS is one of the best and most powerful open-source broadcasting and recording software available. It offers lots of customizations and plugins that are not available on other software. These include move transitions, closed captioning, and many others.
While OBS is great software, it does come with a steeper learning curve than other software, such as Streamlabs. Therefore, if you're tech-savvy or a more advanced streamer, OBS is the right software for you. If you're a beginner, you might prefer the simpler Streamlabs.
OBS is also the first software to receive major updates. For example, OBS has a studio mode that was released a few years ago, while studio mode is yet to be released on Streamlabs.
Is OBS Free?
OBS is completely free to use. Once you download OBS, you can use every feature and you will not have to worry about ads or malware. In addition, you can download the plugins that we previously discussed at no cost.
OBS Studio Download Options
There are several ways you can download OBS Studio. You can go directly to their website to download the software. Choose your operating system, and download the appropriate installer to your computer. Run the file and follow the on-screen instructions to install. The process takes only several minutes, and you can start streaming right away once you do. However, be warned that OBS is quite tricky to navigate, so it might take a little while to familiarize yourself with the software and use it without hassle.
Other than their website, you can also download OBS Studio from third-party stores such as Steam and the Microsoft Store.
Is OBS Studio Safe to Download?
Yes! Not only is it used by literally thousands of people around the world but it's also open-source software, which means you can check the programming code itself if you want to see how it works.
OBS Studio Features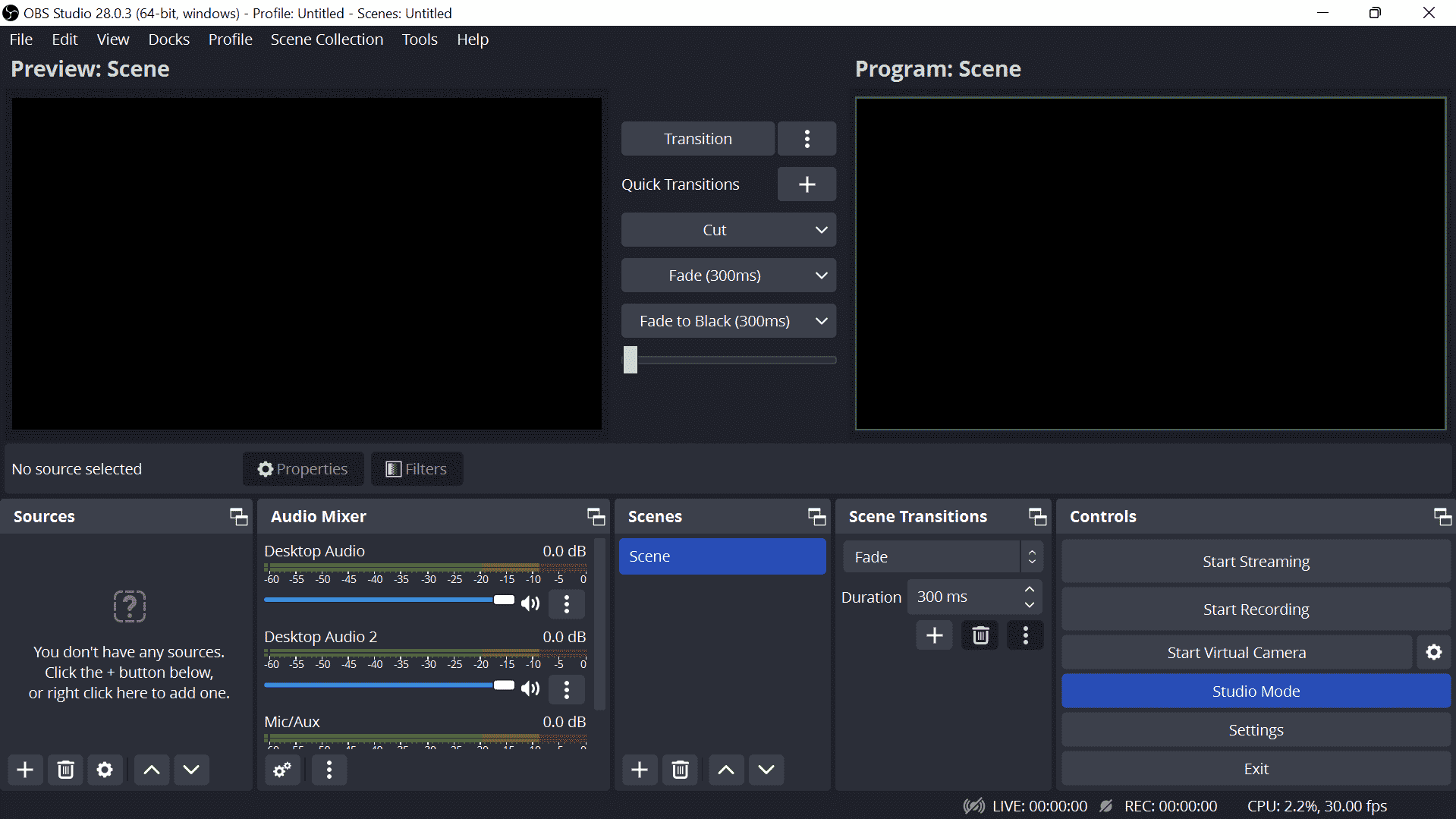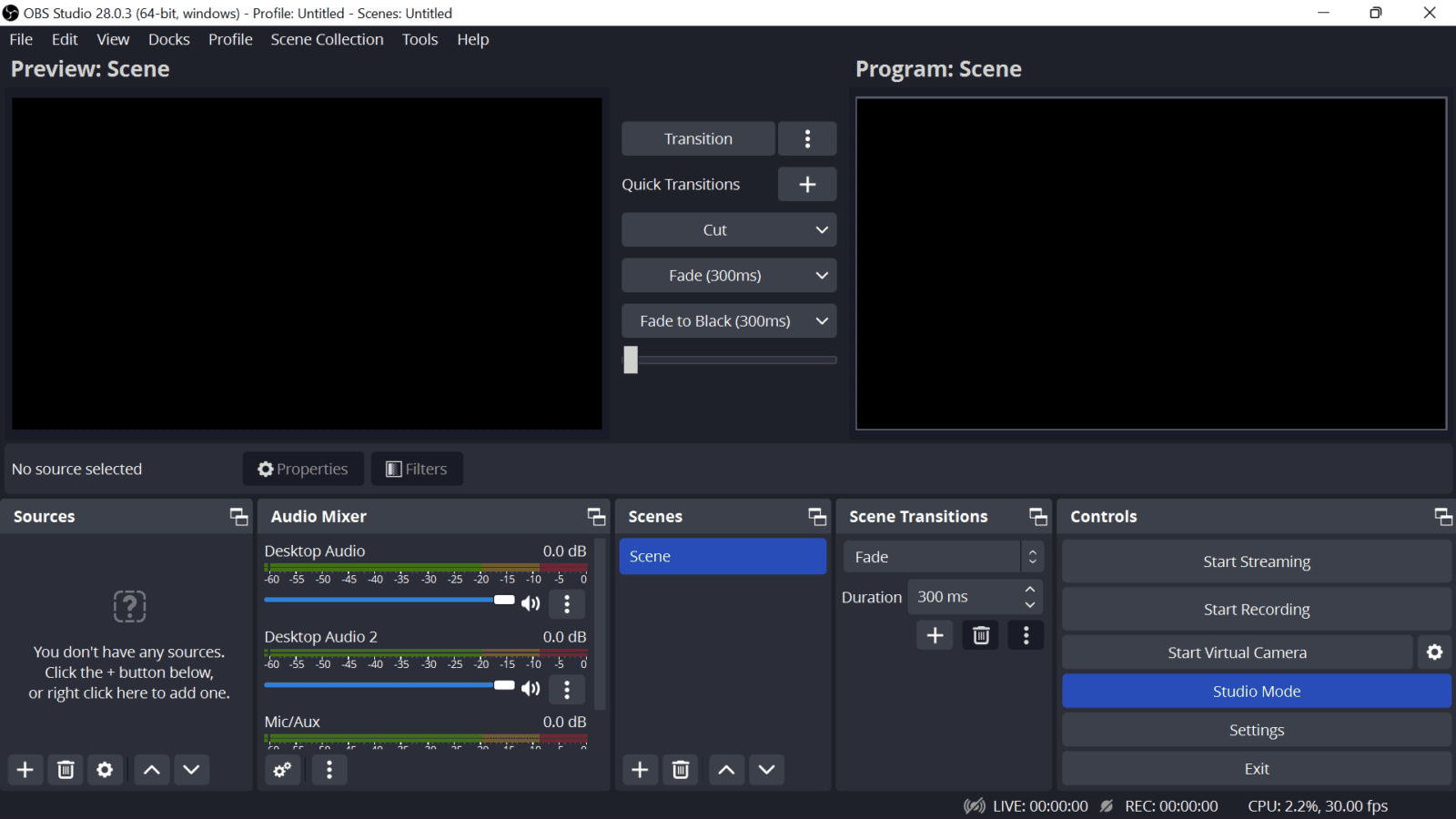 As a free and open-source program, OBS Studio allows you to use the following live-streaming features when you stream to Twitch. These features can be used by both Mac and Windows users on the streaming platform of their choice.
Platform Compatibility

OBS Studio is compatible with many other platforms designed for live streaming. All you need to do is input the stream key of the streaming platform of your choice in the settings menu, and you will be able to start streaming with ease. If you stream on either Twitch or YouTube, you can also now connect your account directly to OBS.

Broadcast Audio

You can add more than one audio source at the same time, and you can use OBS Studio as a make-shift audio mixer by adjusting the audio levels of each of your audio sources. It also has a built-in noise gate to help you keep the sound of your broadcast crisp and clear for your audience. Its intuitive audio mixer is in a dockable window, so you can either remove it, leave it as it is in the main control room, or place it in a separate window. Muting audio sources is also possible.

Broadcast Video

Similarly, you can add several video sources in your OBS settings. Not only can you stream a live scene from your webcam, but you can import the video scenes from your favorite game (you can even use an external or internal capture card to import games from a console or mobile device). You can set up how it looks ahead of time so you can preview what your audience will see when you go live.
Live-Stream Options on OBS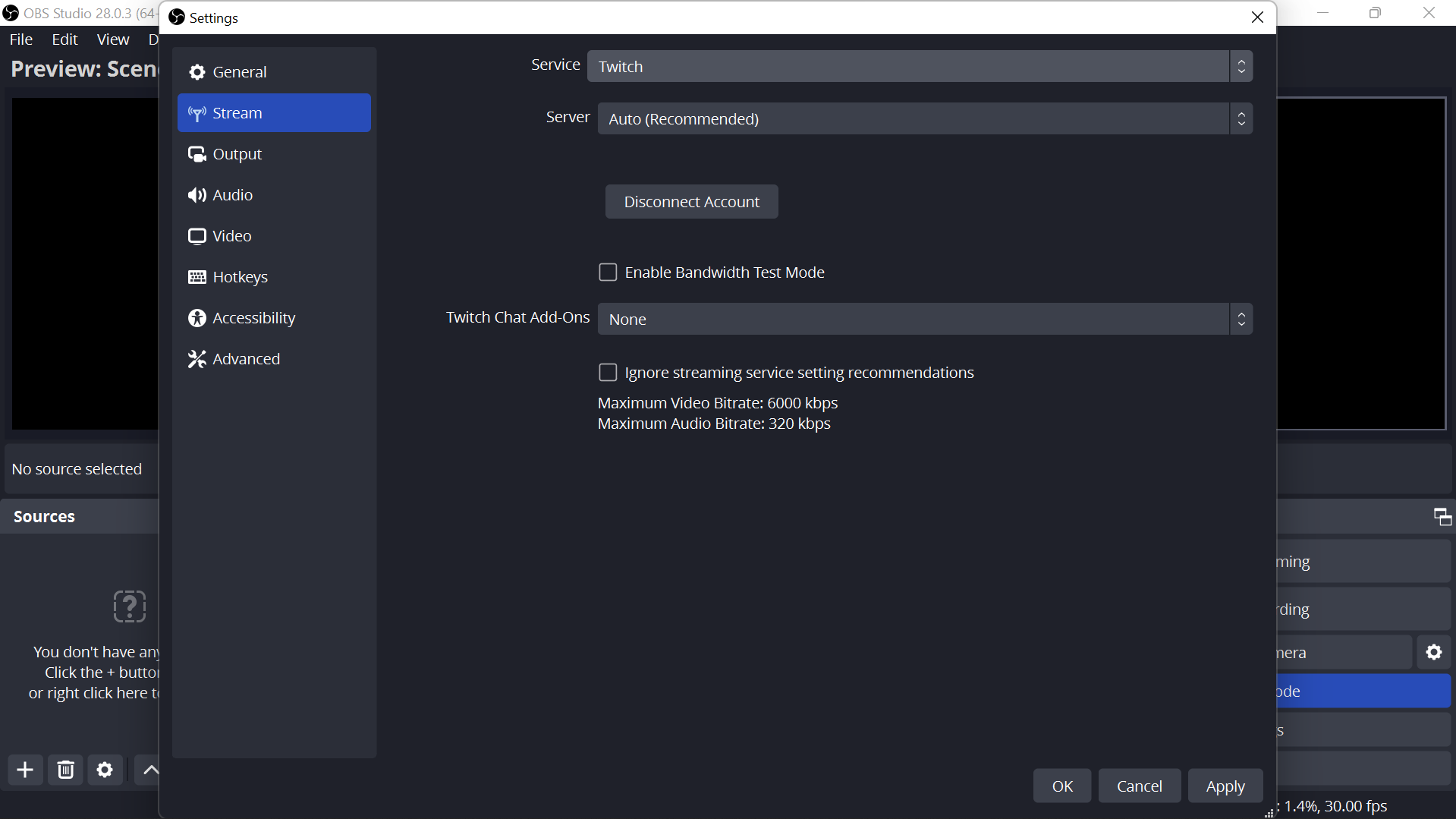 You can live stream with OBS on different platforms such as Twitch, YouTube, or Facebook, and it's pretty simple. Simply connect your Twitch or YouTube account to OBS and start streaming. For Facebook Gaming, you need to find your stream key and enter it on OBS.
Record Options on OBS?
You can also record gameplay footage with OBS. The great thing about OBS is that it supports mp4 file exports, which is the file type that most video editing software requires. Therefore, many YouTubers use OBS to record gameplay footage.
What is OBS Studio's Best Feature
OBS Studio has many amazing features, which we briefly discussed previously. However, if you want the specifics of what OBS can do, here are some of them:
Allows You to Add Multiple Sources for Your Live Stream

OBS doesn't only allow you to add video input from your video capture device (webcams) or game, but it also lets you include input from other sources, such as browser windows, scenes, and audio.

Modular "Deck" UI

You can rearrange the layout of windows in any way you prefer. Moreover, you can hide them or pop out the dock to its own window.

Studio Mode

The Studio Mode allows you to preview and edit the scene before it goes live to the audience. You can also add quick transitions with ease. It helps you add your own stinger video files and make them perfect before they can be seen by the public.

Hotkeys

Set up hotkeys to easily switch between scenes, start or stop streaming, pause video recording, or do other actions on your OBS Studio while streaming.

Lower CPU Usage

OBS uses less CPU than other streaming software, so there will be less lag and heating on your device.
Best Services and Widgets for OBS
OBS widgets are handy tools you can use to elevate the content of your streams. Unlike plugins which adds features to your OBS, widgets show your audience information they might find interesting, such as donations, timers, and filters. Here are some of the best places where you can find fantastic widgets for your streams:
Own3d Pro

For professional-looking and easy-to-use streaming solutions such as widgets, Own3d.pro has your back. Although their products are paid, investing in such high-quality resources can level up your stream and make your life easier.

StreamElements

StreamElements is the place to go if you're looking for layouts, themes, and widgets. You can choose from plenty of widgets, including social media rotators, timers, and chat box. It's free and easy to use. They also have a plugin you can add to make integration with OBS easier.

Streamlabs

Streamlabs is a competitor of OBS Studio, but they have lots of entertaining widgets you can use for your stream, even if you're using the latter software. One of their best widgets is MediaShare, which allows your followers to send you video or songs when they tip you. They also have spin wheel widget for raffles and a poll widget.

Visuals By Impulse

VisualsByImpulse mainly offers overlays, but they also have other products like goal widgets. Some of their widget offerings are Hype Meter, event lists, and goal overlays.

OBS Project

Of course, this list wouldn't be complete without the free offerings from the OBS community's contributors. Check the 'Resources' section of the official OBS website to look for free widgets and other useful tools.
Conclusion
OBS is a very powerful software that allows you to record gameplay footage or live stream your favorite games. Whether you are a YouTuber or Twitch streamer, it is worth giving OBS a shot. It is free after all, and you can download plenty of plugins that will help your content stand out compared to the competition.
Once you have set up your OBS studio, you won't need to make changes from stream to stream. The video and audio sources should be tested ahead of time but should remain fairly the same. Your add ons may also need to be updated from time to time.
Note that depending on your computer and capture card, you may not be able to use all of the OBS Studio features for your streams without it creating lag on your stream. Again, it is important to preview everything before you start streaming so that your audience won't experience issues from the first scene on.