Some headsets have taken things a step further with the ability to track your eye-movement. Every advancement in VR makes virtual worlds a little more immersive, allowing you to have a better experience overall. 
Regardless, for the best experience, you will need to invest in both a good headset and a good PC. 
What You Need for VR
As technology has progressed, so has VR. The tracking of your head or body's movement can translate to specific outcomes within the virtual world. For that reason, it is important to have a device with low latency so that your actions and reactions are transmuted immediately. 
The device also needs a high-frame-rate (generally a minimum of 60 FPS, 90 is recommended) so that the virtual world remains real. Frequent skipping or chopping would ruin the illusion and the experience altogether. 
Internet Speed and VR
While you will need a decent Internet speed when playing with VR, much of the game has been downloaded prior to you playing it, allowing you to move freely through the virtual world. 
You may need to think about upgraded elements of your PC before upgrading your internet plan. Your CPU or graphics card could actually be the cause of any issues in your game. That being said, if everything about your PC is updated, look into getting a 600 Mbps internet plan.
Most Popular VR Headsets for PC
If you want to play VR on your PC, all you need it the HTC Vive or the Oculus Rift. Either will run the best VR games designed for the PC.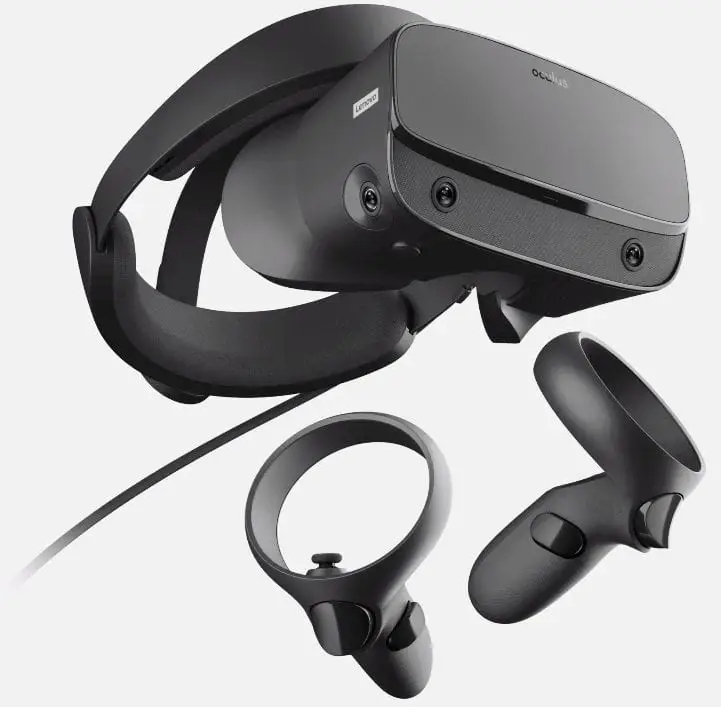 Oculus Rift S
Made by Lenovo, the Oculus Rift S is the improved version of the Oculus Rift. It has an 'insight tracking system' that uses five headset sensors to track the movement of your head and your controllers. 
Between the Oculus Rift S and the HTC Vive Cosmos, the Oculus is the more affordable option. It has a 16ft cable, allowing you to move around a bit while you play. 
HTC Vive Cosmos
The HTC Vive proved to be a contender since 2016. It has a 90Hz refresh rate, exquisite tracking, and AMOLED displays. Now that it has been discontinued, the HTC Vive Cosmos is here to contend against the Oculus Rift S. 
The Cosmos is comfortable to wear and has tracking cameras to make things easier to set up. Its flip visor allows you to instantly leave the virtual world to re-enter the real world. Want to play wireless? The HTC Vive Cosmos also has a wireless upgrade!
Which PC VR has the Highest Resolution?
The HTC Vive Cosmos has 2880×1700 px overall resolution (1440×1700 per eye), 90Hz refresh rate, and a 110° field of view, giving it a higher resolution over the Oculus Rift. 
The Oculus Rift has a fast-switch LCD screen that displays a 2560×1400 (1280×1440 per eye) resolution. It refreshes at a rate of 80HZ. 
Virtual Reality PC Requirements
If you want to use the HTC Vive or the Oculus Rift, you will need a powerful PC (VR isn't Mac-compatible at this time). 
You may need to upgrade parts of your computer to ensure you can play in VR Worlds. Here are the minimum and recommended specs you need to use the Oculus Rift:
Oculus Rift Recommended PC Requirements
These are the recommended specs for the Oculus Rift:
CPU: Intel i5-4590 / AMD FX 8350
GPU: AMD R9 290, NVIDIA GTX 970 or better
RAM: 8GB+ 
Window 7 64 bit or better
HDMI 1.3 and 3x USB 3.0 plus 1x USB 2.0
HTC Vive Cosmos Recommended PC Requirements
These are the recommended specs for the HTC Vive Cosmos:
CPU: Intel i5-4590 / AMD FX 8350 (or better)
GPU: AMD Radion RX 480, NVIDIA GTX 1060 (or better)
RAM: 8GB+ 
Window 10 or better
1x USB 3.0 Port
DisplayPort 1.2
Laptop Requirements for VR
If you prefer to use a laptop, you will need to find one that is powerful enough to run your VR system. Here are the minimum requirements for a VR-ready laptop:
GPU: NVIDIA GeForce FTX 980, 1050 Ti, 1060, 1070 or 1080. (RTX 2060, 2070, or 2080 would be better)
CPU: Intel Core i5-6300HQ
RAM: 8GB
VRAM: 4GB
Display: 1920×1080
Two USE 3.0 ports
HDMI 1.4
Windows 8/10
Can You Switch VR Systems 
Most PC games created for VR can be used on multiple systems. Accessories and add-ons will be device-specific. As long as you don't mind re-purchasing accessories as well, you should be able to play most of your games.