Twitch VIP badges are a way that streamers can thank those who helped them reach specific milestones in their streaming journey. There are a limited number of VIP badges available and streamers each has their own individual strategy on how they will hand them out.
This post will explain what VIP badges are as well as give a little advice on what you can do to potentially earn one.
What is the Twitch VIP Badge?
The Twitch VIP Badge is a pink square with a white diamond in the middle of it. Twitch streamers can hand out the badges to members of their community as they become available. Each streamer will generally hand them out with their own strategy in mind, but there are a few things users can do that may earn them one in chat.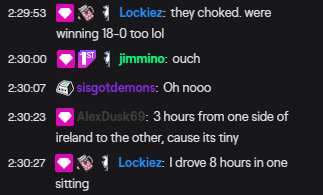 How Many VIPs Can You Have on Twitch?
Twitch streamers unlock 10 VIP badges once they complete the "Build a Community" achievement on their channel. To do this, they must have reached 50 followers on the channel and have at least 5 unique chatters in any given stream.
Additional VIP badges will be handed out when streamers reach the following unique chatter milestones:
| Unique Chatters | VIP Badges |
| --- | --- |
| 10 | 20 |
| 15 | 30 |
| 20 | 40 |
| 25 | 50 |
| 50 | 60 |
| 100 | 80 |
| 200 | 100 |
How to Get the Twitch VIP Badge
To get the VIP badge in a channel, you must find ways to bring value to a channel. While this will look different in every community, there are a few things you can do to stand out.
Keep Messaging in Chat

Stay a strong part of the community. Talk naturally with the streamer and other people in chat. Ask people about their day or react to the content on stream.

Don't Be Toxic

If you continually spam chat, bully others, or try to post links in chat, you will most likely not be given the badge

Welcome New Viewers

Welcome people when they join chat for the first time. Talk to them and get them excited about joining the streamer's community.

Help on Discord

Find ways to help the Discord community. Engage in conversation, post relevant memes, and share clips from the stream.

Share the Stream With Your Friends

Retweet Going live posts, ask your friends to visit the channel, and consider purchasing merch to promote the stream.
Remember that even if you do all these things, you may not get a badge, especially if it is a larger channel. There are limited badges available and many people are bettering the stream.
Don't ask to be given a badge, especially over chat. Bringing up VIP badges can be uncomfortable for streamers, especially on channels with an active community and a limited amount of badges.
Twitch VIP Perks
If you are given the VIP badge in a Twitch channel, you will be able to do the following:
Chat regardless of rate limits
Post links in chat (even when the ability is disabled)
Chat regularly even in sub-only, followers-only, or slow mode
Conclusion
Focus on helping a streamer because you are passionate about their content. If you receive a badge for your efforts, that is awesome. Understand, however, that your efforts are still appreciated even if you do not receive a badge.