What is Twitch Prime Loot?
Twitch Prime Loot is one of the perks included with your Twitch Prime membership. Your loot will be updated every month. You will receive free games that you can claim, download, and play forever. You will also gain exclusive weapons, boosts, skins, and upgrades to many other popular games.
How to Get Twitch Prime Loot
You will need to set up your Twitch Prime account to get prime loot. This is done by linking your Amazon Prime account with your Twitch account. You will receive other benefits from Twitch Prime as well, including one free subscription per month to the channel of your choice.
How to Use Your Twitch Prime Loot
To claim your prime loot or starter packs for various games, you will need to do the following:
Step 1: Click on the item of your choice. You will be redirected to a second screen.
Step 2: Read the instructions on how to use your loot. Depending on the device, the instructions may be altered.
Step 3: Follow the instructions. Typically, getting the loot is a simple as hitting the "claim" button and making sure your game account is linked with your Twitch Prime account.
Step 4: Enjoy your subtle boost.
How to Play Your Twitch Prime Games
In order to play the games that come with your Twitch Prime account, you will need to complete the following:
Step 1: Click the blue "Claim" button on the game before it expires.
Step 2: Click the "Download and play" link that shows up on the game box.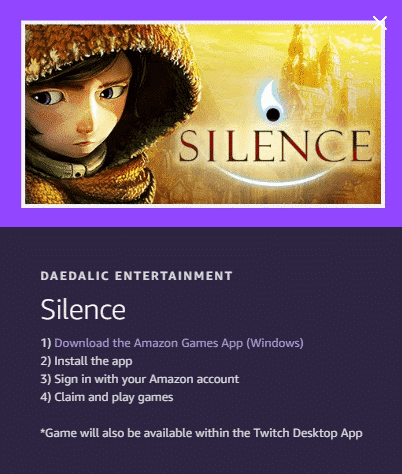 Step 3: Download and install the Amazon Games app.
Step 4: Sign in to the app using your Amazon Prime/Twitch Prime account
Step 5: Find "Free Games with Prime" under the Twitch Prime section on the left-hand side of the app.
Step 6: Locate the game and install it on your computer. 
Step 7: Enjoy the game.