If you decide that you want to start hosting other channels from your own personal Twitch channel, you can follow a few simple steps to do so. All Twitch users are allowed to use host mode, regardless of whether or not they are Twitch streamers. It is a great way to support your favorite broadcasters.
In this article, we will cover the basics of how to begin hosting another Twitch channel directly, how to enable auto hosting in your channel settings, and what you should consider when looking for other Twitch streams to host:
How to Host Another Channel on Twitch from Your Chat
The simplest way to host someone on Twitch is directly from your own channel's chat room. Here's how:
Step 1

Go to your own Twitch channel by clicking on your profile picture in the upper right-hand corner and choosing Channel from the drop-down menu.

Step 2

Type in /host followed by the channel name of the person you wish to host. Your chat will still remain active on your stream, but all the views will count towards the views of the hosted channel.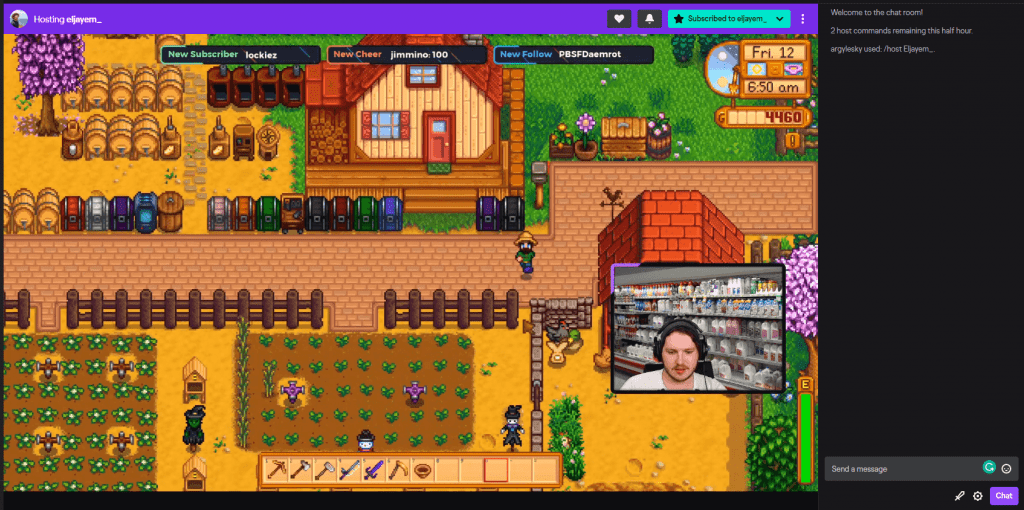 For example, to use host mode for Eljayem_, you would type in /host Eljayem_ into your own chat. You can also host channels from your mobile device by typing into your chat tab on the Twitch app. When you have successfully hosted a channel, it will show up on your Twitch screen.
How to Host Someone from Your Twitch Dashboard
You can set up a special Twitch host mode to auto-host channels when you aren't online from your Twitch dashboard. Hosting another channel in this way will allow you to support other channels even when you aren't online to do so. Here's how you can use the auto-host feature:
Step 1

Click your avatar in the top right of your screen, then "Settings" from the drop-down menu.

Step 2

Select the "Channel and Videos" tab at the top of the screen, then scroll down the page to the "Auto Hosting" section.

Step 3

From this section, you can add the channels you want to host and customize your setting for hosting. You can host random people from your list or host them in the order they appear on the list. This way, if two streamers on the list broadcast at the same time, you can give one priority over the other.
How to Set Up Auto-Hosting on Twitch
To set up auto-hosting on Twitch, follow these steps:
Step 1

Click on your profile picture on the top right corner of the screen, then choose "Settings" from the drop-down menu.

Step 2

Select the "Channel and Videos" tab at the top of the screen.

Step 3

Scroll down the menu until you find the "Auto Hosting" section.

Step 4

If you want to set up your own channels to auto-host, toggle the button to the on position. If you want to set it up for any of your Twitch team members, toggle that option to the on position.

Step 5

To add channels that will be hosted, click the "Host List" option.

Step 6

Type in the name of each channel you want to host and click the "Add" button to add them to your list.
How to Stop Hosting
There may be times where you need to stop hosting other Twitch users. Their content might not be what you expected, or you may want to start hosting another channel. If they are currently streaming, simply type /unhost in your channel's chat window. If you had them set up for auto-hosting and you want to stop directing traffic to them, remove them from your list.
You can change who you are hosting up to three times every 30 minutes. While this may seem like an odd thing to do, you could have some fun with it. If you are hanging out with some of your subscribers in your Twitch Discord server after your stream, you can check out a few other broadcasters together straight from your channel.
You can also stop auto-hosting channels by returning to your Twitch channel settings and removing the Twitch account in question.
The Pros and Cons of Hosting Channels
There can be some pros and cons to hosting channels. It might not be right for everyone's promotional strategy. Remember that ultimately, you are trying to grow as a streamer and you need to do what is right for your brand and your community. There are several benefits to hosting, but there are also some downsides that you should consider.
Pros
Here are a few reasons why hosting another's channel may be beneficial to you:
It can help you network with other streamers. If you consistently host or raid a stream of someone you like, you may be able to work with that streamer. For the best networking results, host streamers who are in the same ballpark as you statistics-wise. If they are far more popular than you, you won't get noticed. Be courteous to the streamer and don't promote yourself. If you genuinely enjoy the channel's stream, reach out to them and ask to collaborate or work together.
Hosting other's content is a good way for potential viewers to see what content you enjoy. It is also a good way to gauge what your community thinks. Have a channel on your discord to discuss hosted channels. If you catch bits and pieces of their streams that you enjoyed, post clips to see their reactions.
You can potentially be discovered through hosting as the process is recorded in the new broadcaster's chat and host lists. If you are lucky, you may even be mentioned. To be discovered in this way is very rare. Hosting should be used as a networking tool or a way to genuinely help streamers whom you admire.
Cons:
Here are a few ways where hosting may take away value from your channel:
You could potentially run into problems with your viewers if the streamer you are hosting does something offensive. While this isn't common and most users won't blame you, some may wonder about your choice of "friends" in the streaming community. Make sure that the streamers you host typically follow Twitch's Terms of Service and have similar rules to your own channel. You have no control over what they stream or do, so pick people based on how entertaining you find them.
Your viewers won't be able to see your offline banner. If you have an important message that you need them to see (such as you will miss an upcoming scheduled stream), the banner is the best place to post it. If you still wish to host, you can update your profile and your social media to have the needed information.
Reasons to Host Other Streamers
There are several reasons why you should host other streamers on Twitch. Here are just a few:
1. Help Out Streamers You Appreciate
You don't necessarily have to be a streamer to host another channel on Twitch. While they may not get many views through your channel over time, showing them the extra support can be an encouragement to many smaller channels.
2. Host Shares on Twitch Teams
If you are a part of a Twitch team, it is likely that you will be asked to host other teammates when you are not online. This will help your viewers connect with other teammates and it may send traffic back your way occasionally as well.
3. Part of Collaboration
If you frequently collaborate with 2-3 other streamers, hosting each other is a good way to encourage growth over time.
4. Keep Your Channel Active
Even if it isn't your content playing, it is nice to have something live for those who find your channel through your socials or other means.
Who Should You Host on Twitch?
Don't host channels randomly. Instead, do a little research and only host other channels that you think your community will appreciate. Hosting big names won't do anything for you. As you make your Twitch collab team, talk to them about hosting strategies, and create a plan together. Most collaborators will host each other when not online.
If you are collaborating, let your community know who you are hosting and why. Give your viewers an overview of the general content and why you enjoy it. Ask your collaborator to do the same.
Don't host random channels. You won't get reciprocation, and nobody will notice. Make sure to have a Twitch offline screen on your channel for when you and your team aren't streaming.
Make sure that those you host align with your values and brand. If you tend to stream family-friendly material, make sure not to host mature channels. This way, your followers aren't confronted by things they might not wish to see.
Host Your Own VODs
If you want a video to play instead of your offline screen, but you don't want to host someone else, you can play one of your VODs. This setting can be switched on in the same section where you set up your auto-hosts. Just switch the "Host Pre-Recorded Videos" tab on. When a viewer visits your channel, they will be greeted with one of your videos.
Is "Hosting" the same as "Raiding"?
Raiding is a unique form of hosting. It happens at the end of your stream as you and your viewers storm into another channel and create hype. Raiding is an excellent way for you to interact with another community.
When you raid, stay online for 15-20 minutes and be engaged with the new streamer's community (and your own). Don't self-promote, but try to help the other streamer. They will appreciate this and may help you in return someday.
Their viewers may check out your own channel as well. Let your users on social media know whom you raided by mentioning the new streaming in your post. This will let both communities know.
In Conclusion
In our opinion, hosting is a great tool to be used for community building amongst a group of streamers. This way, everyone benefits, and your viewers will be more likely to be interested in your collaborations (and vice versa).