If you are already subscribed but want to find another way to support your favorite streamer, you can give subs to other members of their community.
This post will cover everything there is to know about Twitch gift subscriptions.
What Are Twitch Gifted Subs?
Gifted subs are a form of currency on Twitch with real-world monetary value. Viewers "gift subs" to their favorite streamers to show their appreciation and encourage new viewers to become part of the community.
These given subs are the same as normal subs, meaning gift recipients will earn access to emotes and the ability to interact on chat during "sub only" mode. These gifted subs come in tier 1, 2, or 3.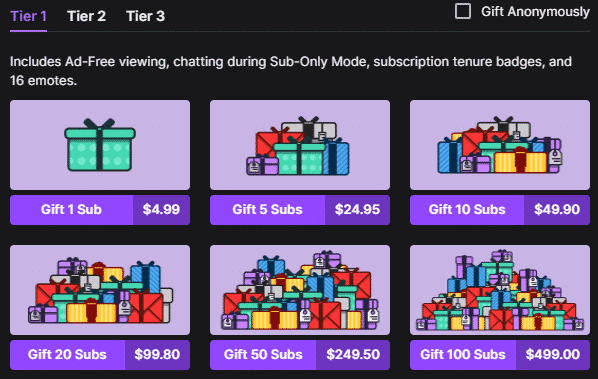 How Much Do Gifted Subs Cost on Twitch?
Twitch gifted subs cost the same amount as regular subs on Twitch, with Tier 1 subs costing $4.99 USD. There are no discounts for multiple orders, meaning that if you were to buy 10 gifted subs, you would be paying $49.90 USD.
The cost of giving a tier 2 sub is $9.99, while the cost of giving a tier 3 sub is $24.99. Keep in mind that if you're outside of the US, you might also have to pay additional fees.
What Is a Twitch Gift Sub Badge?
Twitch Sub Badges are given to individuals that purchase gift subscriptions for a channel. You can purchase any gift subscription to earn this badge. It will also be automatically displayed as a channel chat badge.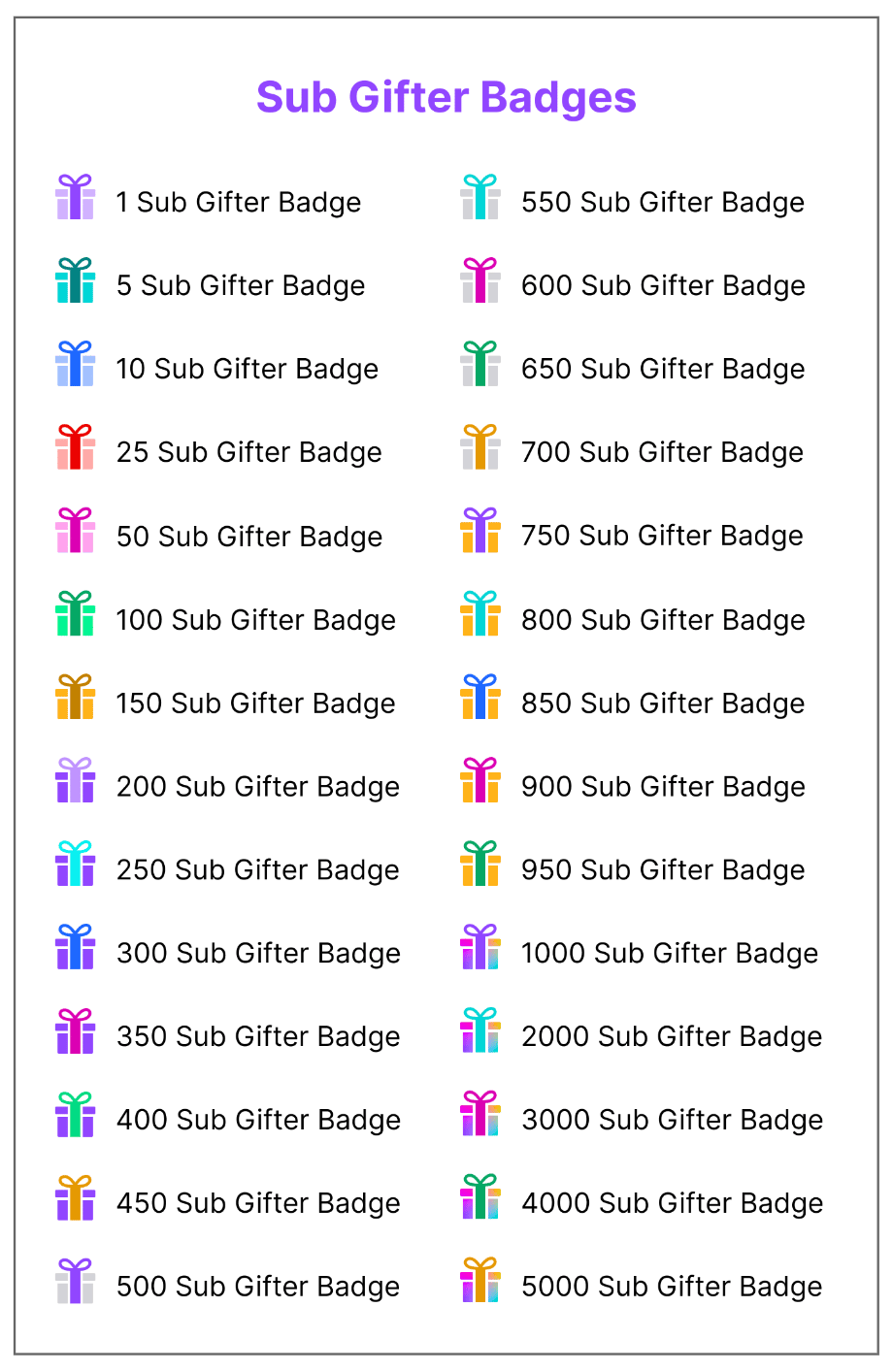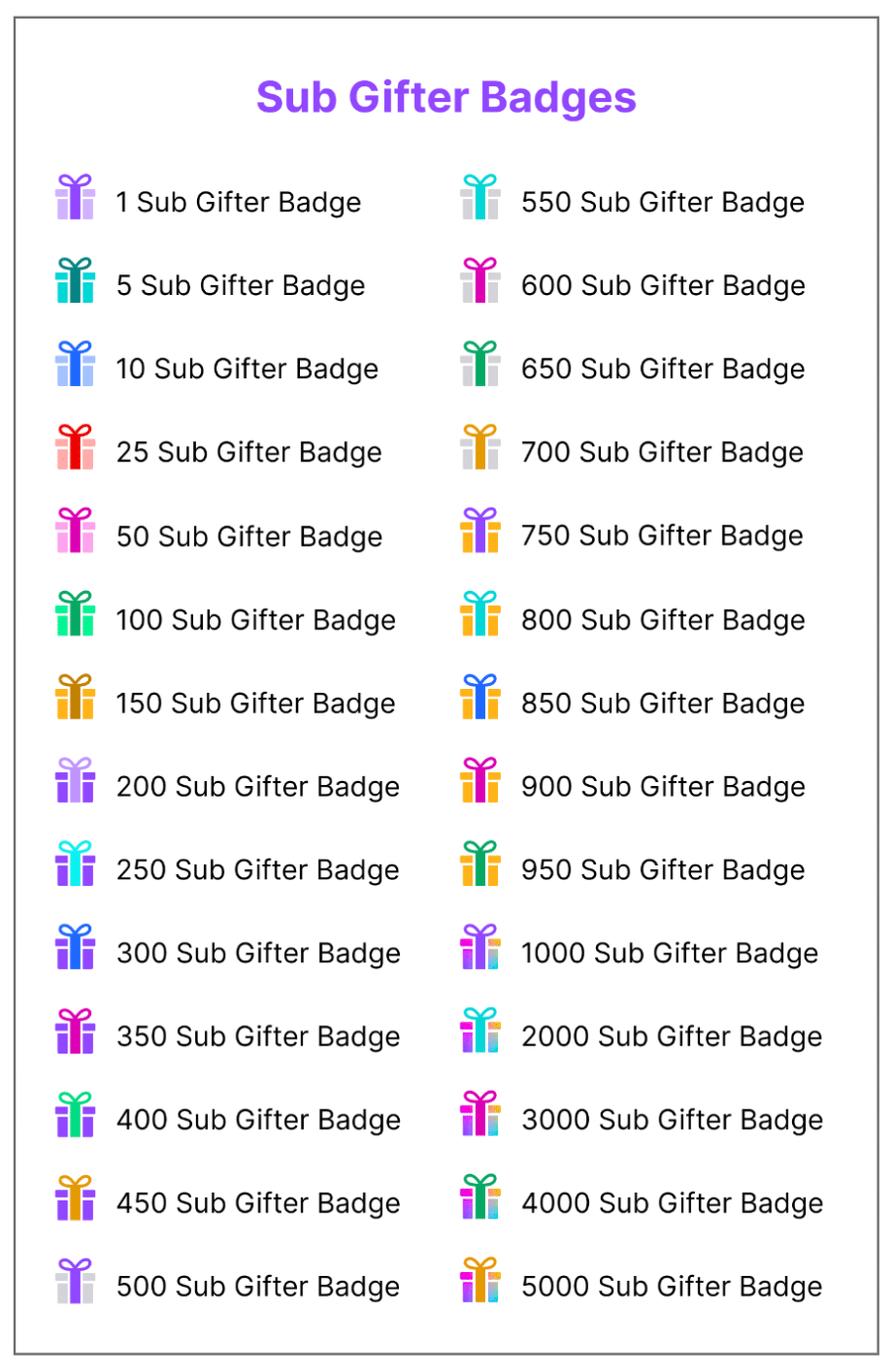 Your Sub Gift Badge will appear as long as your gifted sub has not yet expired. Once it expires, you can purchase gifted subs to get the badge again. The great thing about the Sub Gifter Badge is you'll constantly level up as you continue gifting subs to the channel.
How to Gift Subs on Twitch
Here is how you can purchase gifted subs for your friends or the stream's community:
Step 1

Go to the top right-hand side of the screen and press the "Subscribe" button. If you have already subscribed to the channel, it will become a "Gift a Sub" button.

Step 2

If you aren't subscribed, scroll down to the "Gift a Sub" button and click it.

Step 3

If you want to give the gift anonymously, check the box in the upper right-hand corner. 

Step 4

Choose between gifting to random people in the community or to a specific viewer.

Step 5

When gifting randomly, choose the number of gifts you want to send (you may give between 1-100). You can also choose which tier you would like to give. 

Step 6

If you choose to give a subscription to someone specifically, you will need to choose which tier you want to give, then type their name in the search box.

Step 7

Select the correct name from the list, then press the "Gift a Subscription" button in the lower right-hand corner. 

Step 8

Complete the purchase on the final page. If you haven't linked a way to pay in the past, you will need to set that up now.

Do Streamers Make Money from Gifted Subs?

Yes, streamers get the same amount of money from sponsored subs as normal subs to their channel. For Twitch affiliates, this is 50% of the cost of the sub. For Twitch Partners, it is 70%.

For example, if someone gave a sub for $9.99, the streamer would receive roughly $5, and Twitch would keep the remainder.

How Much are 50 Gifted Subs on Twitch?

To gift 50 subs, you must pay $249.50 for each Twitch account with a tier 1 sub. If they are all tier 2 subs 50 gift subs will cost $499.50. 50 gifted tiers 3 subs will set you back $999.60 plus any additional fees that may be incurred.

These prices are based on US figures and may vary from country to country.

How Much are 100 Gifted Subs on Twitch?

If you plan on spending bit 100, gifted tier 1 subs on Twitch will cost you 499. If they are 100 gifted tier 2 subs, that will increase to $999.00.

For tier 3 subs there is a cap, and the most you can gift at one time is 40, which will cost you $999.60. The pricing below is based on US estimates, and the costs may differ depending on the country they are bought in.
How to Buy Twitch Subs Anonymously
Some people want to support the streamer but don't like extra attention, so they give out subscriptions anonymously. To purchase a Twitch gift sub anonymously, click the "gift anonymously" option in the upper right corner of the gift sub purchase window.

Often mods or stream regulars give subs to active people in the chat but will do so anonymously so that it doesn't look like they pick favorites. 
How to Receive Gifted Subs on Twitch
You can receive a gifted subscription randomly by watching and following channels. If you follow channels, you will occasionally get gifts even if you aren't actively watching the stream.
If you want to collect channel subscriptions, here are a few things you can do: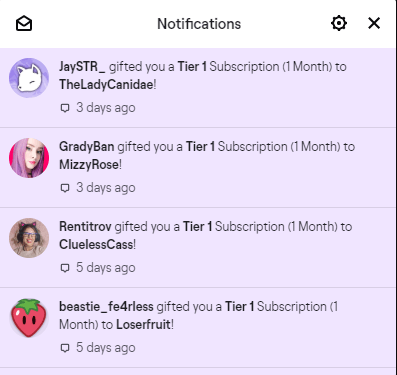 Follow channels that generate a lot of hype
Follow popular streamers
Be active and supportive
Frequently Asked Questions
What Happens When You "Gift to the Community"?
As mentioned, you can gift subs to the community or a specific user. When you choose the former, it's called community gifting. This means a random person watching the live stream will receive your gift subs.
Conclusion
Gift subs are a good way to help a streamer's community grow and create hype that could generate other subs or people donating bits. If enough people sub or donate within a certain amount of time, you could start a hype train.