What Are Twitch Gifted Subs?
Viewers can purchase gifted subs for other viewers or followers in their chat. They can be purchased for specific people or to random people in the community. You can purchase them whenever you wish, even if the streamer is offline. Other viewers and followers will receive a notification to let them know that they received a gift subscription. 
How Much Are Gifted Subs on Twitch?
Twitch gifted subs cost the same amount as regular subs on Twitch, with Tier 1 subs costing $4.99 USD. There are no discounts for multiple orders, meaning that if you were to buy 10 gifted subs, you would be paying $49.90 USD. 50 gift subs on Twitch costs $249.50, and 100 gifted subs will cost $499 USD. The streamer will receive 50% of the profits from each sub.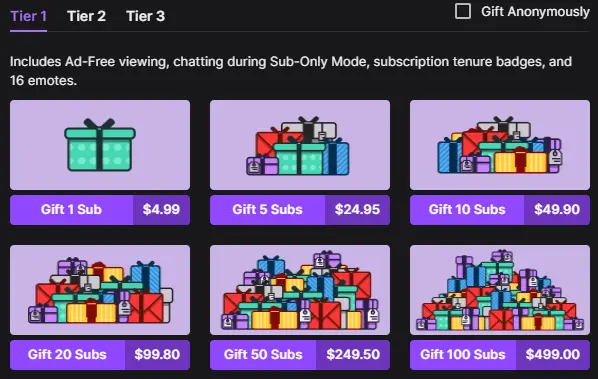 How to Gift Subs on Twitch
Here is how you can purchase gift subscriptions for your friends or the stream's community:
Step 1

Go to the top right-hand side of the screen and press the "Subscribe" button. If you have already subscribed to the channel, it will be turned into a "Gift a Sub" button.

Step 2

If you aren't subscribed, scroll down to the "Gift a Sub" button and click it.

Step 3

If you want to give the gift anonymously, check the box in the upper right-hand corner.

Step 4

Choose between gifting to random people in the community or to a specific viewer.

Step 5

When gifting randomly, choose the number of gifts you want to send (you may give between 1-100). You can also choose which tier you would like to give.

Step 6

If you choose to give a subscription to someone specifically, you will need to choose which tier you want to give, then type their name in the search box.

Step 7

Select the correct name from the list, then press the "Gift a Subscription" button in the lower right-hand corner.

Step 8

Complete the purchase on the final page. If you haven't linked a way to pay in the past, you will need to set that up now.
How to Buy Twitch Subs Anonymously
Some people want to support the streamer but don't like extra attention, so they give out subscriptions anonymously. To purchase a Twitch gift sub anonymously simply click the "gift anonymously" option in the upper right corner of the gift sub purchase window.
Often mods or stream regulars give subs to active people in the chat but will do so anonymously so that it doesn't look like they are picking favorites.
How to Receive Gifted Subs on Twitch
You can receive gifted subs randomly by watching and following channels. If you follow channels, you will occasionally get gifts even if you aren't actively watching the stream. If you want to just collect channel subscriptions, here are a few things you can do: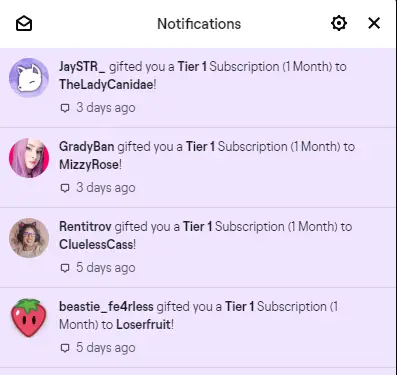 Follow channels that generate a lot of hype
Follow popular streamers
Be active and supportive
Politely ask for one
Conclusion
Gift subs are a good way to help a streamer's community grow and create hype which could generate other subs or people donating bits. If enough people sub or donate within a certain amount of time, you could start a hype train.