While Twitch badges are basically a status symbol, they are fun to collect. Here is a list of the other specialty badges on Twitch and what you can do to earn them. This post will briefly cover Twitch Sub Badges, but will focus instead on global badges that you may encounter on any channel.
The following is the list of badges on Twitch that you can earn and achieve over time:
1. Twitch Chat Badges
There are several chat badges you can earn on Twitch. It's a great way to show a bit more of your personality on the platform. Here are the user-type chat badges and simple chat badges that you can earn.
Twitch Verified User Badge

You must get verified on Twitch by becoming a Twitch partner in order to get the Twitch Verified User badge. This badge has a purple octagon with a checkmark on it. It is displayed by your name at the top of your screen.

Twitch released the verified badge in 2017 at the same time that the platform released its Affiliate program. It is a designation for Partners as compared with Affiliates and other streamers. If the badge is available to you, you can add it to your account in your backend chat settings.

Twitch Broadcaster Badge

The only way to get the broadcaster badge is to learn how to stream on Twitch and broadcast to your channel. When you type in your chat, the badge will appear. The nice thing about this badge is that you don't have to jump through any additional hurdles to use it!

Twitch Chat Moderator Badge

Twitch Chat moderator badges are handed out by individual Twitch streamers for their particular channels. The best way to earn your chance at one of their badges is to be friendly and helpful in their chat. Don't cause drama, be supportive, and follow the channel's rules. If you are a frequent visitor and the channel is still growing, you may be asked to moderate the channel.

Find ways to support the streamer. Visit their Discord channel and see if they need any help with editing, graphics creation, or other services. Don't be too pushy, but offer to help in any way you can. Growing channels is hard work, and if they can see that they can trust you, they will be happy to your help.

Twitch VIP Badge

Similar to the Chat moderator badge, the VIP badge is given out by streamers. Be a loyal viewer of their channel, follow the rules, and support them in any way that you can. Eventually, they may give you the badge. If you have been there for a month or two and have been quite supportive, you can ask them what you can do to earn it.

Twitch Founders Badge

The Founder's badge is awarded to the first few subscribers to any given channel. If you are one of the first ten subscribers to an Affiliate channel or one of the first 25 subscribers to a Partnered channel, you will receive the badge for becoming part of their community.

Twitch released the Founders badge (also known as the "first" badge) in October 2019. You must have an active subscription to display the badge.

Twitch Staff Badge

The Twitch Staff badge is a black square with a wrench in it. In order to get this badge, you must work for the company. If you want to work for the world's most popular streaming platform, then visit their careers page to see if you qualify for any open positions.

Fun Fact: the wrench is similar to the tool in the VoHiYo Emote. VoHiYo is based on Twitch mod Volary and is one of the top Twitch emotes on the platform.

Twitch Admin Badge

The Twitch Admin badges are given to paid personnel who are selected to moderate channels, process reports, and enforce the platform's Terms of service. To become a Twitch admin, you must first be a global moderator.

For the chance to become a global moderator, you must work very hard on forums and other places where users seek support. If you are active, accurate in your information, and helpful, someone may approach you with the moderator opportunity. While admins are paid, global moderators are not. There is a lot of competition for both positions.

Twitch Artist Badge

The Artist Badges are reserved for people who have made a creative contribution to Twitch. This is when a Twitch artist builds their own brand on the platform. It could be through custom emotes, overlays, avatars, logos, etc.

Watching Without Video or Audio

These badges are essentially used to let others know that the user is participating in a stream without video or audio.

Twitch Turbo Badge

You can get a Twitch Turbo Badge by subscribing to Twitch Turbo. This is Twitch's premium user service. The service costs $8.99 per month and offers special perks to premium users (such as no ads).

Prime Gaming User Badge

You can get a Prime Gaming User badge by linking your Amazon Prime membership to your account. This will unlock several bonus features and allow you to subscribe to one channel per month at no cost.

Twitch Sub Badge

While Twitch sub badges (and the bit badge) are not set up by Twitch admins, they are worth mentioning. These will show up in the individual channel's chat in which they were purchased. Streamers will offer additional benefits besides the badges that appeal to their audience. Sub badges can be earned when people purchase subscriptions from specific channels.
2. Cheer Chat Badges
Cheering chat badges are a way for a viewer to show off the number of bits they have donated to a specific channel overall.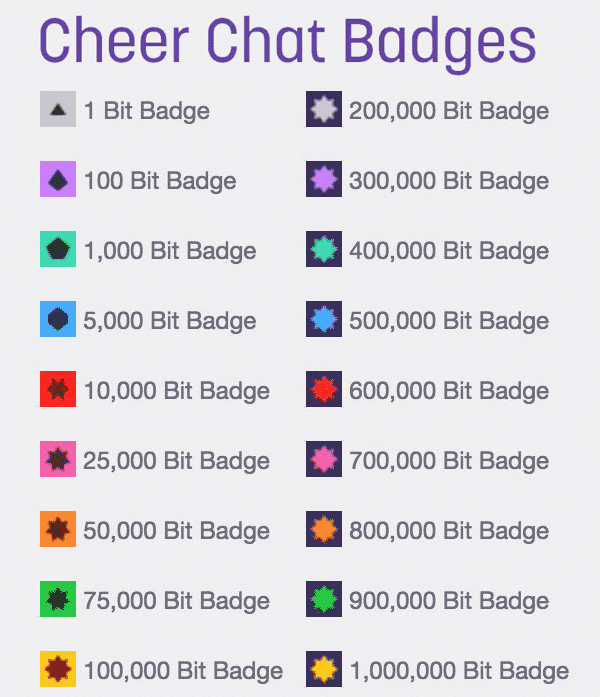 They unlock at certain thresholds, initially following the same pattern as the different cheermotes, but continuing past the 10,000 cheermote max with the next one being 25,000 bits. A chat badge can only be used in the channel where it was earned, and it will last indefinitely in that channel.
Another way to show support to a channel is by giving gifts. You can earn sub-gifter badges by sending gifts. However, your sub-gifter badge will disappear once your gift expires. The good news is, your badge permanently levels up even after the badge disappears.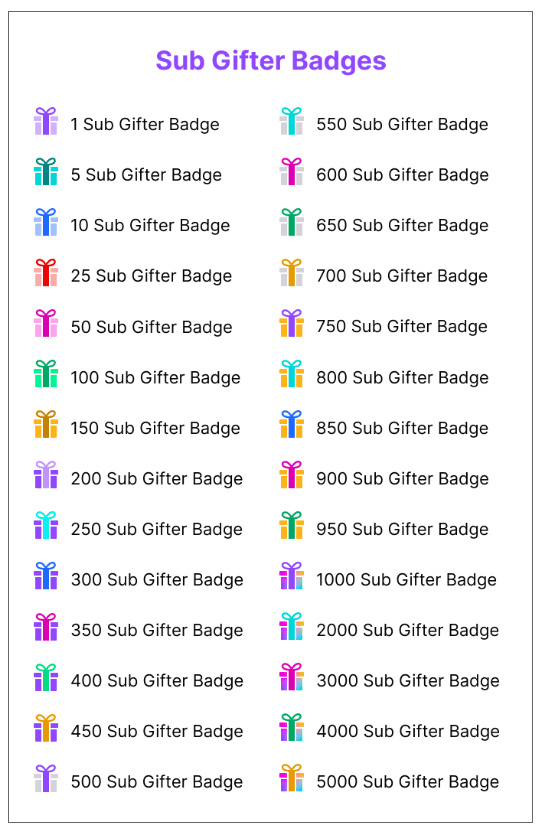 3. Top Leaderboard Badges
Twitch gives out top leaderboard badges to loyal and supportive subscribers. Do take note that the channel owner has to have leaderboards enabled for you to get these types of badges.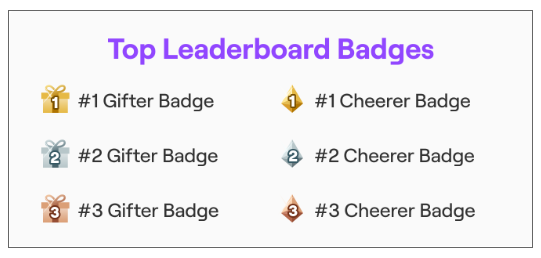 You become the top cheerer and gifter badges under a channel's Top Leaderboard Badge. Furthermore, you can also earn Subscriber Loyalty Badges for being subscribed to channels for a long time.
Other Global Twitch Emotes
Twitch emotes are often given out to people who attend events such as TwitchCon. You may also receive them for participating in global Twitch events. There are several unique global emotes that are no longer available to new members. The best option to learn about them when you see them is to ask the person how they got them.
Conclusion
While it is unlikely that you will receive every badge that Twitch has to offer, you are likely to pick up a few over time. To get a new badge, work toward achieving it as a goal.