While numerous sites online offer emote-making services, fewer offer cheermotes; the animated emotes that your viewers can use when they cheer. As a Twitch partner, you can create your own branded emotes to add value to your channel and entertainment to your viewers.
We have compiled a short list of where to get cheermotes to help you find a perfect designer.
What Do Cheermotes Do on Twitch?
If you're unfamiliar with Twitch cheermotes, they are custom animated emotes that your viewers can send during your live stream. Unlike the regular animated Twitch emotes, however, cheermotes have corresponding bits. Meaning each cheermote they send is equivalent to a particular number of bits, Twitch's virtual currency, which of course, you can convert to cash later on.
Do Cheermotes Replace Bits?
No. Cheermotes are just one way of sending bits to streamers.
Twitch lets streamers upload up to 5 Cheermotes, each is its own tier with a corresponding equivalent of bits from 1, 100, 1000, 5000, and 10000. As you would've guessed, the higher the number of bits, the better the animation and design.
Unlike Twitch animated emotes which viewers can use on other channels, cheermotes are exclusive to your own.
You can use Twitch's default cheermotes for your live stream. But why settle for them when you can upload your own emotes? That's right–if you can make custom emotes for general chatting, you can also create and upload personalized animated cheermotes to make sending bits more fun for you and your viewers.
Best Animated Emotes
As Twitch grows, more and more services also become available to streamers. Ready to find out where you can find the best Twitch custom emotes on the internet? Here are our top picks:
1. Own3d.tv Animated Emotes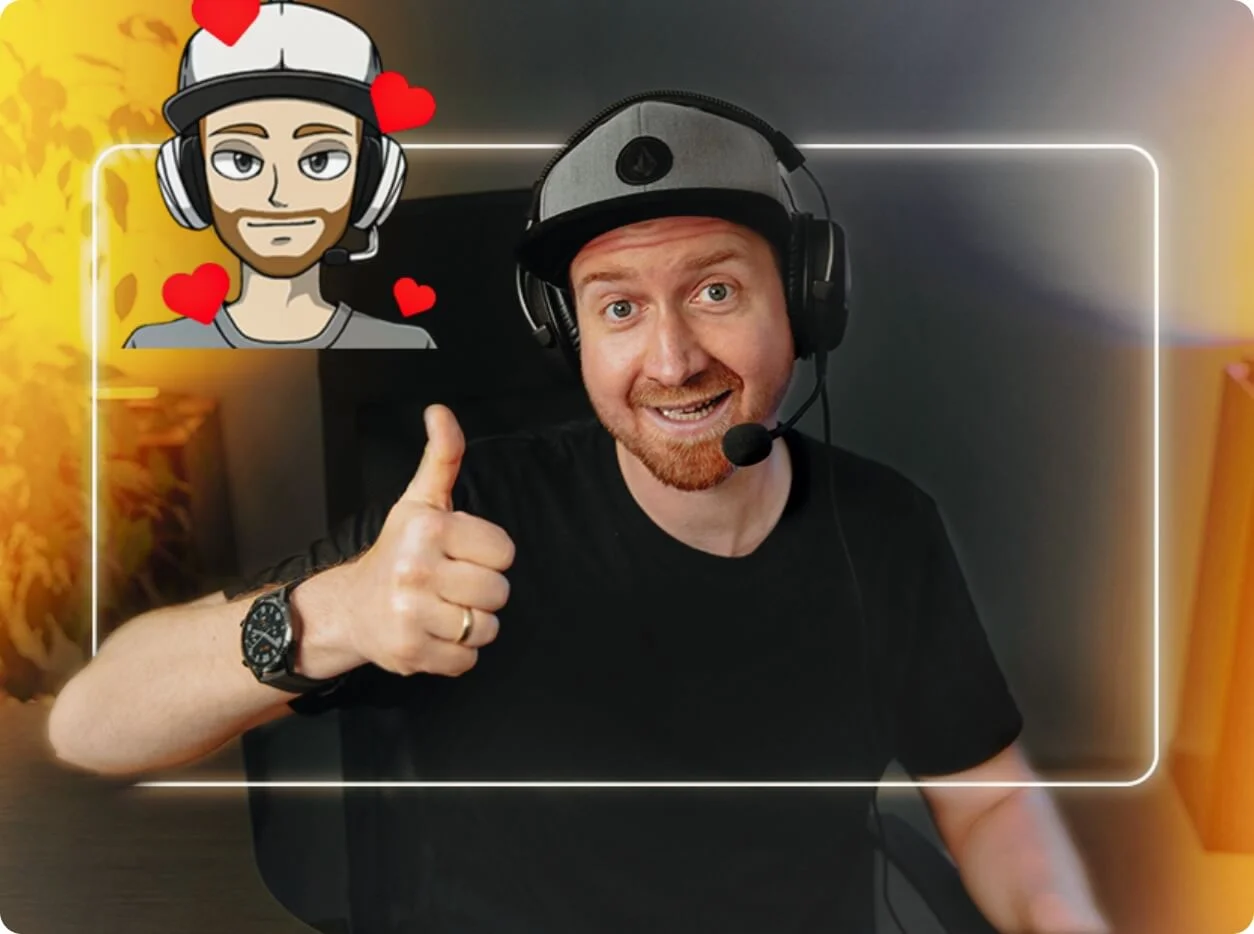 Own3d.tv's new animated emote maker is the perfect tool for streamers who want to add some extra personality to their channel. You can create high-quality animated emotes with just a few clicks to make your channel stand out from the rest.
Best of all, it only takes a few minutes to create an emote with the Own3d maker – so you'll never have to wait days or even weeks for the first draft of your design. Your viewers will love seeing your new emotes, and you'll be able to engage with them in a whole new way.
2. Fiverr Animated Emotes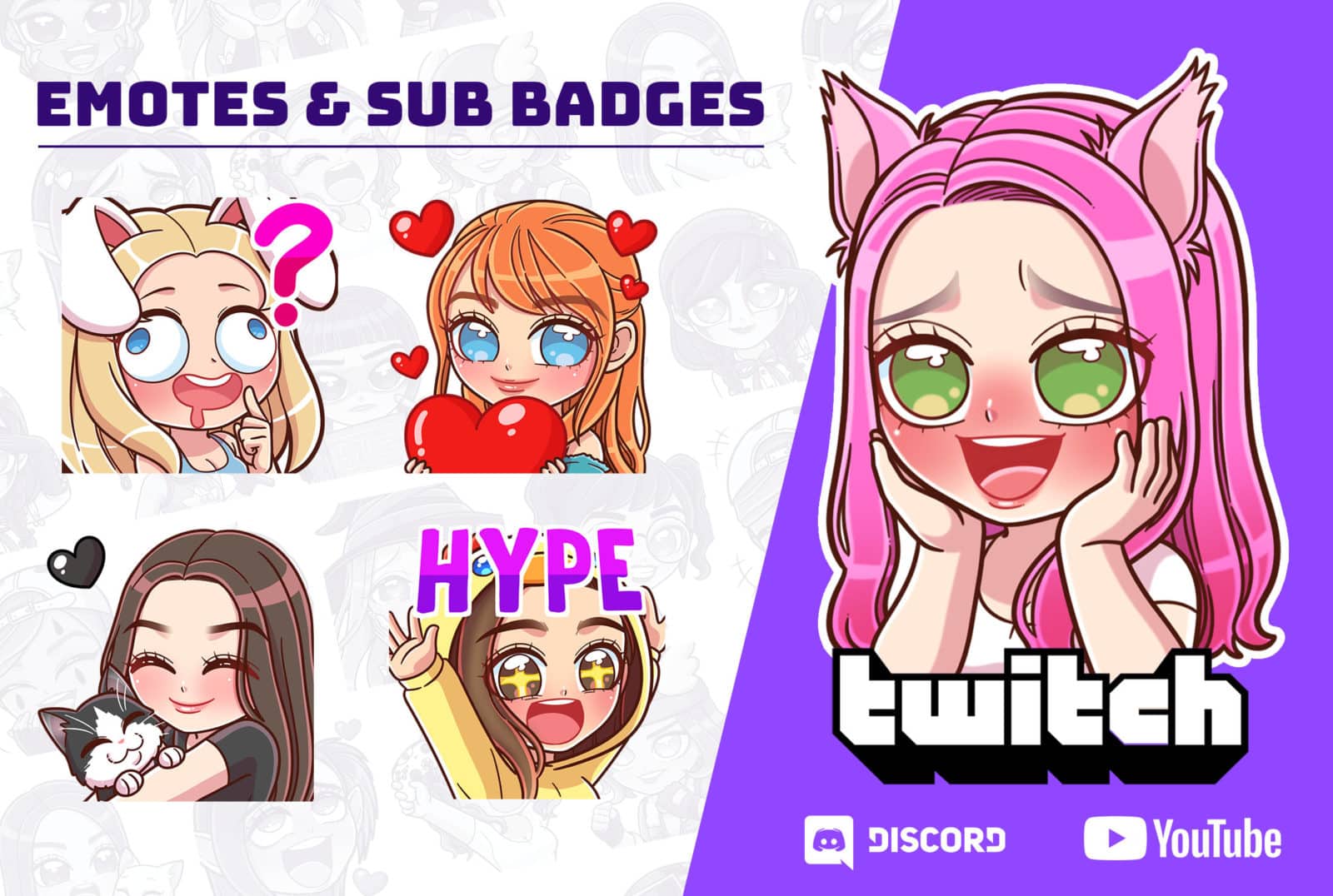 Fiverr is an online marketplace of freelancers who range in skill and prices. You can virtually have anything on this platform created, including Twitch cheermotes. Search for "Twitch cheermotes" in the provided field, and you will be taken to the section of Fiverr where you'll find several portfolios by talented designers.
Look at the reviews of each designer and pay attention to their artwork. Look for a creator whose work stands out to you. Don't be afraid to reach out and ask questions before you hire one. Find someone who creates quality work and who is willing to work with you on revisions if necessary.
Custom Orders Through Fiverr
Every order through Fiverr should be custom-made. Make sure you know what you want before you reach out to the designer. While they will be able to ask you questions to make your ideas clearer if you can give them more information at the beginning of the transaction, you'll ultimately get a better product. Generally, you will have your cheermotes back to you in less than a week.
You can generally find one by typing "Twitch emote" on the search bar of Fiverr, and designer profiles will show up. Find one that says they will do cheermotes or Twitch animated emotes. If they don't have that, but you like their art style, try asking them via PM.
We recommend reaching out to the designer first by sending them a message. This way, you'll have an idea of whether you'd be a good fit together and clarify questions before committing to an order. Also, make sure they are open to revisions, at least one free revision, in case there's something you didn't like about the order.
You can also ask friends if they know a good designer on the platform.
2. Visuals By Impulse Animated Emotes

Visuals By Impulse specialize in designing many different features for Twitch, Facebook Gaming, and other platforms. They are always adding something new to browse and are open to custom orders.
VBI is very particular about who they work with. They will turn away work that isn't a fully fleshed-out idea to eliminate the time they would need to spend on ideation. Their designers are insanely talented and work as efficiently as possible.
Custom Orders Through Visuals by Impulse
Visuals by Impulse are happy to take custom orders for cheermotes and other graphics. After reviewing an order, a manager will get back to you with a quote for an exact price. The company requires you to pay a 50% deposit to start the projects.
You will have 30 days to examine the project and request edits. If a month has passed, they will still edit the image for a small fee.
3. Etsy Cheermotes for Twitch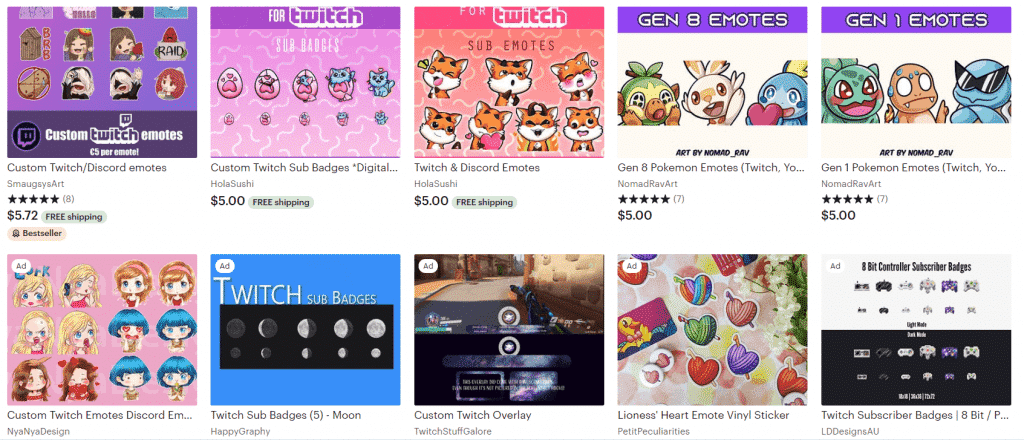 Etsy is an online marketplace for crafters and designers. As with Fiverr, you will be dealing with an individual designer, not Etsy themselves. There are multiple emote and badge creators on the platform, and you can browse through their portfolios to find someone to work with.
Custom Orders on Etsy
Most of the time, your orders on Etsy will be custom, though you will find the occasional cheermote pack. Make sure to read the descriptions of each listing to know what you are purchasing and what to expect. When ordering custom work, include as much information as possible about what you want.
4. Twitch Creative Cheermotes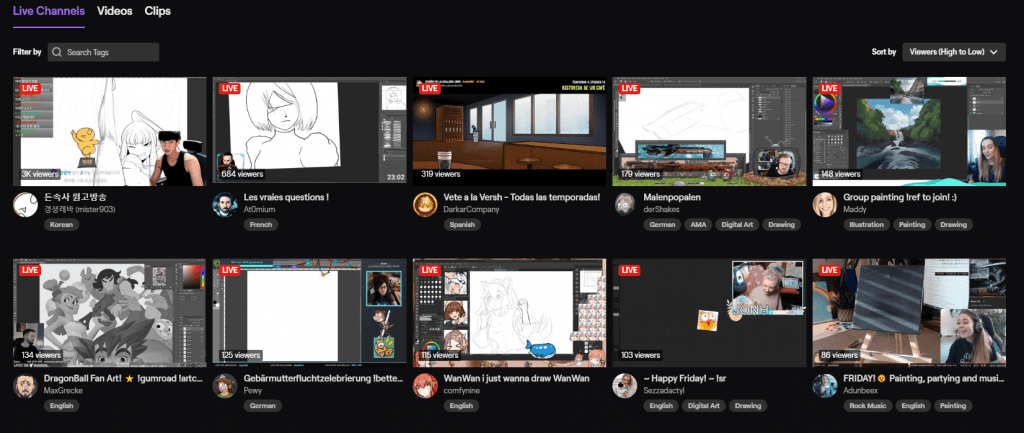 5. Canva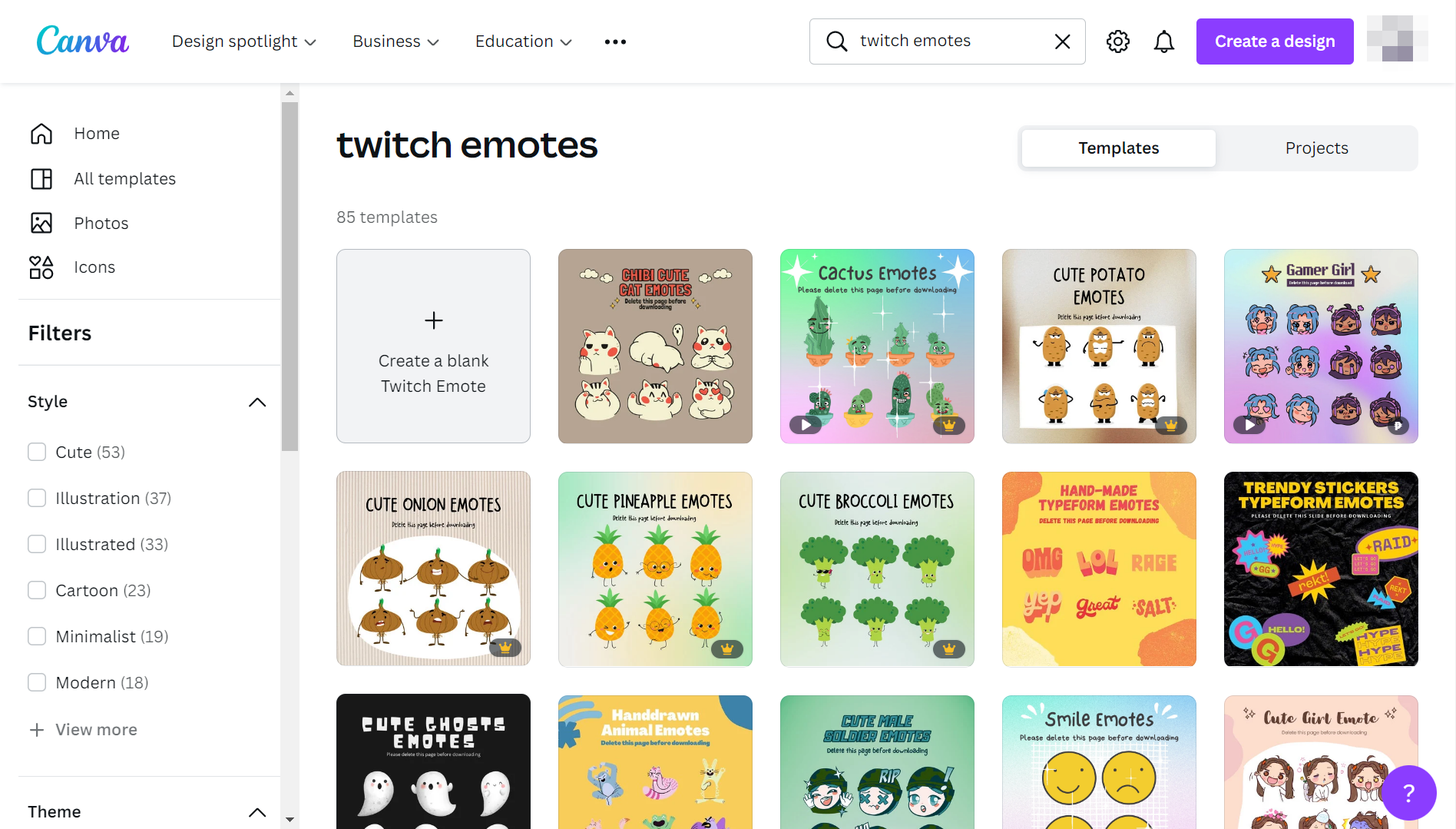 If you're creative but find software such as Adobe Illustrator or Photoshop a bit overwhelming, you can try making your own emotes on Canva. Canva is an online graphic design tool that allows you to create various visual media content, including Twitch standard emotes and even animated ones.
Canva works by providing you with templates that you can customize to fit your brand and channel better. You can also start with a blank slate and work on it if that's what you prefer. For those who'd like to try creating their own emotes, Canva might be worth exploring.
Canva can be used for free.
6. Emotes Creator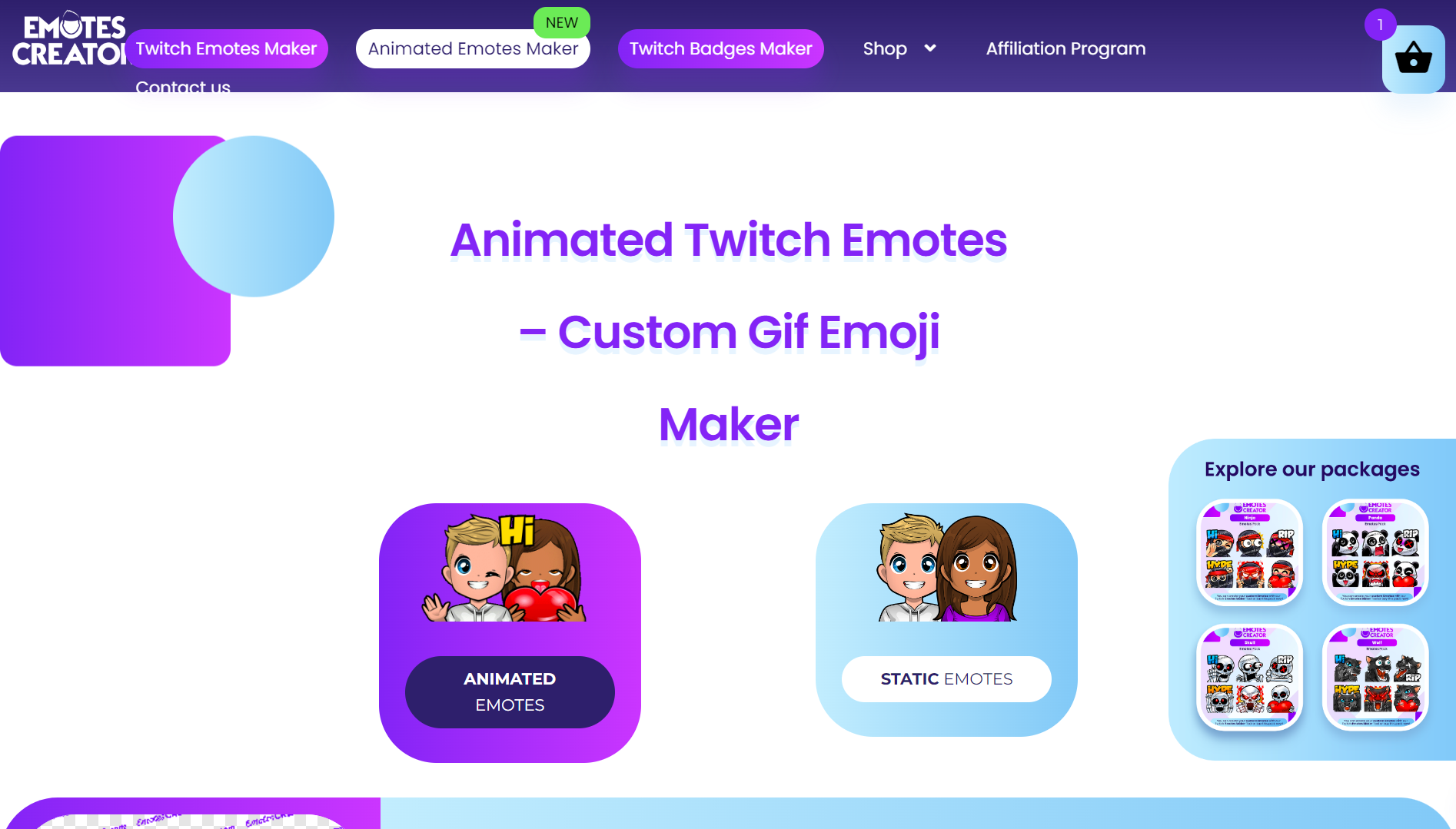 Don't want to wait to get your customized animated emotes for Twitch? Emotes Creator is an easy-to-use platform to build your own customized Twitch emotes and badges. With plenty of customization tools, you can create a unique Twitch emote within minutes, and download it immediately. You can choose between static and animated emotes.
Twitch Easy Animate
Using Twitch's Easy Animate tool, you can also easily animate existing emotes from your emote library. You can find this on the upload animated emote section of Twitch. Instead of clicking "Upload GIF," navigate to the tab next to it that says "Easy Animate."
You can choose from 6 pre-made animations. The best thing about this tool, though, is that it's totally free.
Where to Find Freelance Designers
Many freelance designers are happy to create cheermotes for your stream. There are multiple places you can find them outside of the resources mentioned above. Here are three social platforms you can use to find designers:
Twitch Creative Section

Many designers stream while they create cheermotes for other broadcasters. Visit Twitch's creative section to browse artists. If you find someone whose work you like, reach out to them and ask them for their prices.

Streamer Facebook Groups

Many Facebook groups help streamers network together. Many of them will have designers who are willing to work with you. Talk to the group's mods to find out which creators they have vetted to ensure that you are not scammed.

Twitch Creative Reddit Thread

Reddit has a Twitch Creative thread where creators drop little bios of themselves. You can scroll through the listings and reach out to any that interest you.

Twitch Animated Emote Requirements

As you might have already known, Twitch manually reviews each emotes you upload before approving them.

Twitch reviews each emote uploaded because they can be used anywhere on the platform. Your subscribers can use them on other Twitch channels as they please, which is why Twitch has instated a rather rigorous process to check if your animated emotes pass their standards manually. Since it can also be seen and used on other channels besides yours, Twitch requires it to follow its rules strictly.

However, Twitch Cheermotes Are Different.

They won't have to go undergo manual screening by Twitch. Your viewers can use it the instant you upload them since it's only usable on your channel, unlike animated emotes.

But that doesn't mean you are free to upload just anything you like for your Twitch cheermotes. Twitch can still get rid of them if they don't adhere to the requirements and guidelines they set.

To avoid possibly running into Twitch penalties, keep the following pointers in mind:

Do not upload a Twitch emote that contains inappropriate material, illegal content, or anything that violates Twitch ToS and Community Guidelines.
Do not upload a Twitch emote that violate Twitch Brand Assets.
Do not upload a Twitch emote that may violate other's Intellectual Property Rights. This includes the following, but not limited to: images that contain characters/elements from a copyrighted material and custom Twitch emotes of other streamers that you don't have permission of uploading on your own channel.
Do not upload a Twitch emote with faces of other people, including celebrities.
Do not upload a Twitch emote containing single letters, unless it represents your channel's brand.

Reading these guides from Twitch themselves might help you avoid running into trouble:

Before uploading cheermotes, Twitch partners should take note of the following requirements:

Image file should be in .GIF
Image file should be square shaped
Image dimensions

For auto-resize mode: The image should be between 112x112px and 4096x4096px.
For manual mode: Upload three images with the following respective dimensions, 28×28, 56×56, and 112x112px.

Image sizes

For auto-resize mode: Max of 1MB.
For manual mode: Max of 512KB each.

The animated emote shouldn't exceed 60 frames.
The animated emote shouldn't flash/flicker more than three times per minute.
The animated emote should adhere to the guidelines. Please refer to the pointers and links above to know which ones to avoid.

How long do animated emotes take to get approved?

It usually takes 48 hours before Twitch emotes get approved. But for Twitch cheermotes, they get uploaded instantly.

Frequently Asked Questions

Do Animated Twitch Emotes Work as Subscriber Emotes?

As of now, animated emotes are only available for subscribers. And unlike follower emotes which are limited to the channel of their origin, subscriber emotes can be used everywhere on Twitch. These include animated emotes, too.

How Many Animated Emotes Can You Have on Your Channel?

Affiliate starts with one animated emote on their channel upon getting access to this feature. They will have to earn sub-points to get additional emote slots, up to 5. Meanwhile, Twitch partners can use all five emote slots immediately.

Twitch cheermotes are also only limited to 5 emote slots.

How Much Do Animated Twitch Emotes Cost?

It really depends on where you get the animated emote. Many emote packs on Etsy cost around $15, but these are already pre-made. If you want customized emotes, here are some estimates:

One custom animated emote from Emotes Creator starts at $8.99. You'll get a discount if you choose to purchase three emotes.
Non-animated but custom emote from Own3d.tv starts at $8.00. The more you buy, the bigger the discount you're gonna get.
Fiver designers charge from $5 for each emote and up. More expensive price tags don't always equate to emotes you will surely love, so you have to spend some time looking for a designer if you're working on a limited budget. There are a lot of talented freelance artists on Fiverr, though, so if you have the time to do the research and are willing to ask around, this might be a more favorable option for you.

Conclusion

Emotes are the easiest way to send messages on any social media or streaming platform, and people love them a lot. However, like Discord emotes, the ones on Twitch aren't totally free you may need to subscribe to use them freely. To be fair, streamers also invest time, effort, and money to create custom emotes, whether animated or not.

Twitch cheermotes are different because they aren't just there purely for aesthetic purposes. Rather, they are used to support streamers by sending a cheermote that has a corresponding equivalent of bits. Cheermotes make sending bits to streamers more fun, and what's a better way to encourage viewers than to create awesome animated emotes? Try any of the emote makers above to get your own customized cheermotes!