While there are numerous sites online that offer emote-making services, there are fewer that offer cheermotes, the animated emotes that your viewers can use when they cheer. As a Twitch partner, you will be able to create your own branded cheermotes to add value to your channel and entertainment to your viewers.
We have compiled a short list of where to get cheermotes to help you find a designer that is perfect for you.
Best Custom Cheermotes for Twitch
1. Fiverr Twitch Cheermotes
Fiverr is an online marketplace of freelancers who range in skill and prices. You can virtually have anything on this platform created, including Twitch cheermotes. Search for "Twitch cheermotes" in the provided field and you will be taken to the section of Fiverr where you'll find several portfolios by talented designers.
Look at their reviews of each designer and pay attention to their artwork. Look for a creator whose work stands out to you. Don't be afraid to reach out and ask questions before you hire one. Find someone who creates quality work and who is willing to work with you with revisions if necessary.
Custom Orders Through Fiverr
Every order through Fiverr should be custom made. Make sure you know what you want before you reach out to the designer. While they will be able to ask you questions to make your ideas more clear if you can give them more information at the beginning of the transaction, you'll ultimately get a better product. Generally, you will have your cheermotes back to you in less than a week.
2. Visuals By Impulse Animated Emotes

Visuals By Impulse specialize in designing many different features for Twitch, Facebook Gaming, and other platforms. They are always adding something new to browse and are open to custom orders.
VBI is very particular on who they work with. They will turn away work that isn't a fully fleshed out idea to eliminate the time they would need to spend on ideation. Their designers are insanely talented and work as efficiently as possible.
Custom Orders Through Visuals by Impulse
Visuals by Impulse is happy to take custom orders for cheermotes and other graphics. After reviewing an order, a manager will get back to you with a quote for an exact price. The company requires you to put up a 50% deposit upfront to start the projects.
You will have 30 days to examine the project and request edits. If a month has passed, they will still edit the image for a small fee.
3. Etsy Cheermotes for Twitch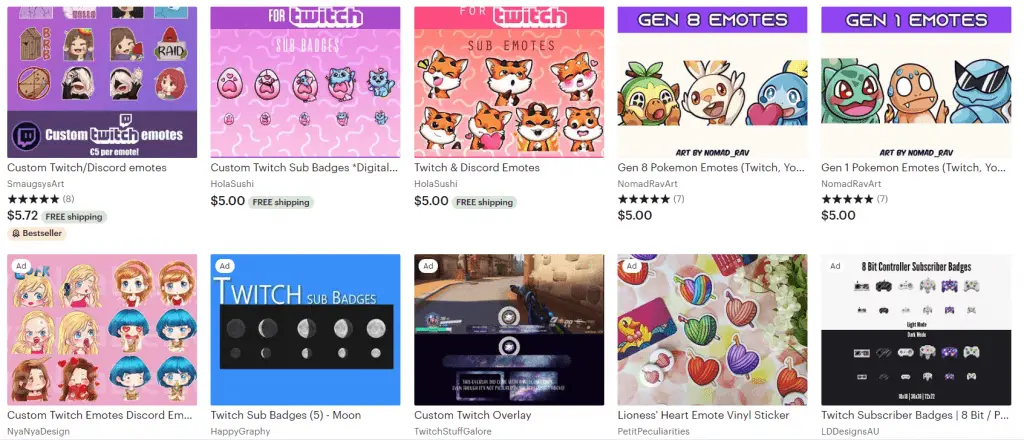 Etsy is an online marketplace for crafters and designers. As with Fiverr, you will be dealing with an individual designer, not Etsy themselves. There are multiple emote and badge creators on the platform and you can browse through their portfolios to find someone to work with.
Custom Orders on Etsy
Most of the time, your orders on Etsy will be custom, though you will find the occasional cheermote pack. Make sure to read the descriptions of each listing to know what you are purchasing and what to expect. When ordering custom work, be sure to include as much information as you can about what you want.
4. Twitch Creative Cheermotes
There are many freelance designers who are happy to create cheermotes for your stream. There are multiple places you can find them outside of the resources mentioned above. Here are three social platforms you can use to find designers:
Twitch Creative Section

Many designers stream while they create cheermotes for other broadcasters. Visit Twitch's creative section to browse artists. If you find someone whose work you like, reach out to them and ask them for their prices.

Streamer Facebook Groups

There are many Facebook groups that help streamers network together. Many of them will have designers who are willing to work with you. Talk to the mods of the group to find out which creators they have vetted to ensure that you are not scammed.

Twitch Creative Reddit Thread

Reddit has a Twitch Creative thread where creators drop little bios of themselves. You can scroll through the listings and reach out to any that interest you.